Simple Salmon Salad
Salmon salad is healthy and delicious! This simple salmon salad is a great switch up from your tuna sandwich. Bake up some extra salmon at dinner time, then use the leftovers to create this easy salmon recipe for lunch the next day!
Click Here to Pin this Salmon Salad Recipe!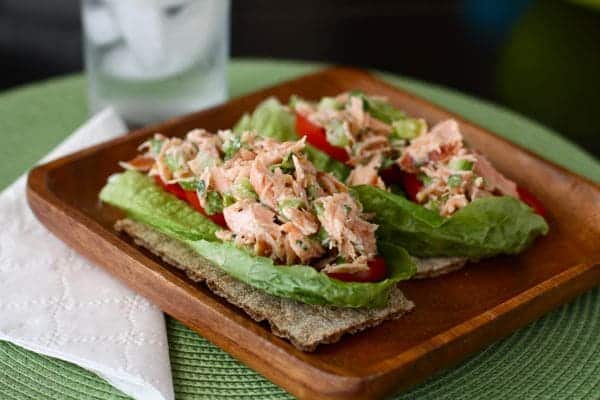 I'm slowly easing back into post-holiday life now that my kids are back in school. I hit the gym for a good hour-long cardio session this morning and am determined to drink a gazillion ounces of water today. I didn't gain a million pounds over the holidays like I thought I would, but I did hit a level of feeling sluggish that I am not comfortable with, and I can attribute that to less sleep, less exercise and more of everything else if you know what I mean. But we are past all that, it's a new year, a fresh start. It's time to focus on taking care of me so I can take care of them. If you know what I mean.
I feel pretty 'with it' so far this week. I wrote out a meal plan. I'm caught up on laundry (ha, not really but for today), and I'm focused on staying active as well as logging my meals into My Fitness Pal to make sure I stay on track. I've even connected with an awesome group of people on Facebook that my friend Kim brought together with her Weigh-In Wednesday series…all focused on getting healthy. I love accountability and it's so motivating so have a place to share and be encouraged, as well as figure out what to eat for lunch or dinner.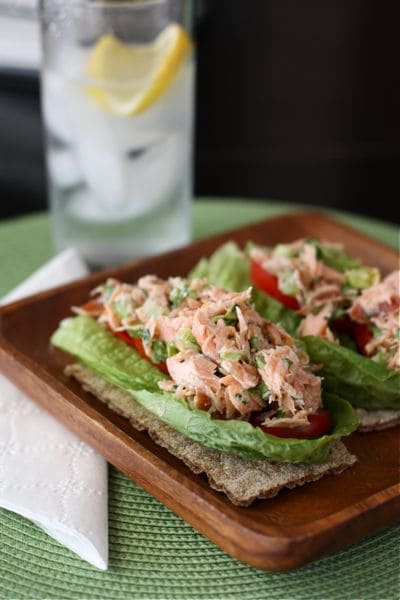 It's no secret that meal planning can really make life insanely easier. There are so many perks to it…less eating out, saving money, more peaceful dinner times. And for those of us trying to keep our weight and health in check, it's pretty necessary for success.
Here's my meal plan this week, which includes this healthy and simple salmon salad.
Indecisive, yes, but effective. It's a start. 🙂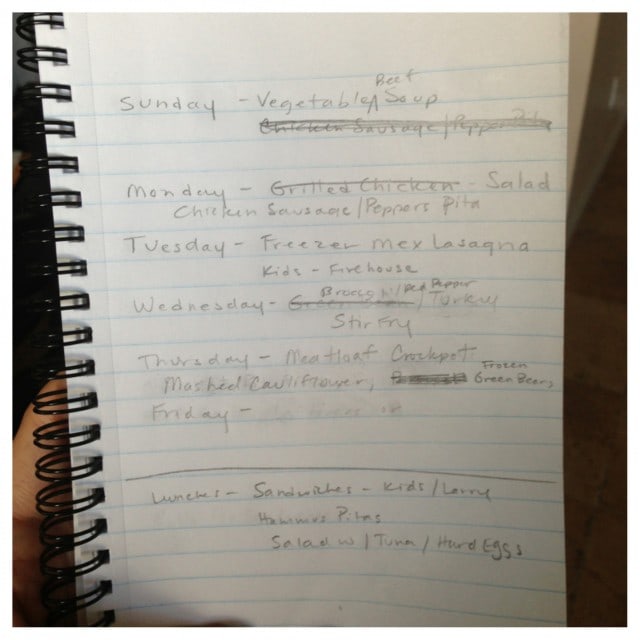 I'm not 100% convinced that I'll be making meatloaf tomorrow. Maybe something like this barbecue shredded chicken instead (with possible leftovers to freeze or make barbecue chicken pita pizzas for Friday night).
On the meal plan for tonight? Liz's Szechuan Green Beans and Ground Turkey (but with broccoli and red bell pepper)
To add to the meal plan next week? Rachels' Quinoa Power Pancakes (breakfast for dinner anyone? Perfect to throw in the freezer for easy breakfasts too!)
Instead of tuna salad for lunch, I treated myself to this simple salmon salad I put together with leftover cooked salmon I had in the fridge. I have been obsessed with salmon salad ever since I had it in Oregon a couple of months ago. Any time salmon is on my menu, be assured that I will be making extra just so I can have this for lunch the next day (or two). This salad is so delicious and a nice change from your average tuna sandwich.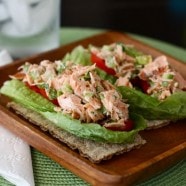 Ingredients:
1/2 lb cooked salmon, flaked
1 heaping teaspoon light mayo (more if you like mayo)
squeeze of lemon
big pinch of salt and pepper (or lemon pepper if you prefer)
1 celery stalk, chopped small
1 teaspoon chives, chopped
Directions:
Add your leftover flaked salmon to a bowl. Season well with salt, pepper (or lemon pepper), mayo and a splash of fresh squeezed lemon. Add chopped celery and chives and combine well.
Serve on whole grain bread, pita or crackers. Or just eat it on its own.
What else can you make with leftover cooked salmon besides salmon salad?
Try these Cajun Baked Salmon Cakes,  Salmon & Avocado Stuffed Lettuce Wraps or this Farfalle with Salmon, Lemon and Peas.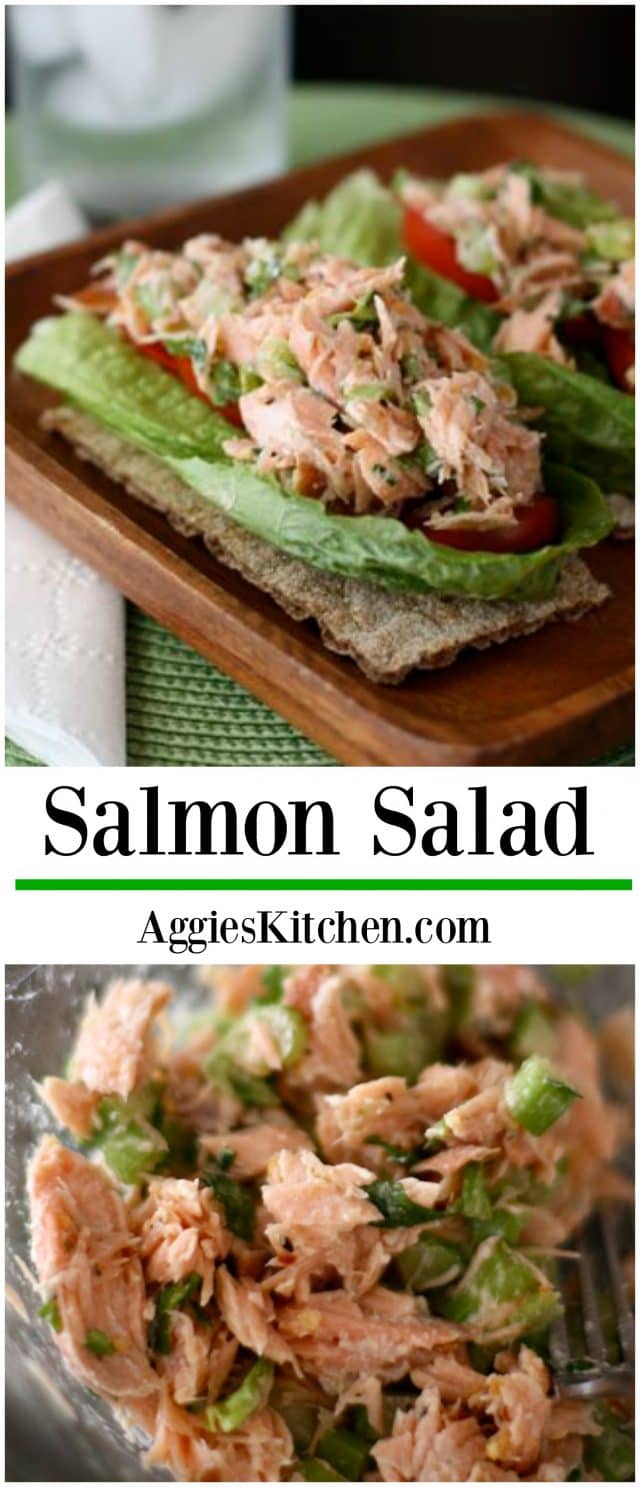 Linking up: Buns In My Oven's What's Cooking Wednesday
Are you following me on Instagram, Twitter, Facebook and Pinterest? If you'd like to subscribe to Aggie's Kitchen and have each post delivered straight to your e-mail box, then please add your email here. Happy cooking!
There are affiliate links in this post. I make small earnings through any purchases made through these links. Thank you for supporting Aggie's Kitchen!
50 Responses to "Simple Salmon Salad"
Trackbacks/Pingbacks

Leave a Comment