Salmon Salad Recipe
Salmon salad is healthy and delicious! This fresh salmon salad recipe is a great switch up from your tuna sandwich. Bake up some extra salmon at dinner time, then use the leftovers to create this easy salmon recipe for lunch the next day!
If you are following a keto diet, this is a great keto salmon recipe to try, it is naturally low carb and high in good fat!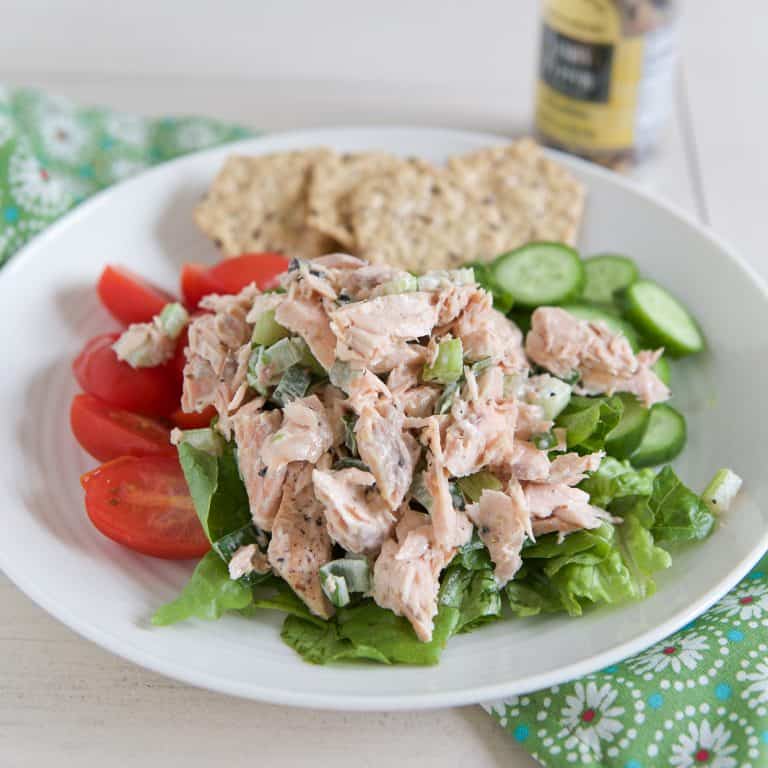 I'm slowly easing back into post-holiday life now that my kids are back in school. I hit the gym for a good hour-long cardio session this morning and am determined to drink a gazillion ounces of water today. I didn't gain a million pounds over the holidays like I thought I would, but I did hit a level of feeling sluggish that I am not comfortable with, and I can attribute that to less sleep, less exercise and more of everything else if you know what I mean.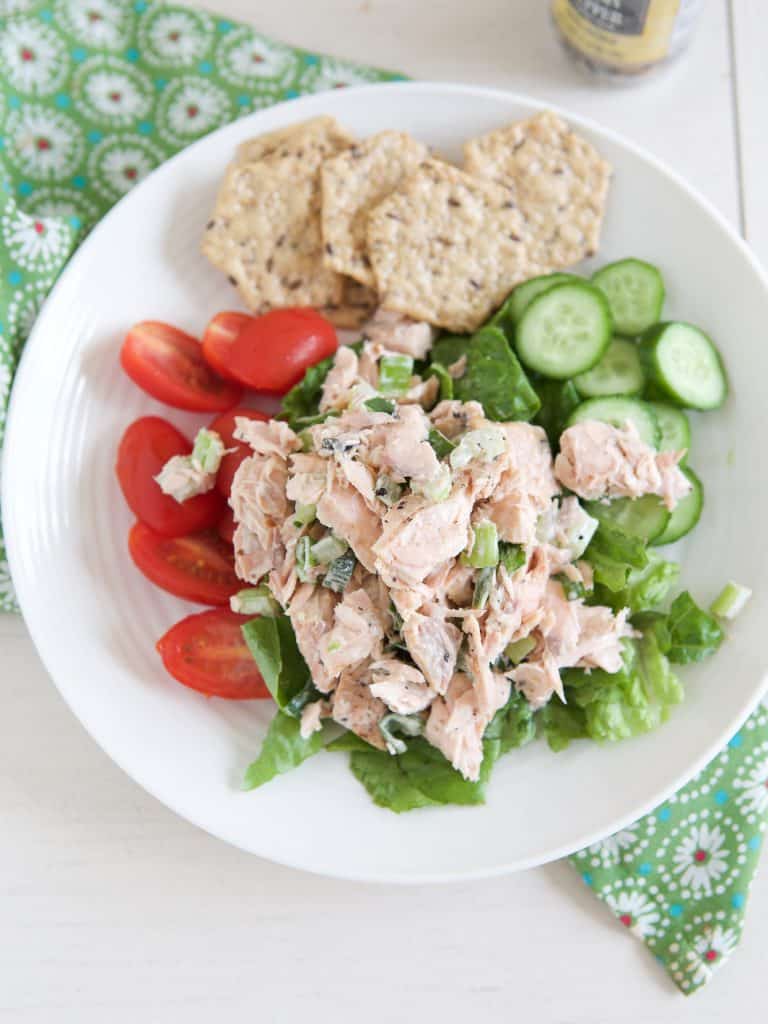 Instead of tuna salad for lunch this week, I put together this healthy salad with leftover cooked salmon and a few simple ingredients I had in the fridge. I have been obsessed with salmon salad ever since I had it in Oregon a couple of months ago – it was one of the best salmon salad recipes I've ever tasted.
This salad is so delicious and a nice change from your average tuna sandwich. It's a great low carb recipe filled with protein and healthy fats too.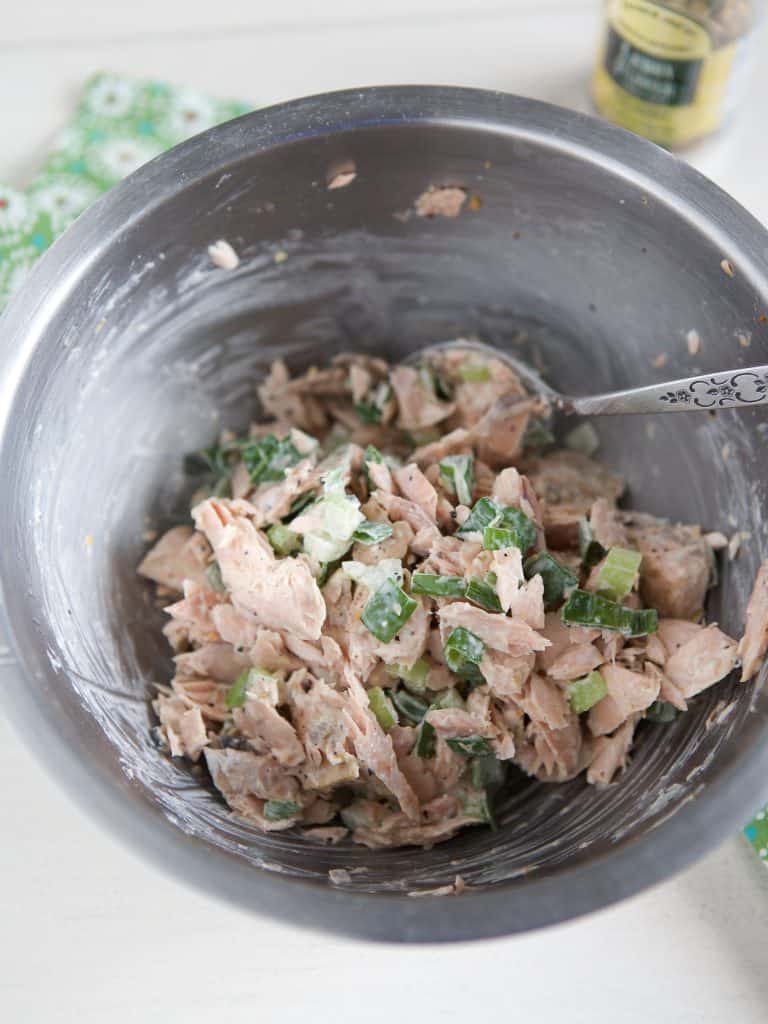 I like to cook up extra salmon whenever I am making it for dinner so I can use the leftovers on salad, or in a salmon salad like this one. Cooking salmon is easy and takes no time at all. You can bake your salmon or broil it, I typically broil it when I just use a rub (like this salmon with sweet and spicy rub I make often).
How to cook salmon:
Preheat your broiler.
Place salmon filets on lightly greased aluminum foil lined broiler pan or baking sheet. Pat salmon filets dry with a paper towel, then sprinkle liberally with your favorite lemon pepper seasoning, salt and pepper. Drizzle a little olive oil over each salmon filet. Place under broiler and cook for 8-10 minutes or until salmon is turns lighter pink and flakes with a fork (cooking time for fish always depends on how thick your fish is). Set aside.
What do you put in salmon salad?
1/2 lb cooked salmon, flaked
1 heaping teaspoon light mayo (more if you like mayo)
squeeze of lemon
big pinch of salt and pepper (or lemon pepper if you prefer)
1 celery stalk, chopped small
1 tablespoon green onion, chopped
So good!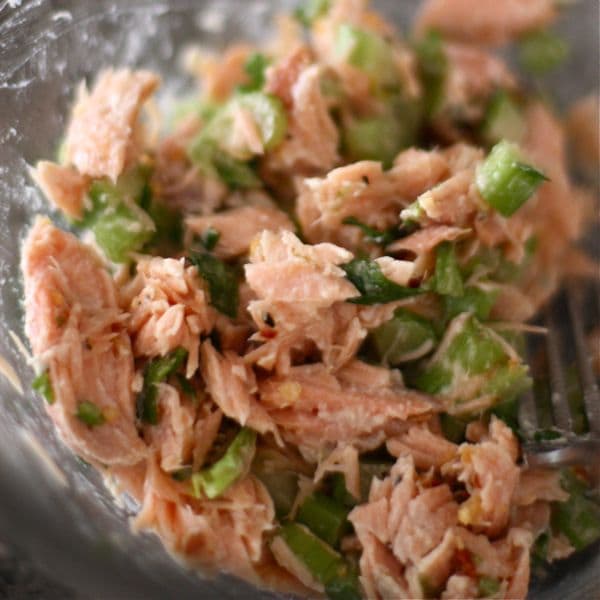 What else can you make with leftover cooked salmon besides salmon salad?
Try these Cajun Baked Salmon Cakes, Salmon & Avocado Stuffed Lettuce Wraps or this Farfalle with Salmon, Lemon and Peas.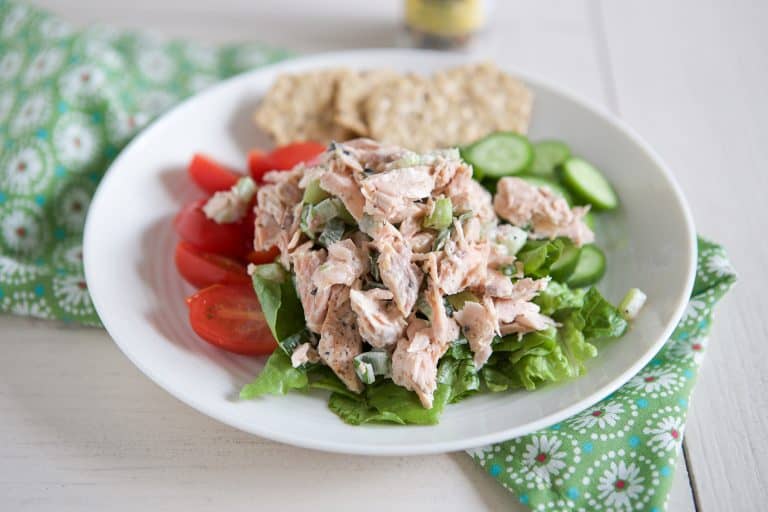 Print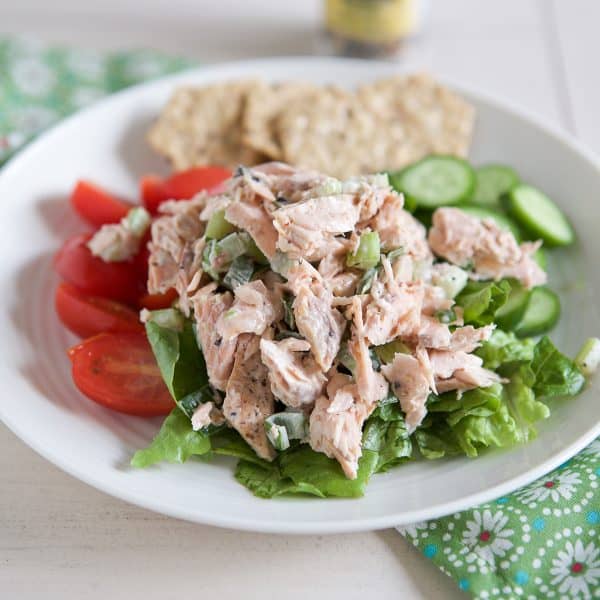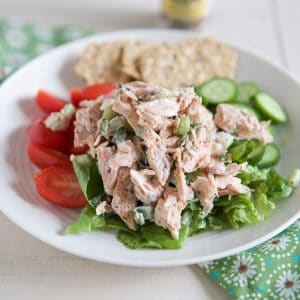 Salmon Salad Recipe
Author:
Prep Time: 15 minutes
Total Time: 15 minutes
Yield: 2 servings 1x
Category: Fish
This Salmon Salad is a nice change from your everyday tuna. Bake up extra salmon at dinnertime & use up the leftovers to create this protein packed salad!
---
Ingredients
1/2 lb cooked salmon, flaked
1 heaping teaspoon mayonnaise
squeeze of lemon
big pinch of salt and pepper (or lemon pepper if you prefer)
1 celery stalk, chopped small
1 tablespoon green onion, chopped
---
Instructions
Add your leftover flaked salmon to a bowl. Season well with salt, pepper (or lemon pepper), mayo and a splash of fresh squeezed lemon. Add chopped celery and green onion and combine well.
Serve on whole grain bread or pita or over salad with crackers. Or just eat it on its own.
Love salmon? Check out my other salmon recipes:
Broiled Salmon with Sweet and Spicy Rub
Blackened Salmon with Citrus Salsa
Almond Crusted Honey Mandarin Salmon
Are you following me on Instagram, Twitter, Facebook and Pinterest? If you'd like to subscribe to Aggie's Kitchen and have each post delivered straight to your e-mail box, then please add your email here. Happy cooking!
There are affiliate links in this post. I make small earnings through any purchases made through these links. Thank you for supporting Aggie's Kitchen!