Salmon with Sweet Spicy Rub (CEimB)
Salmon with sweet spicy rub is an easy, healthy broiled salmon that is packed with bold flavor! This easy salmon recipe is the perfect way to introduce salmon to your family! Full of flavor, packed with protein, and easy to make!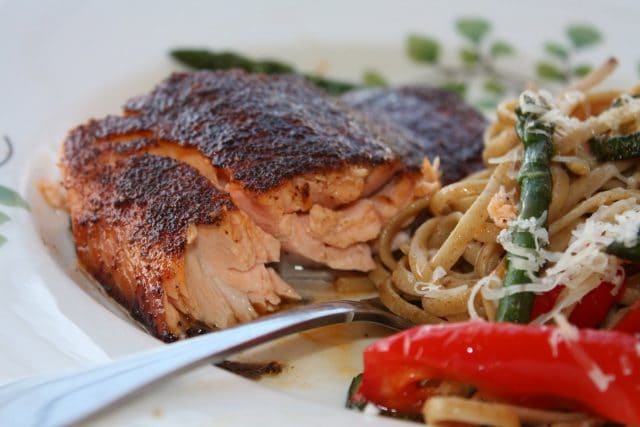 Another great Ellie Krieger recipe!
This week's Craving Ellie in my Belly recipe, Salmon with Sweet Spicy Rub, was chosen by Pam from Lobster and Fishsticks. Once I read over the ingredient list for this simple fish recipe, I knew immediately I was going to love it. I'm a huge fan of sweet and spicy flavors…though I wouldn't consider the flavor in this dish spicy. It has great chili flavor but there isn't any heat, so don't let the term "spicy" mislead you. It's the perfect amount of seasoning.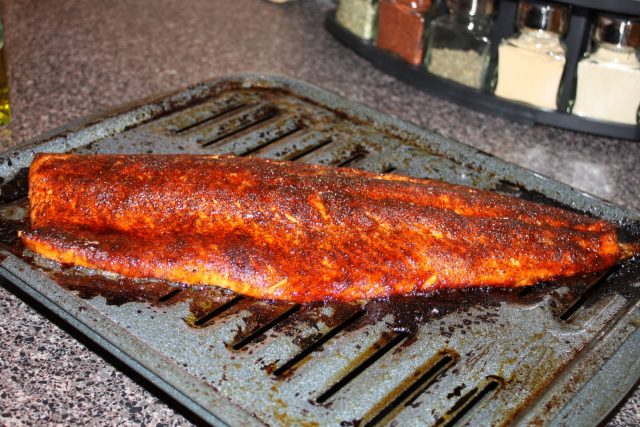 (look at that piece of fish!)
I made the salmon with sweet spicy rub for my husband and mother in law, and they both loved it. Instead of grilling it I put it under the broiler. I served it with Whole Wheat Linguine with Spring Vegetables. I was craving pasta and as always, veggies, so although it may sound like a weird combination with the salmon, it really all went together nicely.
Enjoy the broiled salmon with sweet spicy rub recipe, and Happy Easter!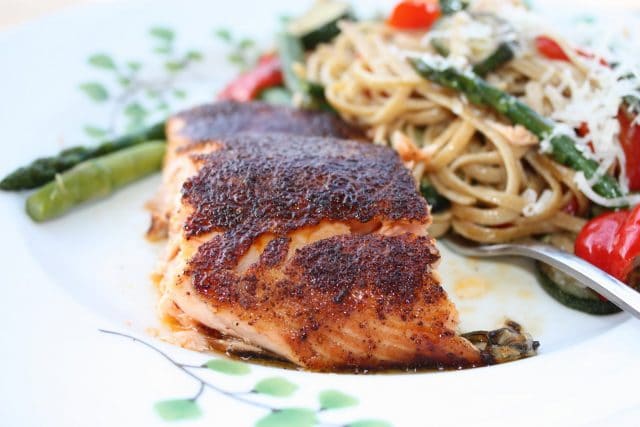 Salmon with Sweet & Spicy Rub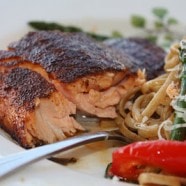 Ingredients:
cooking spray
2 tablespoons packed light brown sugar
1 tablespoon chili powder
1 teaspoon ground cumin
1/8 teaspoon salt
1/8 teaspoon freshly ground black pepper
6 (6-ounce) salmon fillets, skin and any pin bones removed
1 tablespoon olive oil
Directions:
Coat your grill or a grill pan with cooking spray and preheat over medium heat. While the grill is heating, combine the brown sugar, chili powder, cumin, salt, and pepper. Brush each salmon fillet with 1/2 teaspoon of the oil, then rub each fillet with about 1/2 tablespoon of the spice mixture.
Grill the salmon, flesh side down, until charred, 4 to 5 minutes. Flip the salmon and cook another 5 to 6 minutes for medium doneness.
For well done fish, cook an additional 1 to 2 minutes.
Remove to a platter and serve immediately.
Recipe from Ellie Krieger, The Food You Crave or Food Network
Are you following me on Instagram, Twitter, Facebook and Pinterest? If you'd like to subscribe to Aggie's Kitchen and have each post delivered straight to your e-mail box, then please add your email here. Happy cooking!
There are affiliate links in this post. I make small earnings through any purchases made through these links. Thank you for supporting Aggie's Kitchen!
26 Responses to "Salmon with Sweet Spicy Rub (CEimB)"
Trackbacks/Pingbacks

Leave a Comment