Avocado Tuna Spinach Salad
Perfect for a quick and light lunch or dinner, this protein packed Avocado Tuna Spinach Salad will get you back into warm weather clothes comfortably in no time.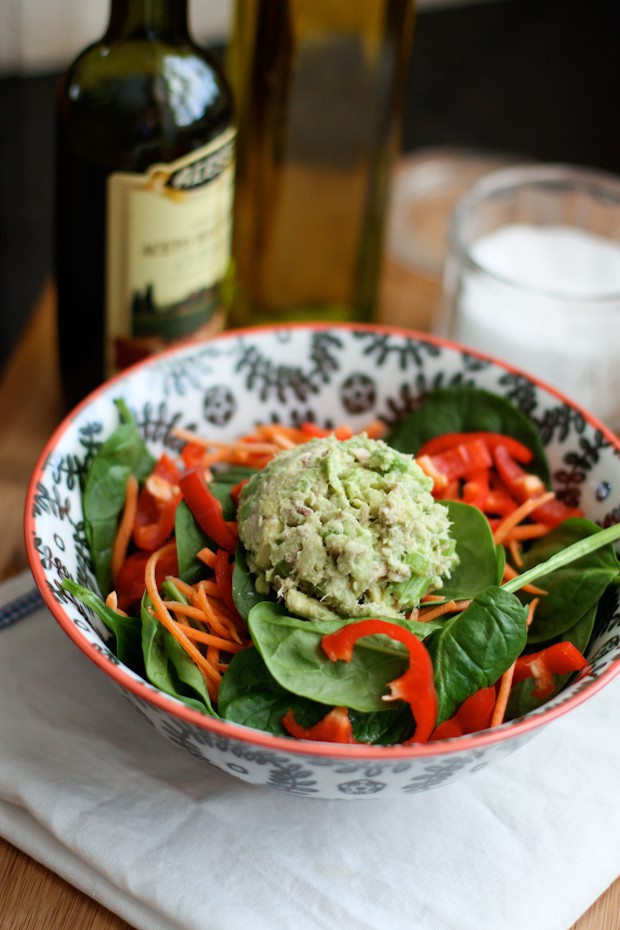 I've been slightly obsessed with avocados lately. I can't get enough of them really. A couple of months ago my mom brought me a few of hers from her Costco haul and stuck them in my fridge…I was skeptical of how they would keep but I have to tell you, it has been a game changer. They keep well and longer in the fridge and I just try to remember to pull out my avocado at least a few hours before I'm going to use it to get it down to room temperature.
Another game changer? This green little gadget. I'm not one to collect gadgets unless they are super practical…this avocado cutter/pitter/slicer is amazing. (I won it in a giveaway years ago and just came across it unopened, so glad I did!!)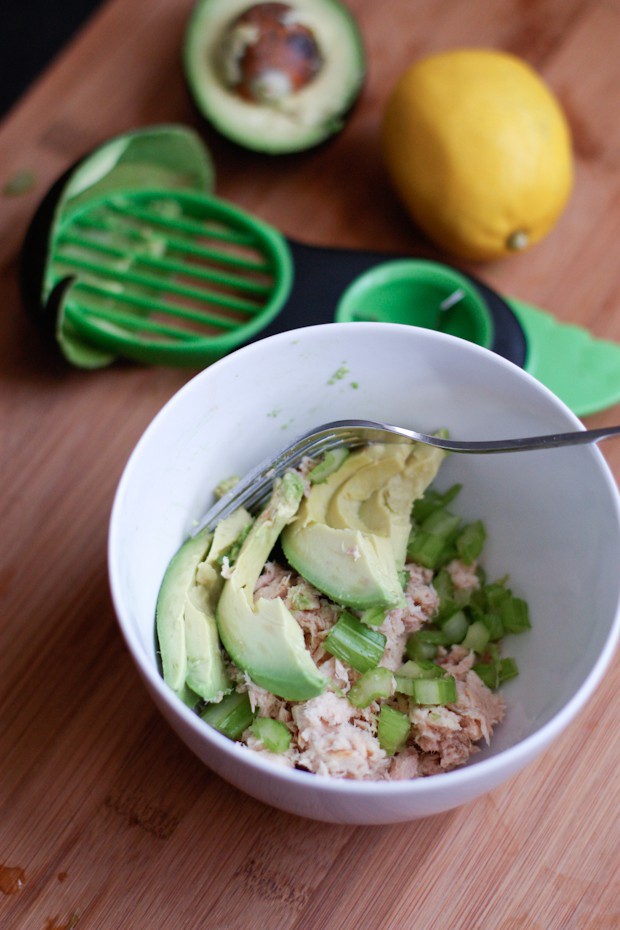 I've been adding avocado to salad recipes like this Spinach and Arugula Citrus Salad and smeared on toast like this Avocado Feta Toast with Zaatar for a while, but recently I tried mixing it with tuna as a mayo replacement and for an extra nutritional protein boost. Yet, another game changer. If you love avocado and tuna you will love this recipe (or should I say "non-recipe")! Throw it on a salad like this Avocado Tuna Spinach Salad or on some multigrain bread or with some crackers. It's a great (quick) protein packed lunch (or dinner) option.
Nutritional note: don't be afraid of the fat in avocados. Avocados are full of MUFAS (monounsaturated fatty acids) and our bodies need and benefit from them in countless ways. Dr. Oz even says it's great for fat loss – best news I've heard all day! 😉
(More benefits of avocados found here.)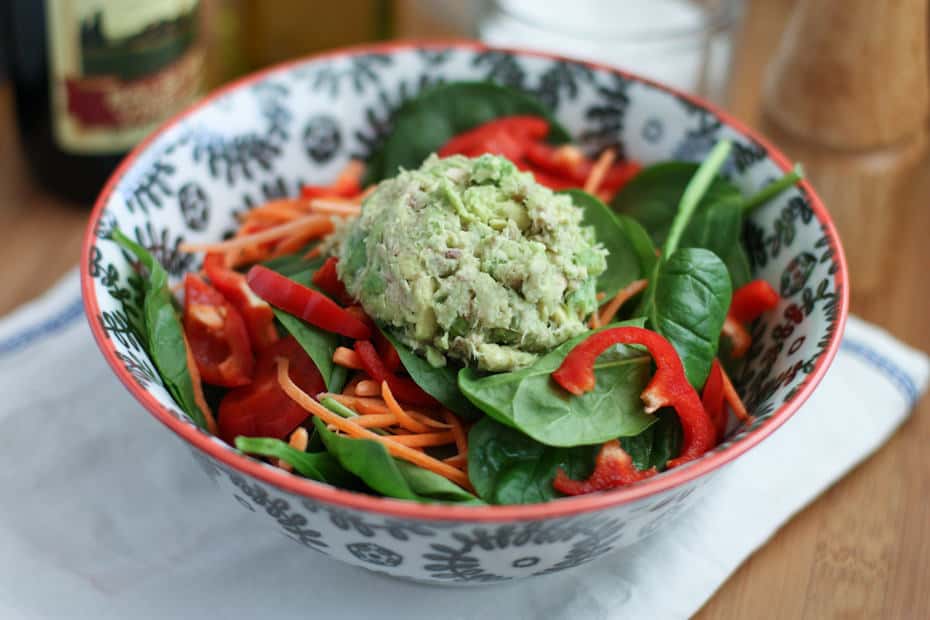 I'm always looking for ways to add more avocado to my life and this Avocado and Three Bean Salad and this Smoky Cucumber, Radish and Avocado Salad are high on my to-make list!
Avocado Tuna Spinach Salad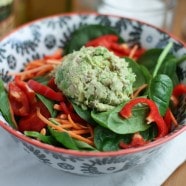 Ingredients:
For the Avocado-Tuna Mix:
1 can chunk light tuna, drained well
1 small avocado, sliced
1 teaspoon fresh lemon juice
salt and pepper to taste
For the Salad:
fresh spinach leaves
carrot matchsticks or shredded carrots
mini sweet peppers, sliced
sliced almonds (not pictured, optional)
drizzle of olive oil and splash of balsamic vinegar
Directions:
In a small bowl combine tuna, avocado and lemon juice by mashing together with a fork. Season with salt and pepper.
In 2 salad bowls add spinach leaves, carrots, sliced peppers and sliced almonds. Divide avocado-tuna mixture into both salads. Dress your salads to your liking with olive oil and balsamic vinegar. Go easy on the olive oil to save calories!
(Disclosure: There are Amazon affiliate links in this post. Thank you.)
Follow Aggie's Kitchen's board Salads on Pinterest.
Are you following me on Instagram, Twitter, Facebook and Pinterest? If you'd like to subscribe to Aggie's Kitchen and have each post delivered straight to your e-mail box, then please add your email here. Happy cooking!
There are affiliate links in this post. I make small earnings through any purchases made through these links. Thank you for supporting Aggie's Kitchen!
17 Responses to "Avocado Tuna Spinach Salad"
Trackbacks/Pingbacks

Leave a Comment