From The Archives: 6 Healthy Soups To Warm You Up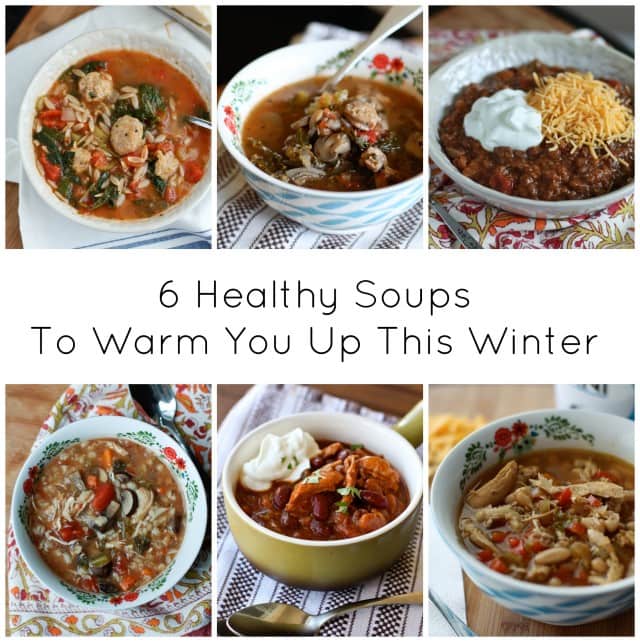 Brrr…it's cold out there. Yes, I do realize I live in Florida and my cold is probably not as intense as your cold but for Florida, we are cold today. So humor me a bit. I don't mind the cold too much, as long as I'm inside. Fuzzy socks not optional.
When it's cold, the only thing that can really warm you up from the inside out – other than a hot beverage – is soup. Soup really does the body good, especially when it's made right – filled with veggies, beans, whole grains and a little lean protein. You want the whole bang for your buck when you eat a bowl of soup in my opinion. A meal you can feel good about, especially feel good about when going back for seconds.
Here are 6 of my favorite healthy soup recipes found here on the blog. If you've tried one before let me know, and if you have a favorite healthy soup of your own let us know in the comments! I'm always looking for more soup recipes.
Pull out your favorite soup pot and start cooking!
From the top left to right…
Italian Orzo Soup with Chicken Sausage Meatballs, Spinach and Tomatoes
Chicken Sausage, Kale and Mushroom Soup
Slow Cooker Lentil and Quinoa Chili
From the bottom left to right…
Slow Cooker Italian Chicken, Mushroom and Barley Soup
Red Chicken and Two-Bean Chili
Slow Cooker Chicken and White Bean Soup with Quinoa
********************************************************************************
In case you didn't notice…the blog got a little make-over recently! The talented Lindsay of Purr Design brought to life a new and improved Aggie's Kitchen, and I couldn't be more excited. Take a look around…especially the check out the visual recipe index and search by ingredient page – hard to believe but there have been over 600 recipes published here over the last 6+ years. I hope you find the new design clean and bright and easy to navigate. I'm still working behind the scenes to update recipes into to new formatting etc…so it may take a while until everything is up to date. If you see something wonky, please let me know!
Would love to hear your feedback and ideas for anything you'd like to see posted here on the blog in the future!
As always, thank you so much for reading Aggie's Kitchen!!! xoxo
Are you following me on Instagram, Twitter, Facebook and Pinterest? If you'd like to subscribe to Aggie's Kitchen and have each post delivered straight to your e-mail box, then please add your email here. Happy cooking!
There are affiliate links in this post. I make small earnings through any purchases made through these links. Thank you for supporting Aggie's Kitchen!