Lemon Turkey Orzo Soup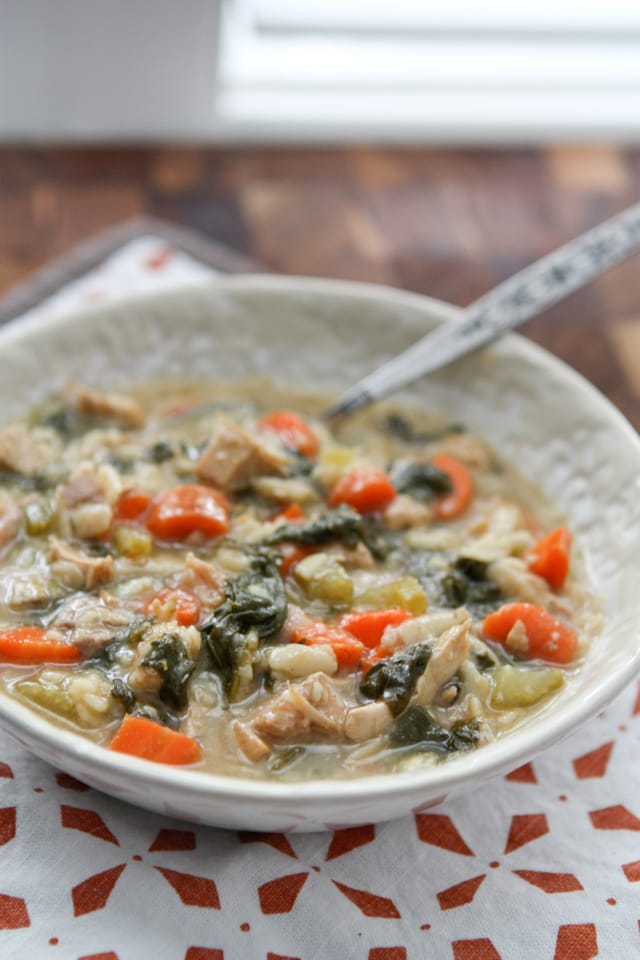 It's been almost a month since Thanksgiving, does anyone have any leftover turkey in the freezer? If you do, well this is the perfect recipe for you to use it up! If not, then grab a rotisserie chicken from the grocery store, it will work just fine.
Last month I got hit with back to back illnesses – a sinus infection one week, the next week I came down with the flu. Not fun!! I can't tell you how horrible I felt, and how helpless I felt as a mom. I haven't been that sick in a long time and I have to admit having a 1 year old at home all day with me was really hard. All I have to say is thank goodness for moms and good neighbors and friends! My mom came to help me for a few days (seriously – hallelujah!!), which was huge, and my friends helped me out by bringing my kids home from school and driving them to gymnastics, etc. My sweet neighbor brought me over some chicken soup one night and I literally ate it out of the tupperware container while it was still hot hunched over my counter. It was SO good and boy did it hit the spot.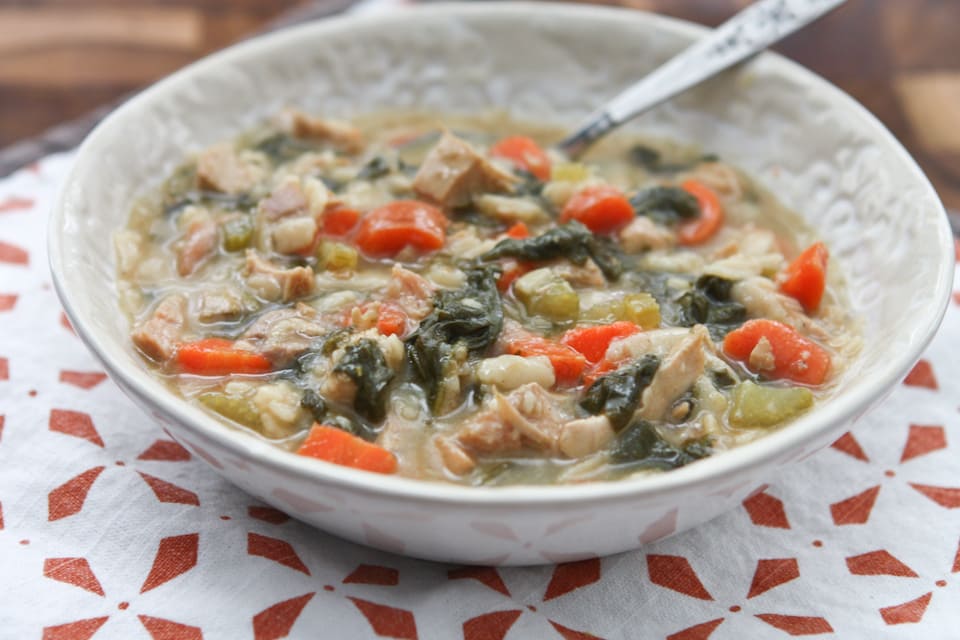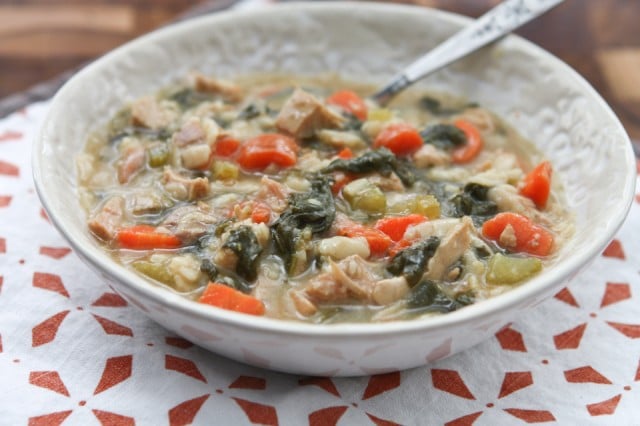 What I loved the most about neighbor's chicken soup was that it had lemon and orzo in it (my neighbor who cooked this soup and brought over to me is only 16 years old by the way – how thoughtful and awesome is she?). The lemon added such a bright flavor to the soup and I couldn't wait to make it again. I decided to make it using leftover turkey from Thanksgiving but I would definitely use cooked rotisserie chicken next time.
This Lemon Turkey Orzo Soup is so great for this time of year, especially while we are feeling the busyness of the holiday approaching. It's easy to put together, it makes a lot and it heats up well if you are a household that is eating on different schedules like mine is right now. And please, if you know someone who is under the weather…bring them a bowl or two. You will truly make their day!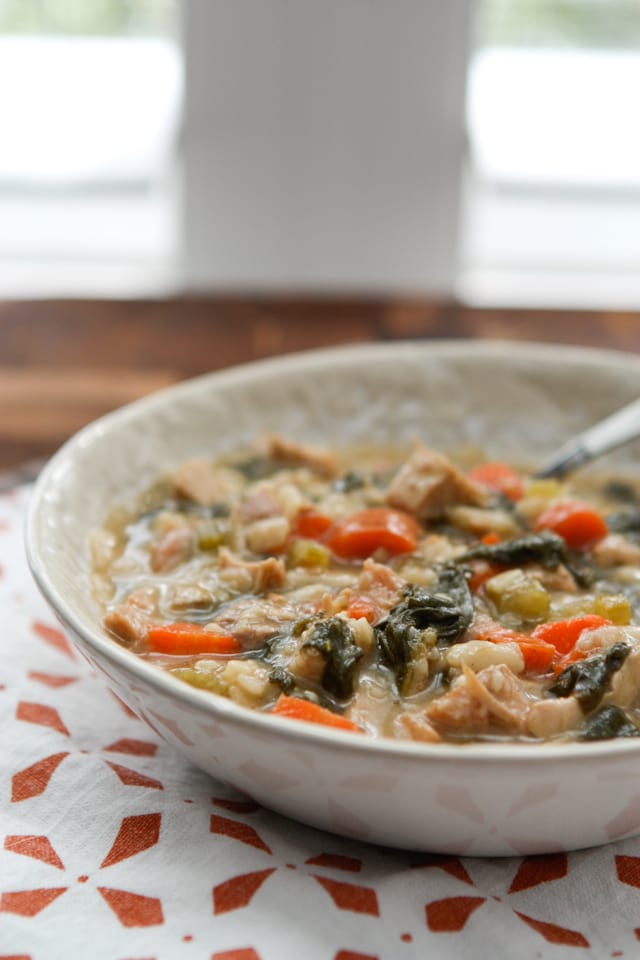 Lemon Turkey Orzo Soup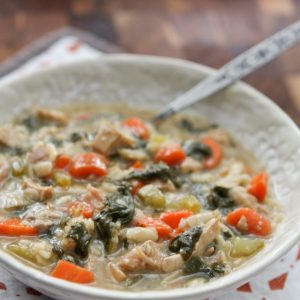 Ingredients:
2 celery stalk, chopped
1 onion, chopped
4 garlic cloves, minced
3 carrots, chopped
1 tablespoon oil
2-3 cups chopped cooked turkey or chicken
1 bay leaf
1/2 teaspoon dried crushed rosemary
4 cups chicken stock
4 cups water
zest and juice from 2 large lemons
1/2 cup uncooked whole wheat orzo
2 handfuls torn fresh spinach leaves
salt and pepper to taste
Directions:
In a large soup pot, heat 1 tablespoon oil over medium heat. Add celery, onion, garlic and carrots. Season with salt and pepper and let cook for 5 minutes until they start to soften.
Add cooked turkey or chicken, bay leaf, rosemary, chicken stock and water. Bring to a boil and let simmer for about 15 minutes. Add lemon zest, lemon juice and orzo. Let cook for another 15-20 minutes or until orzo is cooked. Add torn fresh spinach 5 minutes before turning of heat and serving. Taste for salt and pepper.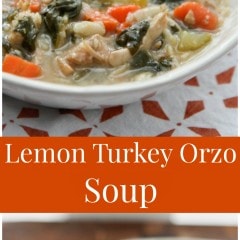 Follow Aggie's Kitchen's board Soup, Stew and Chili Recipes on Pinterest.
Are you following me on Instagram, Twitter, Facebook and Pinterest? If you'd like to subscribe to Aggie's Kitchen and have each post delivered straight to your e-mail box, then please add your email here. Happy cooking!
There are affiliate links in this post. I make small earnings through any purchases made through these links. Thank you for supporting Aggie's Kitchen!