Simply Roasted Asparagus
Roasted Asparagus is an easy way to get this spring vegetable favorite on the table at dinner time. Seasoned simply with just olive oil, salt and pepper and roasted to perfection.
Click here to Pin this Roasted Asparagus recipe!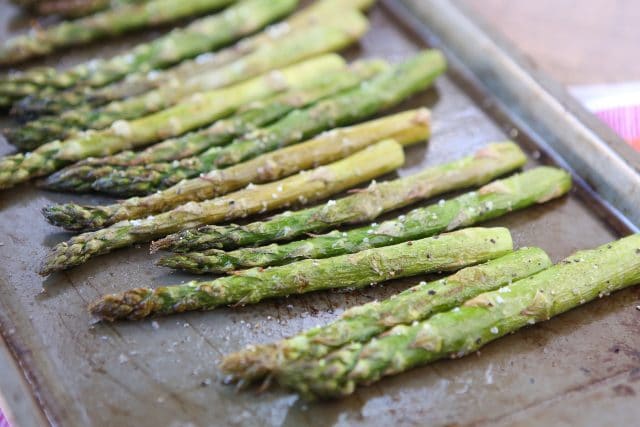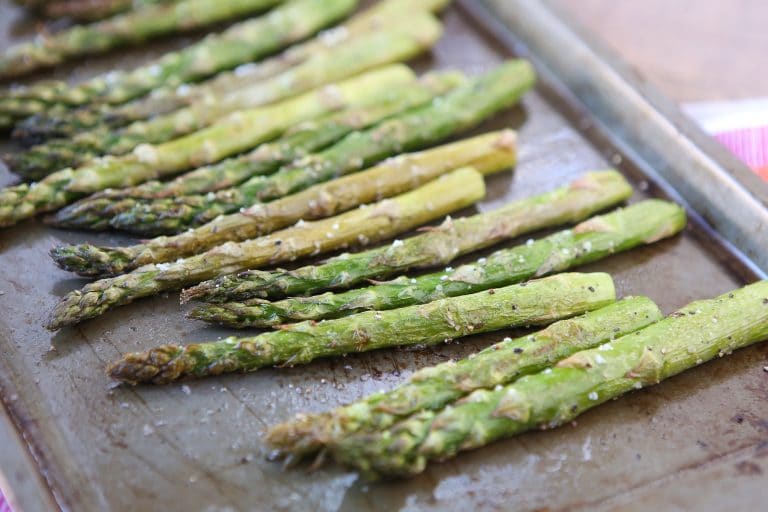 You know it's spring when you see bunches of asparagus popping up everywhere at the grocery store. After a long season of winter squashes and sweet potatoes (with all due respect), it's one of my favorite sights to see in the produce section! I always associate asparagus as an Easter side dish, and rightfully so since growing up that was the one vegetable I always made sure was being served for Easter lunch. I don't really remember it being an everyday veggie for our family, but instead one I looked forward to for our holiday meal.
Nowadays asparagus is everywhere. I like to make it like this, simply roasted with a little olive oil, coarse salt and fresh ground pepper. It's also delicious sprinkled with a breadcrumb and Parmesan mixture right at the end of it's cook time.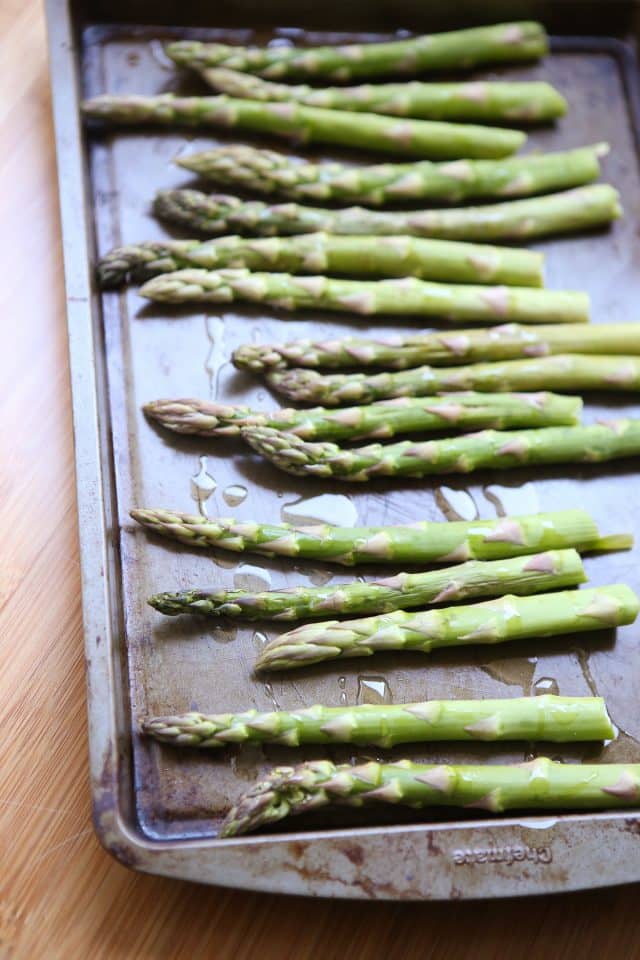 To prepare asparagus, first rinse them well under water. Place on a towel to dry completely, meanwhile trimming the ends of the woody stalk by snapping them. They will usually break easily and naturally where the tender stalk begins. I like to season the asparagus directly in the baking sheet with a drizzle of oil, then tossing the asparagus to ensure they are coated evenly with the oil. A generous sprinkle of salt and pepper is next and into the hot oven they go.
I love eating roasted asparagus alongside a fish, pork or beef meal. This Tart Cherry Ginger Teriyaki Salmon recipe from my friend Sandy recently caught my eye (she makes the BEST salmon dishes!) as well as these Grilled Pineapple Chili Pork Chops from my friend Dara. This London Broil with Mustard, Balsamic and Garlic Marinade is a very popular recipe from my site from years ago that pairs up perfectly with this asparagus as well as this Slow Cooker Asian Citrus Pork Tenderloin.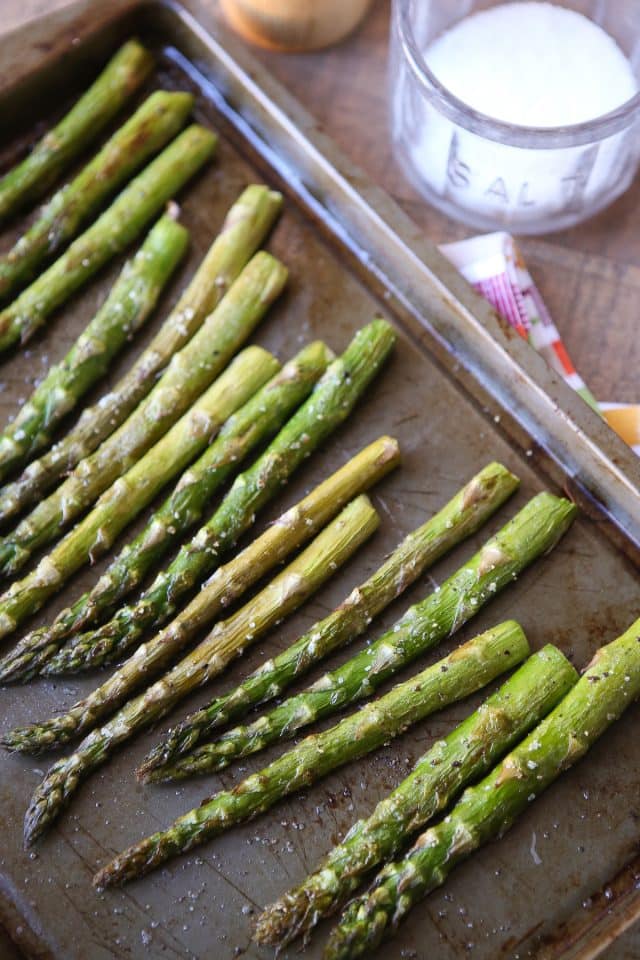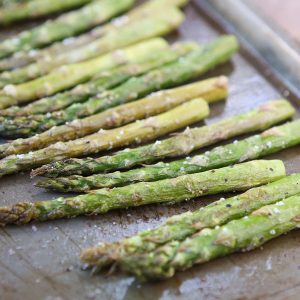 Ingredients:
bunch of asparagus, trimmed and rinsed
1 tablespoon olive oil
coarse salt and fresh ground pepper
Directions:
Preheat oven to 450 degrees. Place asparagus on a baking sheet. Drizzle olive oil over asparagus, then using your hands give them a quick toss to spread the oil. Sprinkle salt and pepper.
Cook for about 12 minutes or until slightly browned.
More ways to enjoy asparagus:
One Pot Lemon Pepper Chicken with Artichokes, Mushrooms and Asparagus
Whole Wheat Linguine with Spring Vegetables
Spring Vegetable Pasta with Pesto
Are you following me on Instagram, Twitter, Facebook and Pinterest? If you'd like to subscribe to Aggie's Kitchen and have each post delivered straight to your e-mail box, then please add your email here. Happy cooking!
There are affiliate links in this post. I make small earnings through any purchases made through these links. Thank you for supporting Aggie's Kitchen!