Lemon Pepper Chicken with Artichokes, Mushrooms and Asparagus
This Lemon Pepper Chicken with Artichokes, Mushrooms and Asparagus has everything you are looking for in a weeknight meal – quick, healthy and it's cooked all in one-pan!
Click here to pin this recipe!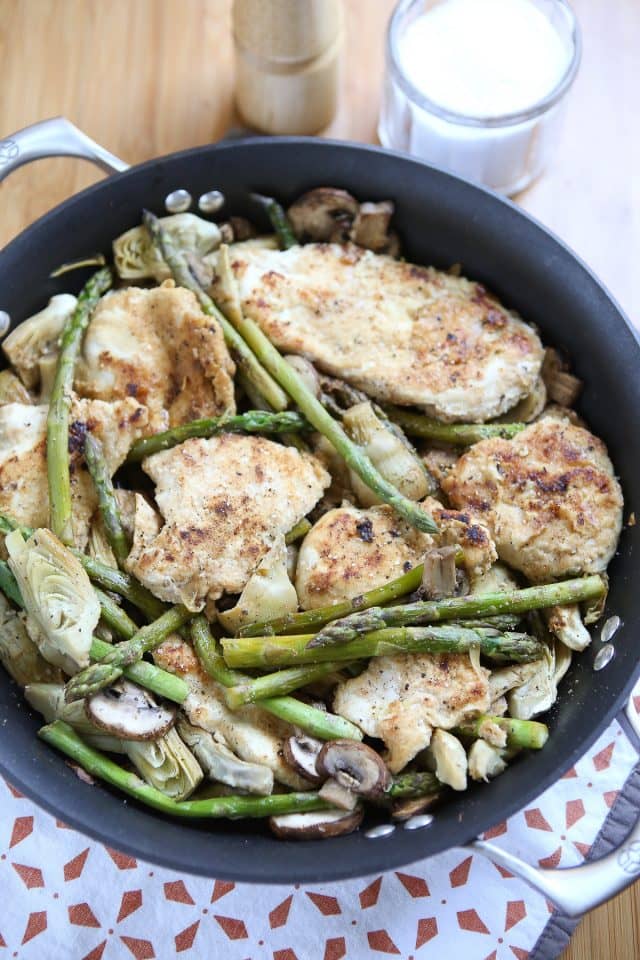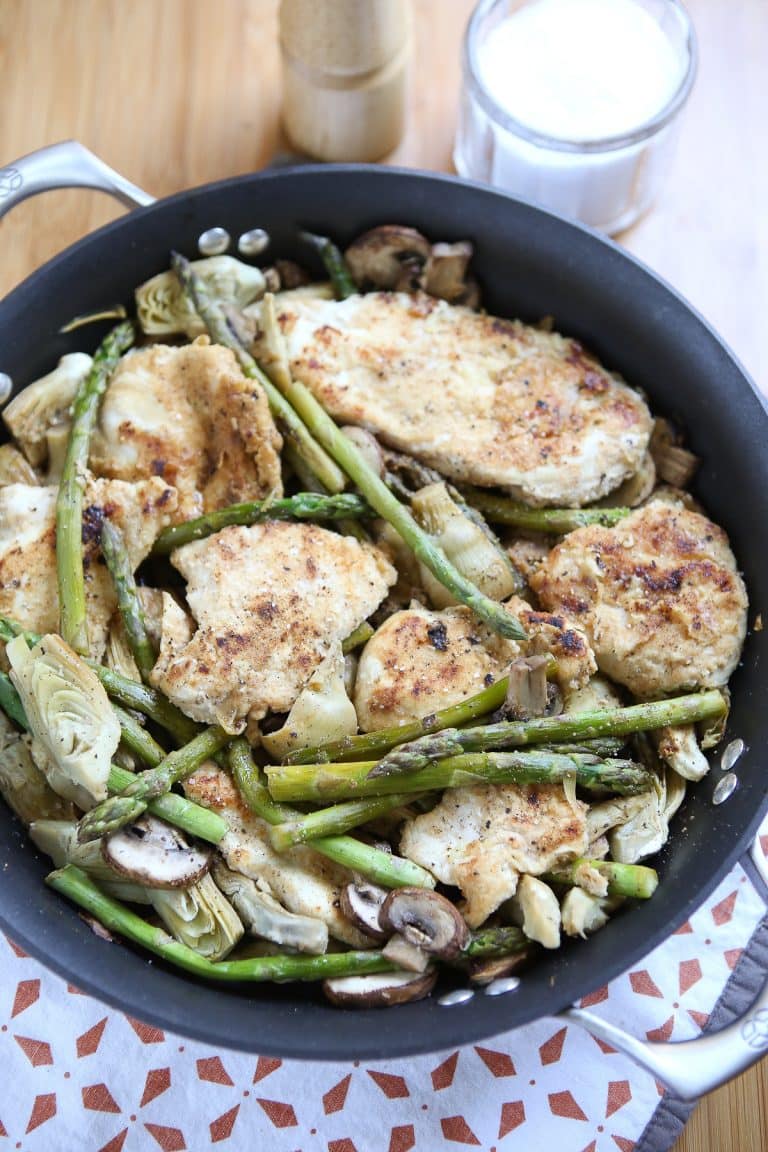 This is an old recipe of mine that was a stand by in our dinner rotation for the longest time (originally posted in February of 2009!). I love looking back and seeing what we used to eat as a family on a regular basis. This Lemon Pepper Chicken with Artichokes, Mushrooms and Asparagus has made a reappearance lately and you may see more variations of it (using different vegetables) again.
In case you haven't noticed, I've been on a huge skillet and one-pan meal kick (especially since recently buying this
nonstick everyday pan
<– affiliate link). It's honestly revived my whole dinner making motivation, if I can cook it all up in one skillet then I'm all over it.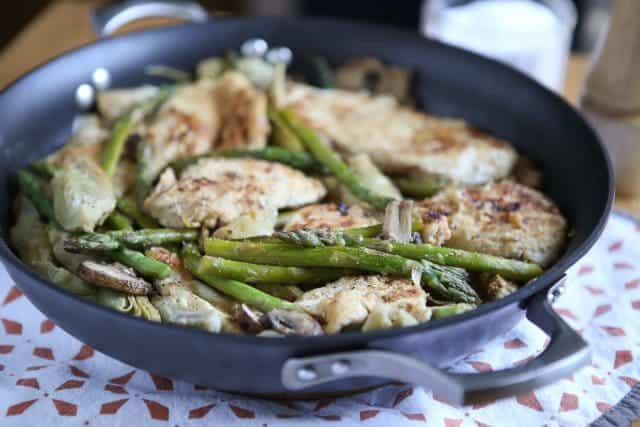 There are lots of fresh veggies in this dish, which makes me incredibly happy. I've been trying to really up the veggies lately (for the whole family). It isn't normally hard for us to get in the veggies, but busy schedules and a touch of lazy can definitely interfere with the effort. So the more veggies I can get into a meal the better.
It feels like an odd time to be using asparagus in a recipe, but my grocery store had some on sale. If you don't want to use asparagus this time, try some sliced red bell pepper instead.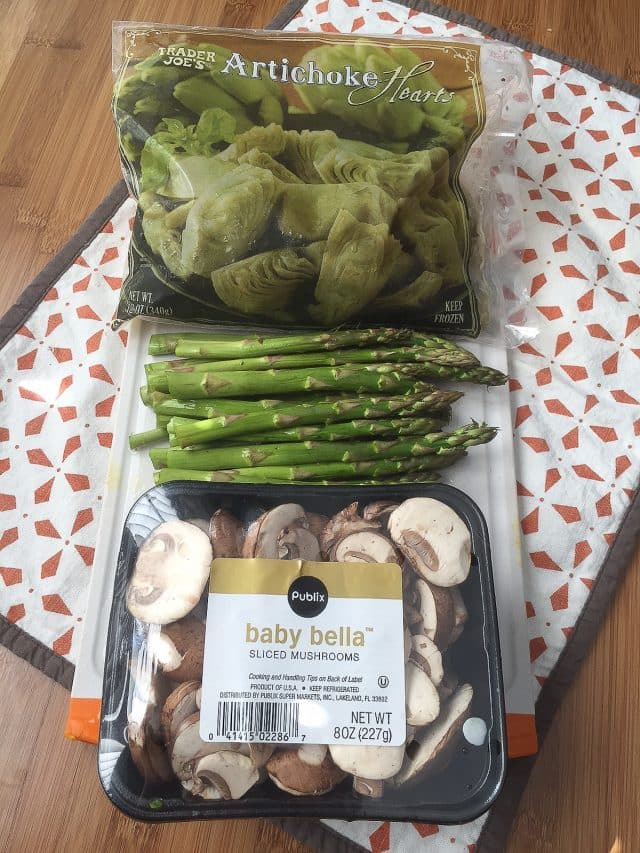 The sauce is very light, and surprisingly very low in the calorie department. I use chicken stock and lemon to keep it on the light side, but you can definitely use some white wine in place of the chicken stock. I add a tablespoon of butter at the end to add a little richness to the sauce.
Make sure to drizzle some of that sauce at the bottom of the pan over the top of your chicken when serving.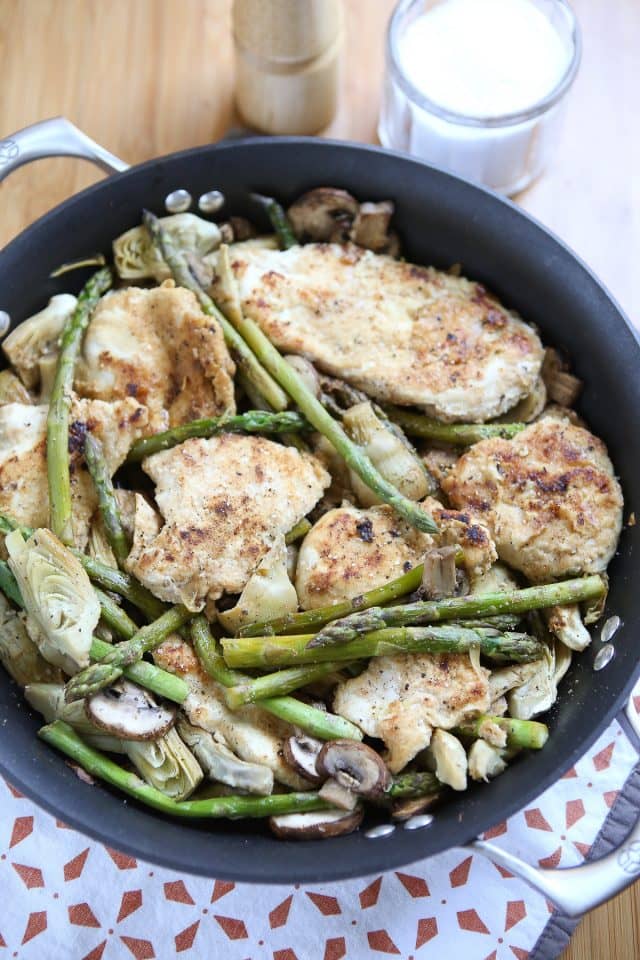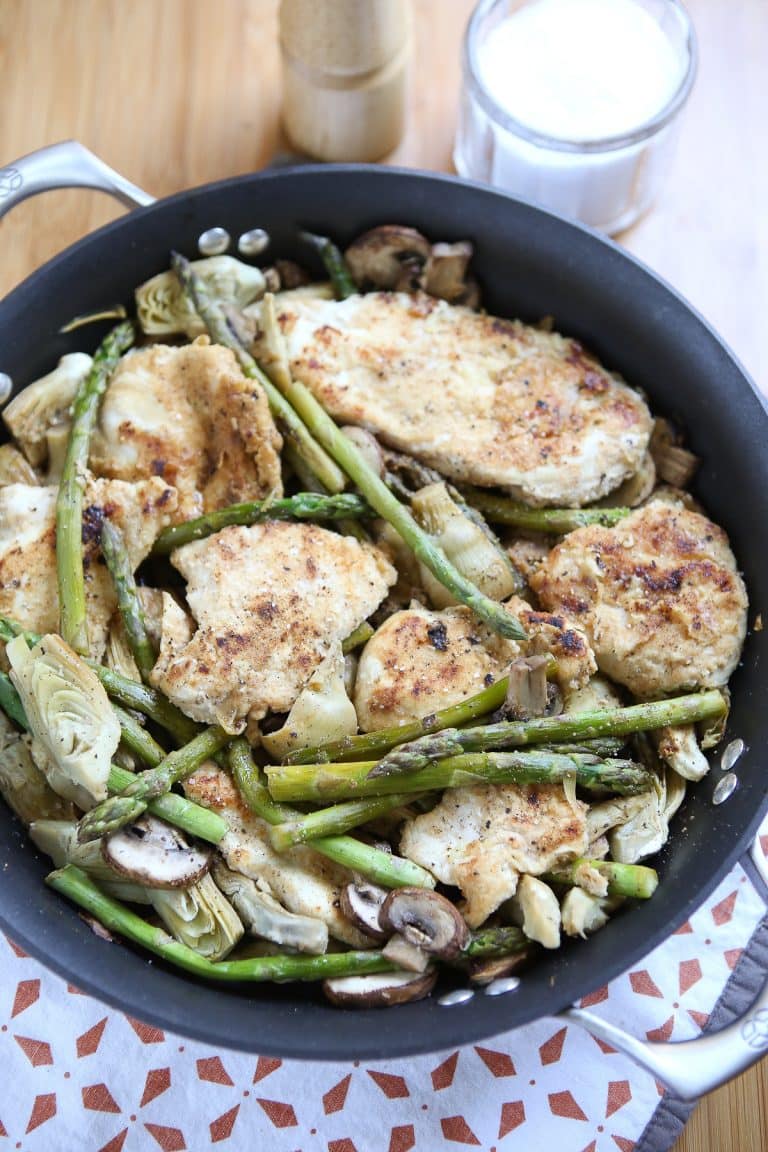 Lemon Pepper Chicken with Artichokes, Mushrooms and Asparagus
Yield: 6 servings
Prep Time: 10 minutes
Cook Time: 20 minutes
Total Time: 30 minutes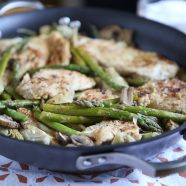 Ingredients:
1.5 lbs chicken breast, sliced into thin cutlets

1 cup flour, for dredging (I use whole wheat flour)

salt and pepper

1 tsp lemon pepper seasoning

1/2 teaspoon garlic powder

1 TB olive oil

8 oz container of fresh sliced mushrooms

12 oz frozen artichoke hearts, quartered (if you can't find frozen, use canned and drain)

1 bunch asparagus, trimmed

1 cup of low sodium chicken broth

2 lemons, juiced

1 TB butter
Directions:
In a large shallow plate mix together flour, lemon pepper seasoning and garlic powder. Add salt if your lemon pepper is a low salt version.
Pour 1 tablespoon olive oil in a hot non stick skillet over medium high heat. Dredge chicken cutlets into flour mixture, shake off excess flour, and carefully place into hot skillet. Brown chicken for approximately 4-5 minutes on each side. Season with extra fresh ground pepper if desired. Once chicken is browned, take out of pan and place on plate.
Add mushrooms and asparagus into skillet and start to saute. Season with coarse salt and fresh ground pepper to taste. Cook vegetables for about 3-5 minutes, or until mushrooms start to brown and soften. Add artichoke hearts, lemon juice and chicken stock. Place chicken back into pan and let everything cook together, gently stirring sauce over chicken. Cook uncovered over medium low heat for approximately 8-10 minutes. Sauce will thicken only slightly. Add butter at the end of the cooking process and gently toss.
To serve, spoon additional sauce over chicken and vegetables.
Serve with brown rice or quinoa.
What you need to make this recipe:
I've updated the original recipe (posted in 2009) slightly, the original recipe can be found here
More quick and healthy one-pan meals:
Skillet Italian Sausage and Peppers with Potatoes
Chicken and Vegetable Stir Fry
Italian Beef Skillet Dinner | Mom To Mom Nutrition
Easy One Pot Caprese Pasta | Recipe Girl
One Pot Shrimp and Orzo | Lean Green Bean
Are you following me on Instagram, Twitter, Facebook and Pinterest? If you'd like to subscribe to Aggie's Kitchen and have each post delivered straight to your e-mail box, then please add your email here. Happy cooking!
There are affiliate links in this post. I make small earnings through any purchases made through these links. Thank you for supporting Aggie's Kitchen!
29 Responses to "Lemon Pepper Chicken with Artichokes, Mushrooms and Asparagus"
Trackbacks/Pingbacks

Leave a Comment