Skillet Italian Sausage and Peppers with Potatoes
Skillet Italian Sausage and Peppers with Potatoes makes the best one-pan meal for busy weeknights! Keep it healthy by using chicken or turkey sausage.
Click here to pin this recipe!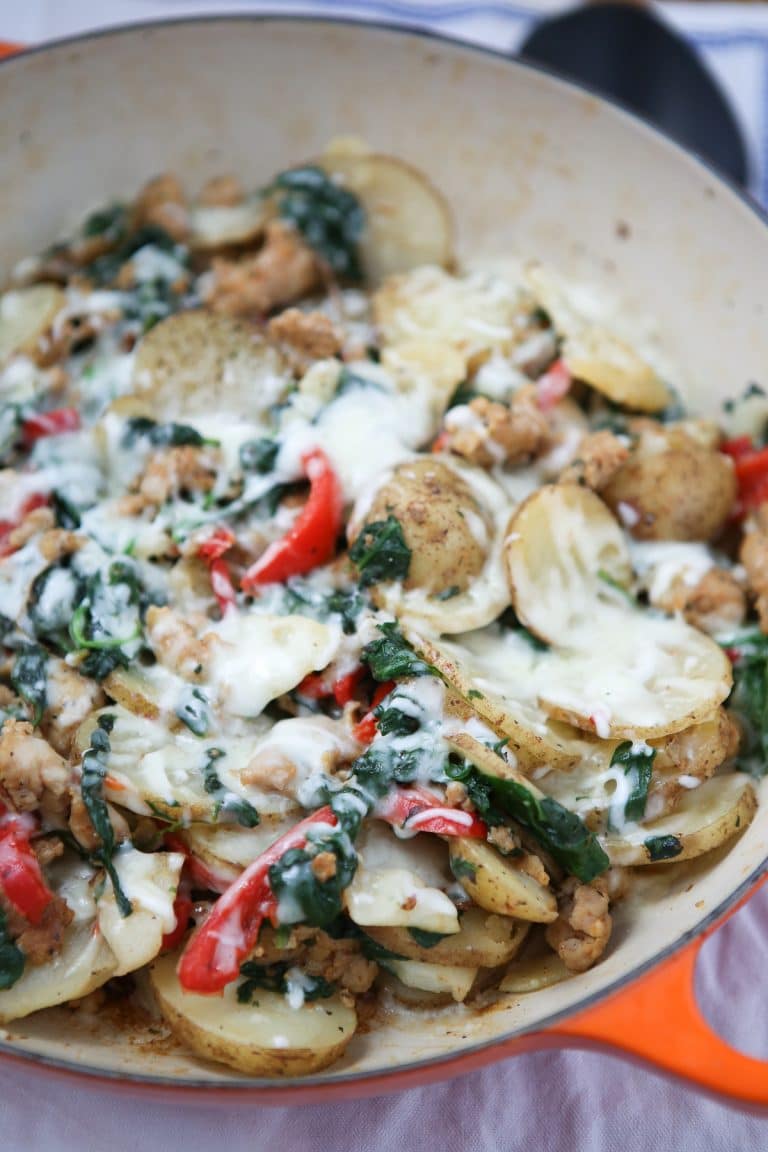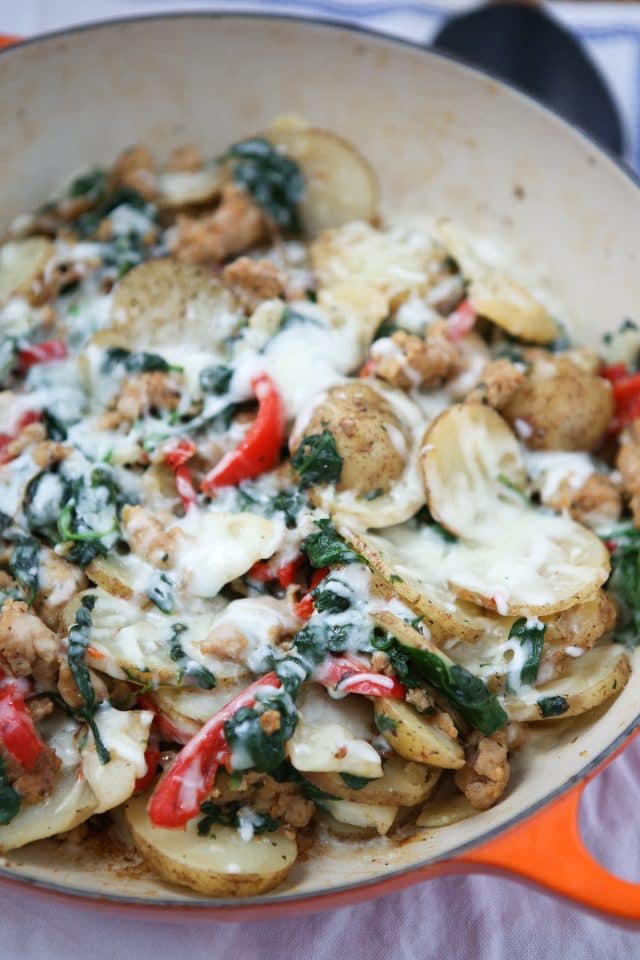 Skillet meals (also known as one-pan meals) are slowly but surely becoming my new BFF. What's not to love about a good skillet meal, especially during the week when you getting home from work late and/or have kids to feed quickly before or after volleyball or basketball practice. I know I'm not the only one trying to figure out this dinner game during the week so I'm hoping this skillet meal gives you a no-brainer option to try out soon.
This skillet meal was inspired by this Cheesy Southwest Beef and Potato Skillet I recently made from my friend Mary's new cookbook The Weeknight Dinner Cookbook. I've made a variation of this dish several times since first trying it because it's so darn easy and my family loves it! I learned a huge kitchen hack from Mary in this recipe – to cut down on cooking time, cook the sliced potatoes in a little water in a large bowl in the microwave. I do this as I'm browning the meat so it works out perfectly to add them when they are ready.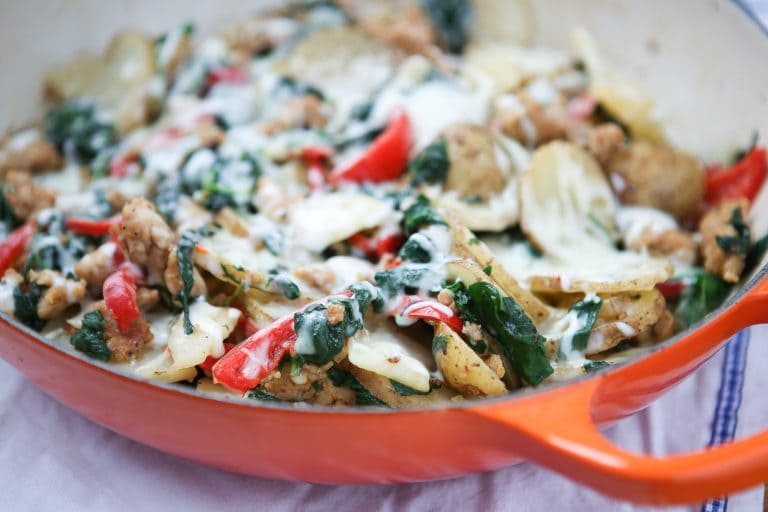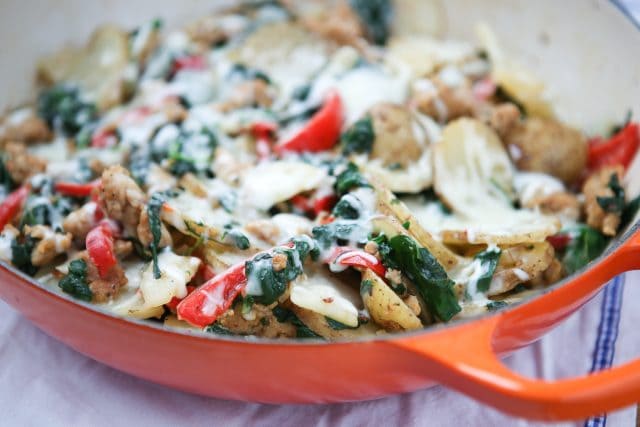 My kids love potatoes so any time I add them to dinner I know they are happy. There was a time when I avoided potatoes (the whole white food = bad mentality) but I've come to embrace potatoes and keep them in the healthy in moderation category. Obviously if they are not deep fried like french fries they are good for you – they are a vegetable! There are nutrients in them for sure.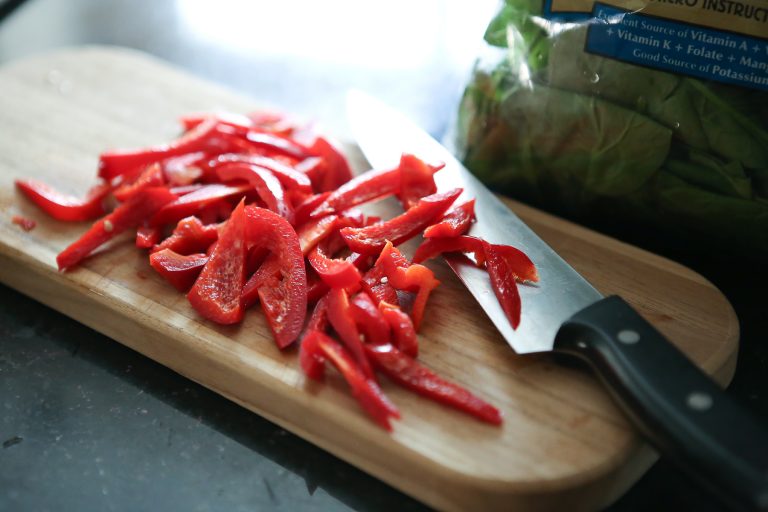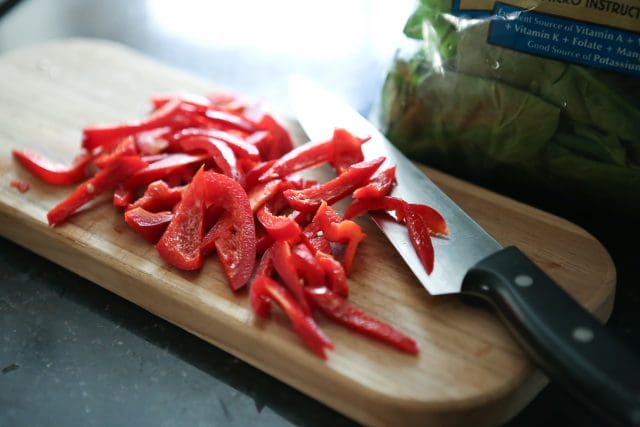 We have a little bit of everything going on in this skillet – I kept it light by using fresh Italian chicken sausage but if you can't find that definitely use turkey sausage instead. The potatoes bulked up the dish and I added plenty of spinach and some red bell pepper for color. Italian flag colors!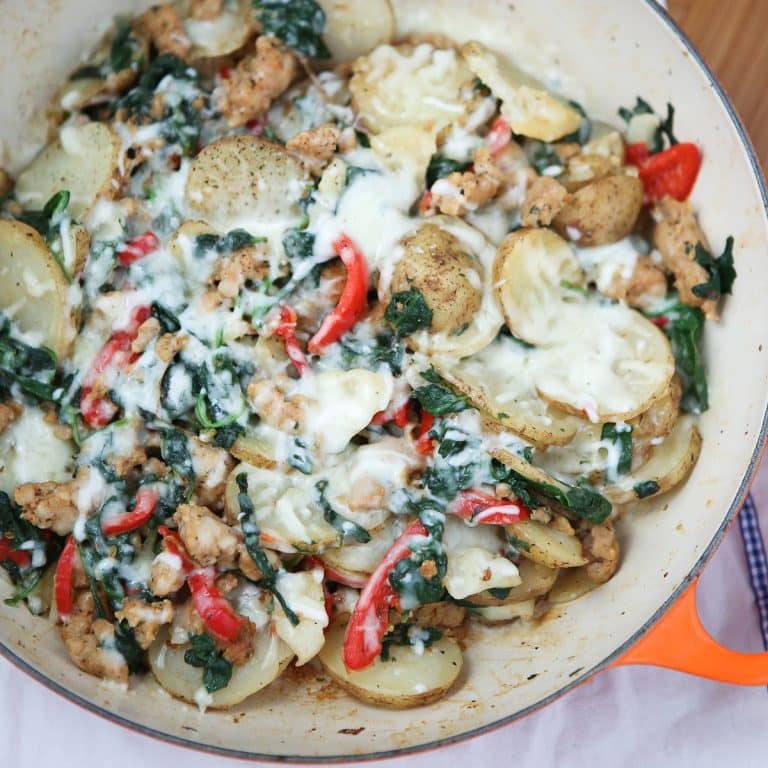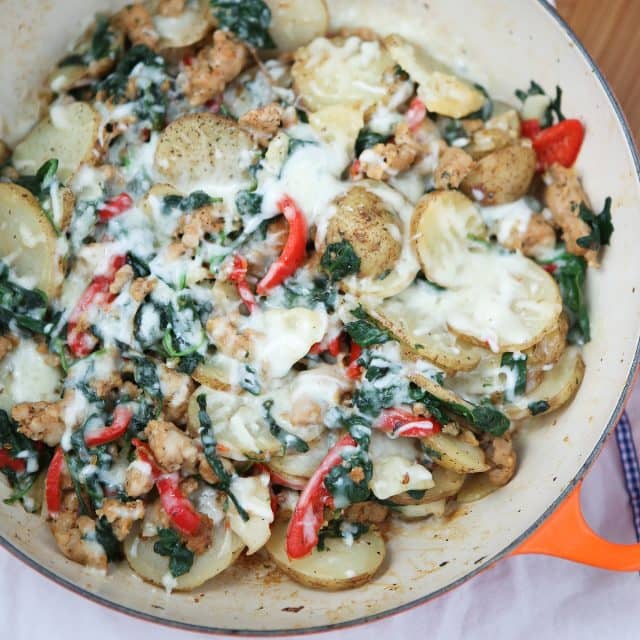 Let me know if you've got a favorite skillet meal that I should try. My friend Katie is the Queen of skillet meals so check her out for more inspiration if that's what you are looking for.
Skillet Italian Sausage and Peppers with Potatoes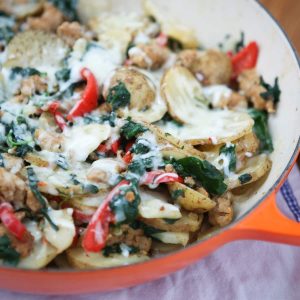 Ingredients:
1 teaspoon oil
1 lb fresh Italian chicken or turkey sausage
3 Russet potatoes, sliced thin
1/4 cup water
1 red bell pepper, sliced thin
1/2 teaspoon dried Italian seasoning
coarse salt and freshly ground pepper
8 oz bag fresh spinach
3/4 cup shredded mozzarella
Directions:
Place the potatoes in a medium-size glass bowl. Sprinkle with a pinch of coarse salt and pepper, add 1/4 of water and stir or toss with your hands. Microwave the potatoes for 4 minutes, stir and microwave an additional 2 to 4 minutes, until fork tender. Alternatively, you can boil the potatoes until they are fork tender, about 8 to 10 minutes, drain and then add to the skillet.
While the potatoes are cooking, heat 1 teaspoon oil in a large skillet. Remove sausage from casings and add the pan (I just squeeze out of casings it out directly into pan). Cook for 5-7 minutes crumbling with a wooden spoon until completely cooked through and browned.
Add sliced red pepper to browned sausage and stir. At this time, add your pre-cooked potatoes (with water) to skillet. Season with Italian seasoning. Let cook for about 5 minutes covered, stirring occasionally.
Add spinach to the pan and gently toss, letting it wilt. You may have to add half the spinach first, let wilt, then add the rest. Gently combine spinach with sausage and potato mixture. Season with salt and pepper and add cheese. Turn off heat and cover for 3-5 minutes or until cheese is completely melted.
Are you following me on Instagram, Twitter, Facebook and Pinterest? If you'd like to subscribe to Aggie's Kitchen and have each post delivered straight to your e-mail box, then please add your email here. Happy cooking!
There are affiliate links in this post. I make small earnings through any purchases made through these links. Thank you for supporting Aggie's Kitchen!