Greek Pepper and Onion Frittata with Feta
The perfect breakfast, lunch or dinner for one! I love making frittatas for a quick meal, this Greek Pepper and Onion Frittata is one I make for myself often.
Click here to pin this recipe!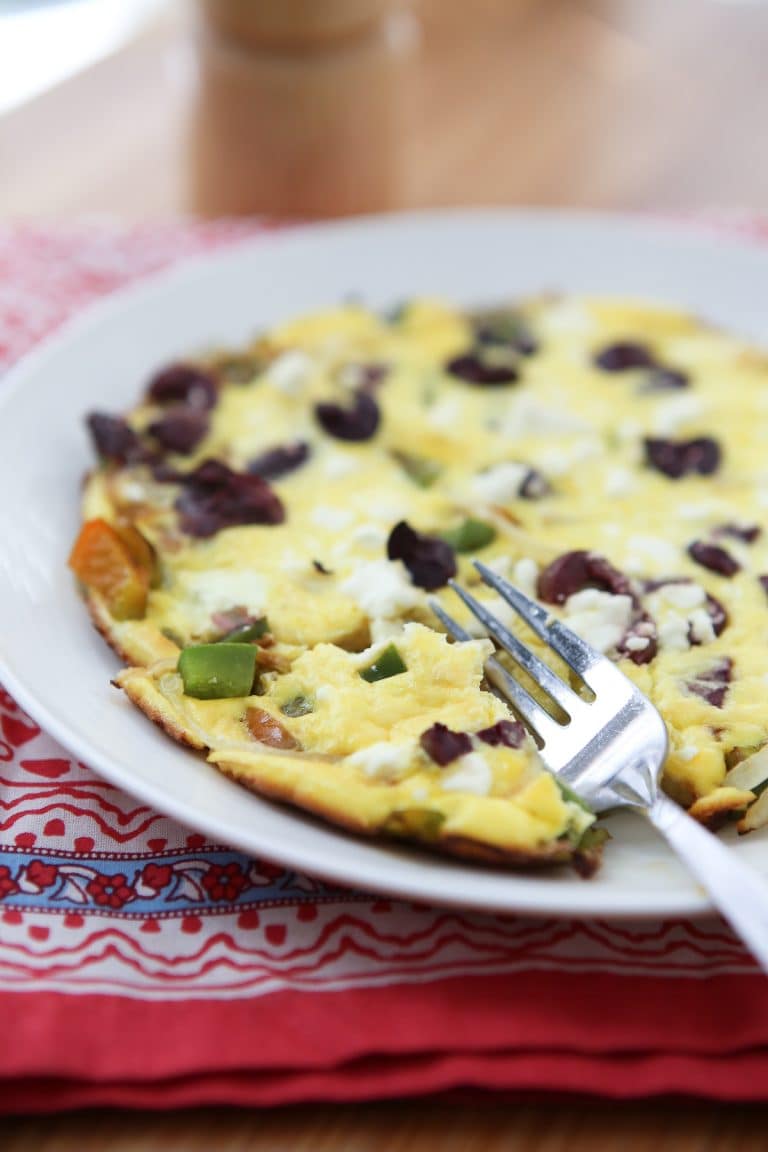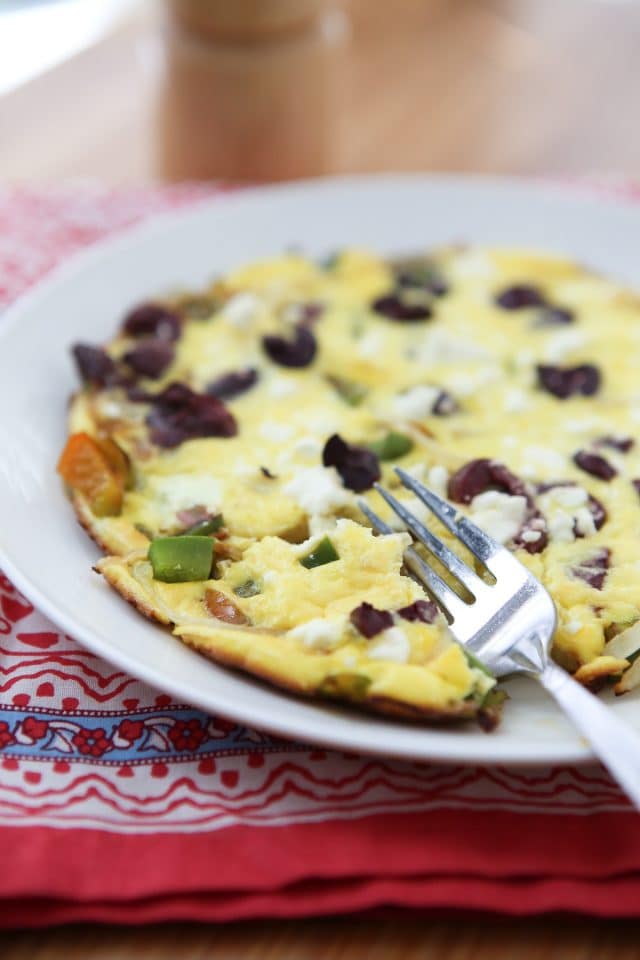 We have been lucky to know a few people with hens over the years, one being a friend who once came over with an incredible box. This box full of eggs. Apparently his hens were happy hens.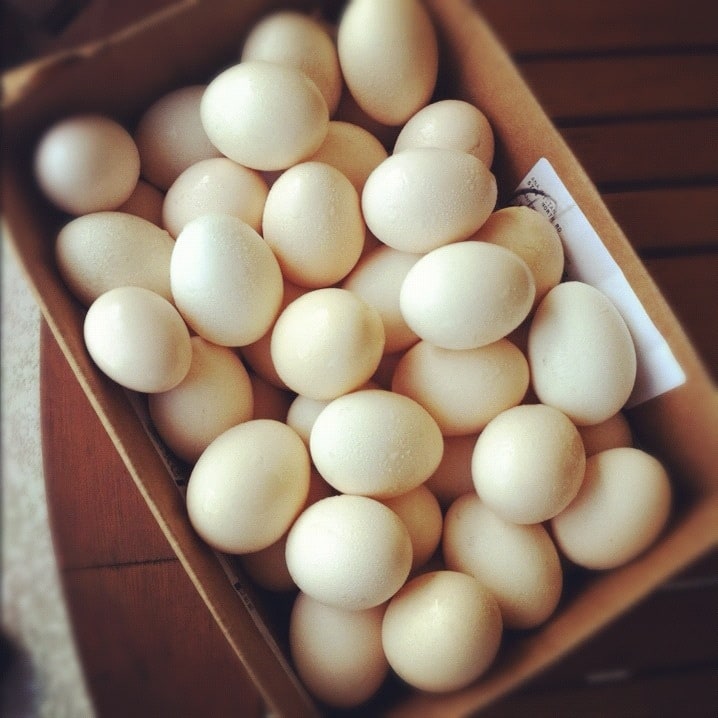 More recently, we got these from a neighbor…they have been supplying us with a good amount of fresh eggs for the last few years and I am ever so grateful!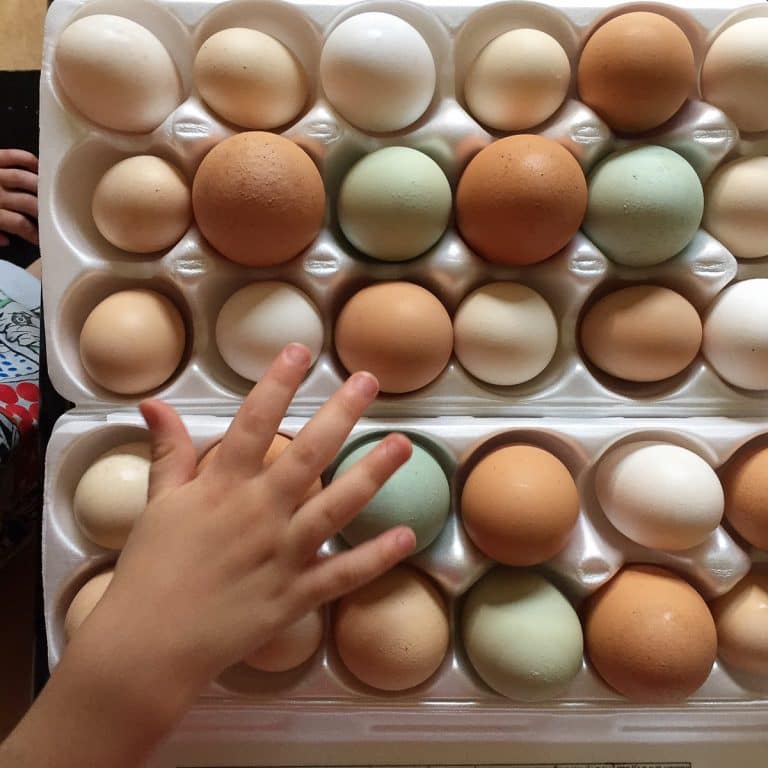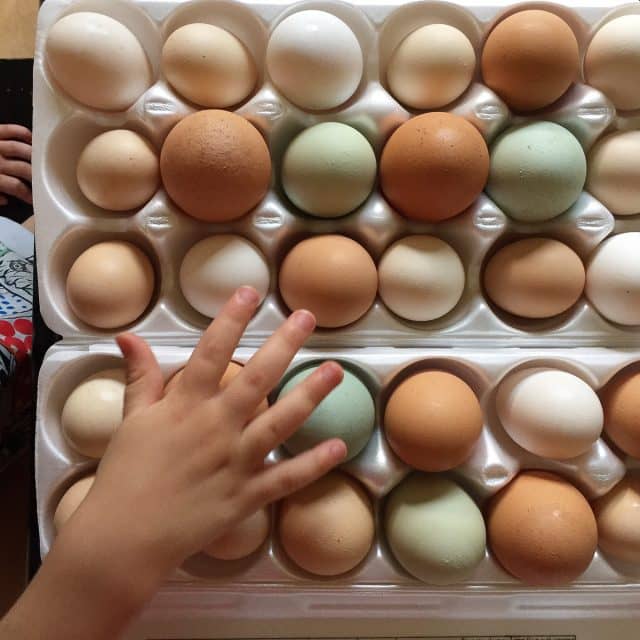 How gorgeous are those eggs??
It's a good thing my family eats a lot of eggs! Typically we have them for breakfast scrambled or fried in a sandwich, but on nights when my husband is traveling and the kids are happy with mac 'n cheese, I like to make myself a frittata…that is if I haven't already had one for lunch that day.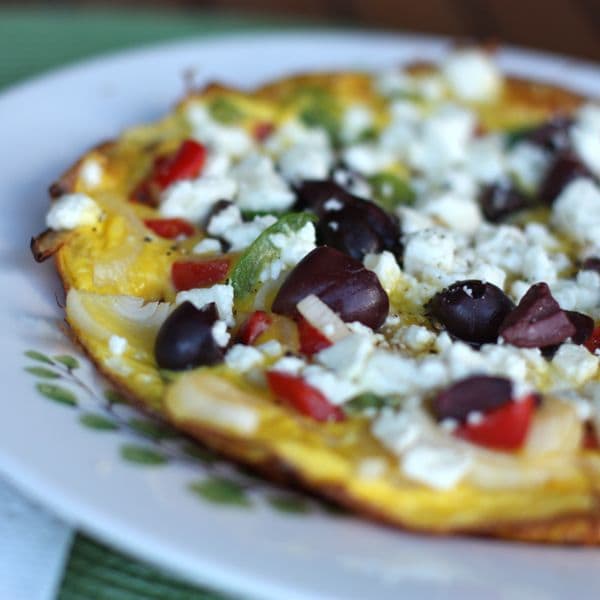 I originally posted this recipe in March of 2012 and decided to share it with you again since it's one I like to make often. I pretty much always have peppers, onions and kalamata olives on hand so it's an easy one to throw together. The photos look so different from each other, I was a little more heavy handed with the veggies the first time around which goes to show you can't really mess up a frittata – add as much or as little veggie and cheese as you'd like. That's what's so great about frittatas…it's a great (low carb) way to get in a lot of veggies with your protein!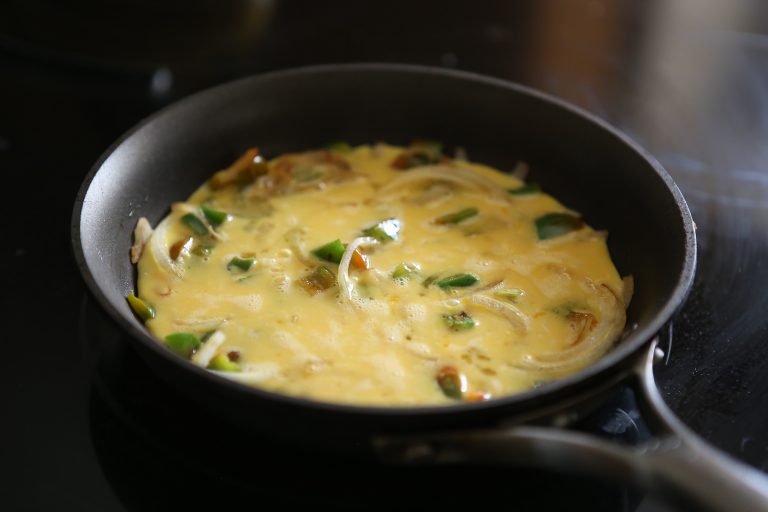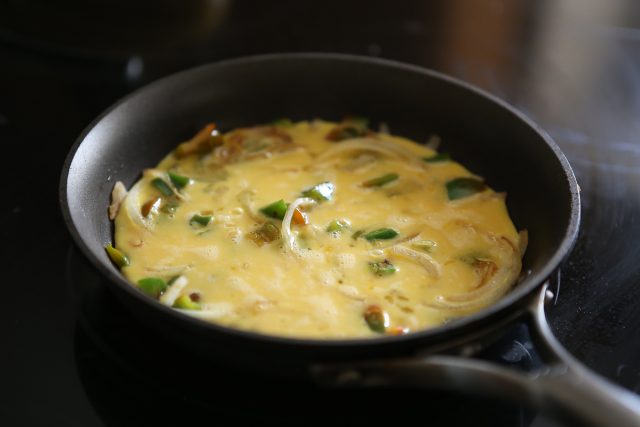 If you haven't made a frittata for yourself yet, it's really quite easy. You start off in a small nonstick pan (make sure it's oven safe though) with sautéing whatever veggies you are using. You then add your eggs (I like to add a splash or two of milk to my eggs before whisking) and let it cook for a few minutes until the bottom "sets". Then top it with cheese and pop it under the broiler for about 5 minutes. The top of the frittata will bake up and the cheese will melt into the eggs. So good!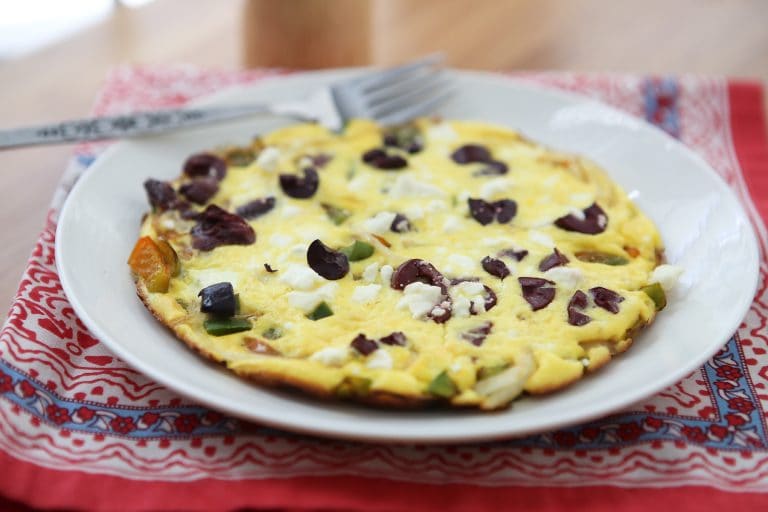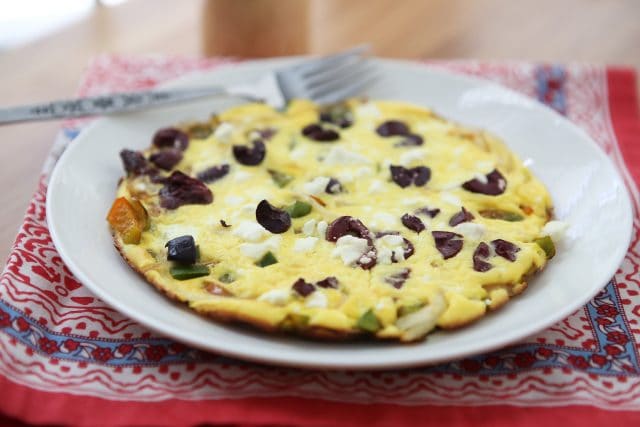 Greek Pepper and Onion Frittata with Feta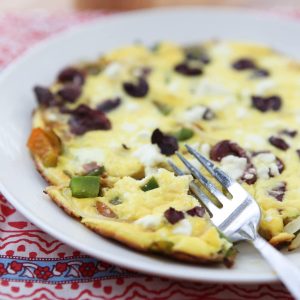 Ingredients:
1/2 small onion, sliced thin
1/4 red bell pepper, chopped
1/4 green bell pepper, chopped
salt and pepper, to taste
2 eggs, whisked well
splash of milk
2 heaping tablespoons crumbled feta cheese
6 kalamata olives, chopped
Directions:
Preheat oven at Broil setting.
Whisk eggs and milk together well. Spray a small nonstick skillet with cooking spray (or grease with a little butter or oil) and heat over medium heat. Add onion and peppers to pan, sprinkle with salt and pepper and saute for 3-4 minutes until they start to soften.
Add eggs to vegetable mixture. Let eggs cook in pan for a few minutes until bottom starts to set. Add feta and olives on top and place under broiler for 3-5 minutes until cooked through and golden brown. Carefully remove pan from broiler using an oven mitt and serve warm.
What you need for this recipe:

Nonstick pan (I use the smaller one in this set)
More frittata love:
Spinach and Potato Frittata from Aggie's Kitchen
Zucchini Frittata from Aggie's Kitchen
Kale and Parmesan Frittata from Aggie's Kitchen
Spinach, Mushroom and Red Bell Pepper Frittata from Bev Cooks
Asparagus, Spinach and Feta Cheese Frittata from Two Peas and Their Pod
Cheeseburger Frittata from She Wears Many Hats
Are you following me on Instagram, Twitter, Facebook and Pinterest? If you'd like to subscribe to Aggie's Kitchen and have each post delivered straight to your e-mail box, then please add your email here. Happy cooking!
There are affiliate links in this post. I make small earnings through any purchases made through these links. Thank you for supporting Aggie's Kitchen!