Spinach and Egg Breakfast Sandwich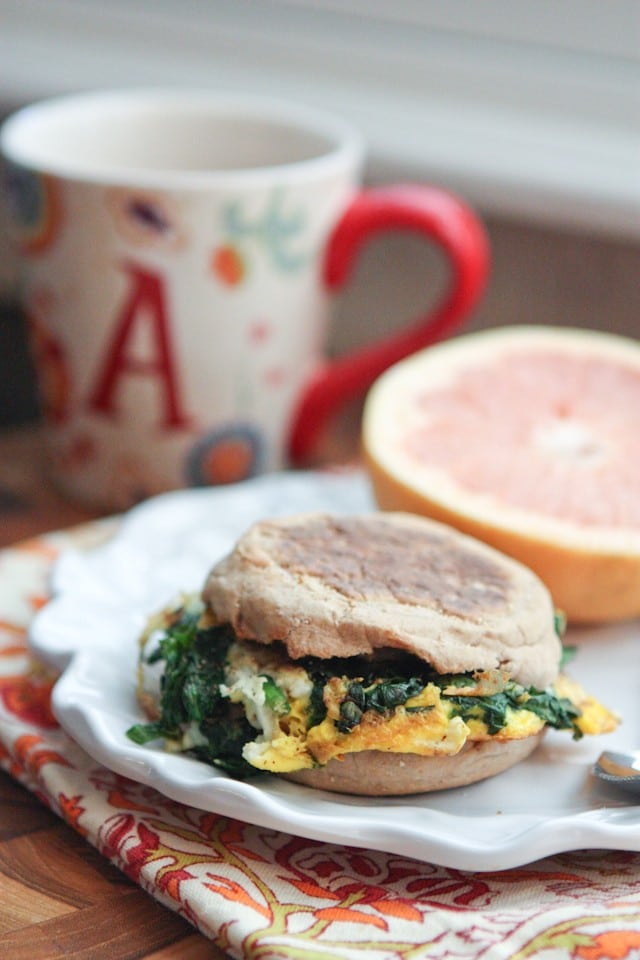 It's hard to believe the month of January is just about over. I'm starting to realize that January can be a tricky month for many of us, at least those I've talked to the last couple of weeks. At first I thought it was just me, but it seems like the month of January has a bit of a metaphoric ebb and flow. It starts off really strong, a fresh start full of ideas, goals and intentions. Then we crash a bit, feeling that post holiday exhaustion that hits us around the second week. By the third week we are realizing we haven't started on any of those goals or intentions we had planned for so maybe a little stress and discouragement kicks in and we start to feel somewhat down. Well, here we are in the last week in January…the January blues are behind us and it's time to really kick off the New Year. At least this is what happens to me…and it seems to happen pretty much every year too!
One of those intentions for me (and I'm sure so many) is to get back in shape and back into a good workout routine. I stayed active over the holidays, but mostly just by taking stroller walks. And that was fine. I am now in a place where I'm ready to kick it up a notch and really start focusing on building my strength and fitness, running more as well as building muscle. I have been in a slump at my gym for a while so I finally made the switch to join my husband's gym last week and I am so glad I did. The main reason I didn't do this sooner was that his gym didn't have child care and with a little one home during the day that was a big deal for me obviously. A lightbulb finally went off and I realized that if I wanted to really make the changes I want to make I was going to have to get a little uncomfortable. Translate: Work out at 5 am before the family wakes up. Translate: Wake up at 4:20 to get to the gym at 5am. Translate: What in the world?!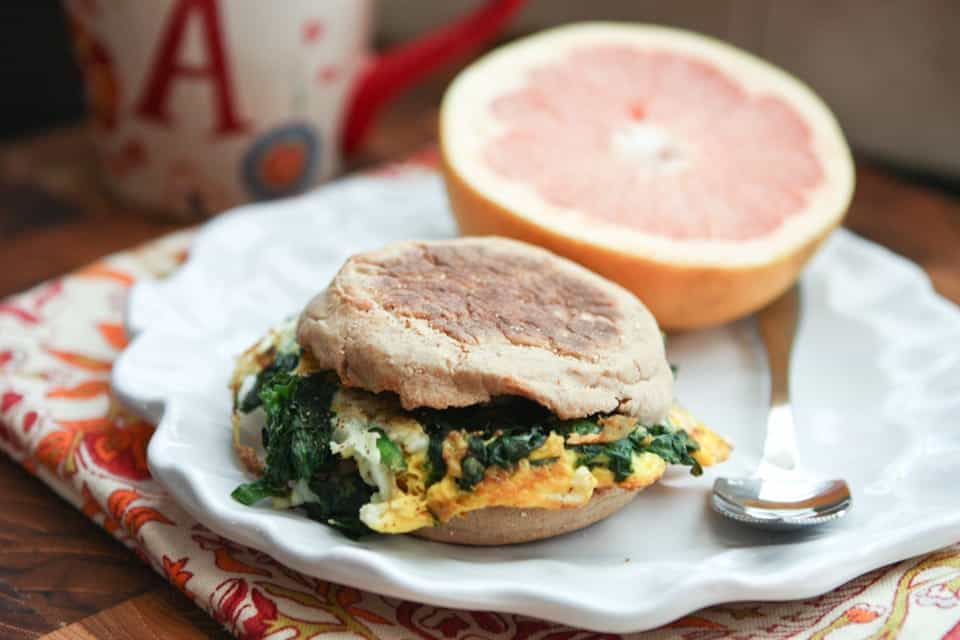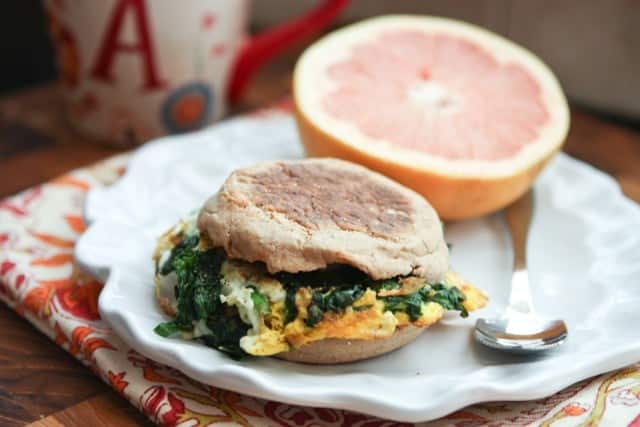 I'm loving it. It is actually becoming my favorite part of my day. It is amazing how you feel driving home after getting your butt kicked (I signed up for the gym's personal training special this month) while it's still dark at 6am knowing you have done something so positive for yourself. I feel like I just joined a club. You know, the club of those super fit and healthy people who get up at the crack of dawn. Yea, I'm in that club now. (I can't wait to look like I do too 😉 ).
Moral of the story…it's okay to get a little uncomfortable if you want to change something about yourself. Actually, I strongly believe it's necessary. And I believe you know deep down when it's time to get uncomfortable and that is the push it takes to get to the next step.
This breakfast sandwich. It's my current favorite breakfast. I'm such an egg for breakfast person (though I do get into refrigerator oats kicks too). It's a great way to get a serving of spinach right off that bat and it's high in protein so it fills you up. When I entered it into My Fitness Pal it comes out to 257 calories and 17 grams of protein. I'll take it.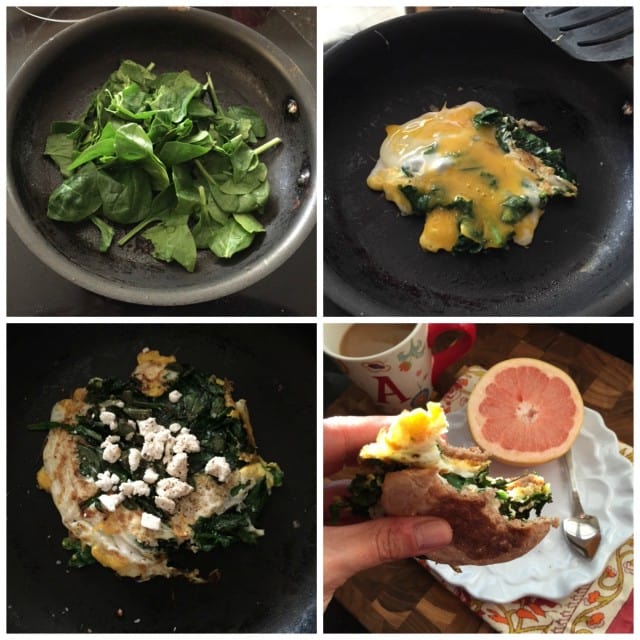 And it's easy to make. That's just given right?
Have a great weekend!!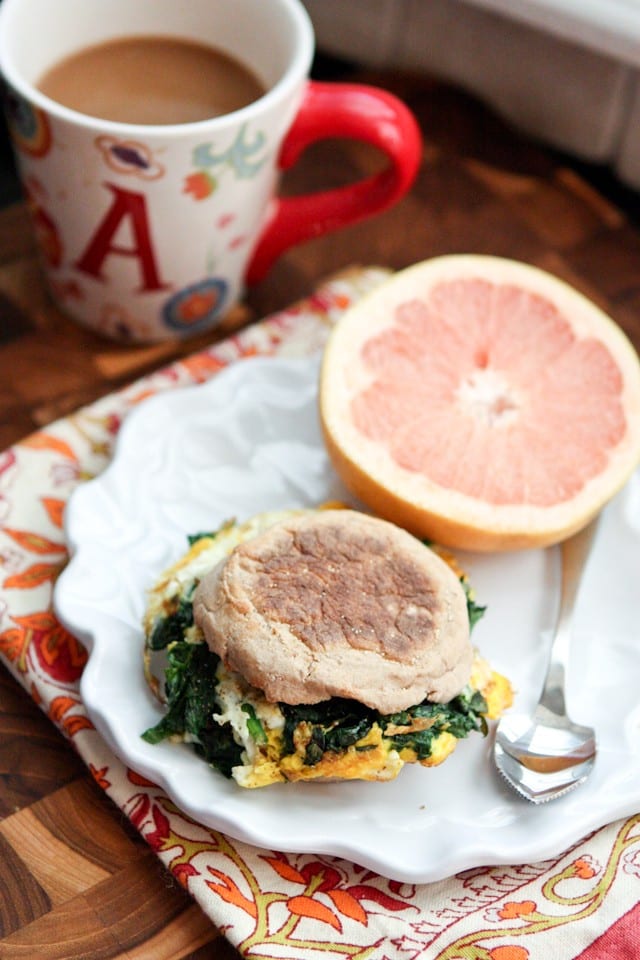 Spinach and Egg Breakfast Sandwich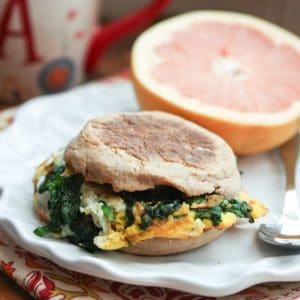 Ingredients:
whole wheat English muffin, toasted
big handful fresh spinach leaves, torn into smaller pieces
non stick spray
1 egg
1 oz (about a tablespoon) of crumbled feta
salt and pepper to taste
Directions:
Place your torn spinach into a small nonstick skillet (sprayed with a bit of nonstick spray) over medium heat. Let it cook a minute so that it starts to wilt down.
Add your egg to the spinach and using a spatula break up the yolk. Let the egg spread over the spinach and keep it shape by using your spatula to push it toward the middle of pan. Let it cook so that it sets. When the bottom is cooked, flip and cook for a few minutes longer.
Add your feta to top of eggs and let melt slightly. Slide onto your English muffin and enjoy!
Follow Aggie's Kitchen's board Breakfast on Pinterest.
Are you following me on Instagram, Twitter, Facebook and Pinterest? If you'd like to subscribe to Aggie's Kitchen and have each post delivered straight to your e-mail box, then please add your email here. Happy cooking!
There are affiliate links in this post. I make small earnings through any purchases made through these links. Thank you for supporting Aggie's Kitchen!