Healthy Cookbook Review and Giveaway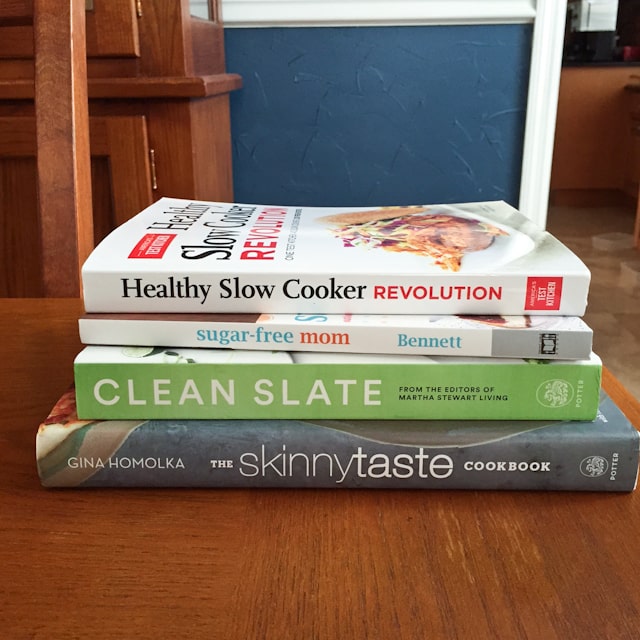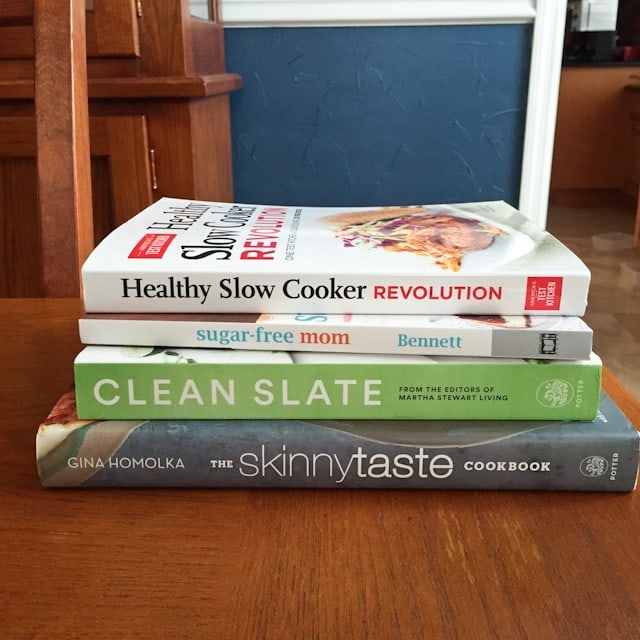 January is over and most of us are back into our regular (post/non-holiday) routines. It always takes me a few weeks to get back into the swing of things after the holidays, but when I do it feels oh so good. My personal goals this month have been simple and straight-forward – move more, eat less and cook more at home.
Cooking at home comes naturally to me (obviously), but that doesn't mean I don't get bored. We all get into cooking ruts from time to time, but the worst time to get into a cooking rut is when you are trying to lose a few pounds and eat right. That's where today's giveaway comes in. I'm so excited to share with you these 4 healthy cookbooks that I've received recently. The authors and publishers of these books have generously given me a copy to review and a copy (of each) to share with one lucky reader as well! Yep, that's right, someone is going to win 4 new cookbooks!
(If you are a cookbook lover and collector like me then I am hoping you are excited too 🙂 )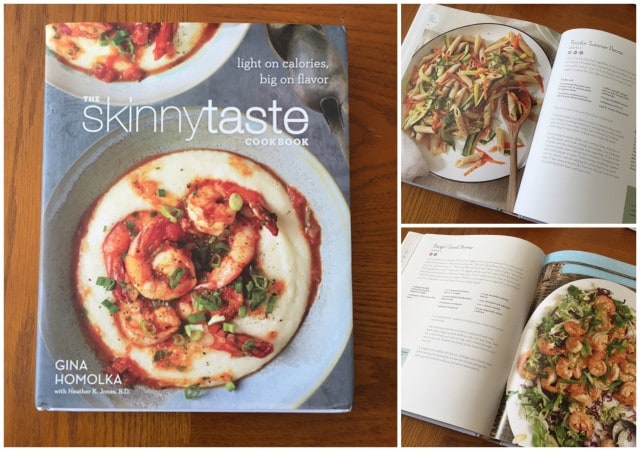 The Skinnytaste Cookbook: Light on Calories, Big on Flavor

by Gina Homolka
What I Love About This Cookbook: I love quite a few things about The Skinnytaste Cookbook, but first and foremost, I just adore the author, Gina Homolka. I have followed her blog for so many years, originally finding it when I was on Weight Watchers. Her cooking style and philosophy is very similar to mine. We both enjoy healthy-ing up recipes we already love and we stay away from "diet food". Gina's recipes are very family friendly which is a big draw for me as well. I could plan a whole week's worth of recipes straight from this book and I'm very sure that each person in my family will love every single one of them. Another great thing about this book and the recipes is they are made with very accessible, whole and fresh ingredients. This is real food, nothing fancy or intimidating. The best part is you will feel good about everything you cook and eat from the book.
Recipes I Can't Wait To Try: Naked Persian Turkey Burgers, Kiss My (Shrimp and) Grits, Mongolian Beef and Broccoli, Slow Cooker Jerk Chicken Tacos with Caribbean Salsa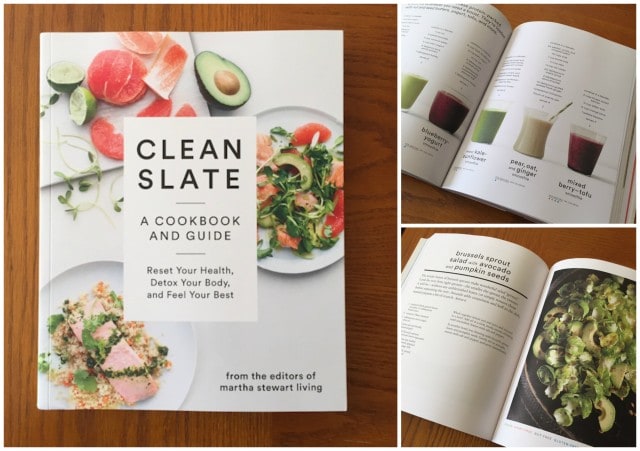 Clean Slate: A Cookbook and Guide: Reset Your Health, Detox Your Body, and Feel Your Best

from the editors of Martha Stewart Living
What I Love About This Cookbook: This book is more than just recipes, it is filled with valuable information on nutrition and taking care of your body from the inside out, most importantly with the food you are consuming. If you are a nutrition junkie like I am then you will love reading through the action focused chapters starting with the Reset chapter which breaks down everything from smart swaps, to explaining which foods are good for detoxifying, inflammation and digestion. This is a very smart book and I find myself learning so much from it. The second part of the book is filled with gorgeous recipes that are nutritious, clean and mostly plant-based (but with some chicken and fish recipes mixed in). I also have to mention there is a section dedicated to detoxifying, anti-inflammatory, energizing and hydrating juices and smoothies. I want to make every single one of them.
Recipes I Can't Wait To Try: Roasted Mushroom Tartines with Avocado, Wild Salmon with Lentils and Arugula, Quesadillas with Collard Greens and White Beans, Brussels Sprout Salad with Avocado and Pumpkin Seeds, Strawberry, Grapefruit and Ginger Smoothie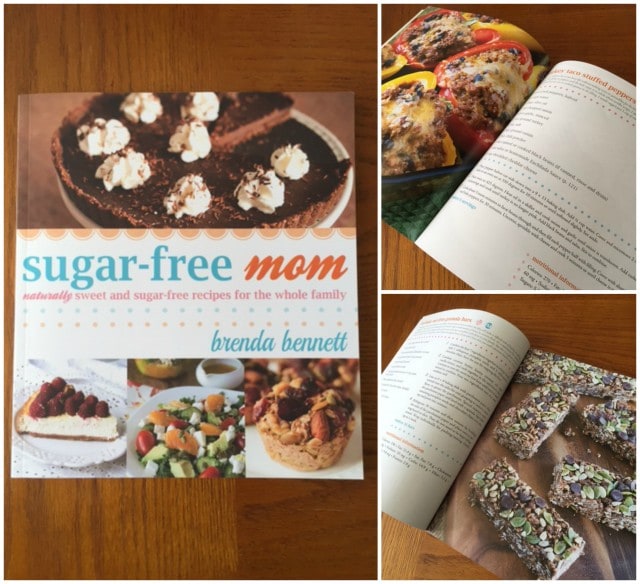 Sugar-free Mom: Naturally Sweet and Sugar-free Recipes for the Whole Family

by Brenda Bennett
What I Love About This Cookbook: It is educational! I mentioned being a nutrition junkie before, and this book really educated me on sugar and it's alternative forms. Brenda really takes the time to give you background on herself, her relationship with sugar, how she stocks her pantry, and how to incorporate sugar free recipes into your cooking and baking. She encourages easing into this healthier lifestyle change and really helps you through the process. Though I personally have no intention of cutting out sugar 100%, it is an ingredient I try to avoid when I can and I am always look for ways to cut back in my cooking and baking. Since Brenda herself is a mom of 3, this cookbook is filled with family friendly recipes. The author Brenda Bennett writes the blog Sugar-FreeMom.
Recipes I Can't Wait To Try: No-Bake Nut-Free Granola Bars, Garlic Parmesan Roasted Chickpeas, Stuffed Kale Quinoa Rolls, Italian Spinach Meatloaf Muffins, Turkey Taco Stuffed Peppers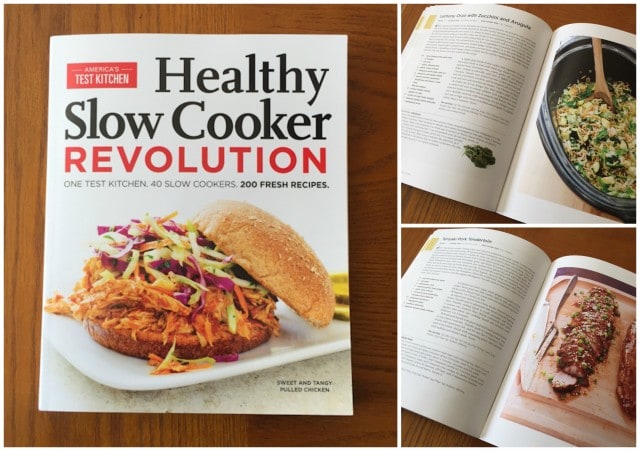 The Healthy Slow Cooker Revolution

from America's Test Kitchen
What I Love About This Cookbook: What I love about this cookbook is what I love about all of America's Test Kitchen cookbooks, it's thoroughly researched and tested cooking methods, tips and recipes. These books truly make me a better cook. There is a whole chapter dedicated to Slow Cooker 101 that explains in depth how to cook with a slow cooker, more specifically how to cook healthy in a slow cooker. It also features a section reviewing 9 different slow cookers.
Recipes I Can't Wait To Try: Manhattan Clam Chowder, Glazed Meatloaf, Farro Risotto with Carrots and Goat Cheese, Apple Oat Crisp
Time for a giveaway!
Giveaway starts Sunday, February 1. Winner will be chosen through Rafflecopter/Random.org. Winner will be contacted by me via email and will have 48 hours to reply before another winner will be selected. Sorry, but giveaway open to US addresses only.
(note: if you are commenting on Aggie's Kitchen for the first time, it may take some time to see your comment appear. Thanks for your patience!)
Good luck and thanks so much for entering!
(Disclosure: I was provided the mentioned cookbooks for review, and winner will be sent their own cookbooks from the publishers. All opinions are my own.)
(Disclosure: There are affiliate links in this post. I make small earnings through any purchases made through these links. Thank you for supporting Aggie's Kitchen!)
Are you following me on Instagram, Twitter, Facebook and Pinterest? If you'd like to subscribe to Aggie's Kitchen and have each post delivered straight to your e-mail box, then please add your email here. Happy cooking!
There are affiliate links in this post. I make small earnings through any purchases made through these links. Thank you for supporting Aggie's Kitchen!