Slow Cooker Asian Citrus Pork Tenderloin Recipe
This Slow Cooker Asian Citrus Pork Tenderloin recipe is a perfect addition to your family's weekly menu. It's easy to make, and full of flavor. A nice change from chicken!
Click here to pin this slow cooker pork tenderloin recipe!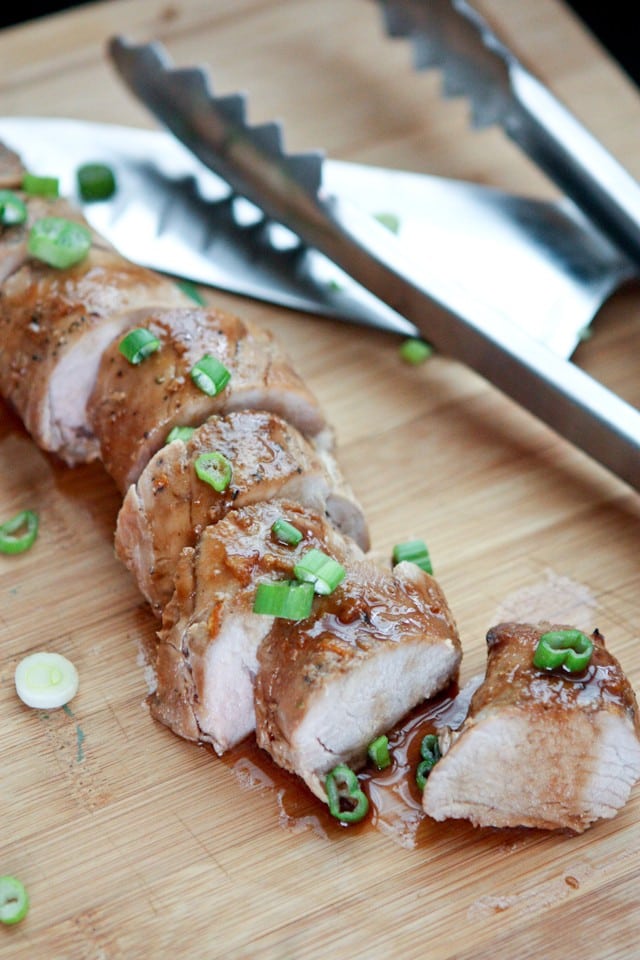 I'm back with another pork tenderloin recipe. The Roasted Chili Maple Pork Tenderloin I shared back in November was my introduction to cooking with pork tenderloin and it turns out many of you love this cut of meat too. I'm amazed how much my entire family loves it and I can't believe I have avoided cooking it for so long.
This time, I decided to try something different and cook it using my slow cooker. Yep, that tenderloin was cooked in the slow cooker and finished off under the broiler. I tried this new-to-me-method after seeing a recipe for Teriyaki Pork Tenderloin in The Healthy Slow Cooker Revolution
 cookbook from America's Test Kitchen (if you missed it, I'm giving away a copy of this cookbook plus 3 others this week here). I wanted so bad to make the Teriyaki Pork Tenderloin recipe but I was missing some pretty key ingredients so I had to improvise and try something a little different.
I mentioned in my healthy cookbook giveaway post yesterday (go enter!) that I absolutely love America's Test Kitchen cookbooks because I always learn something new from them. Recently I learned how to bake lentils when I made this Lentil Salad with Carrots and Cilantro from their  New Family Cookbook
 and I will use that method for cooking lentils from now on.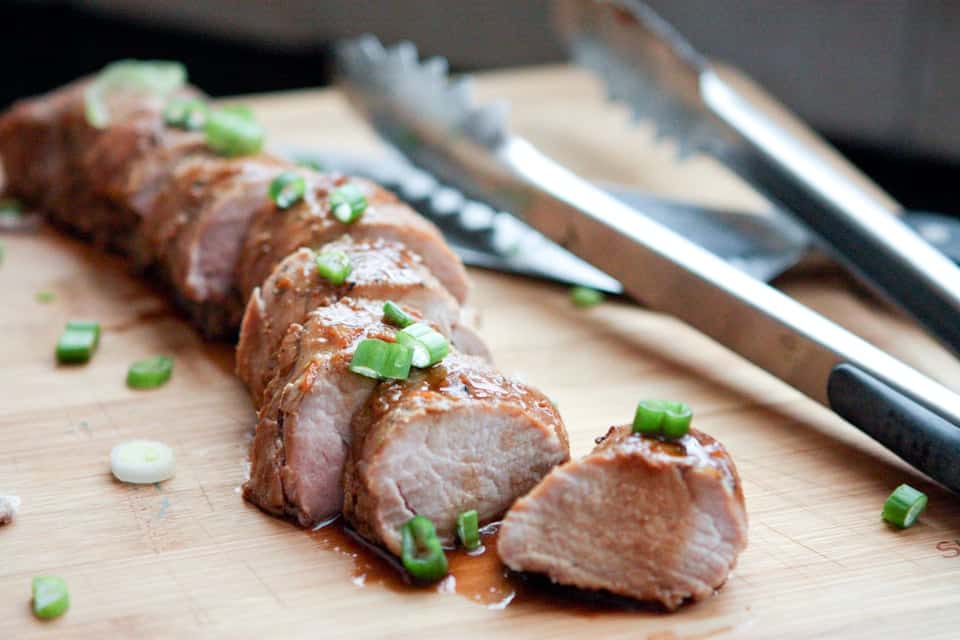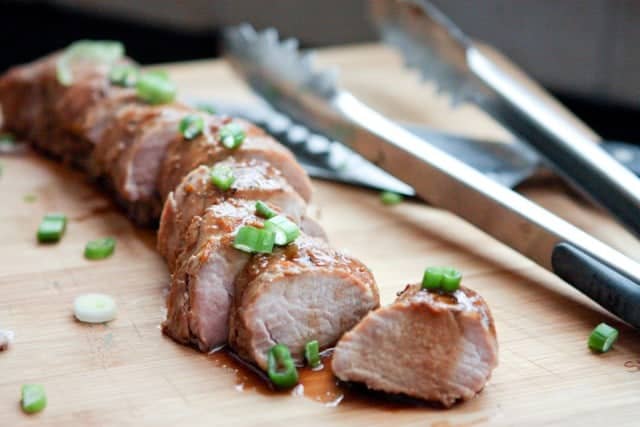 What I learned this time was to cook the tenderloin with a sauce in the slow cooker first, for about 1-2 hours, then finish it off under the broiler. It turned out so moist and tender, I will most definitely use this method again.
I served the pork alongside some roasted broccoli (our go-to favorite) and green beans, and brown rice. It would be great with these delicious looking Super Easy Roasted Vegetables or these Roasted Autumn Vegetables.
My family inhaled it all. Gosh, I can't tell you what an awesome feeling that is.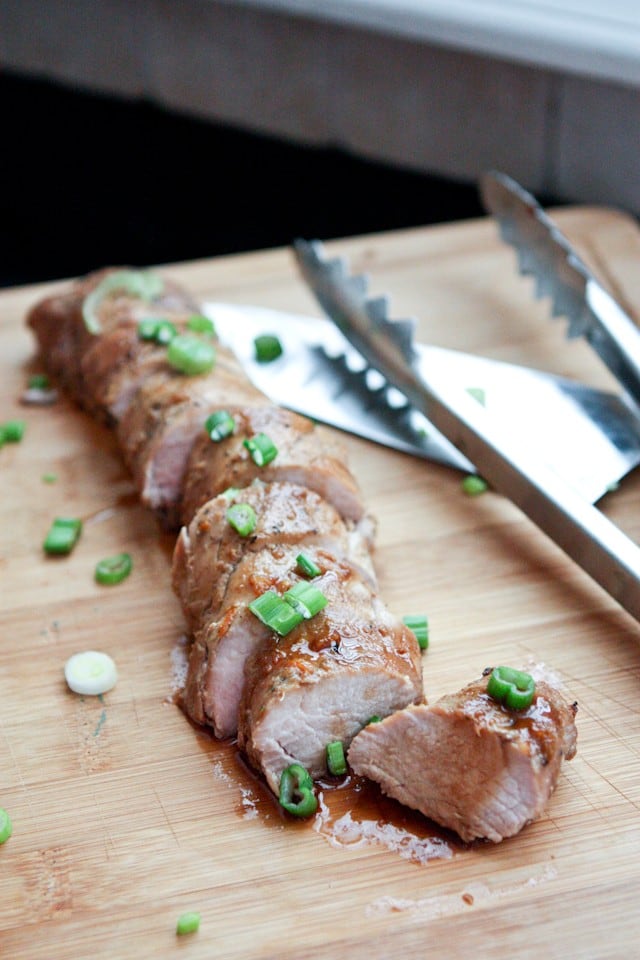 Looking for a new slow cooker? I love my Crock-Pot with Stove-Top Browning – the stove top browning feature was a total game changer for me!
Slow Cooker Asian Citrus Pork Tenderloin Recipe
Ingredients:
2 pork tenderloins - about 2 lbs
1/3 cup low sodium soy sauce
2 tablespoons orange preserves
1 clove garlic, minced (or pressed)
1 inch cube of fresh ginger, grated
salt and pepper
sliced scallions, for serving
Directions:
Combine soy sauce, orange preserves, garlic and grated ginger in a small bowl.
Place pork tenderloins into a large slow cooker and season with salt and pepper. Pour sauce over pork tenderloins and cook on low for 1 to 2 hours or until center of pork reaches 140 degrees (use a meat thermometer for this). (Note: I cooked for 1 hour and a half, it all depends on how hot your slow cooker runs.)
Turn your broiler on. Set rack 6 inches below broiler.
Carefully transfer pork to an aluminum foil lined rimmed baking sheet. Transfer cooking liquid from slow cooker into a small saucepan (when doing this it is best to place a small strainer over saucepan to separate the fat). Bring to a simmer over medium heat and continue to simmer for about 5 minutes until slightly reduced.
Spoon reduced sauce over pork (save any leftover sauce for serving). Broil pork for about 5 minutes until browned. Let rest for about 5 minutes, then transfer to a cutting board and slice into 1/4 -1/2 inch pieces. Sprinkle with chopped scallions and serve with any leftover sauce.
Follow Aggie's Kitchen's board Slow Cooker Goodness on Pinterest.
Are you following me on Instagram, Twitter, Facebook and Pinterest? If you'd like to subscribe to Aggie's Kitchen and have each post delivered straight to your e-mail box, then please add your email here. Happy cooking!
There are affiliate links in this post. I make small earnings through any purchases made through these links. Thank you for supporting Aggie's Kitchen!