Skinnytaste Zoodles with Shrimp and Feta
Healthy and simple, this Skinnytaste Zoodles with Shrimp and Feta recipe comes together in just 15 minutes!
Click here to Pin this recipe!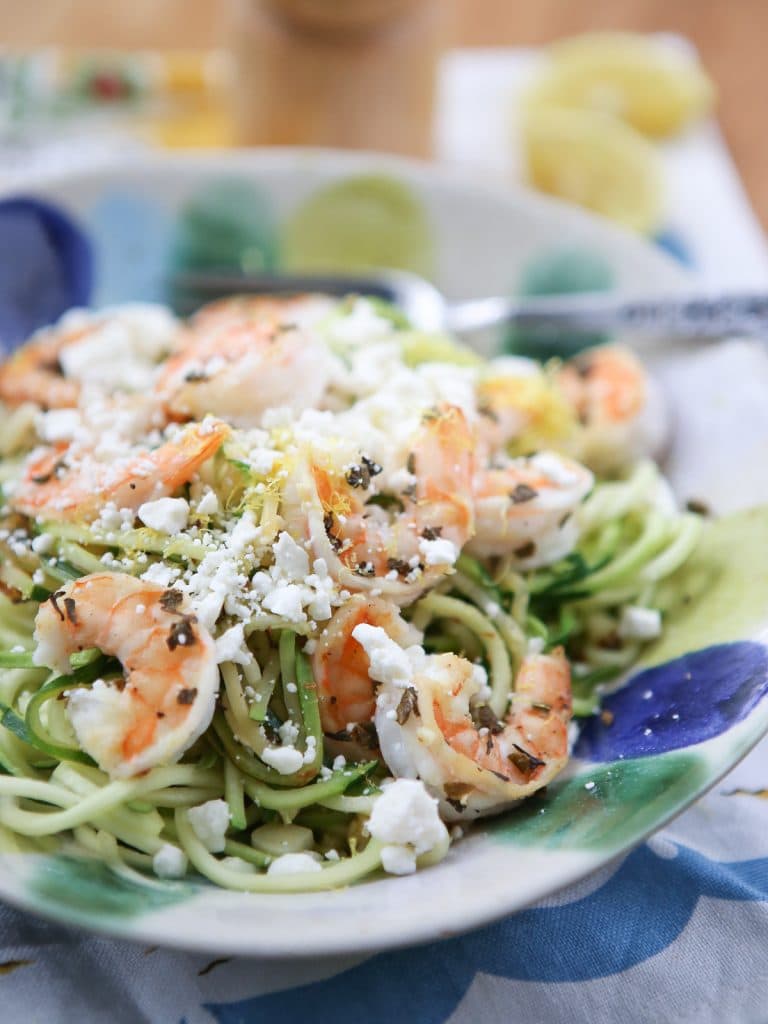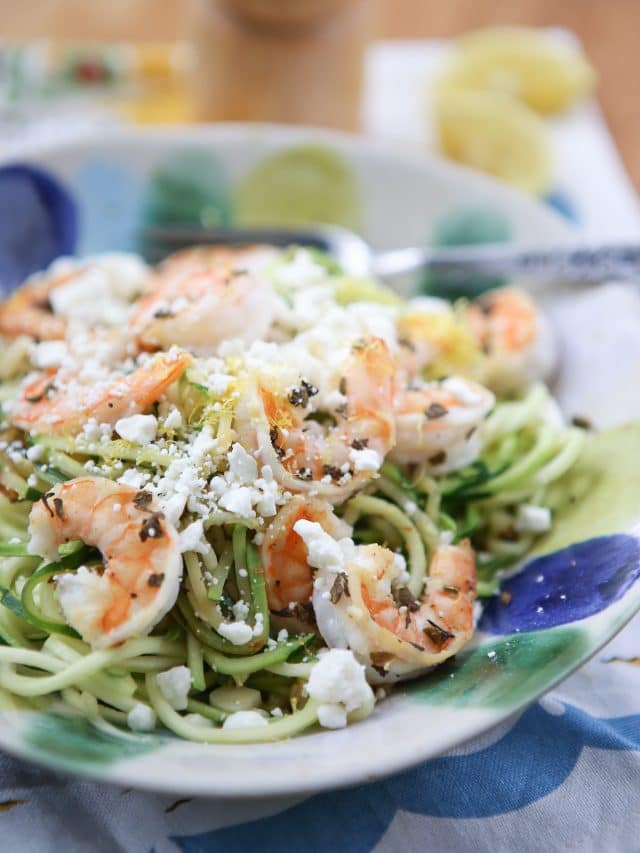 I find it hard to believe that this is the first zoodle recipe I'm posting here on the blog considering I've been enjoying spiralized zucchini (along with the rest of the internet) for quite a while now. If you ever want to really clean up your eating and bulk up on vegetables, start experimenting with your spiralizer – there are a ton of ways to enjoy veggies this way, the ideas are seriously endless.
Today's recipe is from my friend Gina's new cookbook, Skinnytaste Fast and Slow. You may already be familiar with her blog, Skinnytaste, and first cookbook The Skinnytaste Cookbook. We are big fans of Gina's recipes in my house – my kids are constantly asking me to make this Loaded Baked Potato Soup and my husband absolutely loves this Slow Cooker Turkey Picadillo. Her recipes really are exactly how I like to cook – simple, flavorful and filled with real ingredients.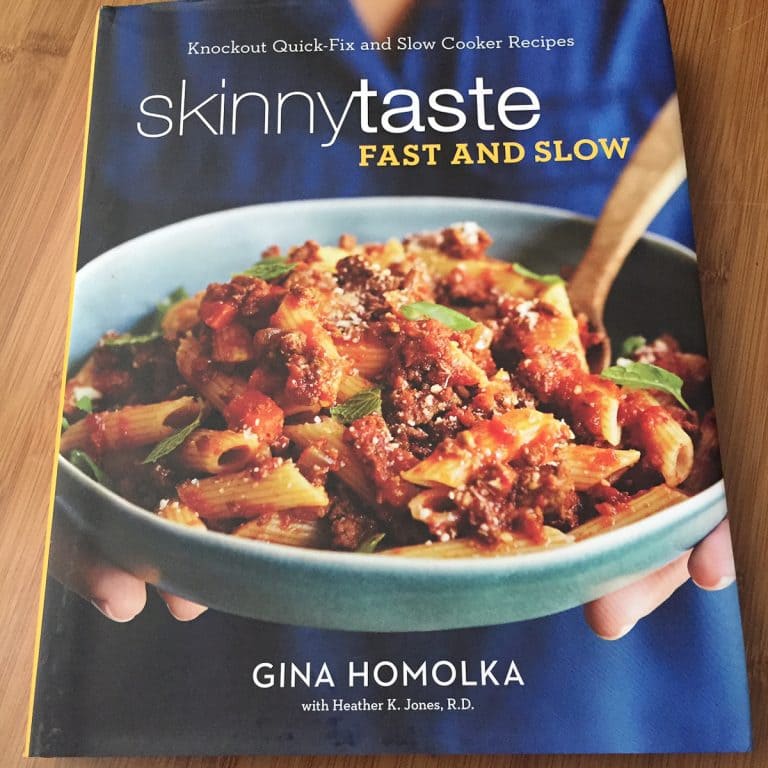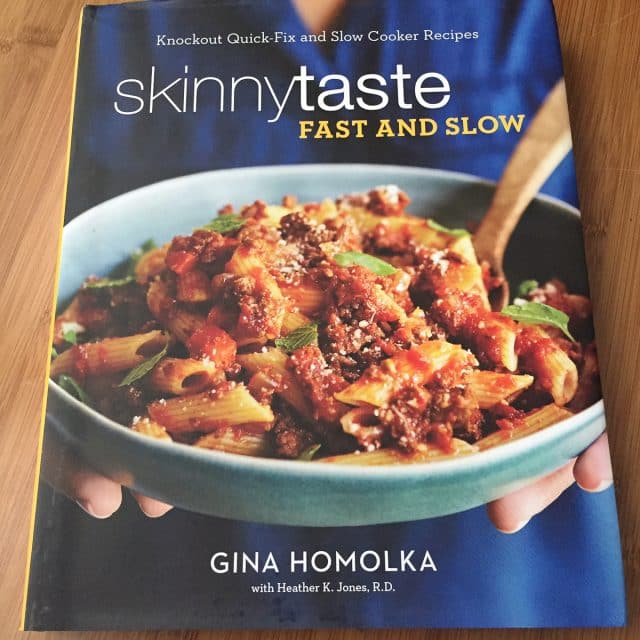 PURCHASE: Skinnytaste Fast and Slow
Gina's newest cookbook, Skinnytaste Fast and Slow, was released this week and is focused on healthy quick-fix and slow cooker recipes. In addition to the 140 nutritious recipes, the front part of the cookbook provides great tips on pulling together fast and slow cooker meals as well as a MONTH'S worth of meals planned out for you. For anyone really focused on feeding themselves and their family well, this book definitely provides a great guide as well as a variety of recipes.
If you are following Weight Watchers, Gina has also provided Smart Points for all her recipes in the book here.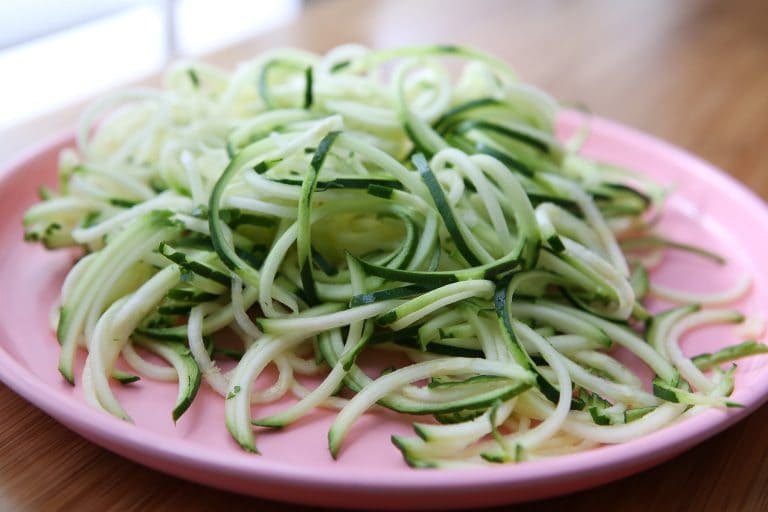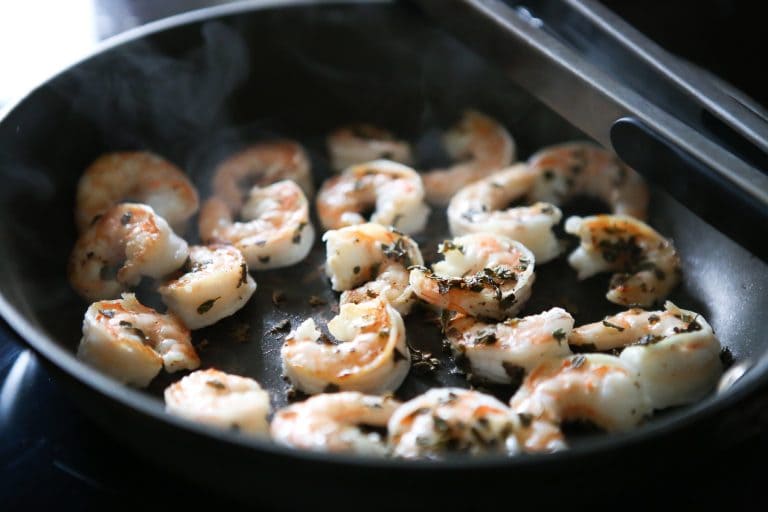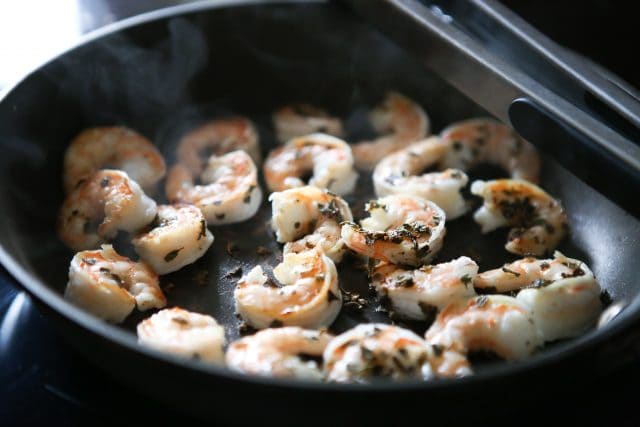 My husband and I love shrimp (our children do not), so this is our kind of dinner. I can not express to you enough how quickly these Skinnytaste Zoodles with Shrimp and Feta come together. This last month or so I've been really struggling with some extra weight I have put on and I am trying to make dinners light but filled with protein. This is that kind of dinner. Works out perfectly on nights when I have just enough leftovers to feed the kids but I can treat myself and my husband to something different.
If you are not interested in zoodles and are in the mood for something more hearty, here's how to saute shrimp for pasta – I can't get enough shrimp and pasta dishes!
Enjoy the recipe and have a great rest of the week!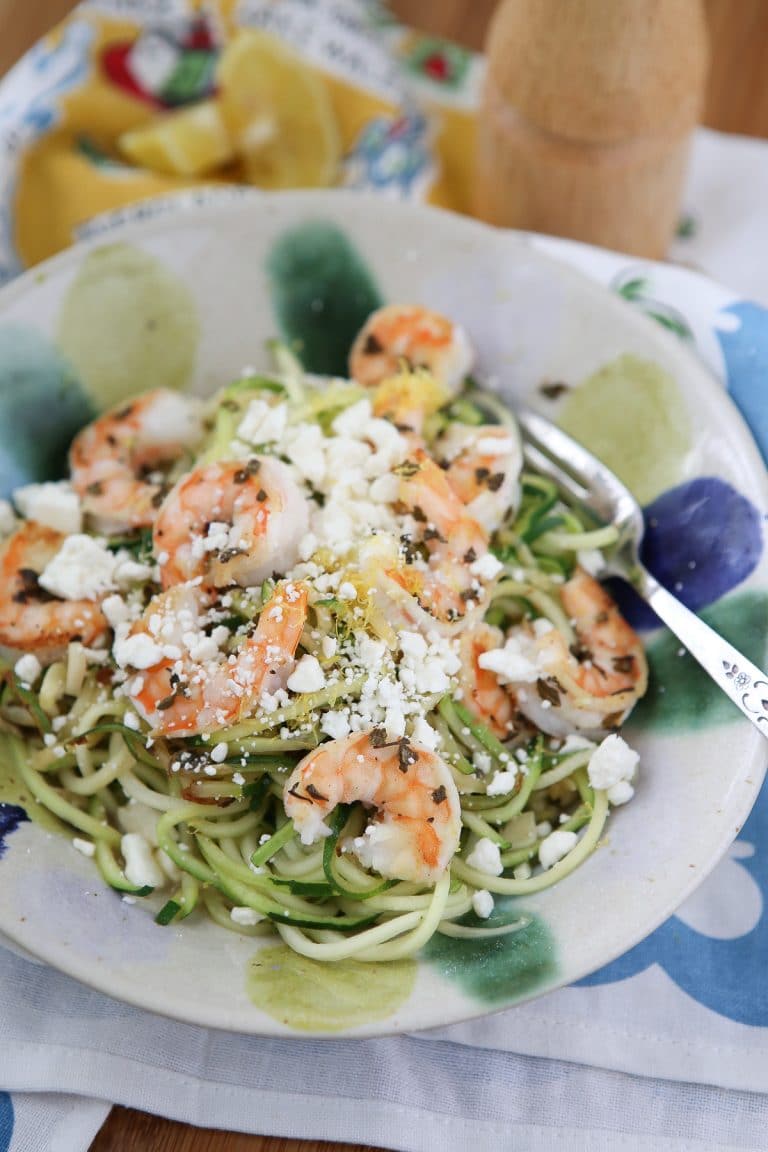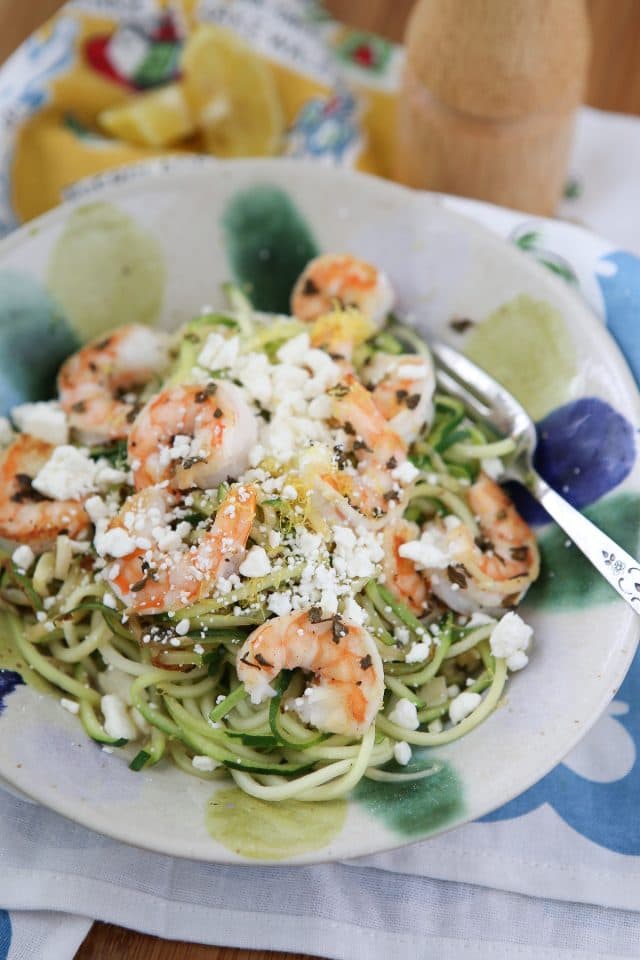 Print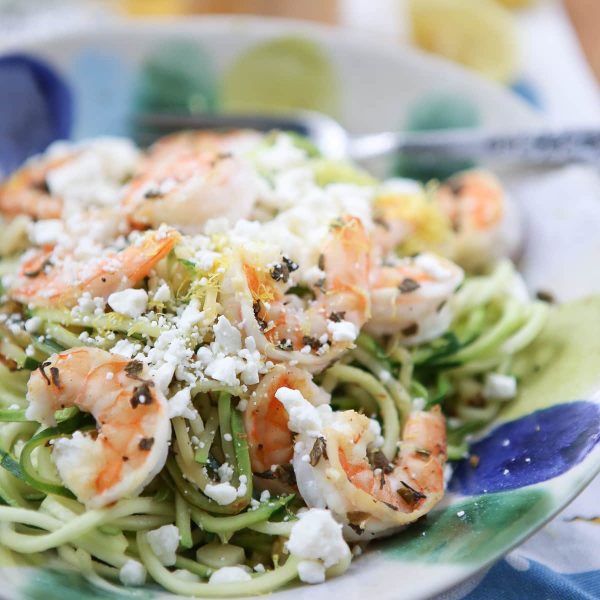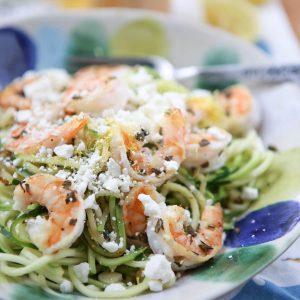 Skinnytaste Zoodles with Shrimp and Feta
Author:
Yield: serves 2
Category: Fish
Method: Stovetop
Healthy and simple, this Skinnytaste Zoodles with Shrimp and Feta recipe comes together in just 15 minutes!
---
Ingredients
2 teaspoons extra-virgin olive oil
12 peeled and deveined jumbo shrimp (1/2 pound)
1 teaspoon chopped fresh oregano
1/4 teaspoon kosher salt
Freshly ground pepper
2 garlic cloves, minced
2 medium zucchini (14 ounces total), spiralized using the thick setting and cut into 6-inch lengths
1 1/2 tablespoons fresh lemon juice
1 1/2 ounces crumbled feta cheese
1/4 teaspoon grated lemon zest
---
Instructions
In a large nonstick skillet, heat 1 teaspoon of the oil over medium-high heat. Season the shrimp with 1/2 teaspoon of the oregano, 1/8 teaspoon of the salt, and pepper to taste. Add the shrimp to the skillet and cook until they are just opaque, about 2 minutes per side. Transfer to a plate.
Heat the remaining 1 teaspoon oil in the same skillet and add the garlic. Cook, stirring, until golden, 30 to 60 seconds (be careful not to burn it). Add the zucchini noodles, the remaining 1/2 teaspoon oregano, the remaining 1/8 teaspoon salt, and pepper to taste. Cook, stirring, until the zucchini is crisp-tender, 1 1/2 minutes. Add the lemon juice, stir and remove the pan from heat.
Divide the noodles between 2 plates. Dividing evenly, top with the shrimp, feta, and lemon zest. Serve hot.
---
Are you following me on Instagram, Twitter, Facebook and Pinterest? If you'd like to subscribe to Aggie's Kitchen and have each post delivered straight to your e-mail box, then please add your email here. Happy cooking!
There are affiliate links in this post. I make small earnings through any purchases made through these links. Thank you for supporting Aggie's Kitchen!