Skinnytaste Slow Cooker Picadillo
This Slow Cooker Picadillo from The Skinnytaste Cookbook is a wonderful family friendly meal that is full of flavor and easy on the waistline. Great weeknight meal!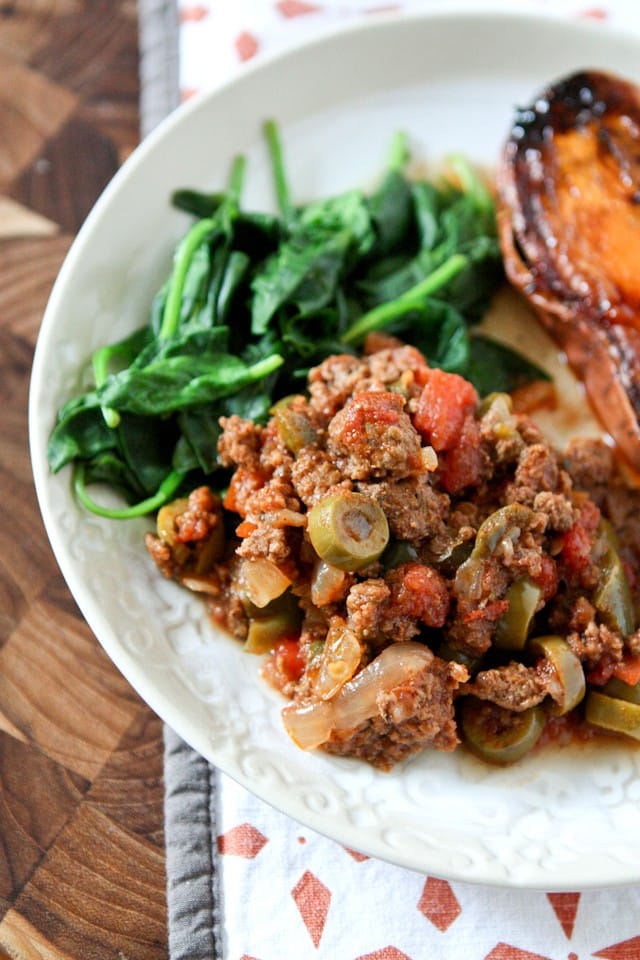 Well, my slow cooker officially bit the dust this week. My mother in law gave it to me about 12 years ago when I first got married, and since I didn't grow up with a crock pot I had absolutely no idea what to do with it (I still have the Fix It and Forget It Cookbook
 she gifted to me along with it too 🙂 ). I have come a long way…because I have been using the heck out of that crock pot the last few years. I'm a little sad to see it go.
Here's a public safety announcement for you though…check the bottom of your crock pot bowls (the part that pulls out) for any cracks. I found out mine had a large crack this week when I was spooning out (with a metal spoon) some of this picadillo and I actually felt a bit of a shock. I felt it a couple of times actually, it was mild and I thought I was imagining it but once I saw that crack I realized how very real it was. So, check your bowls for cracks and don't use metal utensils in the crock pot (is this something I should have known already??).
As sad as I was to say goodbye to my first slow cooker, I LOVE my new one and its amazing stove-top browning feature (you can purchase it on Amazon here, it's been worth every penny to be able to brown the meat on the stove without using another pan).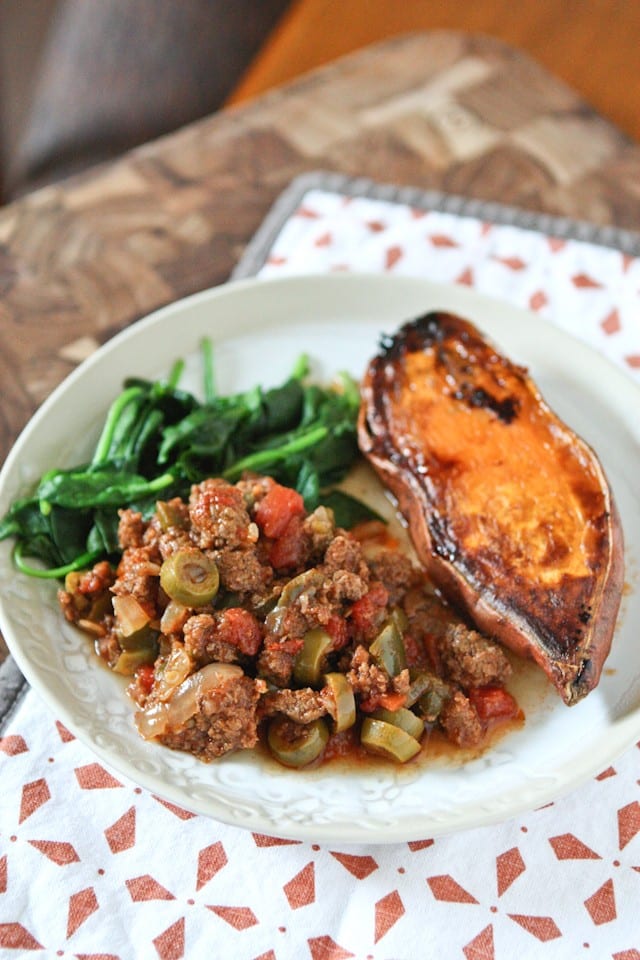 Let's talk about this Slow Cooker Picadillo from The Skinnytaste Cookbook.
This week I've been featuring recipes from the 4 healthy cookbooks I'm giving away (enter the giveaway here if you haven't already). I have mentioned this before, but I love this cookbook
 (and blog!). The recipes are very family friendly and with simple, straight forward ingredients, and obviously healthy. I've made this picadillo before and it's a family favorite of ours.
We all love it and this week I served it with brown rice and steamed spinach (full disclosure: my son will not eat olives so after a few words finally ate most of it after I made sure his plate was olive free – more for the olive lovers!). I served my picadillo with a baked sweet potato and spinach. Delicious!!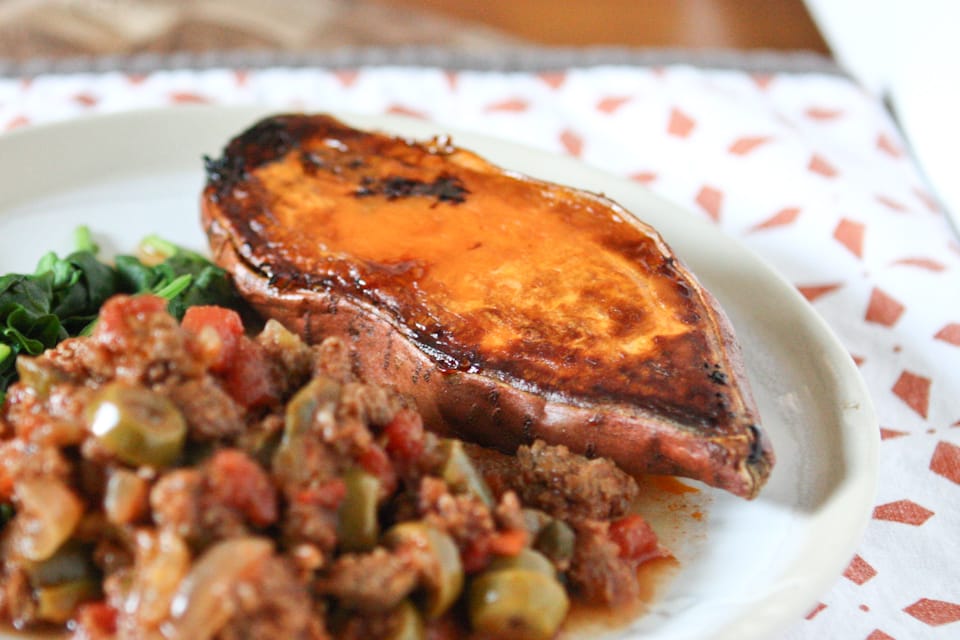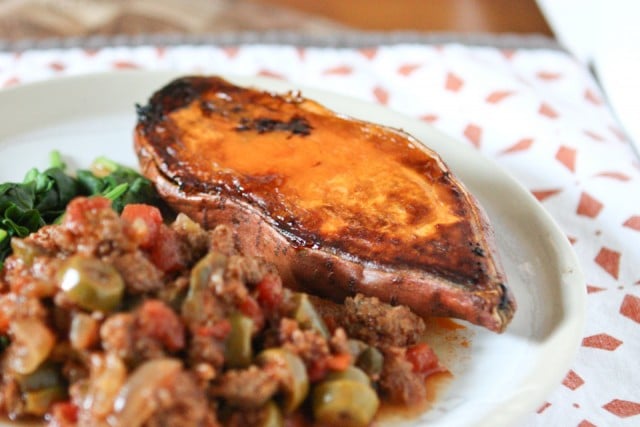 (I cook regular and sweet potatoes almost weekly using my friend Amy's Quick Baked Potatoes method – the best!)
Such a delicious meal. I don't cook with lean ground beef often these days so it was a nice change from ground turkey. My husband was pretty happy about that too.
Read my review of The Skinnytaste Cookbook here (along with 3 other great healthy cookbooks) and enter the giveaway that ends this weekend! If you are looking for more slow cooker recipes to try, check out my favorite healthy slow cooker meals for summer or this Slow Cooker Italian Sausage and Peppers for easy weeknight meals!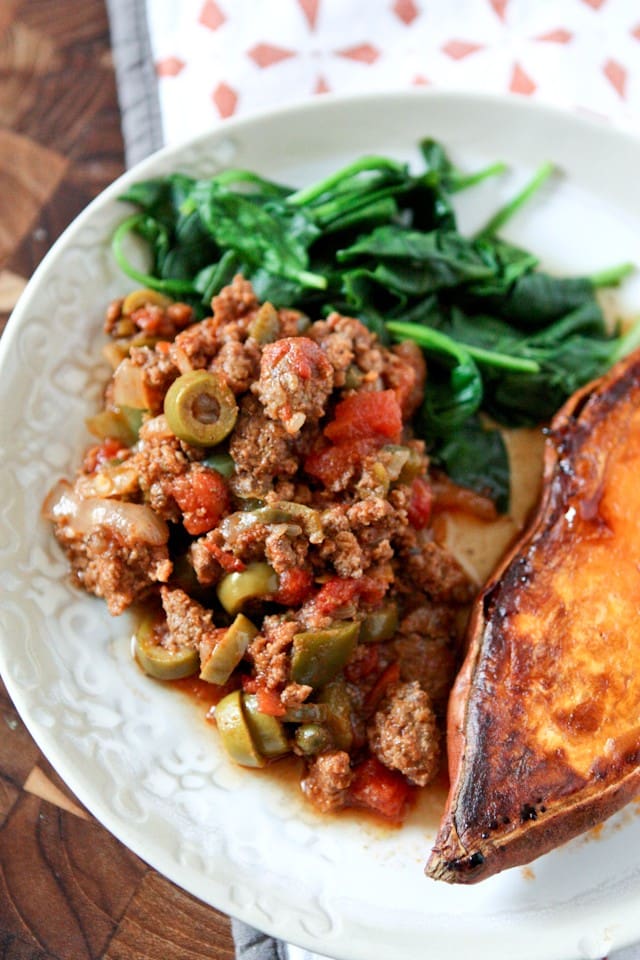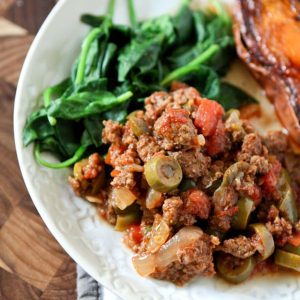 Ingredients:
2 1/2 lbs 93% lean ground beef
2 teaspoon kosher salt
freshly ground black pepper
1 cup finely chopped onion
1 cup chopped red bell pepper
3 garlic cloves, minced
1/4 cup finely chopped fresh cilantro
1 small tomato, chopped
1/4 cup drained alcaparrado (olives, pimientos and capers) or pitted green olives
1 (8-ounce) can tomato sauce
1 tablespoon of the brine from the alcaparrado or olives
1 1/2 teaspoons ground cumin, plus more as needed
1/4 teaspoon garlic powder
2 bay leaves
Directions:
Set a large deep skillet over medium-high heat, add the beef and season it with salt and a pinch of black pepper. Cook, using a wooden spoon to break the meat into small pieces as it browns, 4 to 5 minutes. Drain the liquid from the pan. Add the onion, bell pepper and garlic to the meat and cook until fragrant, 3 to 4 minutes.
Transfer the mixture to a slow cooker and add the cilantro, tomato, alcaparrado, tomato sauce, brine, cumin, garlic powder, bay leaves and 1 1/2 cups water. Cover and cook on high for 3 to 4 hours or on low for 6 to 8 hours.
To serve, taste for cumin and add more as needed. Discard the bay leaves. Serve a generous 1/2 cup per person
Per serving (generous 1/2 cup):  207 calories/8.5g fat/5g carbohydrate/1g fiber/28g protein/3g sugars
Recipe from The Skinnytaste Cookbook written by Gina Homolka
Follow Aggie's Kitchen's board Slow Cooker Goodness on Pinterest.
Are you following me on Instagram, Twitter, Facebook and Pinterest? If you'd like to subscribe to Aggie's Kitchen and have each post delivered straight to your e-mail box, then please add your email here. Happy cooking!
There are affiliate links in this post. I make small earnings through any purchases made through these links. Thank you for supporting Aggie's Kitchen!