Cheesy Southwest Beef and Potato Skillet
This Cheesy Southwest Beef and Potato Skillet is a great recipe for busy back to school nights!
Click here to pin this delicious one-pot meal!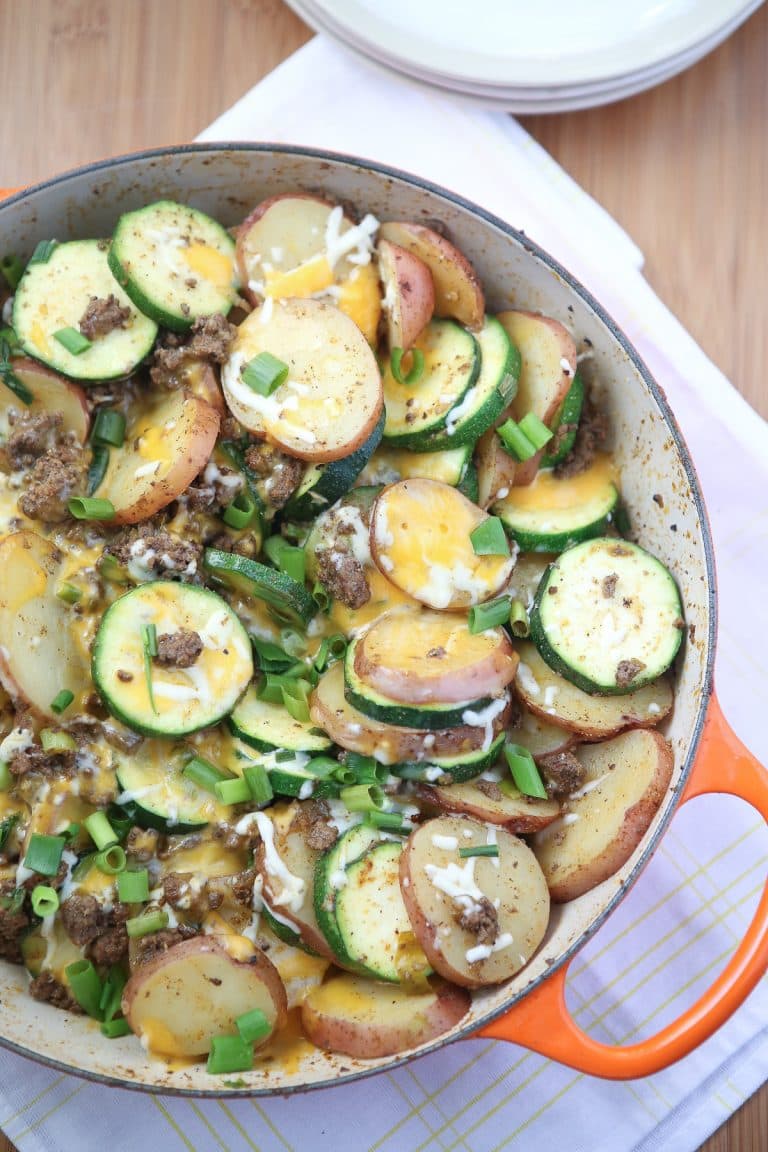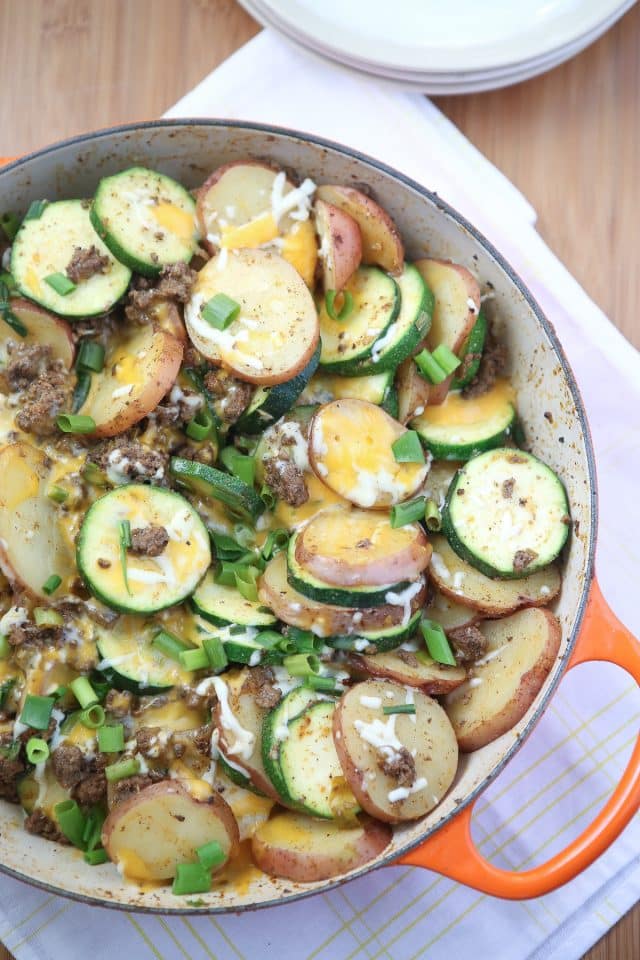 We are into the second of week of school in these parts and are finally starting to settle in our new routine that entails 3 kids in 3 different schools. That is, until next week when I start my fall classes at our local community college (for those that don't know, I'm back in school working towards my second Bachelors degree, this one is in Nutrition and Dietetics). I'm so excited about getting back to class, but next week will be the true test of my sanity!
Like every year during the back to school season, I'm feeling refreshed, excited and determined to send my kids off to start a successful and fun new school year.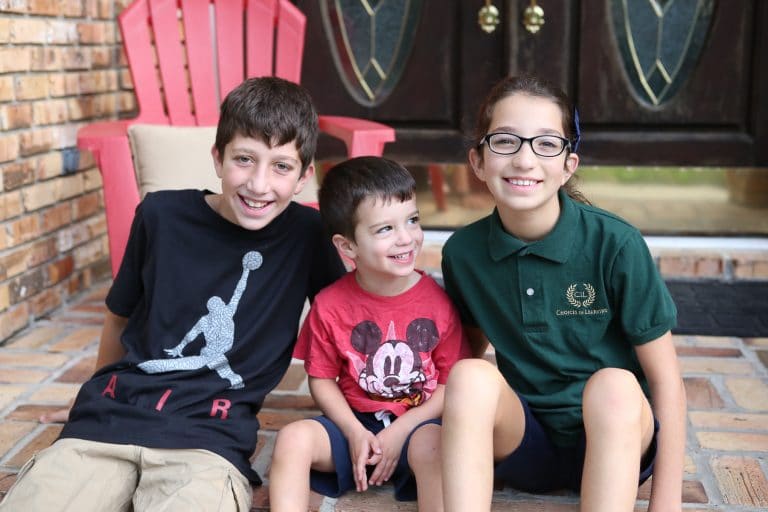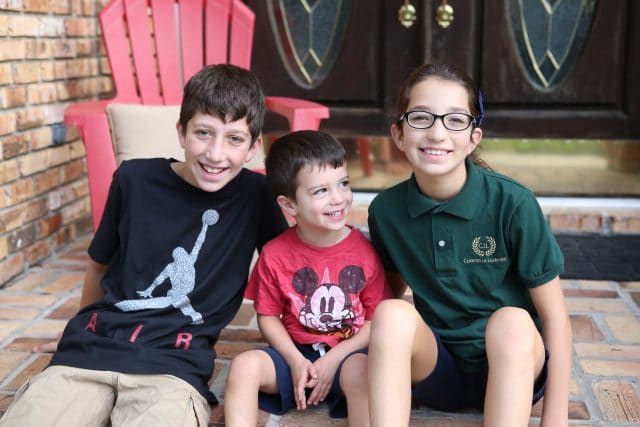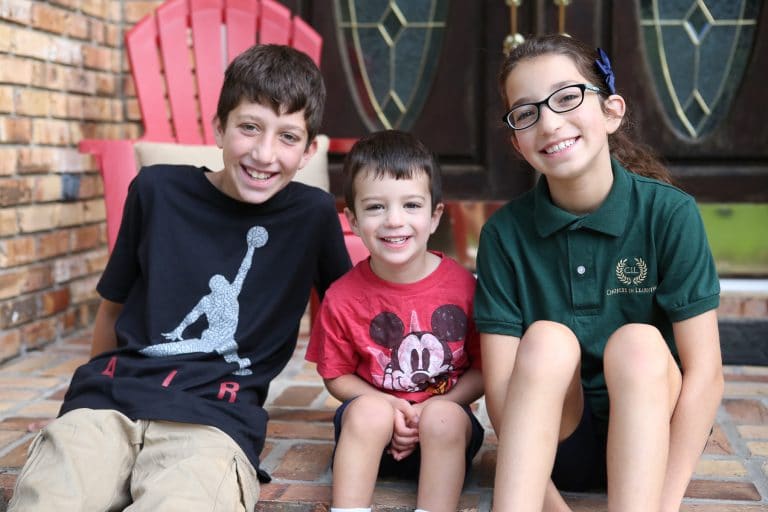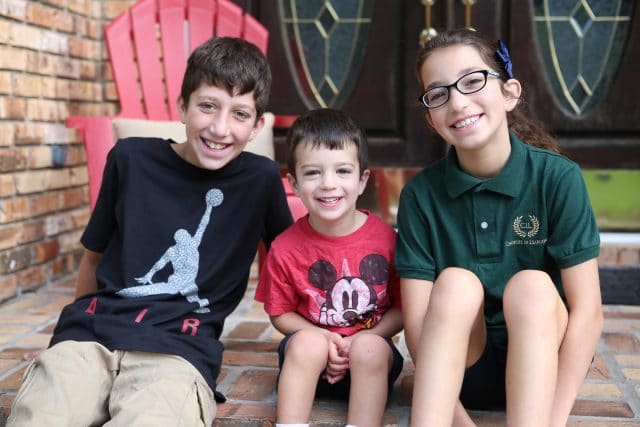 (My oldest boy is headed into 6th grade (middle school!), my baby is starting preschool 4 days a week and my sweet girl is starting 4th grade. <3 <3 <3 )
A big part of our new routine this year is to make dinnertime as hassle-free as possible. I'm grocery shopping with a list on Sundays and planning out a few meals for the week (in a flexible manner, because … life!). I've learned that for me, having a good base of ingredients for about 3 meals that I want to make during the week is the key, keeping me from running to the grocery store a million times. This week one of the meals came from my dear friend Mary's new cookbook, The Weeknight Dinner Cookbook. I am so happy to finally get my hands on this book, if you follow Mary's blog you know that she is the mom of 3 adorable boys and a genius in the kitchen. She knows how to feed the men in her life very well!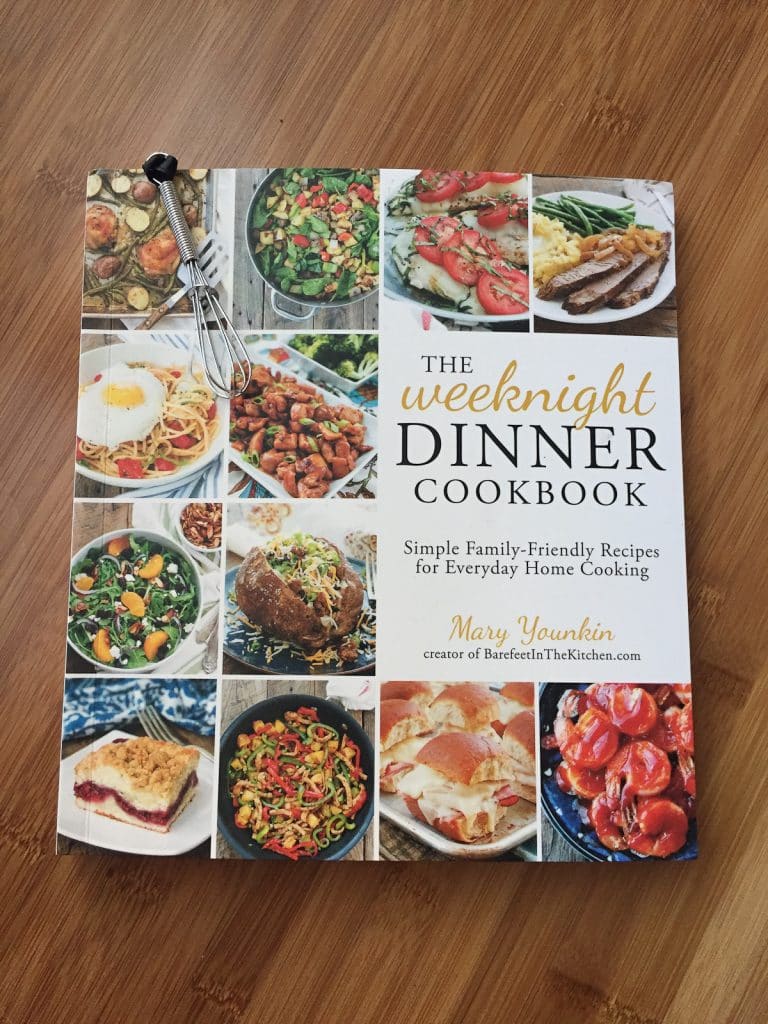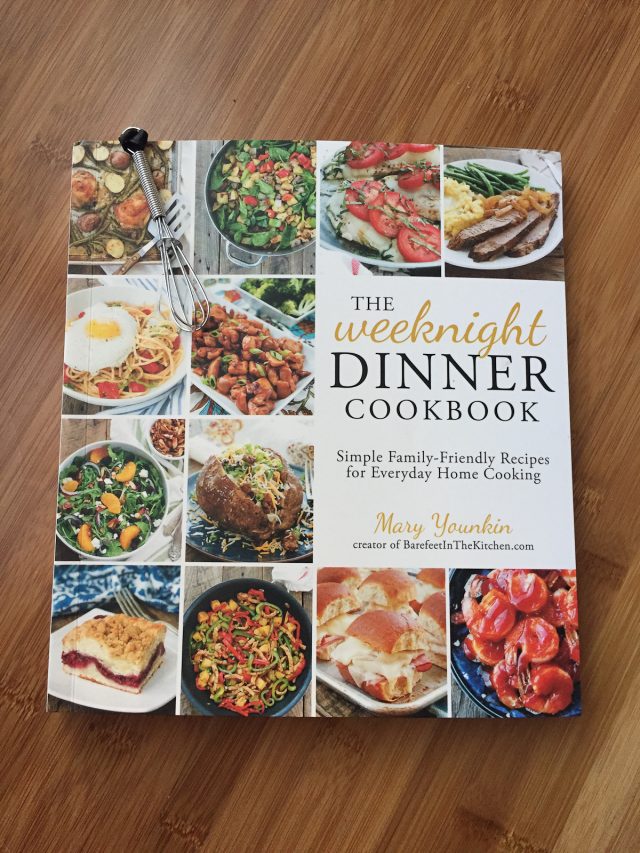 The Weeknight Dinner Cookbook by Mary Younkin, creator of BarefeetintheKitchen.com
Mary's recipes have always appealed to me because they are simple!! In her words, we share the same "food brain". I love that. Her recipes are perfect for weeknights (hence, the cookbook title) and are filled with wonderful veggies, variety and flavor. I have plenty bookmarked to try, including Ginger Chicken and Vegetable Stir-Fry, Roasted Bruschetta Potatoes, BBQ Chicken and Mozzarella Tostadas, Caprese Skillet Chicken and Sweet Chipotle Chicken Bites (to name a few). The timing of this cookbook could not be any better because I'm ready to just set my menus for the next few weeks from it!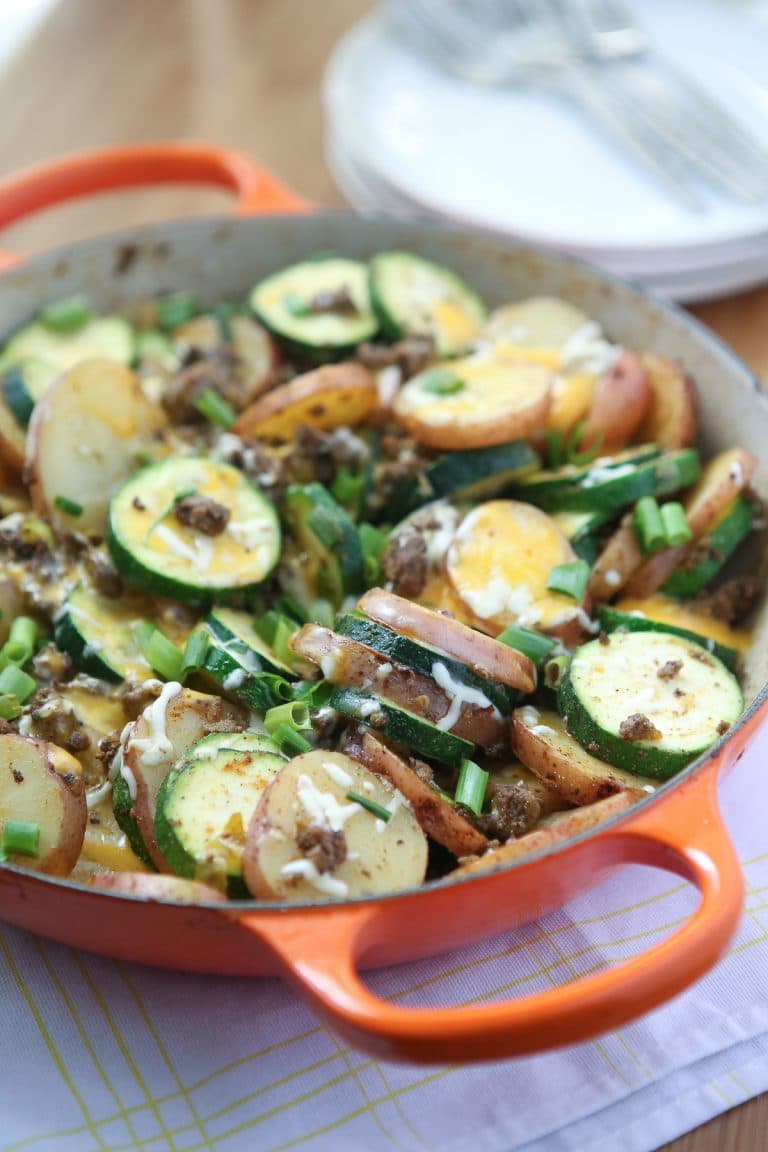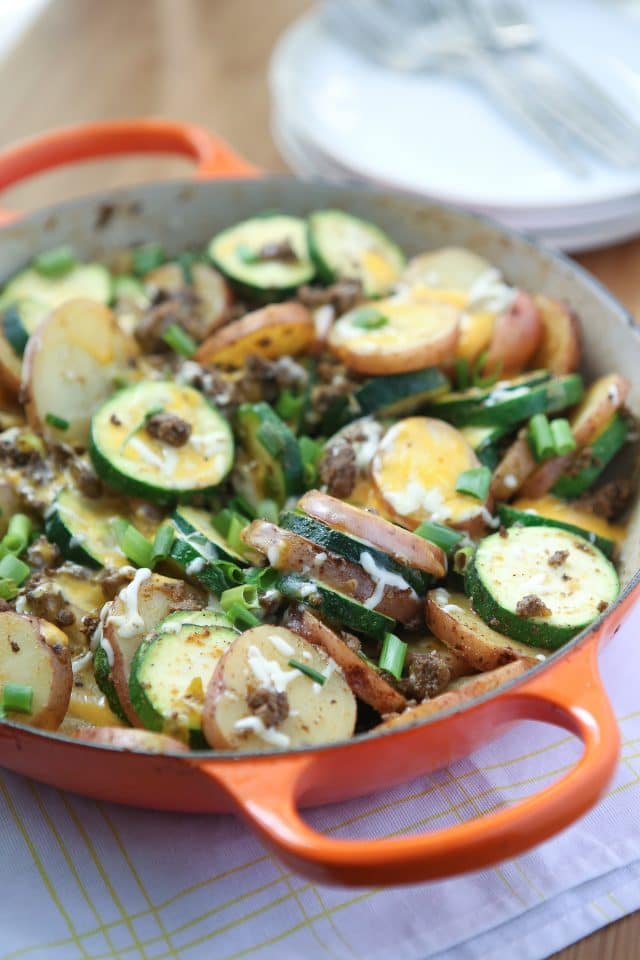 I'm excited to share with you the first recipe I tried from The Weeknight Dinner Cookbook, Cheesy Southwest and Potato Skillet. This recipe came together really quickly thanks to Mary's tip to cook the potatoes in the microwave while browning the beef. This skillet meal is one that will become a regular in the meal rotation, it truly is perfect for weeknights and my entire family loved it (huge win!).
You can purchase The Weeknight Dinner Cookbook here.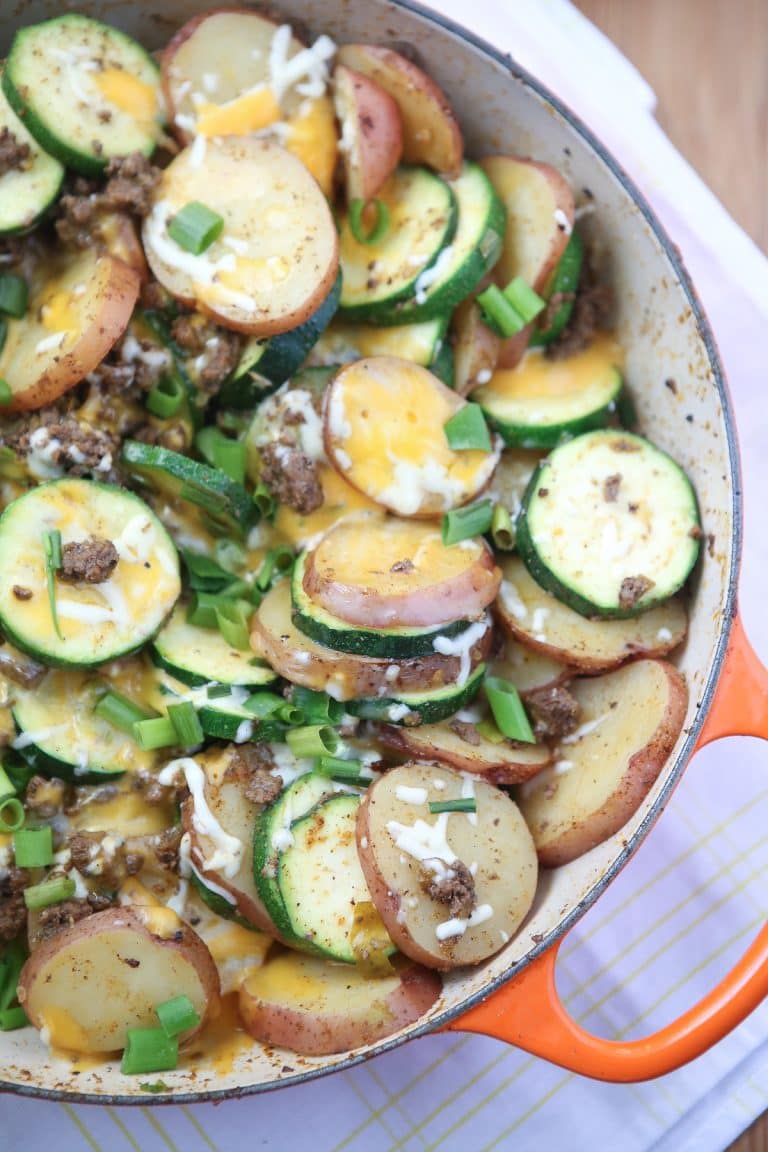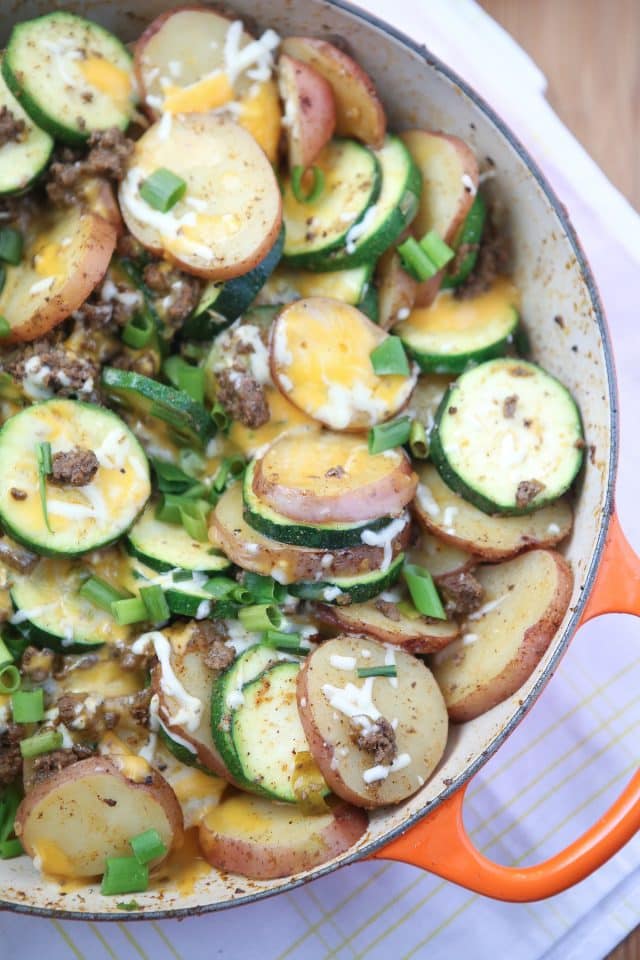 Cheesy Southwest Beef and Potato Skillet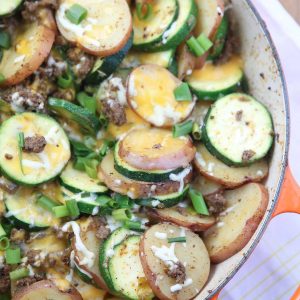 Ingredients:
1 1/2 lb medium sized red potatoes, sliced 1/4 inch thick, about 6 cups
1 1/2 tsp kosher salt, divided
1/2 tsp freshly ground black pepper, divided
2 tbsp water
1 1/2 lb ground beef
1 tsp ground cumin
1 tsp chile powder
1/2 tsp cayenne pepper (optional)
1/2 tsp smoked paprika
1/2 tsp granulated onion or onion powder
1/2 tsp granulated garlic or garlic powder
1 (7 0z) can chopped green chiles
2 medium sized zucchini, sliced 1/4 inch thick (optional)
4 green onions, thinly sliced, about 1/2 cup
1 1/2 cups shredded cheddar cheese
1 1/2 cups shredded pepper Jack cheese
2 tbsp chopped fresh cilantro
Directions:
Place the potatoes in a medium-size glass bowl. Sprinkle with 1/2 teaspoon of the salt and 1/4 teaspoon of the black pepper, add the water and stir or toss with your hands. Microwave the potatoes for 4 minutes, stir and microwave an additional 2 to 4 minutes, until fork tender. Alternatively, you can boil the potatoes until they are fork tender, about 8 to 10 minutes, drain and then add to the skillet.
While the potatoes are cooking, crumble the ground beef into a large, deep-sided skillet and cook over medium-high heat for about 5 minutes. Sprinkle wit the cumin, chile powder, cayenne, paprika, granulated onion, granulated garlic, remaining 1 teaspoon salt and remaining 1/4 teaspoon black pepper as it cooks. Drain any excess fat from the skillet, if necessary. Stir in the green chiles and cook for about 1 minute longer over medium heat. Add the softened potatoes to the skillet and stir gently to combine without breaking them up too much.
Stir in the zucchini, cover with a lid and cook for 3 minutes. Stir again, test the zucchini to see if it has begun to soften, cover and cook an additional 2 minutes as needed. The zucchini is done when it has softened slightly and is still a bit crisp. Remove from the heat, stir in the green onions, sprinkle with the cheese and stir again to melt. Top with the cilantro.
To lighten the recipe up, use lean ground beef and less cheese.
For more dinner inspiration, follow my Easy Weeknight Meals board on Pinterest:


Are you following me on Instagram, Twitter, Facebook and Pinterest? If you'd like to subscribe to Aggie's Kitchen and have each post delivered straight to your e-mail box, then please add your email here. Happy cooking!
There are affiliate links in this post. I make small earnings through any purchases made through these links. Thank you for supporting Aggie's Kitchen!