Pesto Roasted Brussels Sprouts
Brussels Sprouts with an Italian twist! Just a few ingredients, these Pesto Roasted Brussels Sprouts will make a great addition to any meal!
Click here to pin this recipe!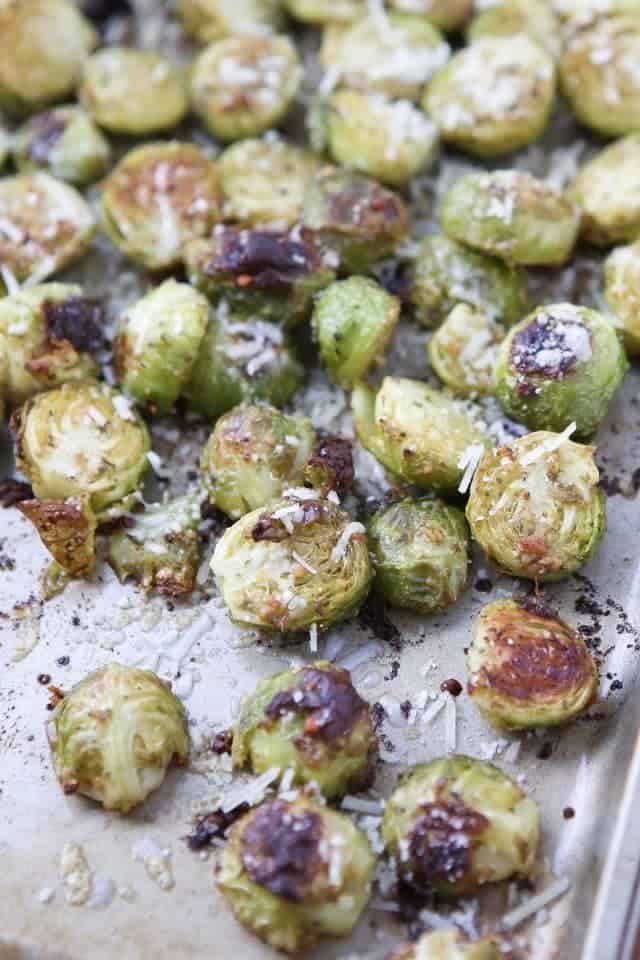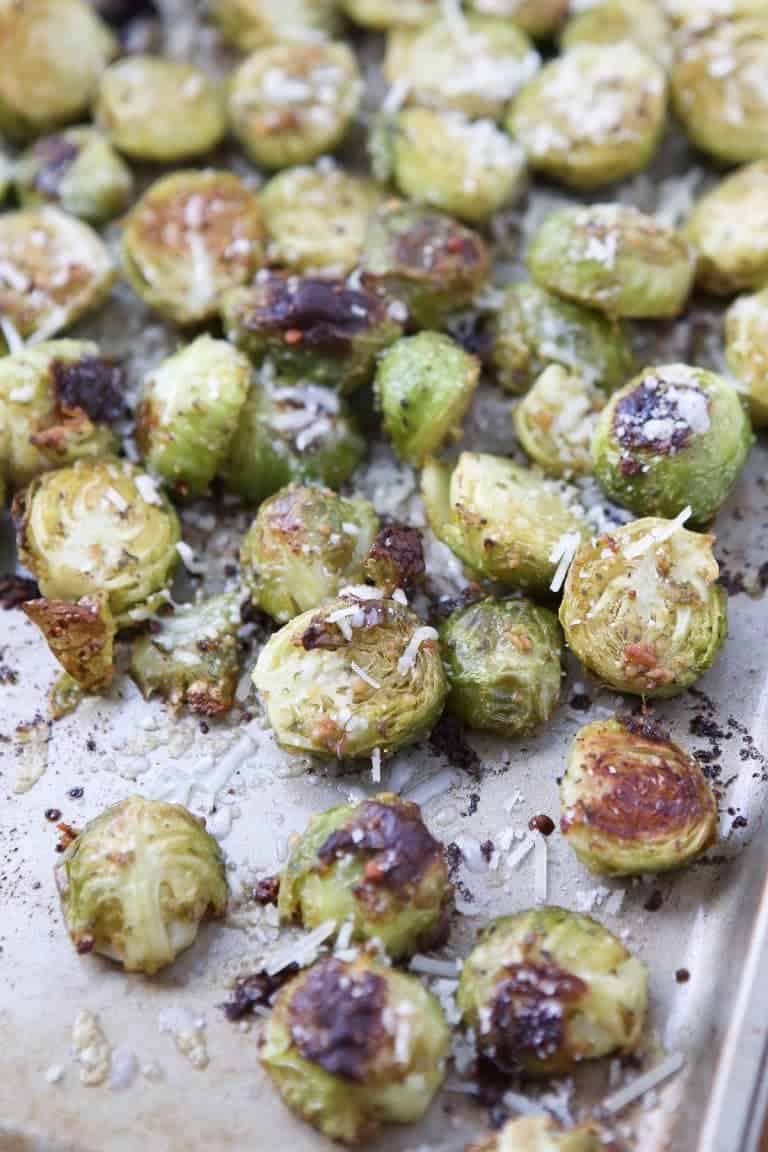 I am raising my hand to admit I ate way more Halloween candy than I planned on eating last night. As I was saying to a friend while trick-or-treating, if I can get through Halloween night without tasting anything from my kids' stash then I can pretty up muster up enough self control to turn the other way the rest of the week that candy is unfortunately front and center. But, I could not resist a Snicker Almond or a 1000 Grand (rare delights) which then lead to my all time favorite Reese's PB cup. This morning, I'm thinking I'm satisfied and can move on from the sampling of the stash. Well, that is what I'm telling myself!!
Here's something else I feel like admitting. I've put on almost 10 lbs since this summer. Gulp. That is really hard to write! I've known it, and I've thought it, but writing it just feels different. Those 10 lbs are really getting to me. I'm not sure what's going on but I know I've been eating way more than I need to, and am just feeling really lazy about food choices lately (resulting in a lot of empty calories). It doesn't feel good at all. Besides my clothes not fitting (obviously), my lower back is hurting more than normal and I'm feeling a little less confident and just plain uncomfortable. It's time to nip this in the bud!
Plan of action: Daily cardio/strength workouts, tracking food in My Fitness Pal, 10k steps on my Fitbit, and meal/snack planning. No excuses!!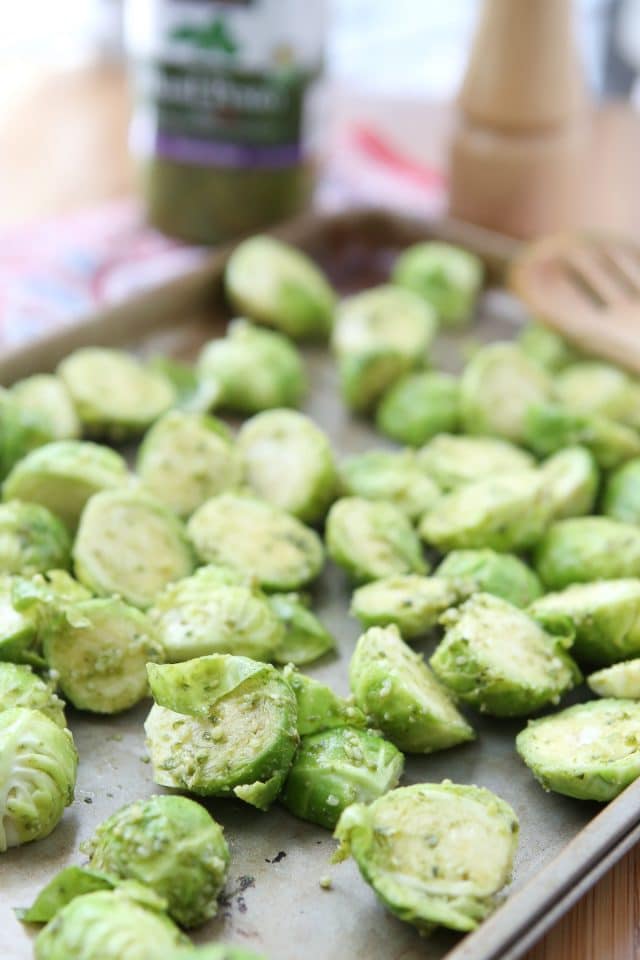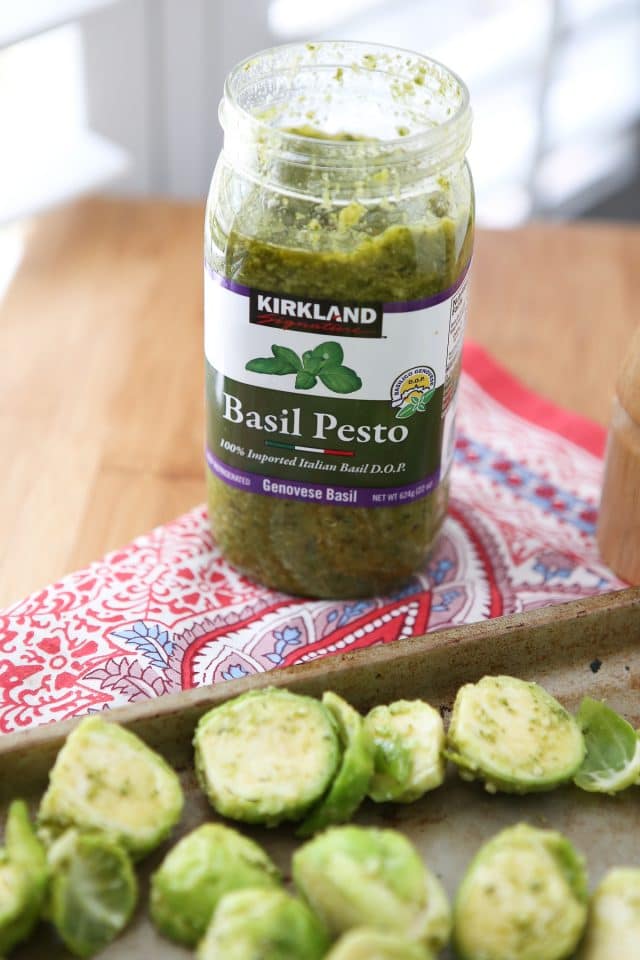 Part of my plan of attack is to add more vegetables to my meals. I am a lover of Brussels sprouts and every time I am at Costco I come home with a huge bag of sprouts as well as a jar of pesto. That Kirkland pesto helps me put together so many meals for my family – tossed in pasta, baked over salmon and now roasted with Brussels sprouts. (PS…Costco doesn't know me or know that I'm constantly talking about their products.)
Seriously so good!
If you're looking for a new way to serve Brussels sprouts try these Pesto Roasted Brussels Sprouts. Since Brussels sprouts are typically popular this time of the year, I've added some links to other ways to cook them below the recipes for more ideas.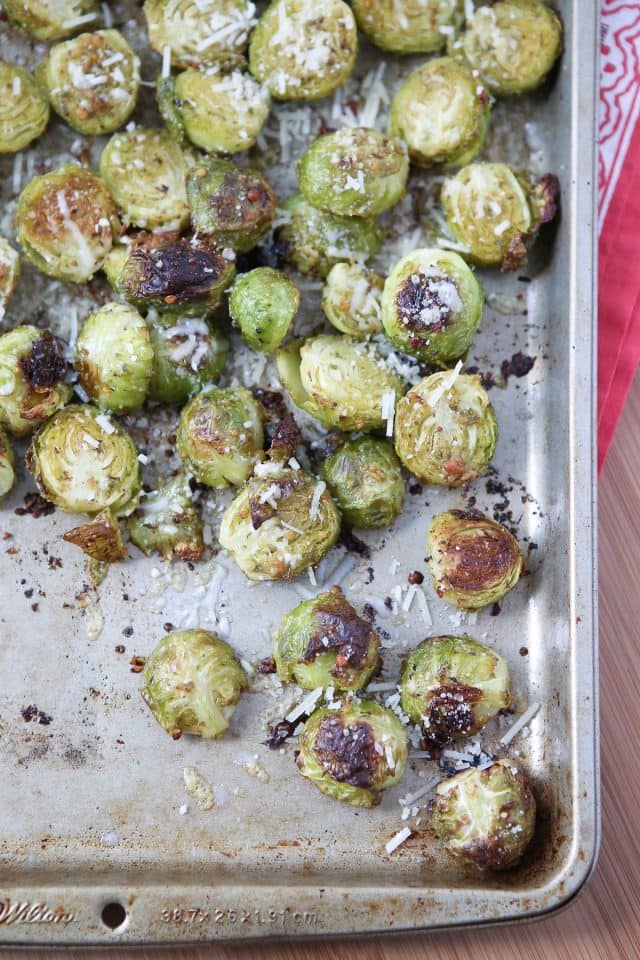 Pesto Roasted Brussels Sprouts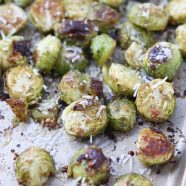 Ingredients:
4 cups brussels sprouts, trimmed and halved (about 2lbs)
1/4 cup pesto
shredded or grated Parmesan cheese
coarse salt and fresh ground pepper, to taste
Directions:
Preheat oven to 400 degrees.
Combine Brussels sprouts and pesto in a large bowl. Season with a small pinch of coarse salt and pepper.
Spread evenly on a large baking sheet and bake in 400 degree oven for about 20 -25 minutes, until browned and crisped. Give the baking sheet a small shake about halfway.
Once Brussels sprouts are nicely and evenly browned, pull out of oven and top with desoered amount of Parmesan cheese. Turn off heat, and put baking sheet back into oven for about 5 minutes to let cheese melt.
More Brussels sprouts recipes:
Honey Balsamic Roasted Brussels Sprouts
Roasted Sweet Potatoes and Brussels Sprouts with Pecans
Shredded Brussels Sprouts with Pistachios, Cranberries and Parmesan | Cookin' Canuck
Roasted Brussels Sprouts with Avocados and Pecans | Kalyn's Kitchen
Sauteed Brussels Sprouts with Pancetta | Skinnytaste
Are you following me on Instagram, Twitter, Facebook and Pinterest? If you'd like to subscribe to Aggie's Kitchen and have each post delivered straight to your e-mail box, then please add your email here. Happy cooking!
There are affiliate links in this post. I make small earnings through any purchases made through these links. Thank you for supporting Aggie's Kitchen!
One Response to "Pesto Roasted Brussels Sprouts"
Leave a Comment