Cranberry Balsamic Chicken Skillet
Cranberry Balsamic Chicken Skillet comes together in just 30 minutes making it a perfect weeknight meal for your family!
This recipe was created in partnership with Healthy Aperture Blogger Network for the #JuiceCentral campaign. I was compensated for my time.
Click here to pin this Cranberry Balsamic Chicken Skillet recipe!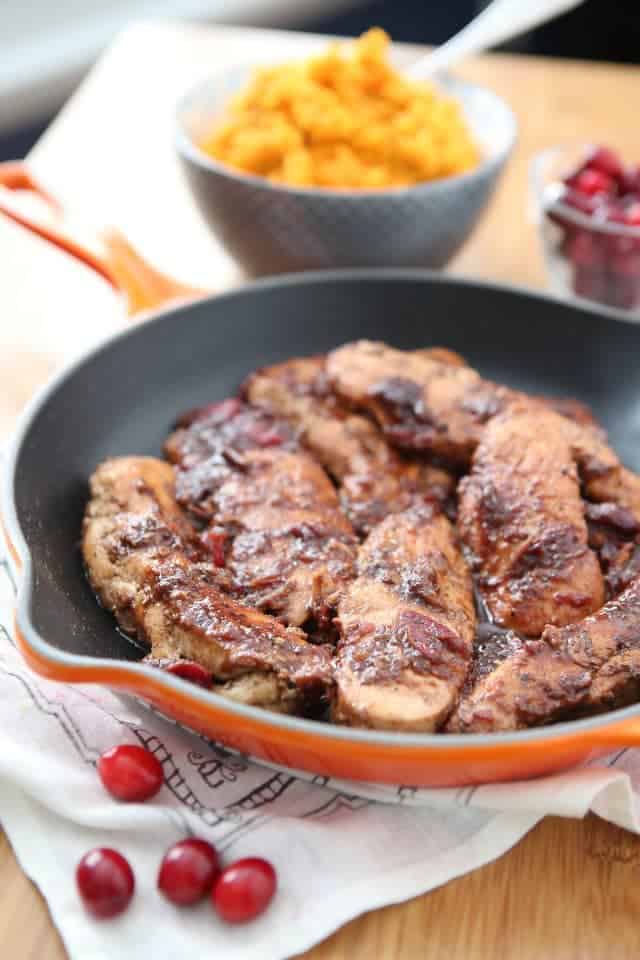 I have to tell you, I've been seriously rocking the weeknight dinner game lately. That's not something I can say too often so I am going to say it loud and proud today. It may be simple, quick dinners, but it's dinner and it's been happening. I do think my newfound love for skillet meals (like this Lemon Pepper Chicken) is part of the reason – you really can't beat a good one-pan meal when you're trying to get dinner on the table.
Today's Cranberry Balsamic Chicken Skillet was inspired by a recipe I saw months ago in a cookbook for slow cooker cranberry chicken. I haven't been able to get it out of my head and though this recipe is nothing like that one, I finally made it. My whole family loved this chicken dish!
I used a few simple ingredients including 100% cranberry juice (no added sugar, check your ingredients), balsamic vinegar, orange marmalade (for a touch of sweetness) and fresh cranberries. I don't know about you but I've got a couple of bags of fresh cranberries sitting in the freezer that I need to use so this was the perfect time to use them.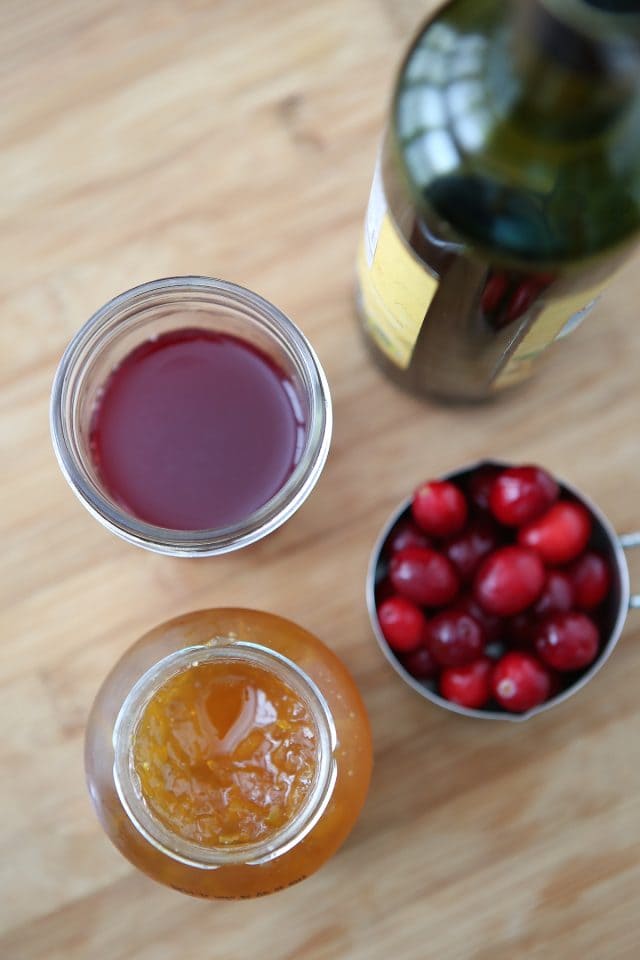 Adding 100% juice to skillet sauces like this is a way to get in some important vitamins and nutrients – the same as you get from whole fruit – like potassium, vitamin C, magnesium and other plant compounds. The key is to make sure you look at ingredient labels when selecting juices, looking for 100% fruit juice with no added sugar. It's really a great simple way to add natural flavor to recipes!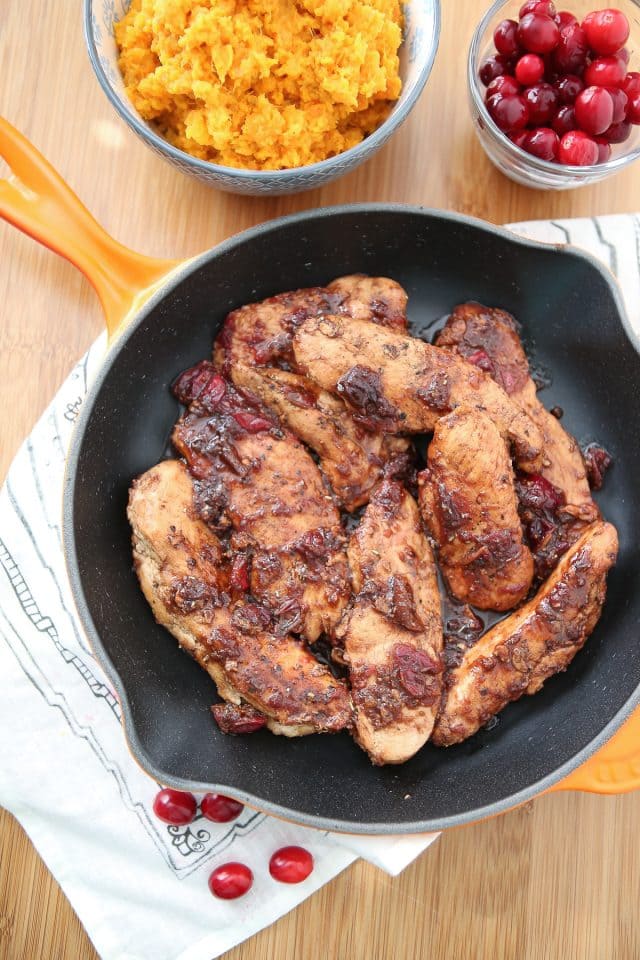 I served this chicken skillet with mashed sweet potatoes which was the perfect side dish really because the natural sweetness from the potatoes complemented the cranberry chicken so nicely. My husband claimed dinner reminded him of Thanksgiving – how's that for being bringing a little festive holiday spirit to a regular Monday night?
Cranberry Balsamic Skillet Chicken
Yield: serves 4-6
Total Time: 30 minutes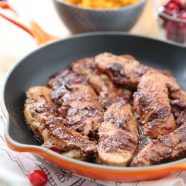 Ingredients:
2 teaspoons light oil
1 1/2 lb boneless, skinless chicken breast, cut into strips
coarse salt and fresh ground pepper
1 tablespoon unsalted butter
1/2 cup 100% unsweetened cranberry juice
1/3 cup balsamic vinegar
2 heaping tablespoons orange marmalade
1/8 teaspoon crushed rosemary
1/2 cup fresh cranberries
Directions:
Heat oil in a large nonstick skillet over medium-high heat. Season chicken strips with salt and pepper on both sides.
Using tongs, place chicken strips into skillet, being careful not to overcrowd pan (you may have to cook in batches for the first part of this recipe if your skillet is not large enough). Brown your chicken on both sides, about 3-5 minutes on each side. Once chicken is browned, remove from pan and place on a plate.
Add 1 tablespoon of butter into skillet and reduce heat to medium. Combine cranberry juice, balsamic vinegar, orange marmalade and dried rosemary in a small bowl and add to pan. Add fresh cranberries to the pan and let simmer, stirring occasionally, for about 3 minutes or until cranberries have started to burst and soften. Place chicken strips back into pan and turn so that they get covered in the sauce.
Let cook on a low simmer for about 5 minutes until sauce is thickened. Taste for salt and pepper and add to taste.
Serve immediately with mashed sweet potatoes or wild rice.
Disclosure: This recipe was created in partnership with Healthy Aperture Blogger Network for the #JuiceCentral campaign. I was compensated for my time. Thank you for supporting the brands that support Aggie's Kitchen!
More skillet recipes for your weeknights:
Skillet Italian Sausage and Peppers with Potatoes
Cheesy Southwest Beef and Potato Skillet (my kids ask for this ALL the time!)
BBQ Chicken, Kale and Quinoa Bowl
Italian Beef Skillet Dinner | Mom to Mom Nutrition
20 Minute Kielbasa and Cabbage Skillet | Barefeet in the Kitchen
Are you following me on Instagram, Twitter, Facebook and Pinterest? If you'd like to subscribe to Aggie's Kitchen and have each post delivered straight to your e-mail box, then please add your email here. Happy cooking!
There are affiliate links in this post. I make small earnings through any purchases made through these links. Thank you for supporting Aggie's Kitchen!
9 Responses to "Cranberry Balsamic Chicken Skillet"
Leave a Comment