Slow Cooker Chicken and Farro Chili
Warm up this winter with Slow Cooker Chicken and Farro Chili – so hearty & healthy, filled with veggies, lean protein, whole grains and Bush's Chili Beans. This post is sponsored and created in partnership with Bush's Beans.
Click here to pin this Slow Cooker Chicken and Farro Chili recipe.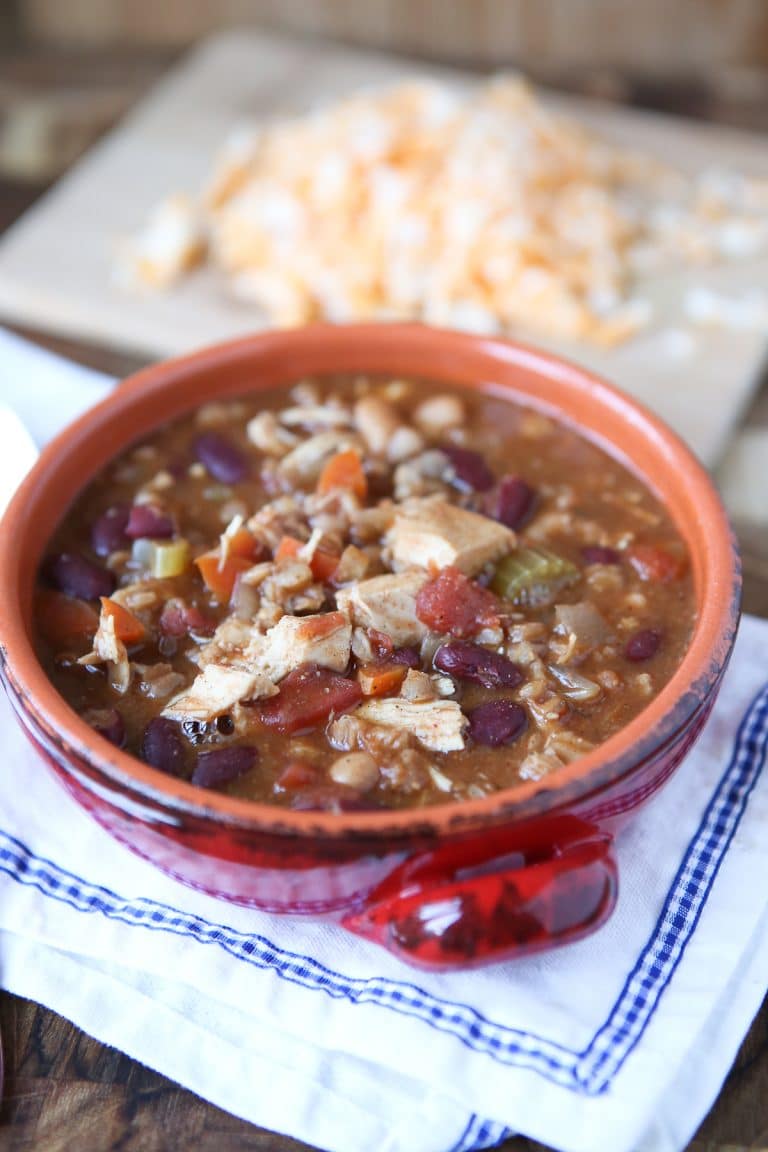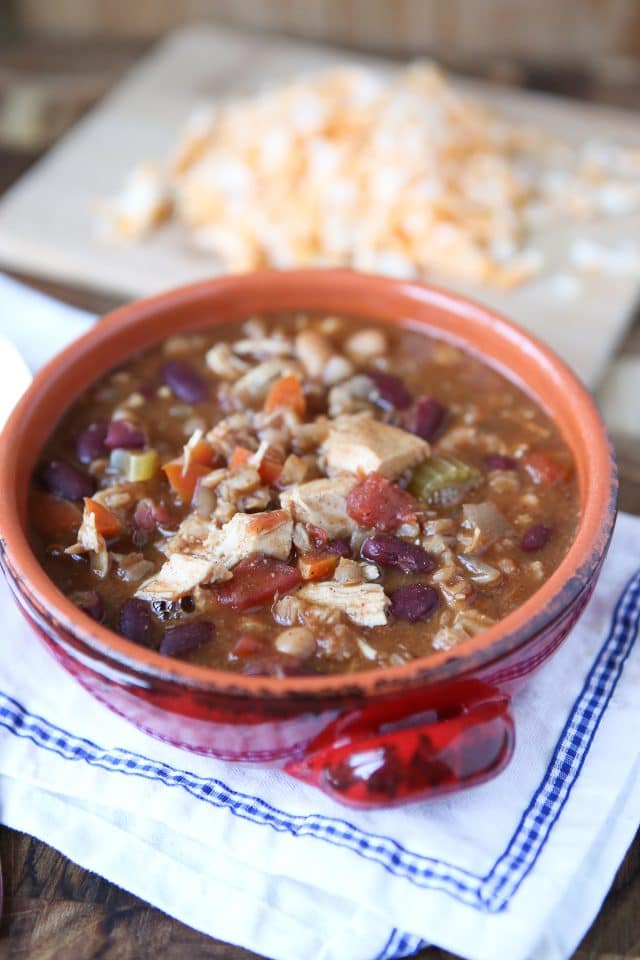 My obsession with farro continues. I've been adding farro to salads for a while now, but the last couple of months I've been adding it to soup, and more recently this Slow Cooker Chicken and Farro Chili. Farro is an incredible addition to any soup or chili because of it's hearty texture. This chili includes chicken but if you wanted to make it vegetarian it would be just as great with extra beans and vegetable broth.
If you are getting hit with the cold weather and snow that I'm seeing everywhere on the news and social media, then you more than likely have soup on the brain right now. There's nothing better than pulling out your slow cooker to let it do the work all day especially with pantry staples like Bush's Chili Beans. Our Florida weather isn't what you would call soup weather right now, but I am a soup girl all year 'round!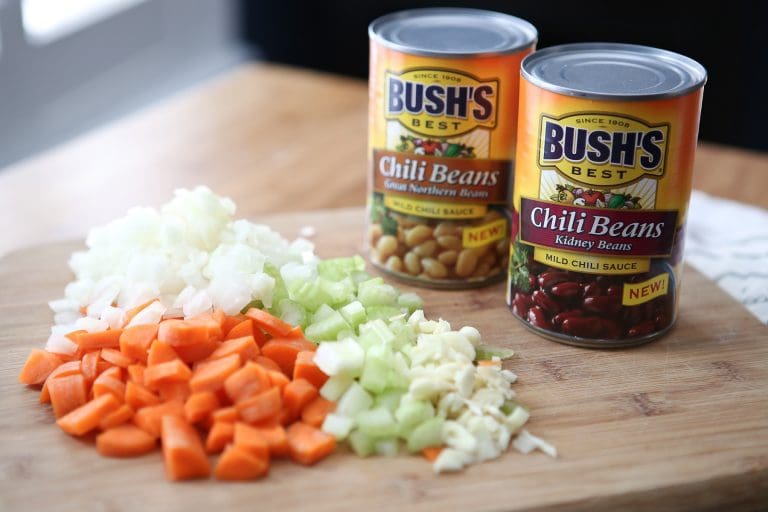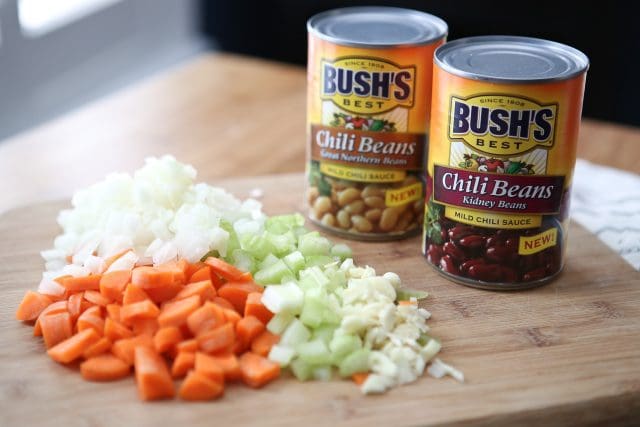 For this slow cooker chicken and farro chili I used a combination of Bush's Kidney Chili Beans and White Chili Beans along with a ton of veggies and aromatics. The chili beans add so much extra flavor with their built-in seasoned sauce. So much goodness in this chili, and if you are like me you need it to offset all the holiday treats that are being consumed already.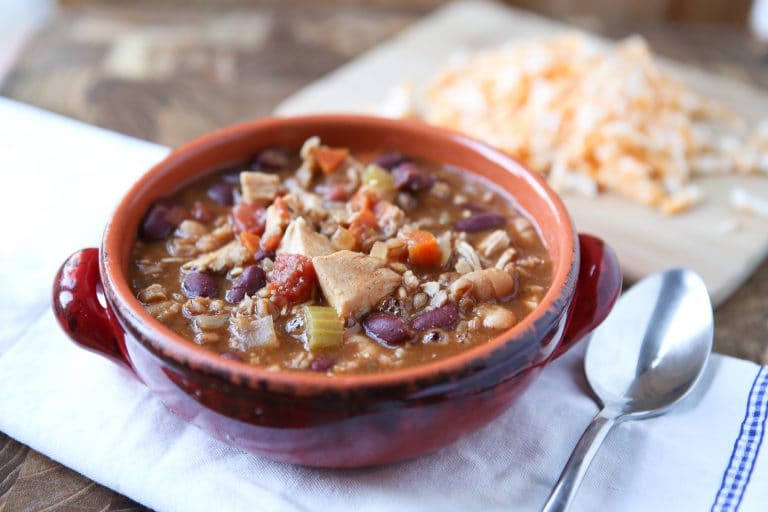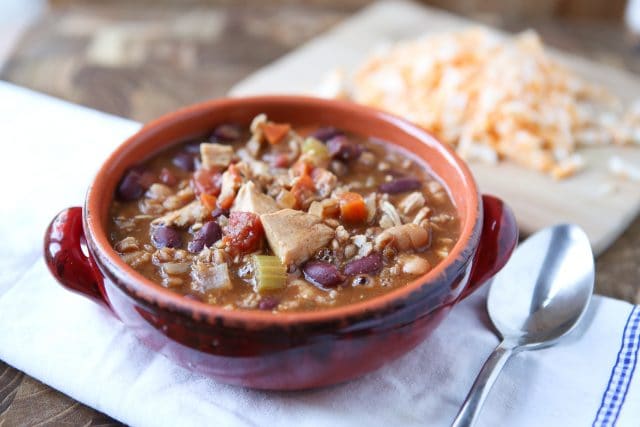 Here's a tip for the best chicken for chicken chili or soup – cook the chicken breasts whole in your soup, then once they are cooked through carefully remove and place on a cutting board to chop and shred, then add back in to soup. This method always makes the best shredded/chopped chicken for soup, I've been doing it for years and it's the only way for me. (I've even added frozen chicken breasts into slow cooker soup if I forgot to defrost them – if you do this reduce the liquid by just a bit because frozen chicken tends to release more liquid).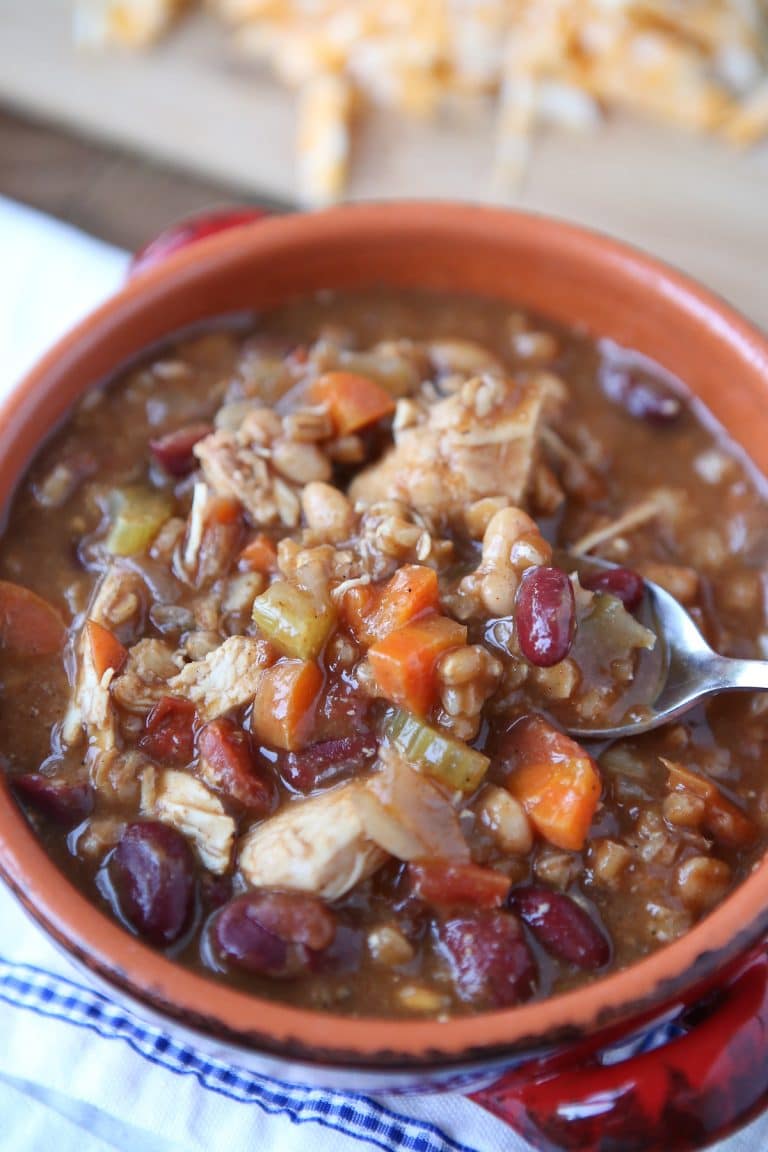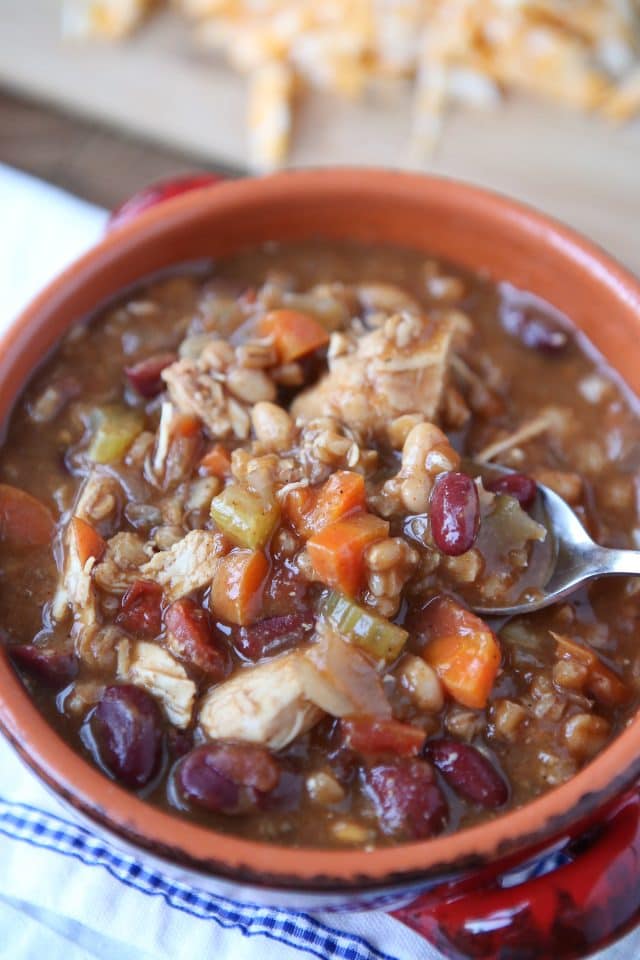 I can't believe we are just under 10 days away until Christmas! I am most certainly not ready (I never am). This weekend will be a good time to really unplug and dig into that shopping list and enjoy some Christmas lights around the neighborhood (my favorite part). Maybe a little spiked eggnog too! 🙂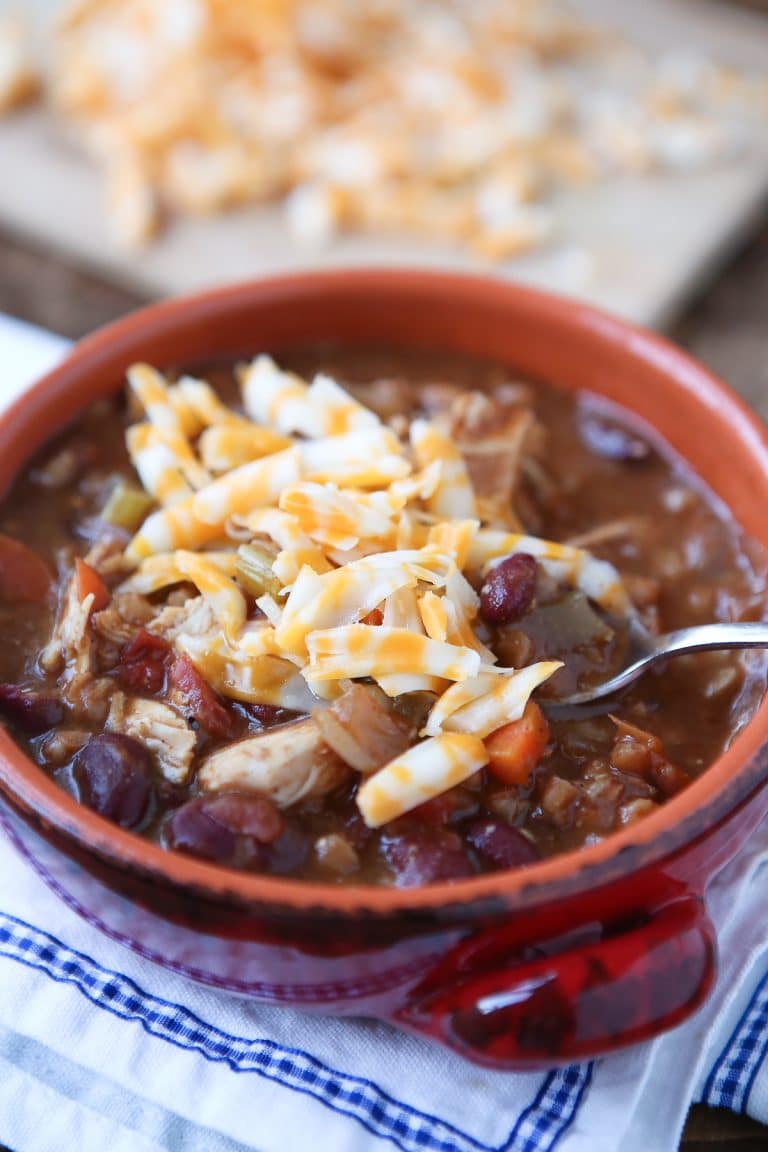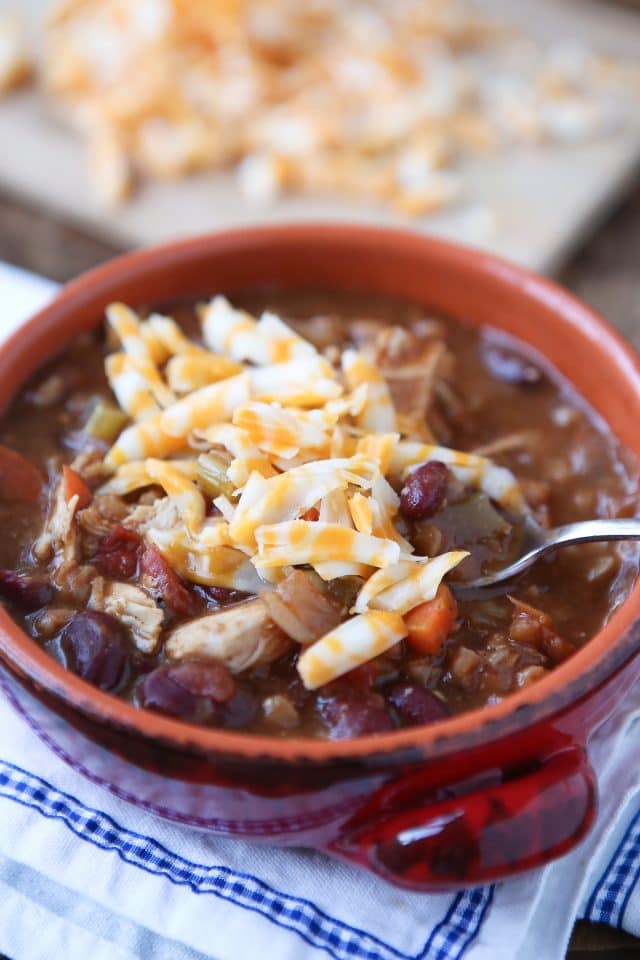 Hope you are enjoying the season!! Have a great weekend!
Slow Cooker Chicken and Farro Chili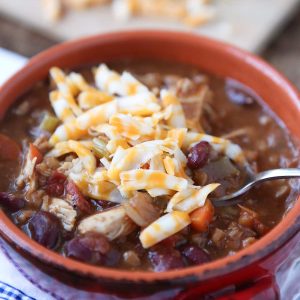 Ingredients:
1 onion, chopped
3 garlic cloves, minced
2 carrots, chopped small
1 celery, chopped small
1 15 oz can diced tomatoes
1 15 oz can Bush's White Chili Beans
1 15 oz can Bush's Kidney Chili Beans
4 cups low sodium chicken broth
1 cup uncooked farro
1 1/2 lbs boneless, skinless chicken breast
1 1/2 tablespoon chili powder
1 tablespoon cumin
1 teaspoon smoked paprika
salt and pepper to taste
Directions:
Combine all ingredients in slow cooker. Cook on high for 4-5 hours.
Carefully remove whole chicken breasts and place on a cutting board. Chop into medium sized pieces, or shred (your preference). Return to slow cooker and cook uncovered for 30 minutes.
Serve chili hot with shredded cheese and other chili fixings of choice.
Disclosure:  I have been a paid brand ambassador for Bush's Beans for over 5 years and am proud to share recipes using their products. Thank you for supporting the brands that support Aggie's Kitchen.
More chili recipes for you:
Slow Cooker Lentil and Quinoa Chili
Simple Smoked Sausage Chili | Dine and Dish
5 Ingredient Beef Chili | Reluctant Enteretainer
Are you following me on Instagram, Twitter, Facebook and Pinterest? If you'd like to subscribe to Aggie's Kitchen and have each post delivered straight to your e-mail box, then please add your email here. Happy cooking!
There are affiliate links in this post. I make small earnings through any purchases made through these links. Thank you for supporting Aggie's Kitchen!