Pesto Chicken Quesadillas
These Pesto Chicken Quesadillas are simple and quick to make using just a few staple ingredients. They are a favorite in my house!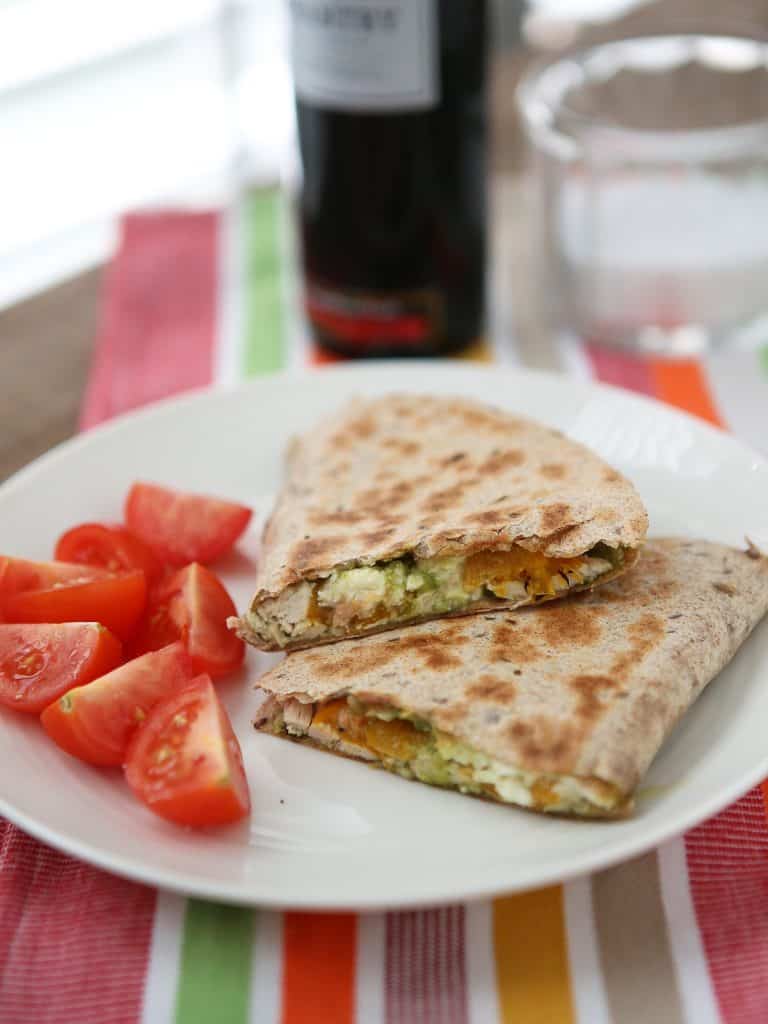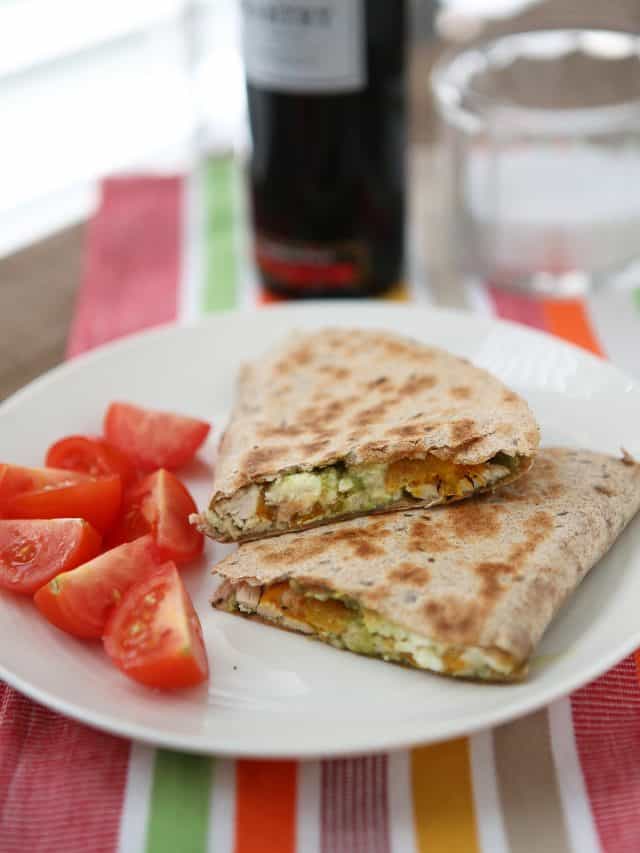 One of the things I'm trying to do this year is to go back into my archive of recipes here on the blog and update photos for them. I love looking back at old photos and reading my words from years ago, seeing how things have changed in almost 10 years. 10 years!!
When I first posted this recipe for Pesto Chicken Quesadillas I was a young stay-at-home mom to a 3 year old and 1 year old. Those two are now 13 and 10 years old and we have a little 4 year old in the mix! My, has time gone by. I originally posted this recipe during the summer and in those days I am sure I had plenty of fresh basil growing on my patio and I was picking up tons of bell peppers from the produce store weekly. Making fresh roasted red peppers is really easy to do and something I love to make as often as I can. Although homemade roasted red peppers are fairly easy to make, I don't really have as much time these days to make them so I rely on some convenience items like jarred roasted red peppers AND jarred pesto (in case you missed it I just posted this roundup for
healthy recipes using pesto
). I'm pretty picky about both but I found these peppers recently at Trader Joe's and love them.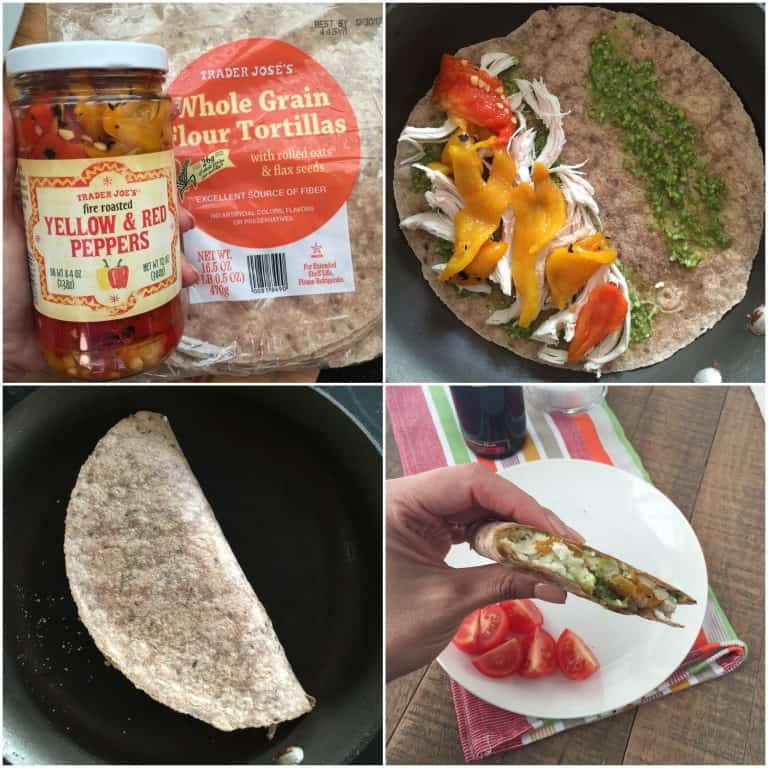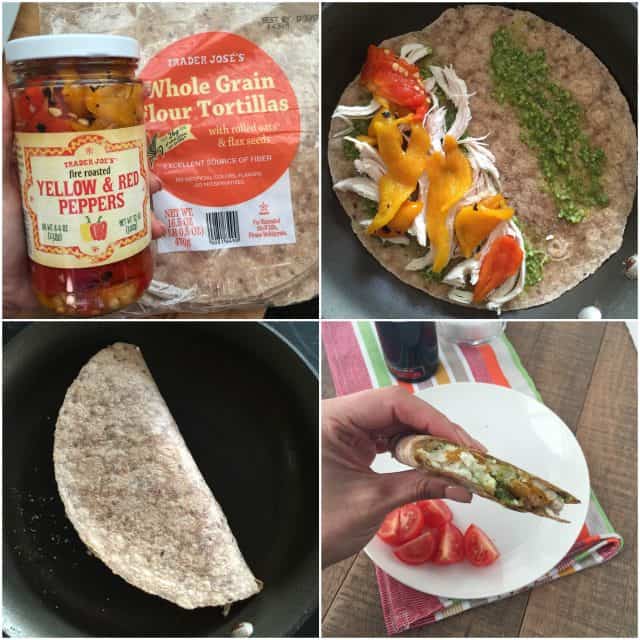 These quesadillas are incredibly simple and quick to put together. I used some leftover rotisserie chicken I had in the fridge and in just a few minutes had a healthy and delicious meal for one (or just as easily for two or three or more!).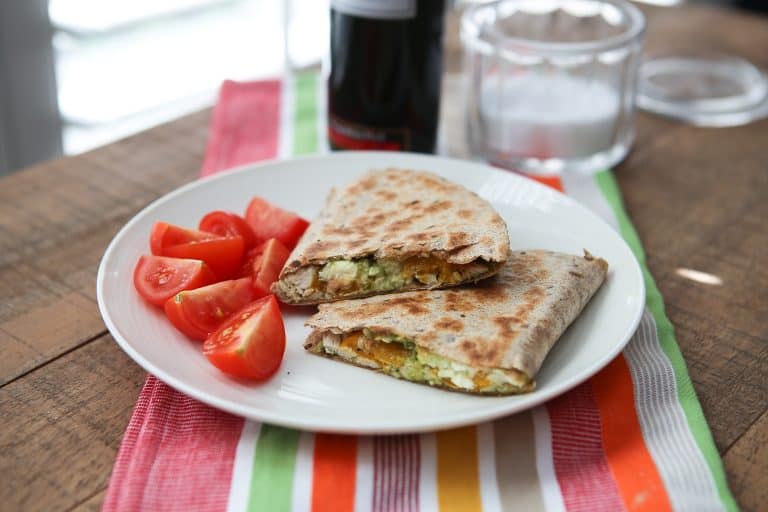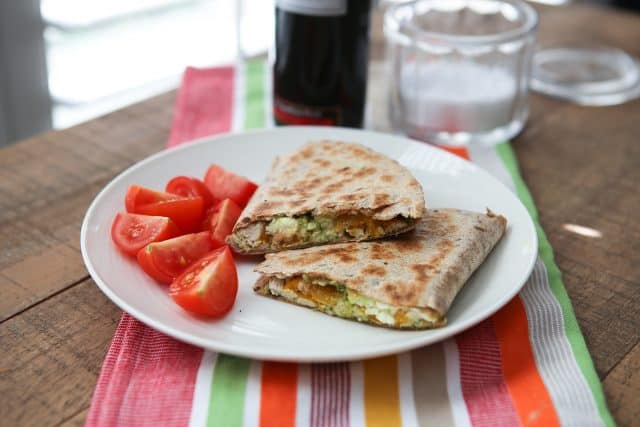 Originally posted August 5, 2008
Over the weekend, I made some pesto and roasted some peppers. Using some leftover chicken, I came up with these very tasty quesadillas. I decided to use goat cheese in them but my husband thought that fresh water mozzarella would be better (he's not as big of a goat cheese fan as I am!)…so you decide on the cheese you want to use, either one would taste great! I will definitely be making these again, the flavors worked perfectly together. If you can make your own pesto and roasted peppers great – but if not jarred will work!
Love quesadillas? Try these:
Chicken Pesto Quesadillas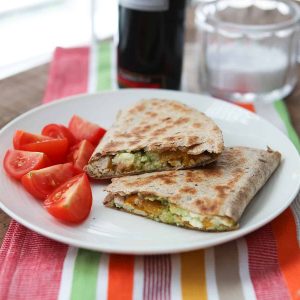 Ingredients:
1 whole grain tortilla
2 teaspoons prepared pesto (I like to use Kirkland brand)
2 oz cooked chicken breast
1 oz crumbled feta or goat cheese
1 roasted red pepper
Directions:
Place tortilla in a nonstick skillet over medium heat.
Spread 1 teaspoon of peso on half of the tortilla. Top with chicken, then roasted pepper and cheese. Spread 1 teaspoon on other half of tortilla. Fold over and continue to warm in skillet for about 2 minutes.
Carefully flip quesadilla over to other side. Let warm for an additional 2-3 minutes until cheese is melted tortilla is crisp.
Cut in half and serve with a tomato salad.
Nutritional Information (via My Fitness Pal):  333 calories / 15g fat / 6g dietary fiber / 24g protein
This is based on brand specific ingredients:
Trader Joe's Whole Grain Tortillas
Kirkland Pesto
Trader Joe's Red and Yellow Roasted Peppers
President Crumbled Feta
Rotisserie chicken breast
Are you following me on Instagram, Twitter, Facebook and Pinterest? If you'd like to subscribe to Aggie's Kitchen and have each post delivered straight to your e-mail box, then please add your email here. Happy cooking!
There are affiliate links in this post. I make small earnings through any purchases made through these links. Thank you for supporting Aggie's Kitchen!