Oven Baked Black Bean and Cheese Quesadillas
Save time next time you want to make quesadillas for your family by baking them! These Oven Baked, Sheet Pan Black Bean and Cheese Quesadillas are always fun to serve for dinner or for watching the game.
Click here to Pin these Oven Baked Black Bean and Cheese Quesadillas!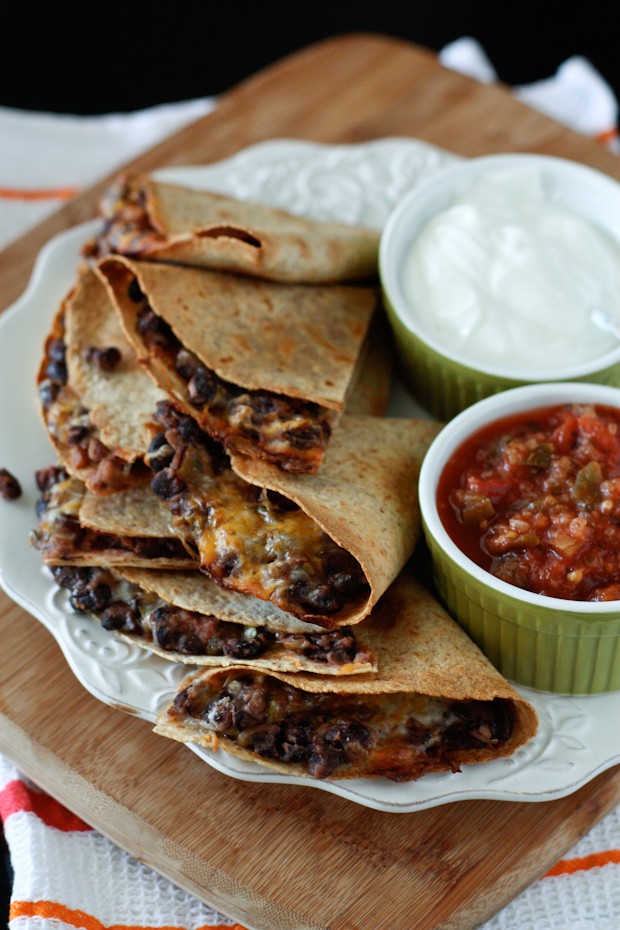 This recipe was created in partnership with Bush's Beans.
For the last few weeks I've been really making an effort to write out, shop for, and follow a meal plan during the week. It's worked wonders for us. The question of what to make for dinner is no longer an issue, and I feel more prepared each day. It's definitely a habit I'm trying to stick with.
At least one night a week we squeeze in a Mexican themed meal. If it's a particularly busy night I'll even turn that Mexican meal into a meatless one to save the extra steps involved to cook up the meat. I always have cans of beans on hand, and if it was up to me, it would be my protein of choice on most nights. Mexican nights are the perfect nights for a good, easy meatless recipe if you ask me!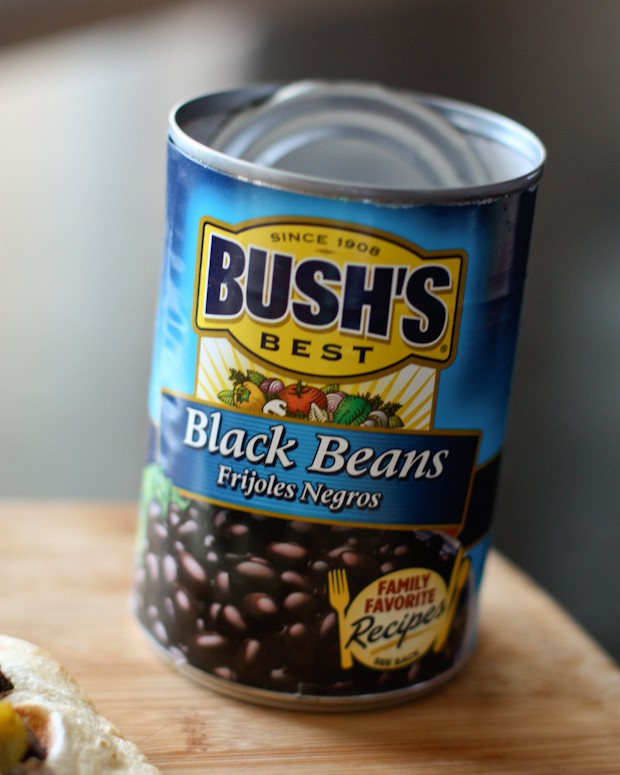 I've always loved making quesadillas for the family but I have to be honest, standing and cooking each one up individually like I normally do just doesn't cut it on those busier nights. I came across this recipe for baked shrimp quesadillas a while back and it really opened my eyes to a new way of cooking them! I've tried this oven baking method for quesadillas a few times now and it really is great for cooking up a large quantity for family dinner or get togethers. With the help of a sheet pan you can get a healthy dinner on the table quick!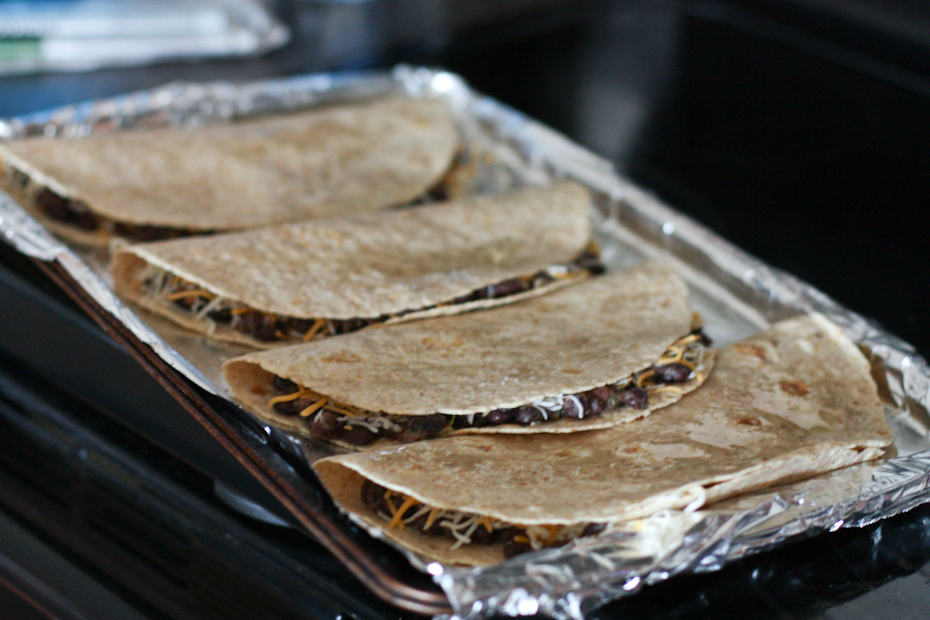 The filling is simple – I have a feeling you already have these ingredients in your kitchen. It's fun to play around and change things up by adding a little onion, corn or even fresh chopped cilantro to the mix. The choice is yours.
Serve with this Mexican Wild Rice recipe for a complete meal!
Enjoy!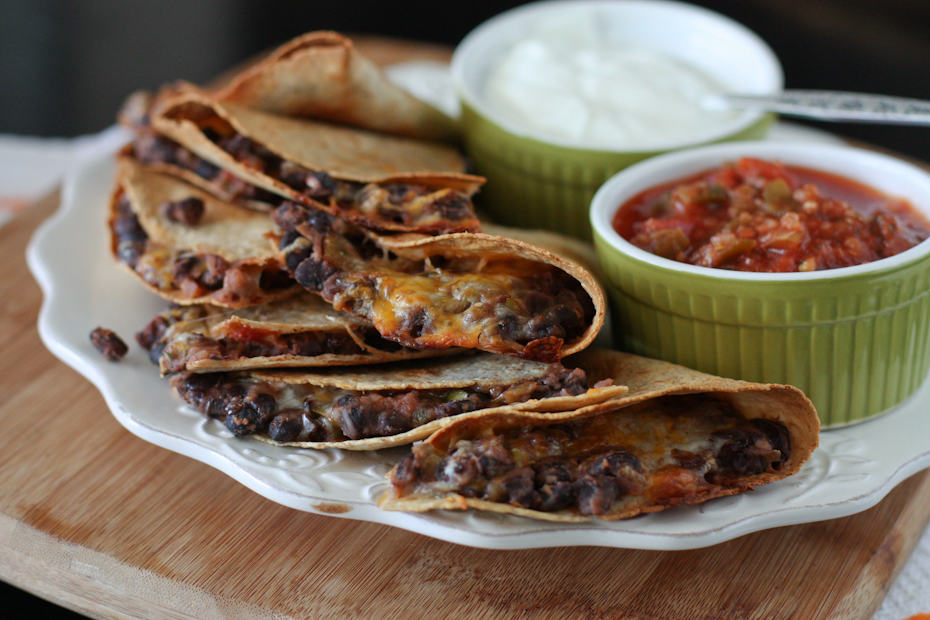 Oven Baked Black Bean and Cheese Quesadillas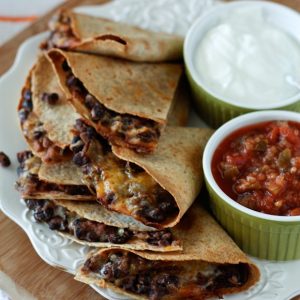 Ingredients:
2 (15 oz) cans BUSH'S Black Beans, drained
1 1/2 cups salsa
1 teaspoon ground cumin
2 cups shredded Colby-Monterey Jack cheese blend
8 (8-inch) flour tortillas (I normally use whole wheat)
1/3 cup sour cream (Greek yogurt is a great substitute as well!)
2 tablespoons oil (for brushing the tortillas)
Directions:
Preheat oven to 350 degrees.
Place one can of beans into a bowl and gently mash with a potato masher or the back of a fork. Mix in the remaining can of whole beans, 1 cup of salsa and cumin. (Here you would add any additional mix ins like chopped onion, corn or cilantro).
Spread mixture evenly on half of 8 tortillas. Top with cheese. Fold over and place on lightly greased baking sheet.
Brush each quesadilla with a small amount of oil. Place in oven and bake for 20-25 minutes until cheese is melted and tortillas are lightly browned.
Cut into wedges and serve with additional salsa and sour cream (or plain Greek yogurt).
Oven baked quesadillas make a great option on those busy nights, or when you are cooking for a crowd! Recipe adapted from Bush's Beans.
Follow Aggie's Kitchen's board Aggie's Kitchen Recipes on Pinterest.
More black bean recipes:
Cheesy Black Bean and Corn Enchiladas
Zucchini, Red Onion and Black Bean Quesadillas

Are you following me on Instagram, Twitter, Facebook and Pinterest? If you'd like to subscribe to Aggie's Kitchen and have each post delivered straight to your e-mail box, then please add your email here. Happy cooking!
There are affiliate links in this post. I make small earnings through any purchases made through these links. Thank you for supporting Aggie's Kitchen!