Green Mango Salad
A refreshing salad for spring, this Green Mango Salad is simple and full of wonderful flavor.
Click here to pin this Green Mango Salad!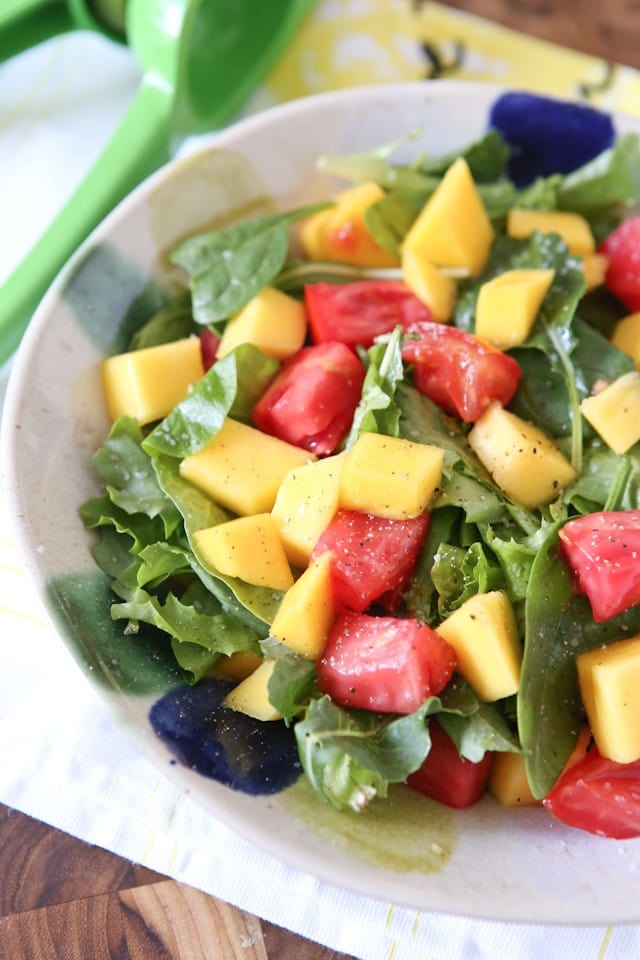 How did we get to Thursday so fast? I swear it was just Monday. My kids were off for Spring Break last week so this week has felt like a bit of a catch up week as well as a back to the school grind week. It's always a bit of an adjustment to get back into the swing of things. But with Spring Break behind us, it can only mean that summer (!!!) is literally right around the corner. I know, crazy talk, but for those of you who have school aged children, don't you feel that the window of time between Spring Break and Summer Break literally whizzes by every year?
I'm excited about a couple of things today. First, this Green Mango Salad. Green mangos…are you wondering about why I'm calling them green mangos and am I the last to know that the green mangos are incredibly edible and delicious with a sprinkle of salt and splash of lemon or lime? Where have green mangos been all my life? (In case you are wondering, green mangos are just unripe mangos.)
A couple of weeks ago on Facebook, one of my childhood friends posted a photo of his daughter enjoying a bowl of sliced green mango sprinkled with salt. His daughter is adorable and of course I had to comment on that, but as I read through the thread I realized that sour green mango sprinkled in salt was a Thing. My friend went on to include a "recipe" for a salad his family makes when he's in Colombia so once I read that my only mission in life was to hunt down some green mangos and recreate it at home.
I was not disappointed. Green mango is the bomb.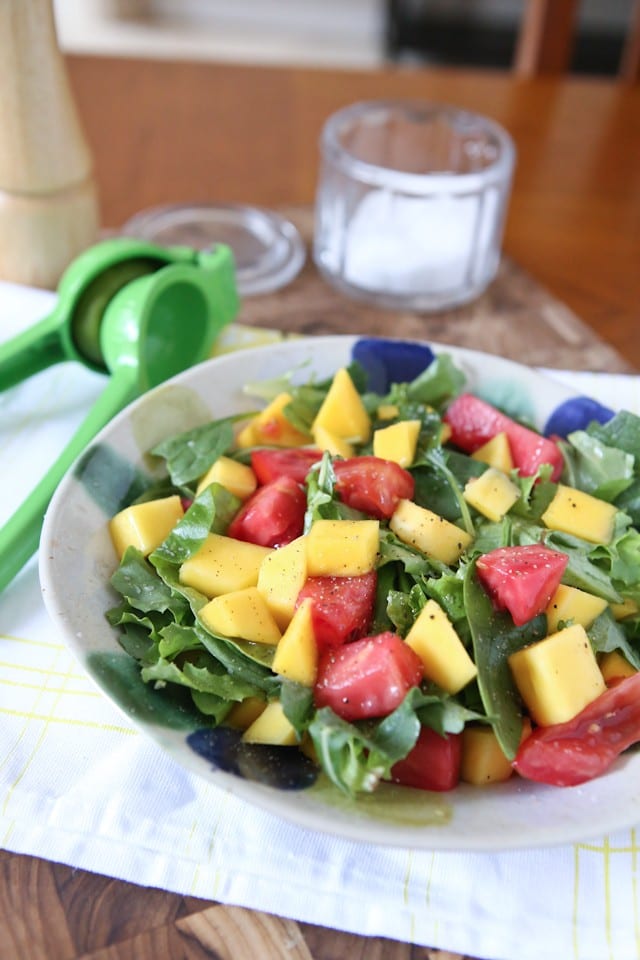 It was so bright and flavorful, really a great salad to serve with just about anything grilled.
Or for an easy, light lunch or dinner – throw some rotisserie chicken on it like I did.
I am hooked on mango in salad right now and want to try this East African Cucumber Mango Salad as well as this Mexican Slaw Recipe with Mango, Avocado & Cumin Dressing – how good do those sound??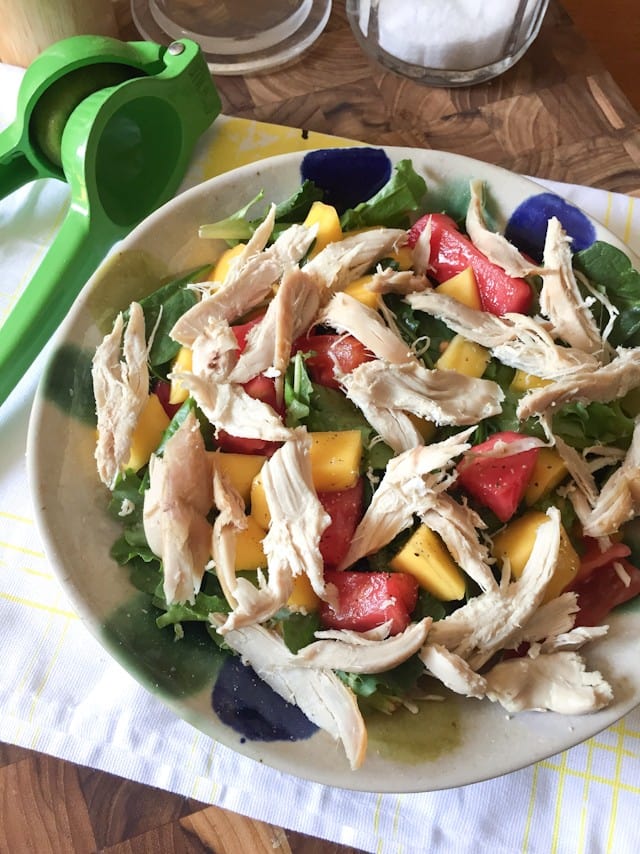 So do you want to know what else I'm excited about? Well…I'm excited to finally introduce you to these adorable little new additions to our family.
Friends, meet Dutch and Rosie.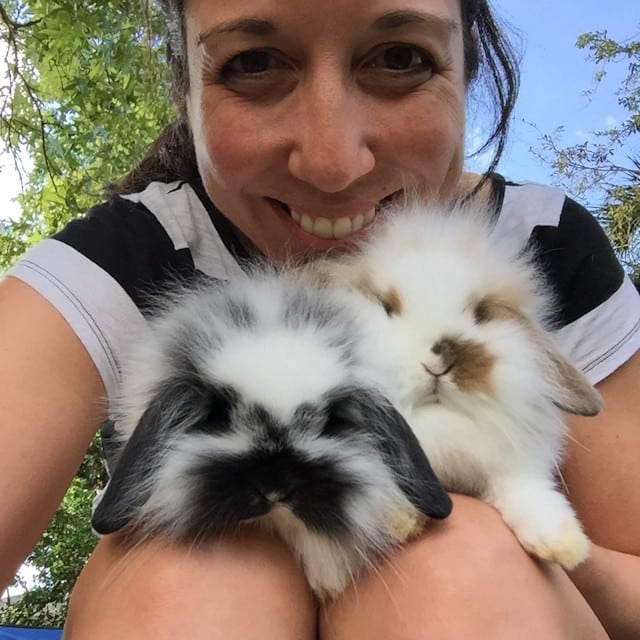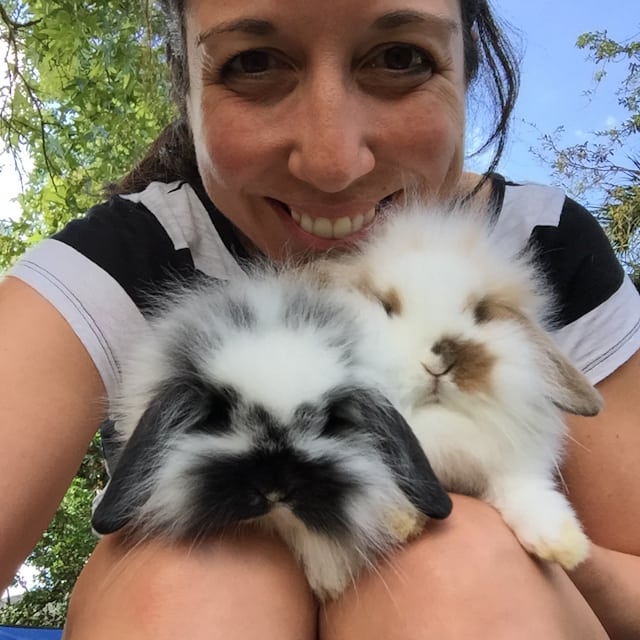 Dutch and Rosie joined our family about 7 weeks ago. Their mom, Betty joined our family over the holidays (we adopted her from our neighbors). Betty was not pregnant when we got her so you can say that we were very surprised one Su
nday afternoon when we went out to her hutch and found what my daughter thought were mice (rats?), but instead were 6 teeny tiny little newborn bunnies. Sadly, 4 of the 6 didn't make it, but Dutch and Rosie were strong and healthy from the beginning and are just the cutest most adorable little animals I've ever seen.
They make me smile.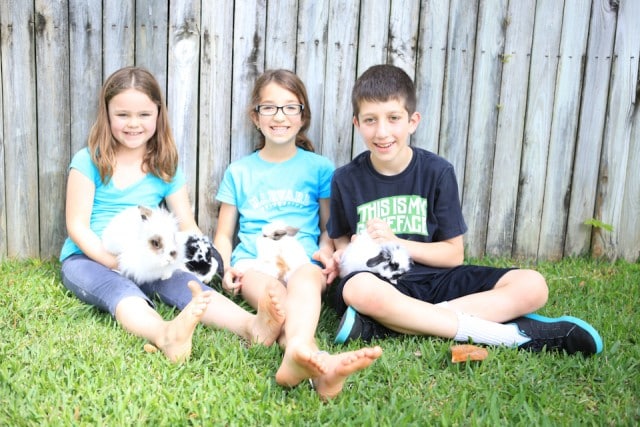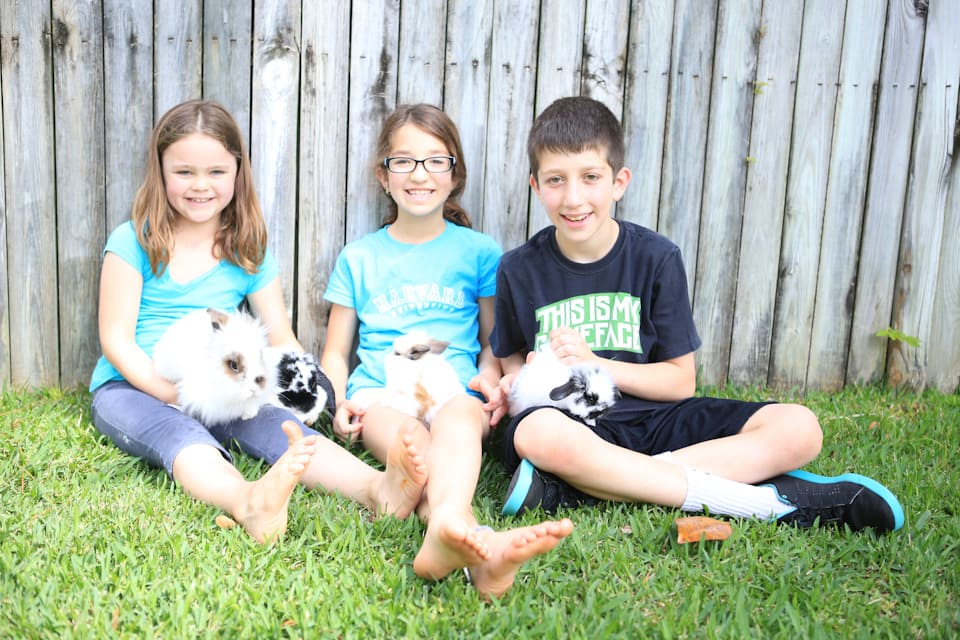 Family portrait:  My kids and our neighbor with the happy bunny family.
From left to right: Frankie (papa), Betty (mama), Rosie and Dutch.
Hope you are having a great week! Go get yourself some green mangos!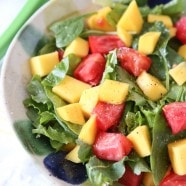 Ingredients:
handful of mixed greens
1 green, unripe mango, diced
1 tomato
lime
splash of white vinegar
coarse salt and pepper, to taste
rotisserie chicken, optional
Directions:
Assemble your salad by adding your greens to a plate or bowl. Top with mango and tomato. Squeeze juice of 1 lime and splash a small amount of white vinegar over salad. Season generously with coarse salt and fresh ground pepper. Optional, add chicken for additional protein.
Follow Aggie's Kitchen's board Salads on Pinterest.
Are you following me on Instagram, Twitter, Facebook and Pinterest? If you'd like to subscribe to Aggie's Kitchen and have each post delivered straight to your e-mail box, then please add your email here. Happy cooking!
There are affiliate links in this post. I make small earnings through any purchases made through these links. Thank you for supporting Aggie's Kitchen!
14 Responses to "Green Mango Salad"
Leave a Comment