Maple Mustard Roasted Pork Tenderloin with Sweet Potatoes and Mango
Both sweet and savory, this Maple Mustard Roasted Pork Tenderloin with Sweet Potatoes and Mango is a wonderful healthy meal to serve your family.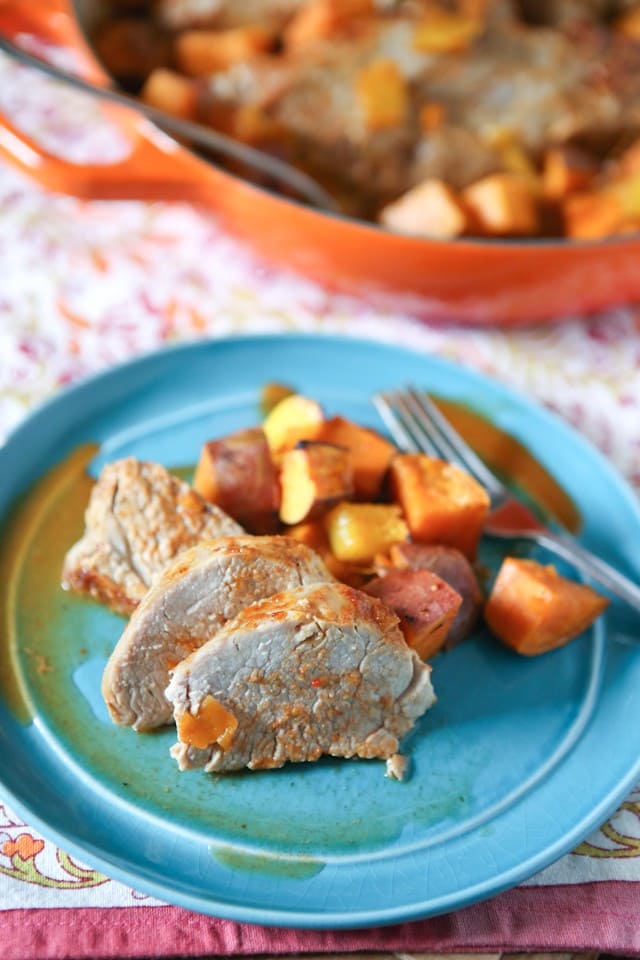 The last couple of weeks, my grocery store has had avocados and mangos on sale. Would it be too obvious to tell you my produce drawer is filled with plenty of both right now?
Yep. I have a few more mangos & avocados than I know what to do with at the moment. This is not a bad thing.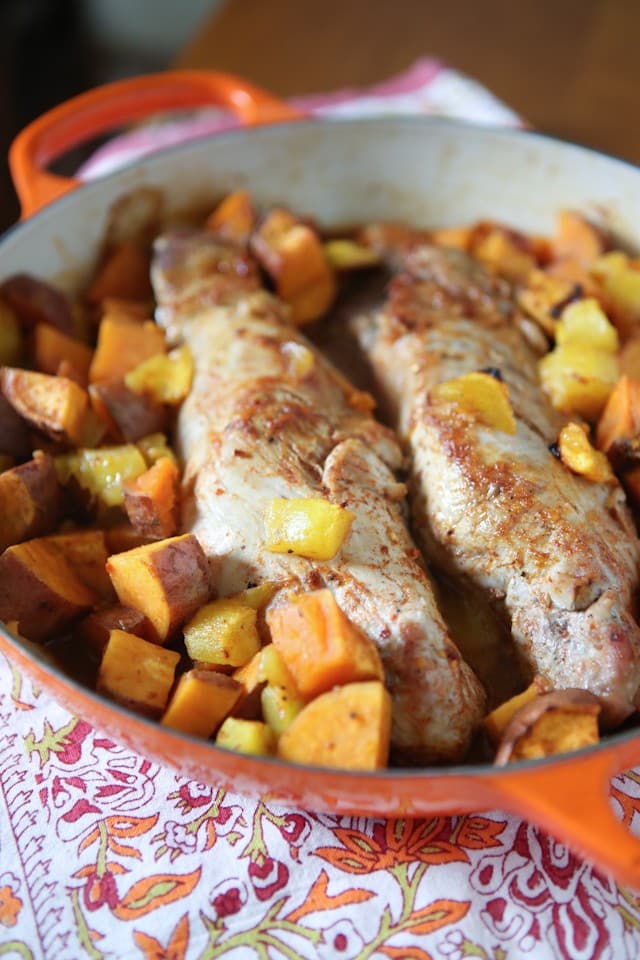 I have always loved mangoes (by the way, I have learned after in depth research that both mangoes and mangos are acceptable plural spellings of mango – it was really bugging me and I figured I would share in case it was bugging you to). The thing with me and mangos though is that I pretty much only eat them sliced up as a snack or in salad (like this Green Mango Salad and this Grilled Chicken Summer Salad with Mango). Two perfectly great ways to eat them right?
The other day I was prepping for dinner and had roasted pork tenderloin with sweet potatoes on the menu. I was planning to add apples to the mix when I decided last minute to switch things up and use mango instead. I'm so glad I did. This Roasted Pork Tenderloin with Sweet Potatoes and Mango turned out so delicious, my whole family devoured it and that's always a good thing. This one is a hearty, stick to your ribs kind of meal – but healthy and light at the same time. You can't go wrong with that! Plus, it's easy to make and feeds a lot. The leftovers are great for lunch the next day!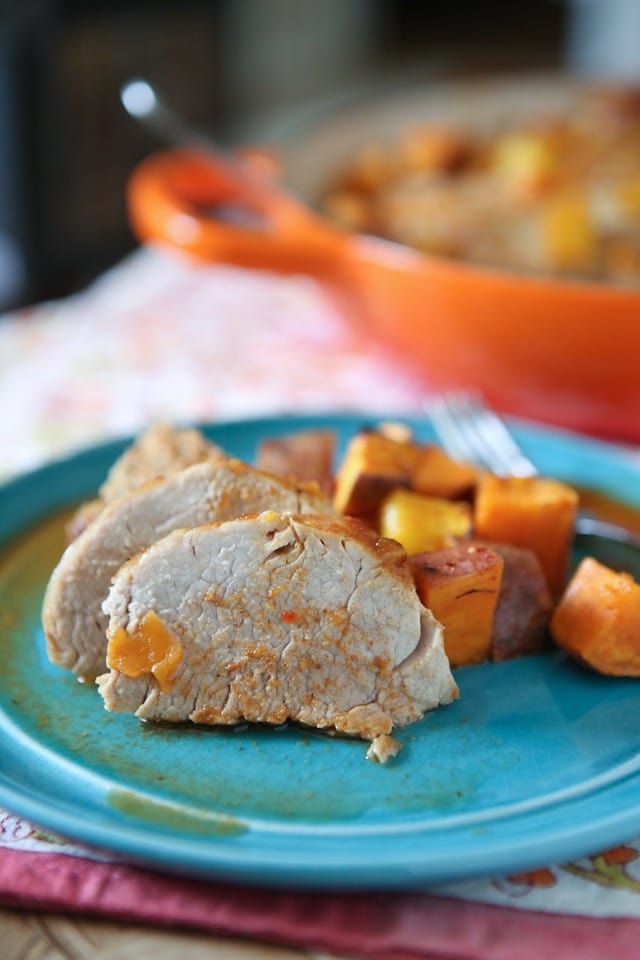 Maple Mustard Roasted Pork Tenderloin with Sweet Potatoes and Mango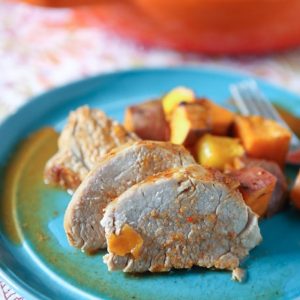 Ingredients:
2 pork tenderloins (about 2 - 2 1/2 lbs total)
1/3 cup pure maple syrup
2 tablespoon spicy mustard
1 tablespoon smoked paprika
1/2 teaspoon onion powder
pinch red pepper flakes (optional)
pinch coarse salt and fresh ground pepper
1/4 cup fresh squeezed orange juice (juice from about 1 navel orange)
1 tablespoon oil
3 large sweet potatoes, cut into 1 " pieces, unpeeled
1 -2 mangos, diced
Directions:
Preheat oven to 425 degrees.
In a small bowl, combine maple syrup, mustard, paprika, onion powder, salt, pepper and orange juice.
Heat oil in a large oven proof braiser or deep skillet. Season both sides of pork tenderloin with salt and pepper and carefully place into your pan. Sear for about 2 minutes on each side (I seared 3 sides). If you don't have an oven proof pan to use, then sear in a regular skillet and transfer to a large baking dish. Your baking dish or braiser needs to be large enough to hold both tenderloins as well as sweet potatoes and mango. Once tenderloins are seared, take off heat.
Pour about 1/3 of your maple - mustard marinade over pork tenderloins. Add diced sweet potatoes and mangos around both tenderloins and pour remaining marinade over vegetables and pork. Toss gently to combine the sweet potatoes and mango with the sauce.
Roast in oven for 30-35 minutes, until pork is done and sweet potatoes are tender (see note below for more on cooking time). Gently toss sweet potatoes with juices from pan. Let pork rest 5 minutes before slicing. Serve slice pork tenderloin with pan juices.
Cooking time for your pork tenderloins will vary based on how large your tenderloins are. My tenderloins were 2 1/2 lbs total and large in the center. They registered at 160 degrees at 35 minutes. Because they were roasting in a marinade they did not dry out. I highly recommend using a meat thermometer and checking temperature at thickest point at 25-30 minutes depending on how large your tenderloins are. Use this pork cooking times and temperature chart as a guide.
Easy meal ideas like these Turkey Stuffed Zucchini Boats  and Cheesy Sloppy Joe Casserole always catch my eye. Adding them to my meal plan today!
Kitchen tools & items I used to put this meal together:
Instant-Read Meat Thermometer
Mango Splitter
Cast-Iron 5-Quart Round Braiser
Follow Aggie's Kitchen's board Aggie's Kitchen Recipes on Pinterest.
Are you following me on Instagram, Twitter, Facebook and Pinterest? If you'd like to subscribe to Aggie's Kitchen and have each post delivered straight to your e-mail box, then please add your email here. Happy cooking!
There are affiliate links in this post. I make small earnings through any purchases made through these links. Thank you for supporting Aggie's Kitchen!