Spring Beet and Goat Cheese Salad with Walnuts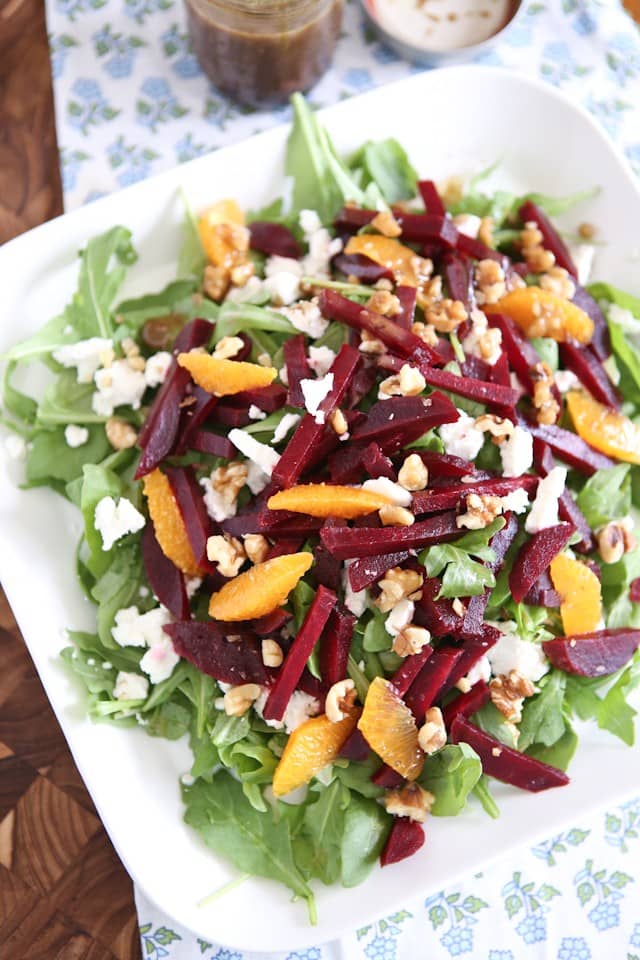 (This Beet and Goat Cheese Salad with Walnuts is sponsored by Fisher Nuts.)
Is it safe to say spring has sprung everywhere yet? I always have a bit of spring guilt here in Florida. Technically our best "spring" weather is back in January and February and even March when the rest of the country is freezing. By mid April we are starting to see the 90s…just the other day our heat index was (wait for it…) 101 degrees! What in the world. It's a bit early for triple digit heat indexes but I won't complain ever. #ILoveFlorida
With warmer spring weather comes cravings for warm weather food, am I right? Salads, salads and more salads. Some grilling too. This is my favorite food season of the year, though I think spring food and summer food are very closely tied. This April Produce Guide caught my eye the other day and inspired this Spring Beet and Goat Cheese Salad with Walnuts – beets, arugula and citrus all scream spring, don't they? Topping your salad with goat cheese, walnuts and a homemade Toasted Walnut Balsamic Vinaigrette is never a bad thing either, whatever month or season we are in.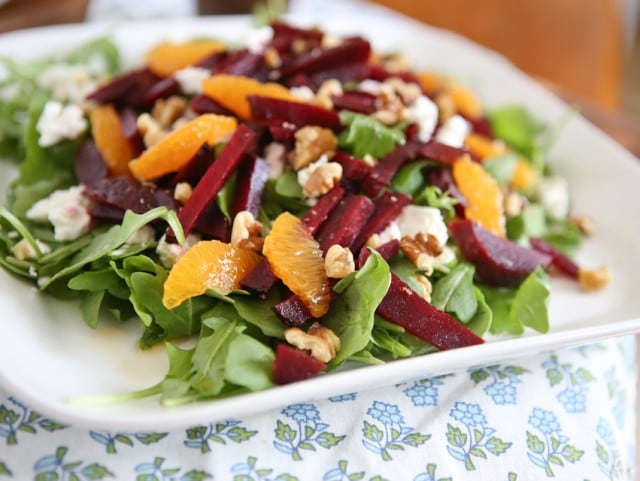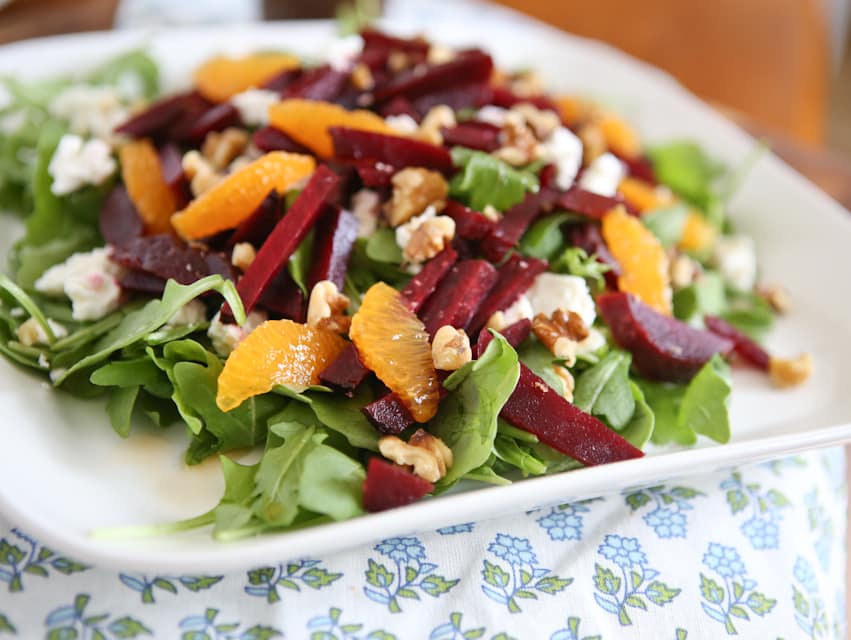 I have a hard time not adding nuts to any salad I'm making. Nuts and cheese tend to make the salad that much better don't you agree? For this Beet and Goat Cheese Salad I wanted to add hearty and earthy walnuts to it. I even toasted some up to add some extra flavor to the vinaigrette.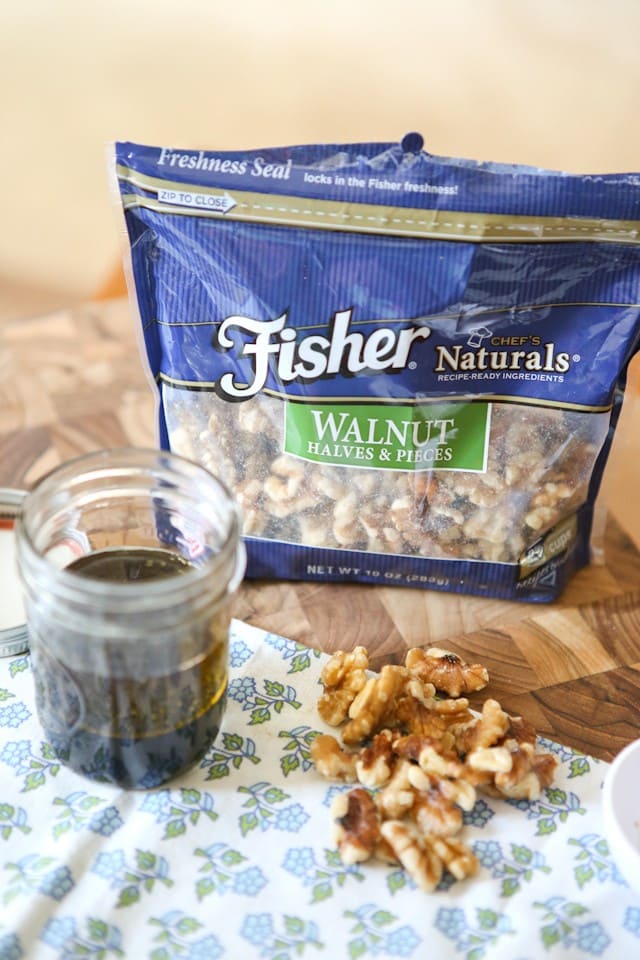 Serve this salad with anything grilled and you have yourself a wonderful, light spring meal. And let's be honest, whether you are a beet lover or not (I personally love beets!), how pretty are all the colors in this salad?? So good for you! If you aren't accustomed to cooking beets yourself, I did find a very convenient package of precooked organic beets at Costco recently and have loved having them on hand.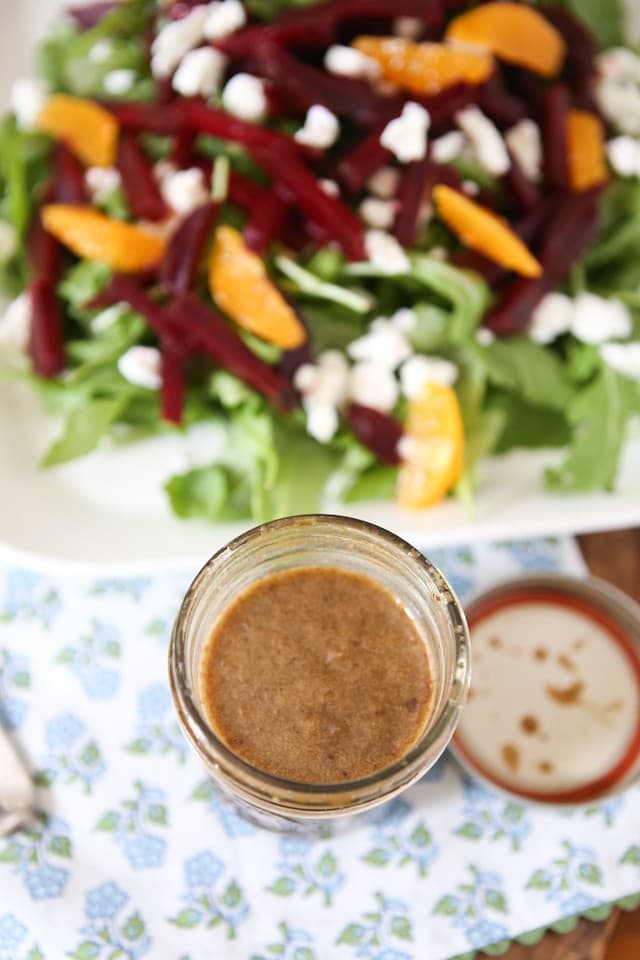 Have a great week!
Spring Beet and Goat Cheese Salad with Walnuts
Yield: about 2-4 servings, depending on what you are serving with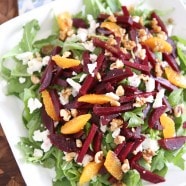 Ingredients:
For the Salad:
5 oz arugula
3 oz goat cheese, crumbled
2 cooked beets, cut into strips
1 large orange, segmented
1/4 cup Fisher Walnut Halves and Pieces, rough chopped
For the Toasted Walnut Balsamic Vinaigrette:
1/3 cup light oil (I used avocado oil)
1/4 cup balsamic vinegar
1/4 cup Fisher Walnut Halves and Pieces, finely chopped and toasted
juice from segmented orange used in salad (about 1/4 cup)
big pinch coarse salt and pepper
Directions:
On a large salad plate, layer arugula, goat cheese, beets and segmented oranges. Season lightly with a pinch of coarse salt and fresh ground pepper.
In a small jar, combine oil, vinegar, toasted chopped walnuts and orange juice. Add a pinch of coarse salt and pepper and shake vigorously until well combined. Serve with salad.
Enjoy these spring inspired recipes from Chef Alex Guarnaschelli using Fisher Nuts:
Arugula and Curried Pecan Salad
Almond and Asparagus Crusted Grouper
Spring Toasted Almond Fruit Salad
This post is in partnership with Fisher Nuts, however all opinions are my own. #ThinkFisher
Follow Aggie's Kitchen's board Salads on Pinterest.
Are you following me on Instagram, Twitter, Facebook and Pinterest? If you'd like to subscribe to Aggie's Kitchen and have each post delivered straight to your e-mail box, then please add your email here. Happy cooking!
There are affiliate links in this post. I make small earnings through any purchases made through these links. Thank you for supporting Aggie's Kitchen!
17 Responses to "Spring Beet and Goat Cheese Salad with Walnuts"
Leave a Comment