Spring in Savannah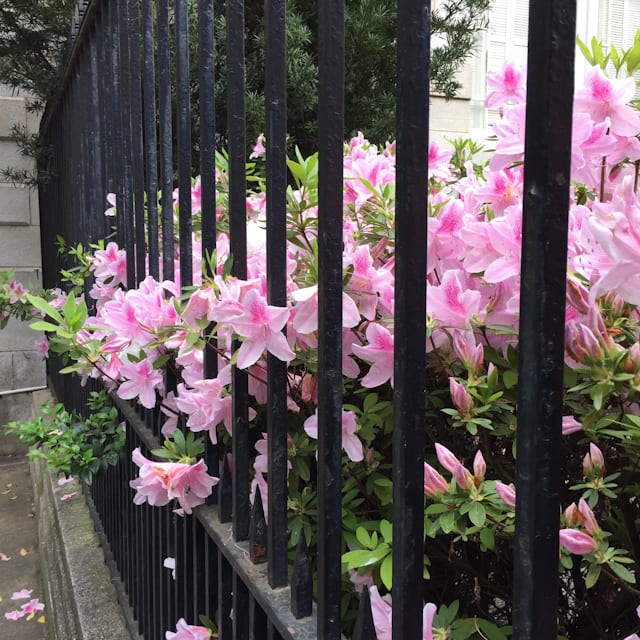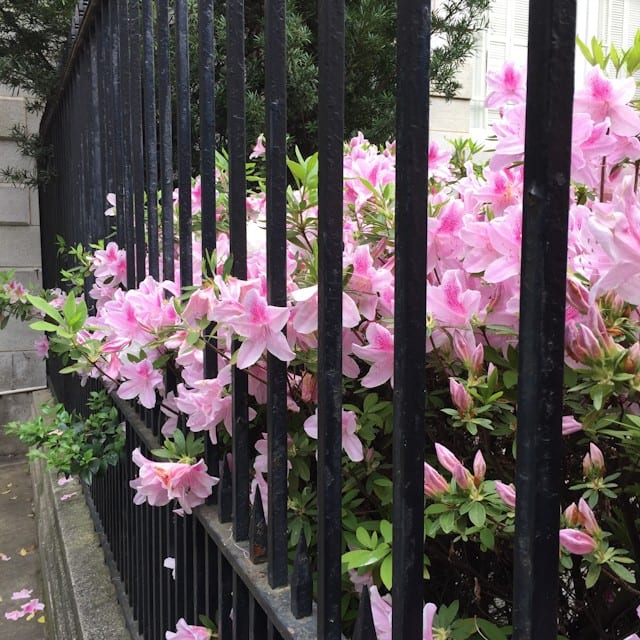 A few weeks ago, my family and I took a last minute, spontaneous trip to Savannah, Georgia for Easter weekend. My husband and I were in Savannah a few years ago and have always looked forward to taking the kids. My oldest son is a history buff, my daughter is a scenery lover like I am and our little man just needs space to walk and run wild so really it was the perfect little getaway for us. To experience spring in Savannah was truly a treat!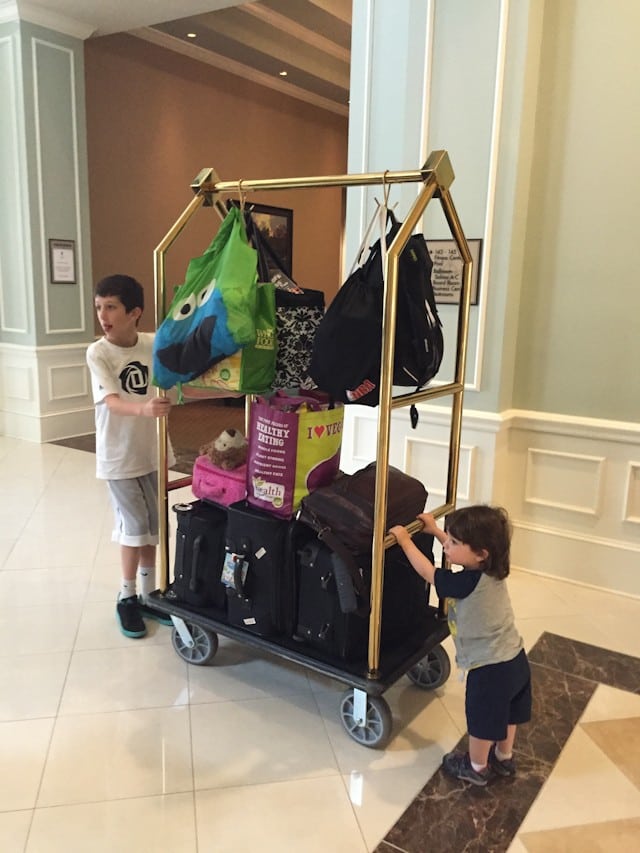 Where We Stayed:
We stayed at Embassy Suites, after a friend recommended it to us. We are realizing that as a new family of 5, a regular hotel room isn't going to cut it anymore, especially right now with an 18 month old in the mix. We need space. At Embassy Suites we had two connecting rooms, one of them was like a hotel room with two queen beds and an attached bathroom, while the other room had a pullout sofa, it's own large television, a desk area and a sink/fridge/microwave area, as well as access to the bathroom. It was seriously the best decision we made to stay here. I highly recommend it if you need the room. The hotel itself was large, roomy and very clean. The lobby area was spread out and had a lot of seating and the best part – according to my kids (and me!) – was the huge breakfast spread that was included every single morning. There was a hot breakfast food buffet with everything from eggs, oatmeal, pancakes, meats, and biscuits & gravy. There were yogurts, fruits and all the other breakfast sweets and breads. There was also a very popular omelet station. I never really order omelets when I eat out but I enjoyed the best spinach, mushroom, onion and swiss omelet two mornings in a row. They also provide a happy hour reception (!!!!) to their guests in the early evening with snacks (the best homemade potato chips, my weakness) and alcoholic and non alcoholic beverages. Sangria and a plate of cheese, veggies, homemade potato chips and dip were exactly what this mama needed after a day full of walking around. I really thought staying here was a great value for a family, breakfast alone being included saved us the hassle of going somewhere for breakfast not to mention the cost. When you are traveling with (always hungry) kids, breakfast can definitely get pricey. I usually try to bring my own bagels, peanut butter and fruit to keep in the room so having breakfast provided for us was a huge treat.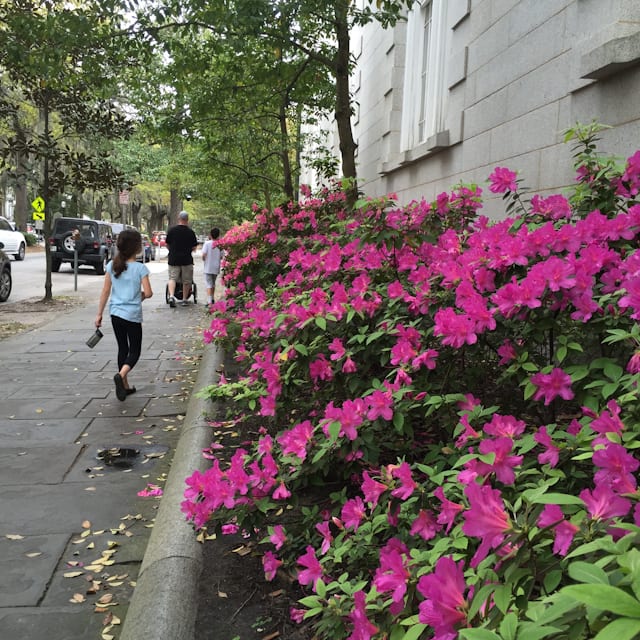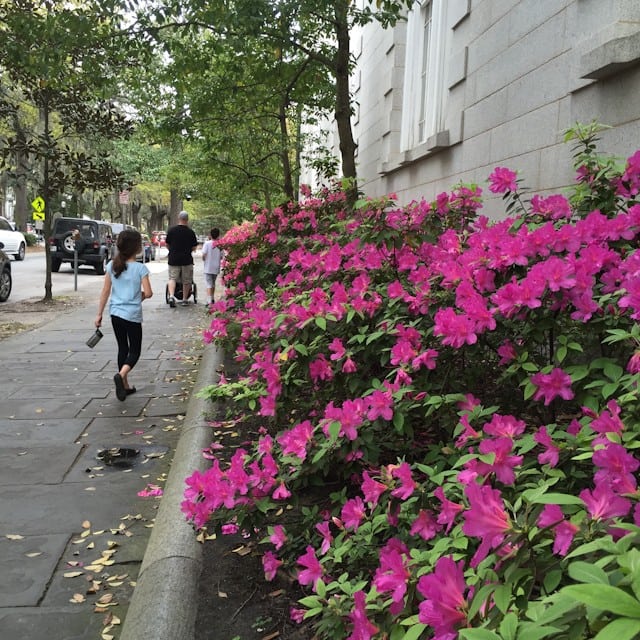 What We Did:
We walked. A lot. And it was wonderful.
The weather was perfect – warm, but not blazing hot, and comfortable. The reason we knew Savannah would be a fun getaway for us as a family is that we could walk everywhere. And that's what we did. The FitBit users reading this will appreciate the fact that we hit 18,000 steps one day by 5pm!
Savannah is divided into two areas – River Street and the Historical District. We visited River Street and walked around a bit but spent most of our time exploring the historical area and Forsyth Park. We wanted to walk through as many squares as we could and spend an afternoon just playing in Forsyth Park. Forsyth Park is amazing. You will probably recognize the huge fountain that is famously shown in photos and paintings everywhere, but the park is so much more. It has a couple of playgrounds, sprawling lawns (run baby run!), and lots of people to watch. During our time there we saw plenty of college students sitting on blankets with their drawing pads, a group of kids practicing their trapeze skills (they had a rope tied between two trees and were literally walking a tight rope and flipping on and off) and lots of frisbees, balls, kites and picnicking. I could spend every day there. We planned ahead and brought our own ball but forgot a blanket to sit on. It didn't stop me from laying down in the grass and looking up through the trees, note to self: do that more often.
Forsyth Park: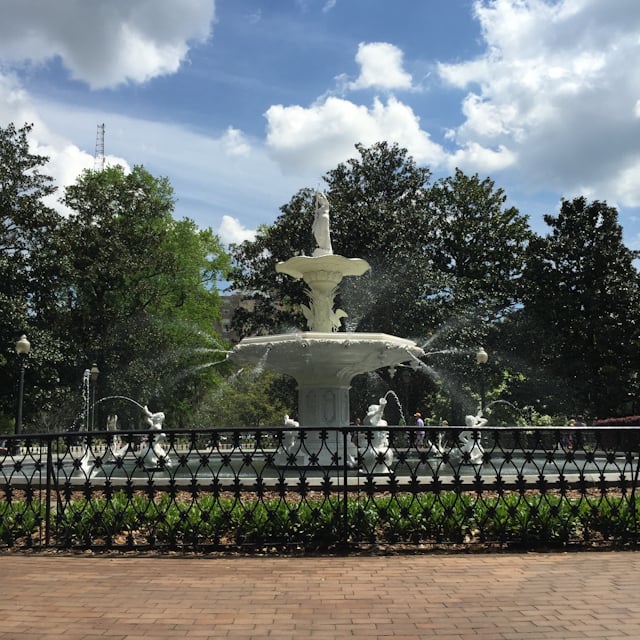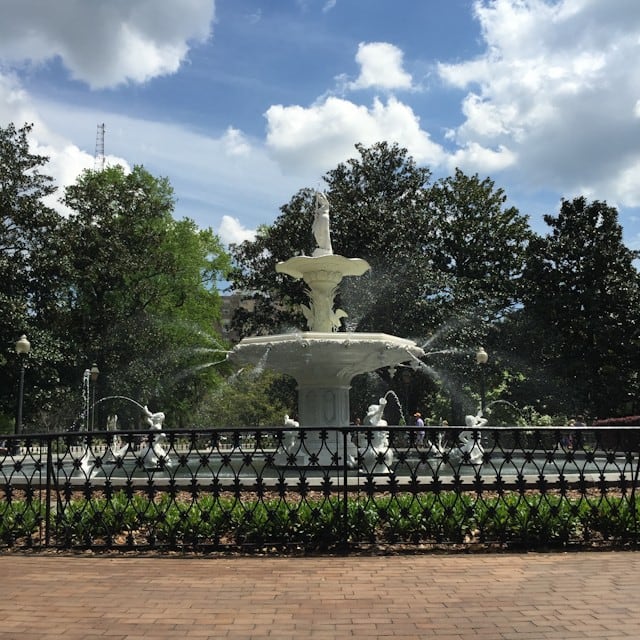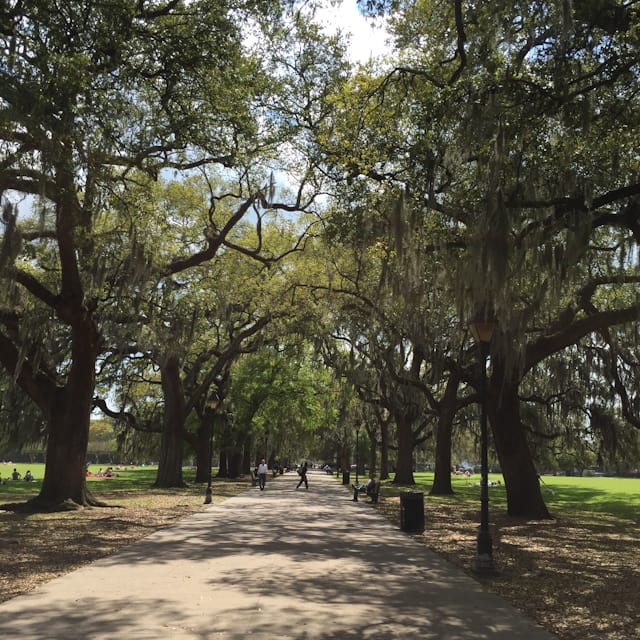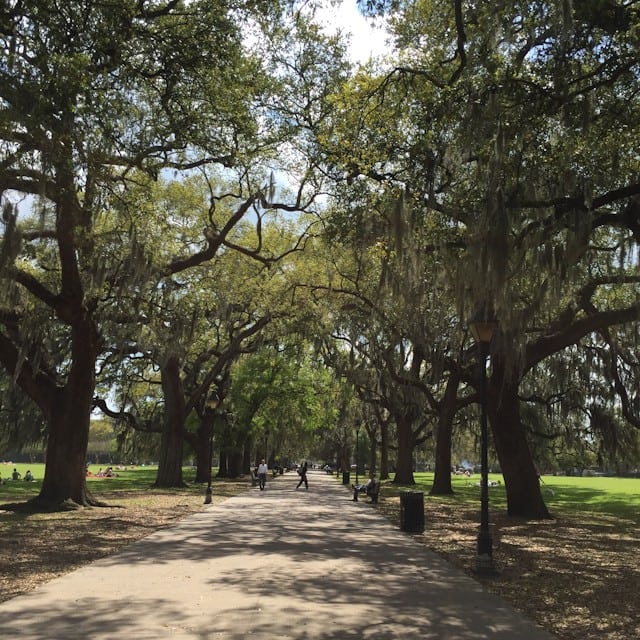 Historical District:
I am seriously so obsessed with the homes, gardens and architecture throughout Savannah – doors and all the wrought iron were catching my eye everywhere I turned.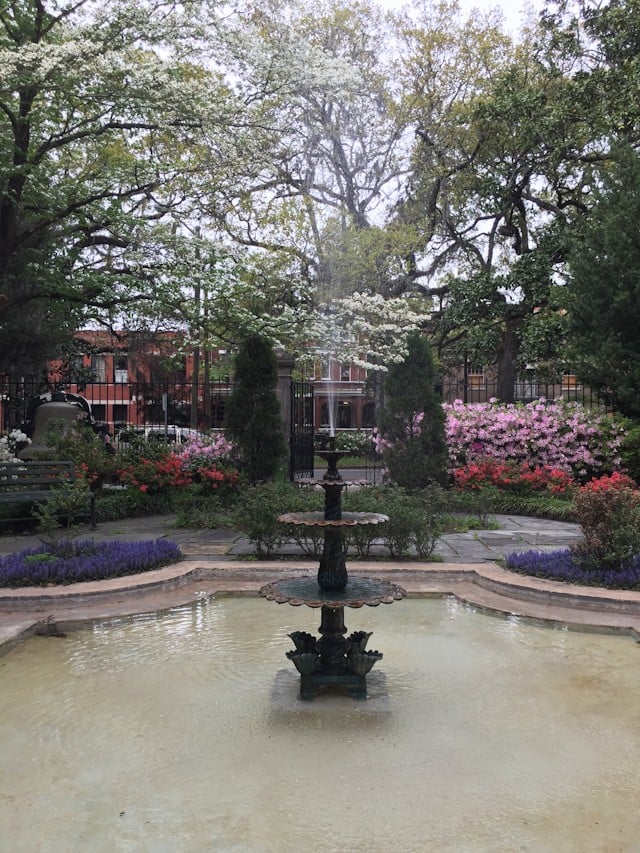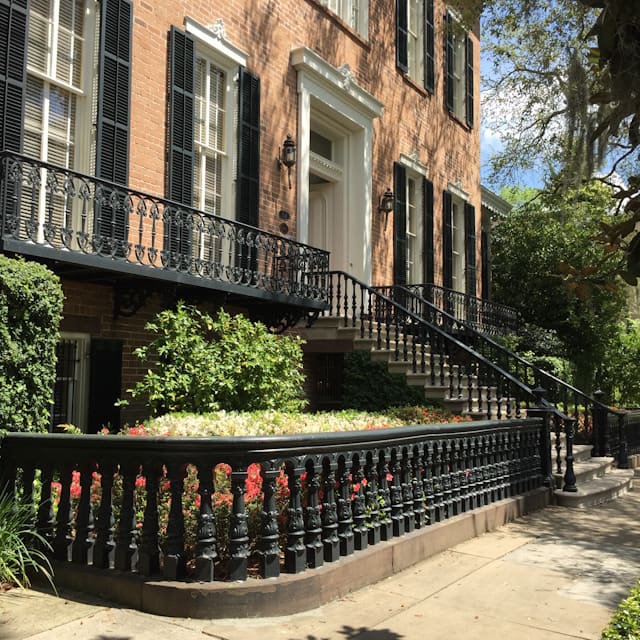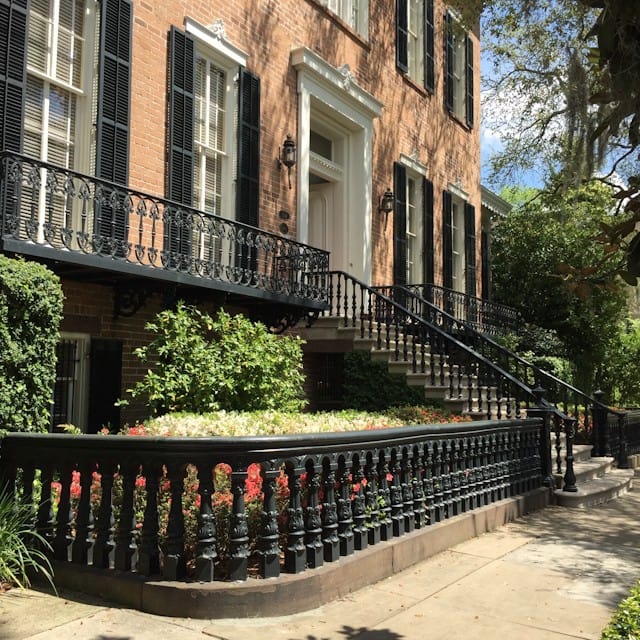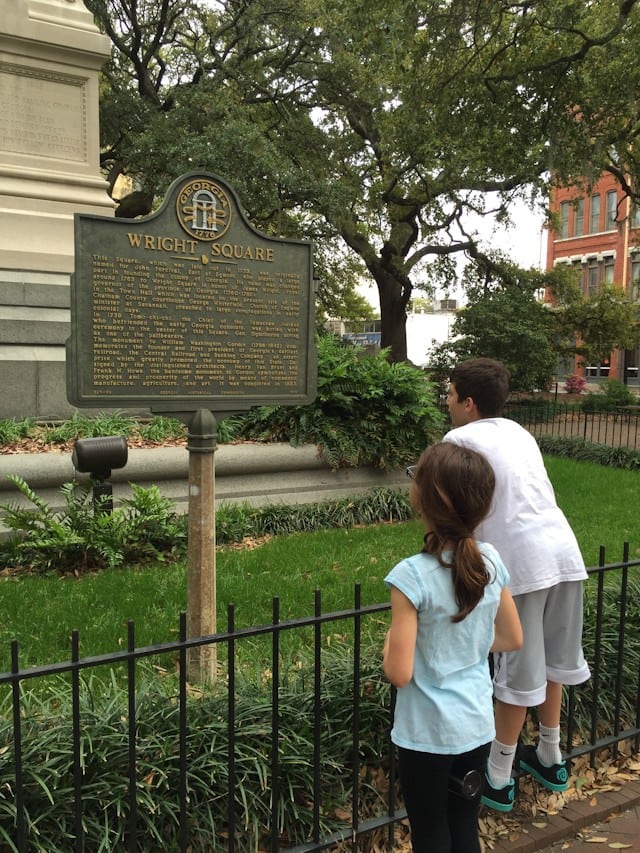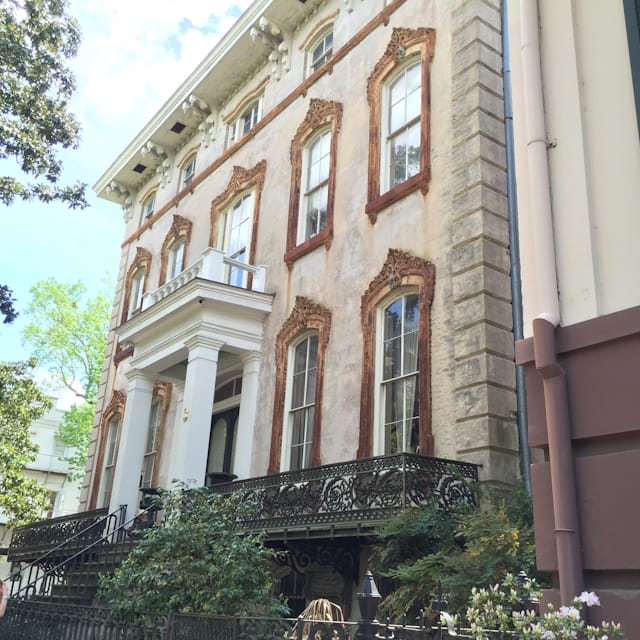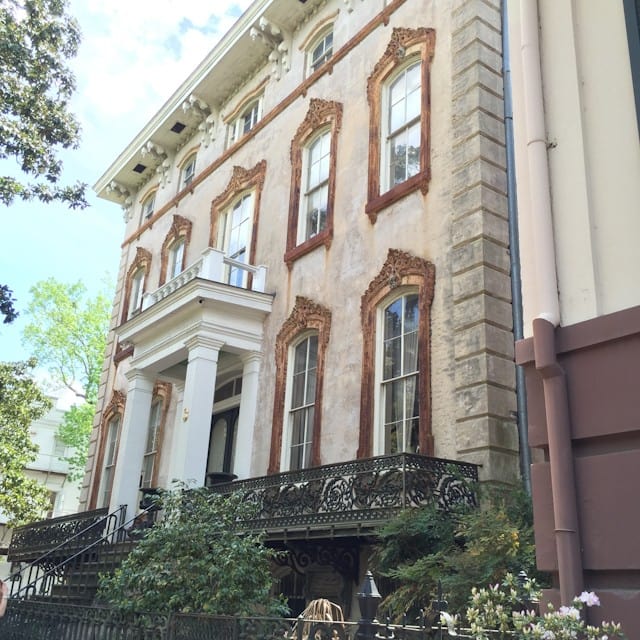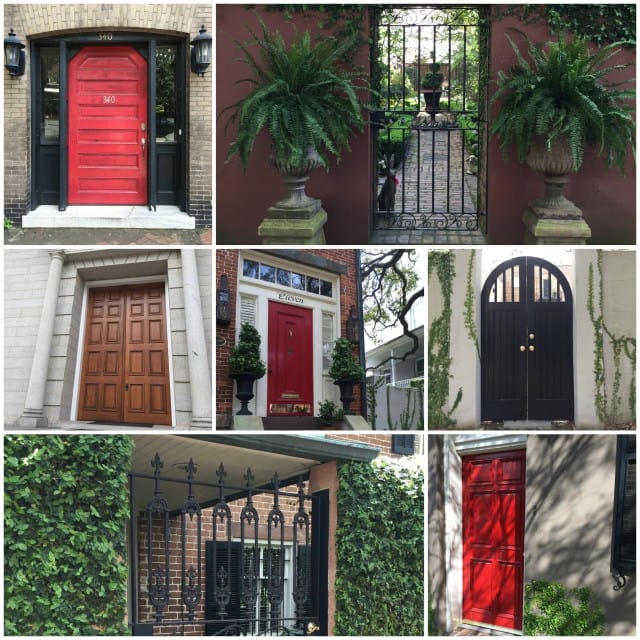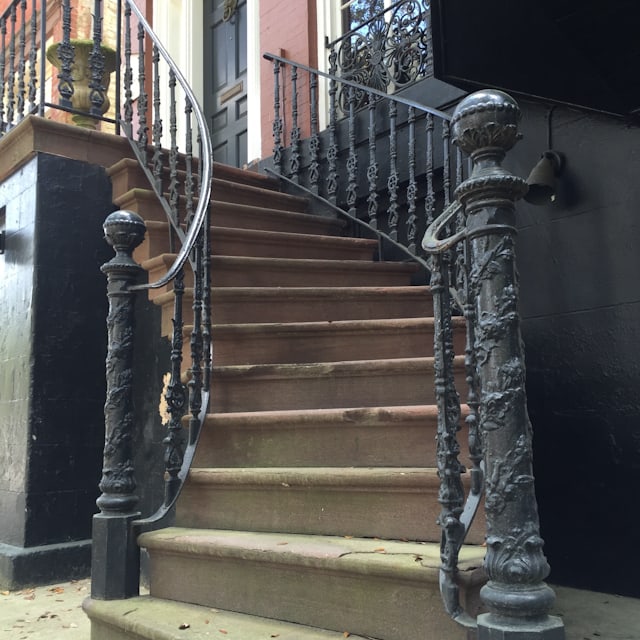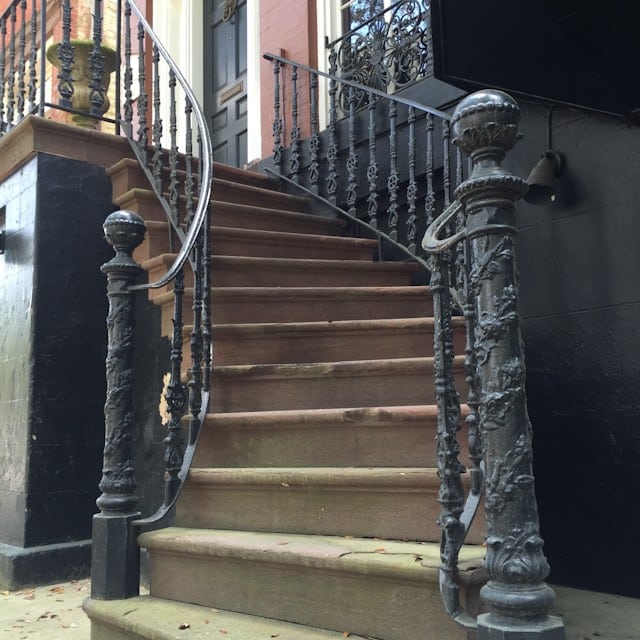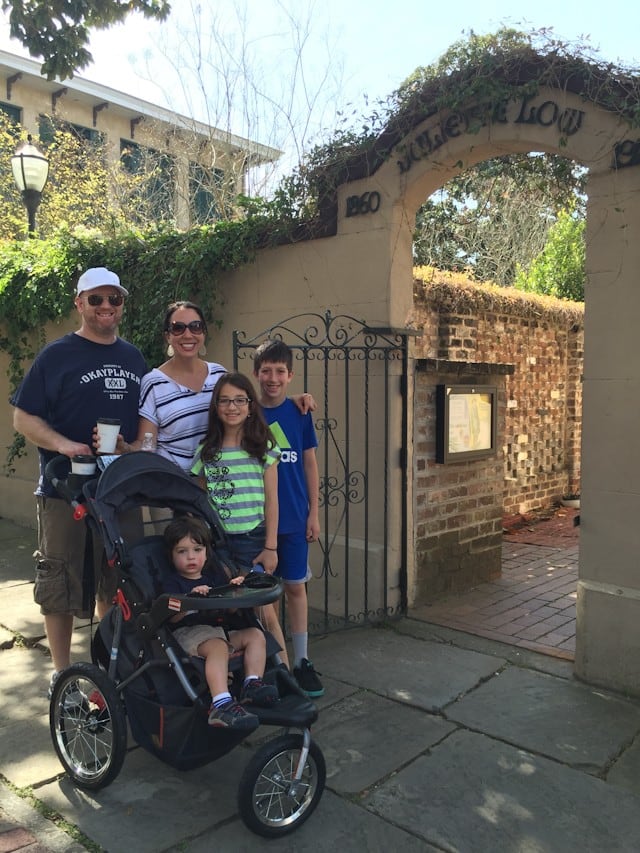 When we planned our trip for Easter weekend, one of the most important and memorable things for me to do was to be able to attend Mass at The Cathedral of Saint John the Baptist Easter morning. This church is stunning beyond words, the most visually beautiful church I've ever been in honestly.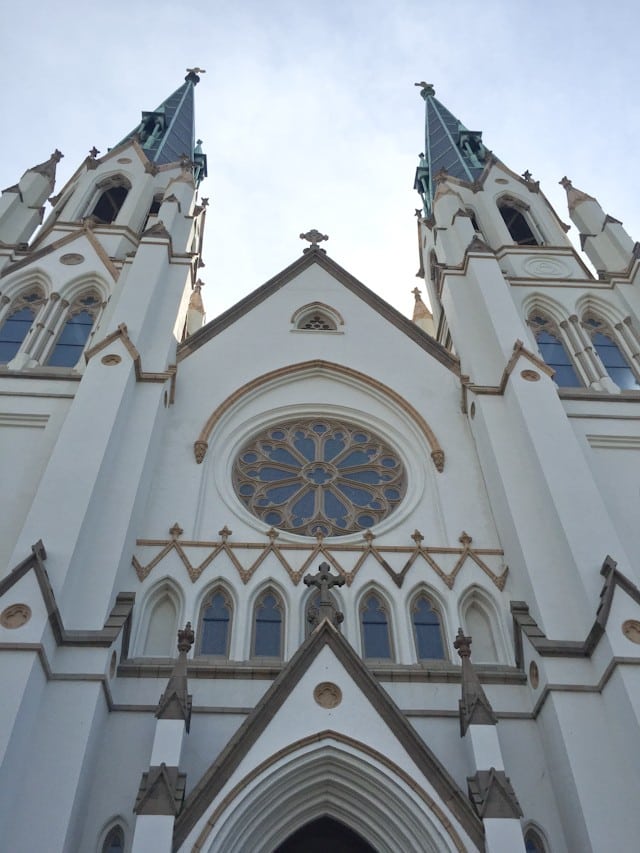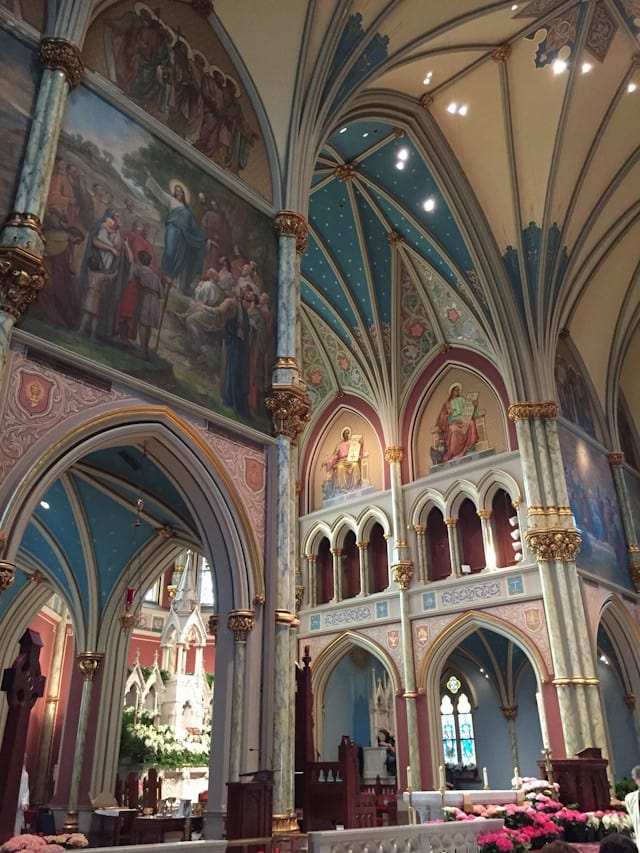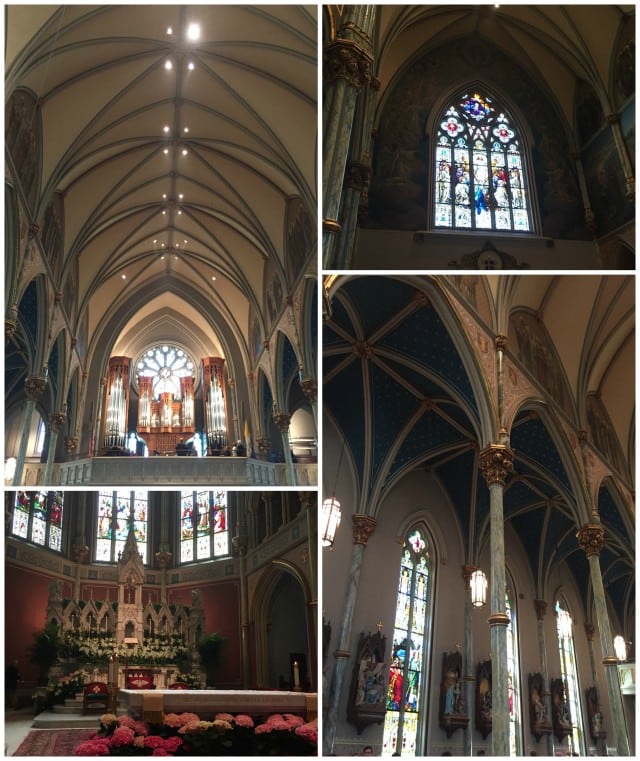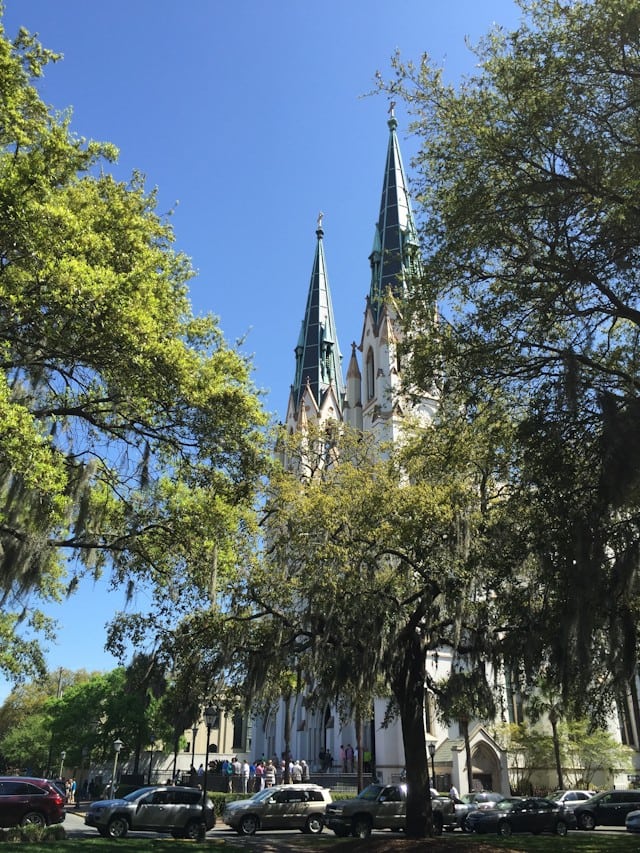 One of the things my daughter wanted to do was go on a horse carriage ride. Although the on/off trolley tour was recommended by our hotel concierge for a more informative and in-depth tour, our kids weren't as excited about that as they were about going on a horse carriage tour – and I don't blame them. We booked our tour through Carriage Tours of Savannah in person at City Market, but you can always call ahead.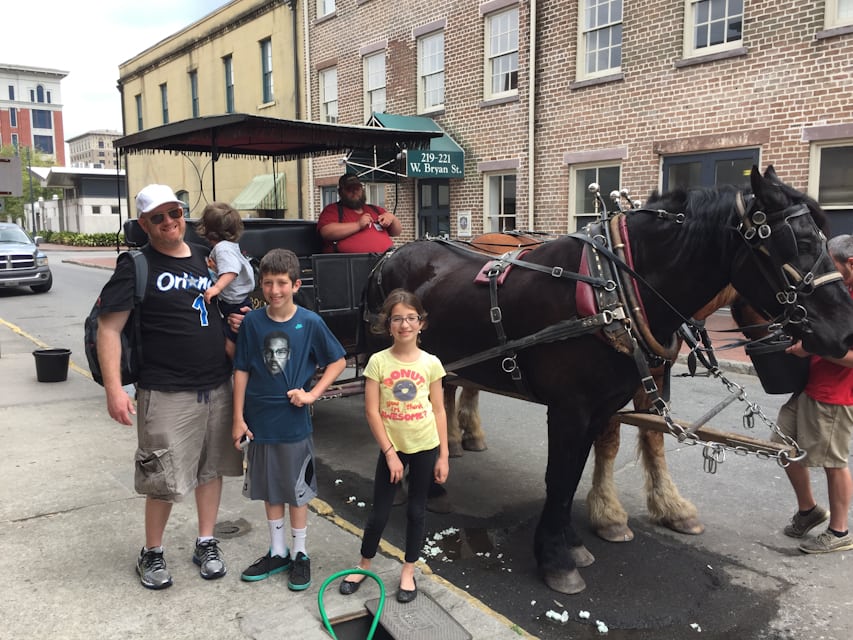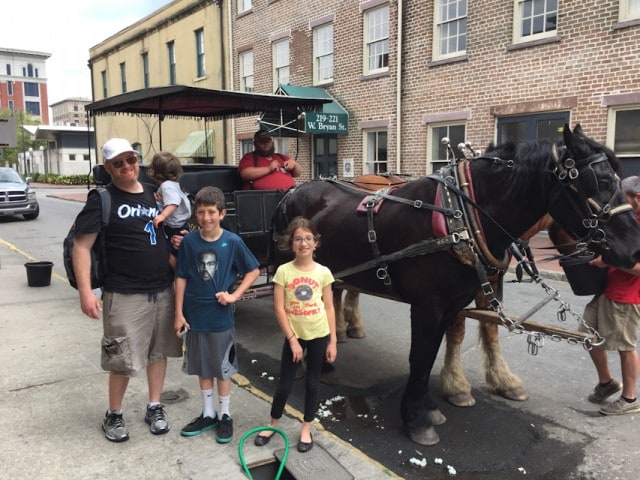 Where We Ate:
There are so many restaurants to choose from in Savannah! As much as I would love to share with you tons of food pics from places we ate, the truth and reality is, dining with 3 kids (specifically an 18 month old) does not make it easy to snap shots of our plates. And that is okay! 🙂 Next time!
(From the looks of my food pics, lots of beer and Bloody Mary's apparently 🙂 -no judgment please!)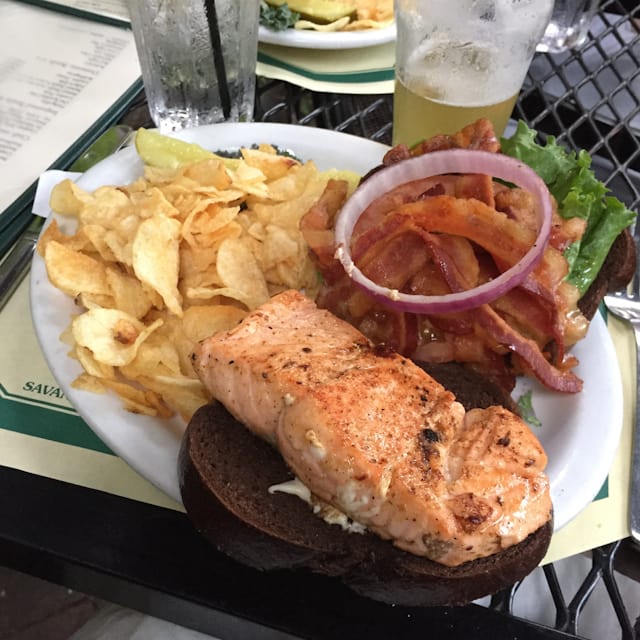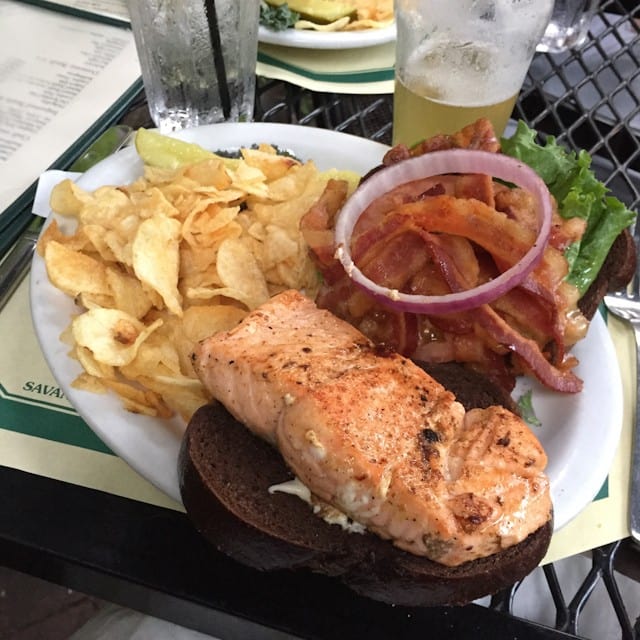 (Grilled Salmon BLT from Six Pence Pub – we came here last time and loved it)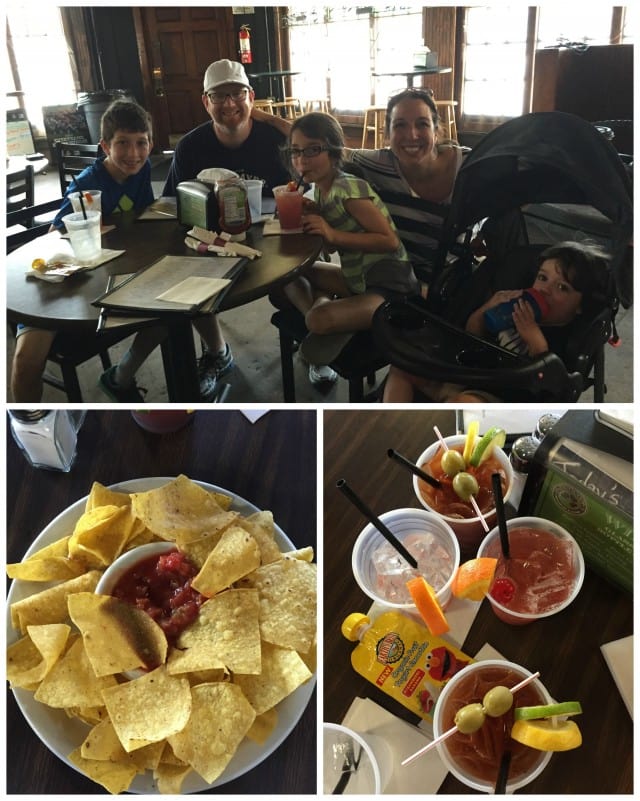 (Snacks and Bloody Mary's at McDonoughs – one of the best Bloody Mary's I've had – they add Guinness to them! The tortillas were freshly cut and fried, delicious. Super friendly service from the bartenders and cook!)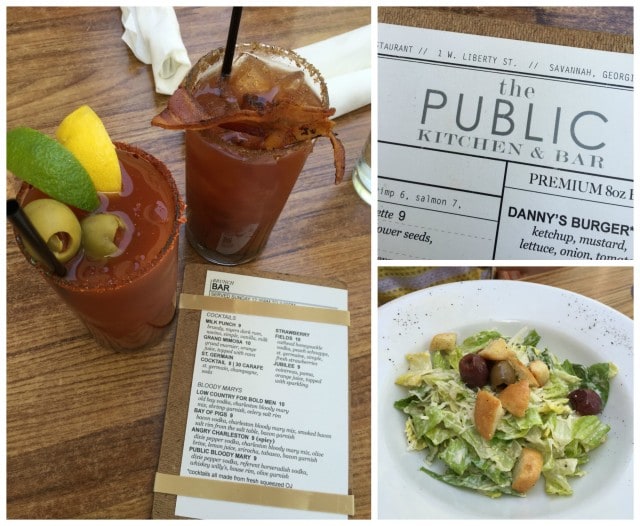 (Easter lunch at The Public – we loved it here and will definitely be back!)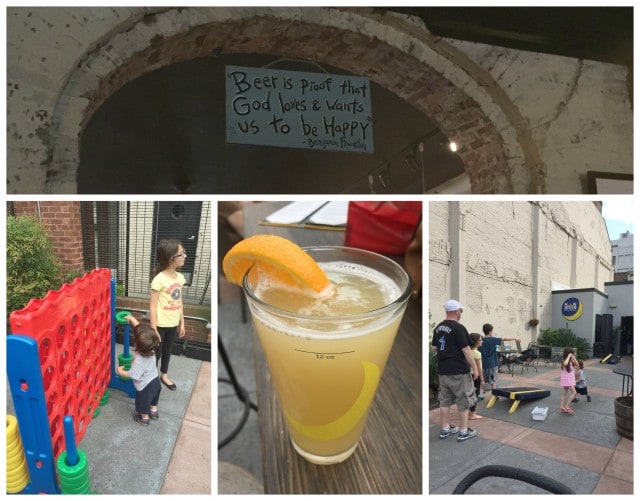 (Fun in the beer garden at Moon River Brewing Company – loved hanging out here with the kids)
Savannah holds a special place in my heart. Just yesterday my kids both said they couldn't wait to go back (as they were finishing up some sweets we brought back from our trip) and that made me so happy. I can't wait to go back with them!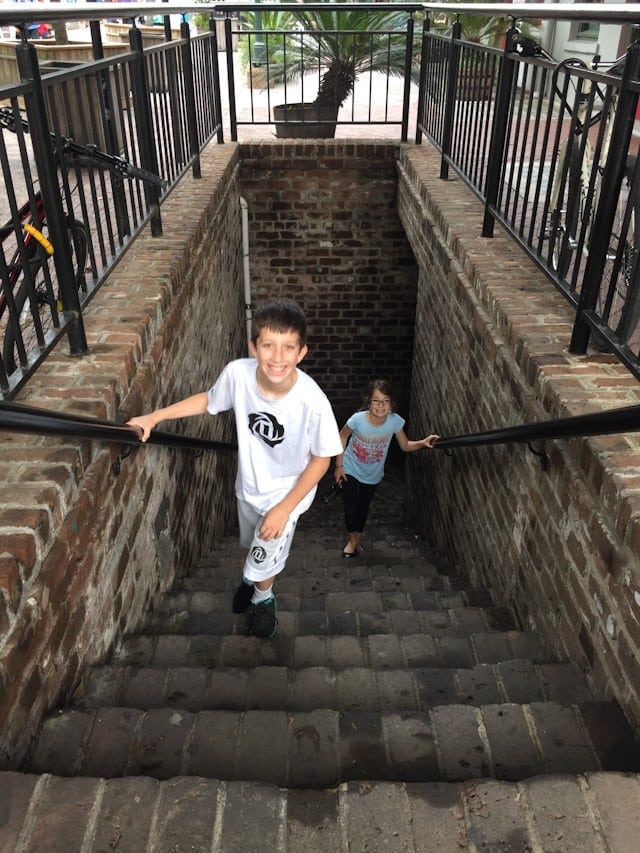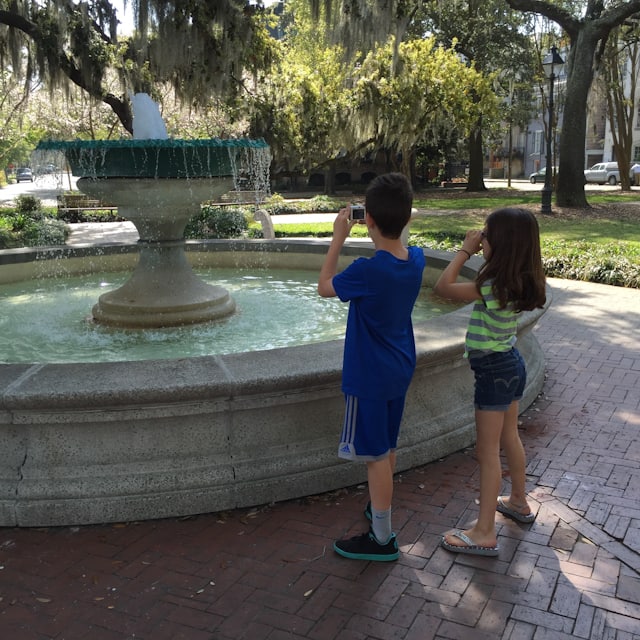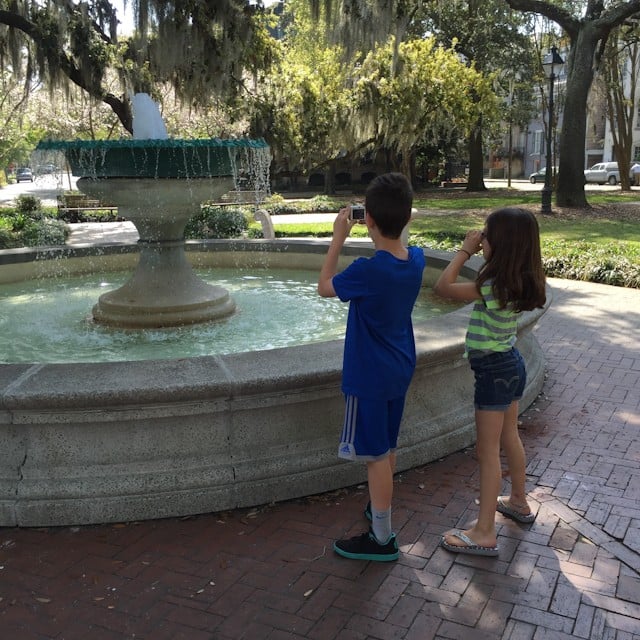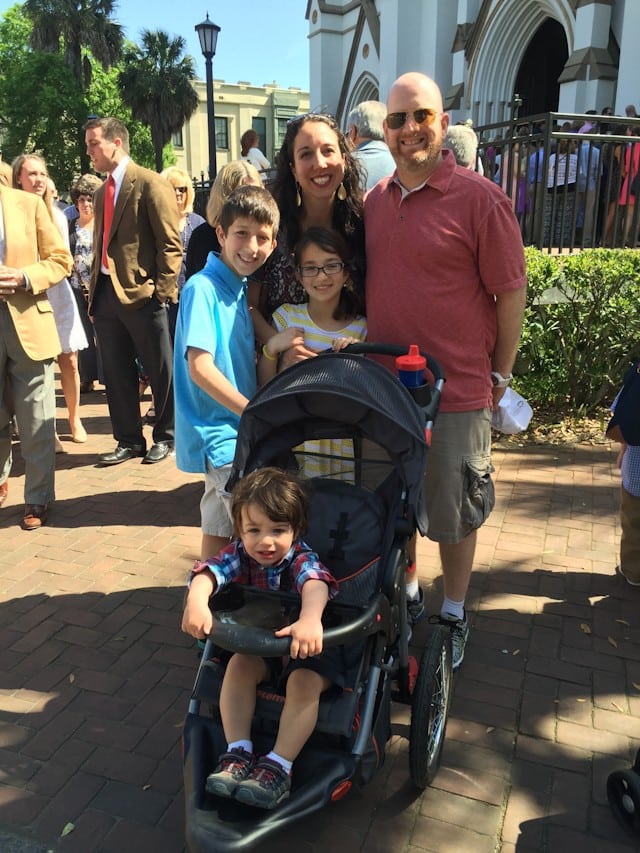 Helpful sites to guide you through Savannah:
http://blog.visitsavannah.com/
Check out more traveling in my Travel section!
Are you following me on Instagram, Twitter, Facebook and Pinterest? If you'd like to subscribe to Aggie's Kitchen and have each post delivered straight to your e-mail box, then please add your email here. Happy cooking!
There are affiliate links in this post. I make small earnings through any purchases made through these links. Thank you for supporting Aggie's Kitchen!