Mexican Slaw Salad with Black Beans
This Mexican Slaw Salad with Black Beans is a nice change up from traditional cole slaw. Serve it in tacos, or as a side dish to quesadillas or grilled chicken.
Click here to pin this Mexican Slaw Salad with Black Beans recipe.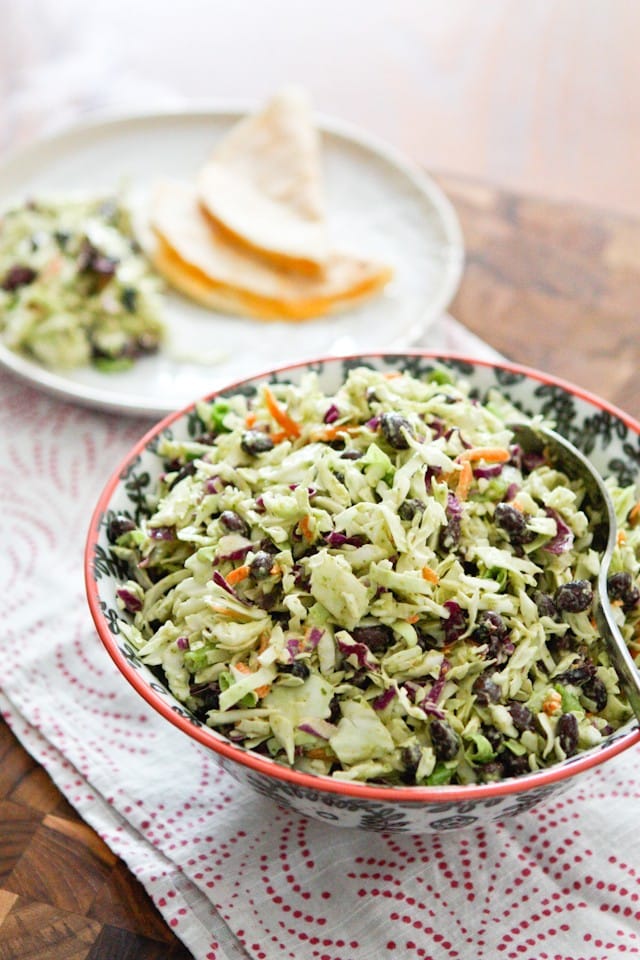 (This post is sponsored by Bush's Beans.)
Did I miss Taco Tuesday? Yea, I think I did this week. Well, save this recipe for next week then. Or don't….there's always Taco Thursday right? In my house there usually is.
My family and I eat Mexican inspired food at least once a week. Nothing fancy – tacos or tostadas are a favorite, so are quesadillas. Right now I'm totally obsessed with corn tortillas so that's what I've been using a lot of but I am starting to miss my old stand by whole wheat tortilla quesadillas too. Corn tortillas have the best flavor in my opinion, but the larger flour tortillas hold a lot more filling and you can really get creative with those fillings at dinnertime – especially on the "clean out the fridge" type days.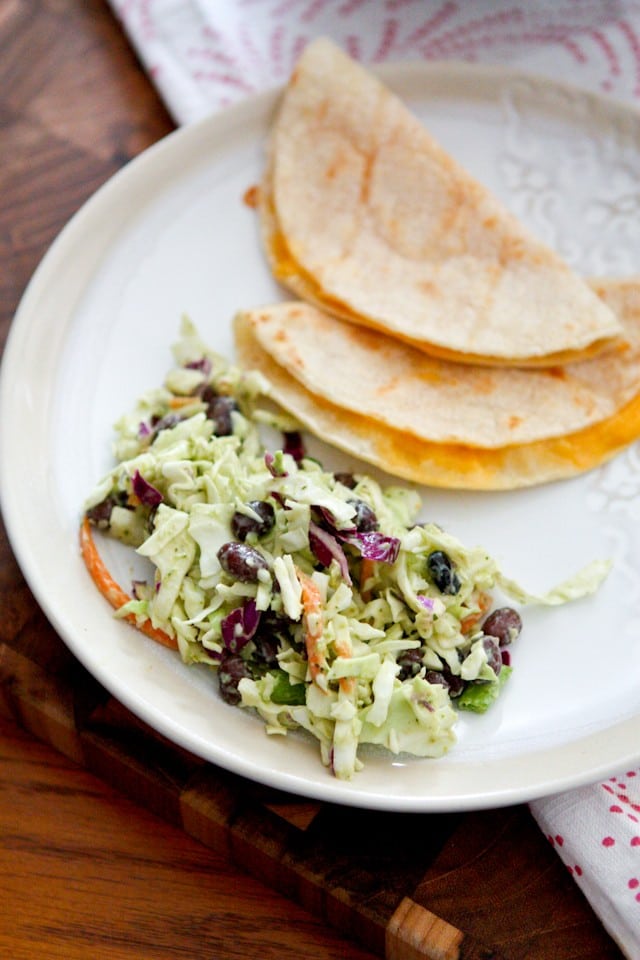 What's great about Mexican food is how simple and fresh it can be. I know a lot of restaurant Mexican dishes are smothered in cheese and sauce and that's okay, but my favorite dishes are always the ones that boast fresh and colorful ingredients like veggies and beans. Cheese is of course a necessity when it comes to Mexican, but you can really pile on the veggies with all the cheese and it all balances out.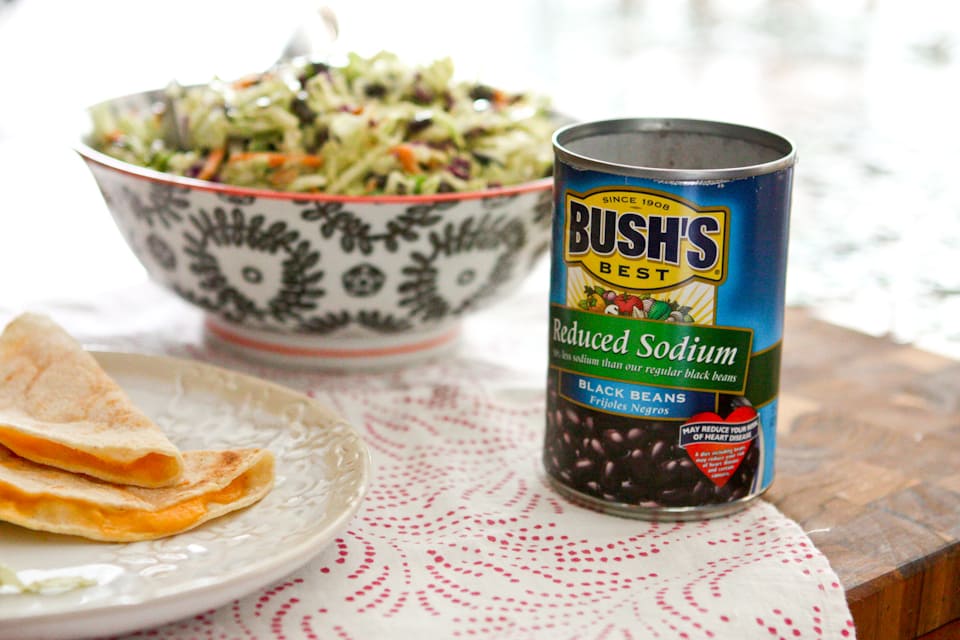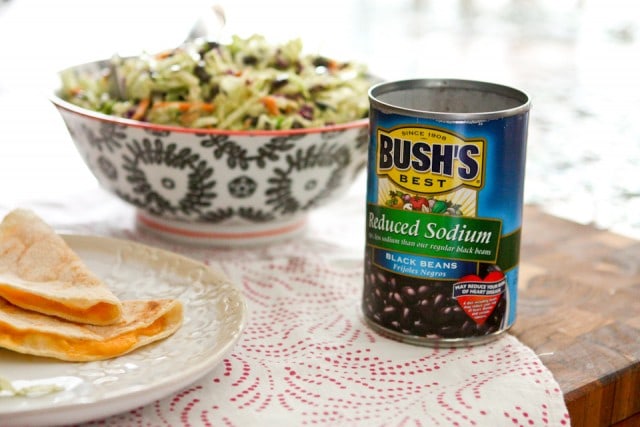 I made and shared with you a Creamy Avocado Lime Dressing last week that I loved. I had to make it again and this time use a few simple ingredients like shredded slaw mix and Bush's Reduced Sodium Black Beans to turn it into this Mexican Slaw Salad with Black Beans recipe. This slaw made such a great addition to our taco night, as well as a side dish to simple cheese quesadillas I made myself for lunch. The leftovers were devoured with leftover shredded chicken and hot sauce.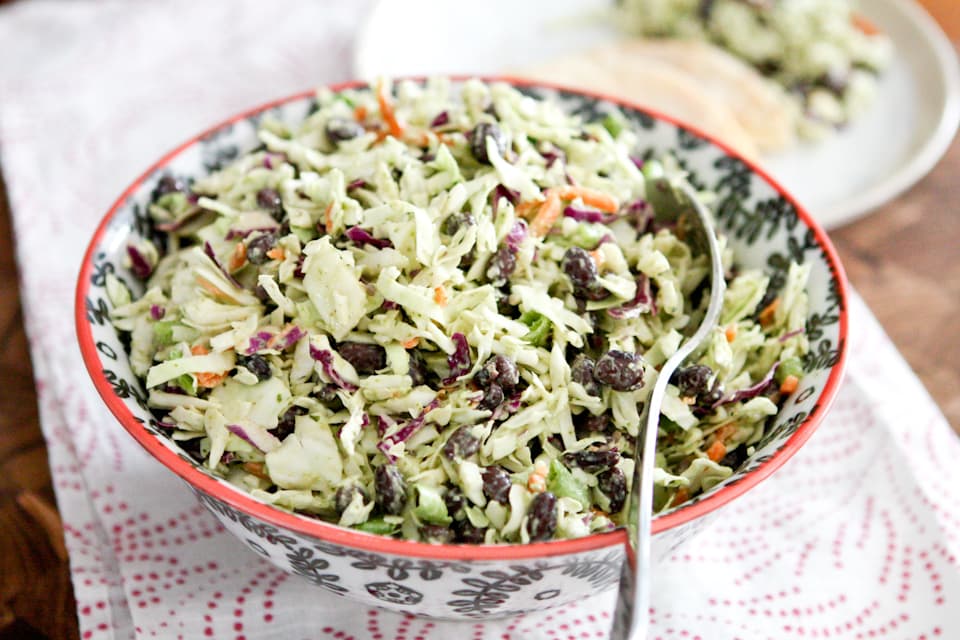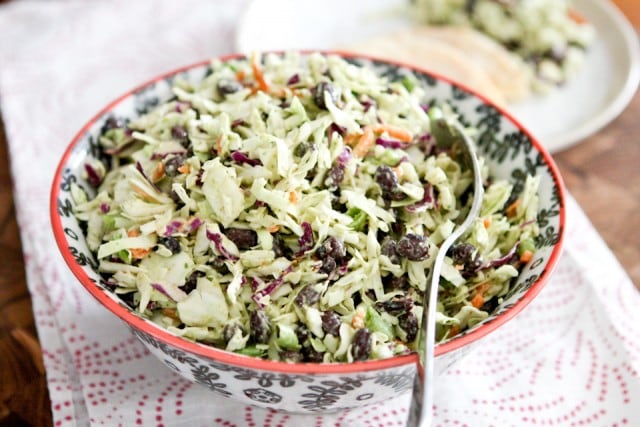 As you can tell, this Mexican Slaw Salad is pretty versatile and can be enjoyed in so many ways. I know most of you are buried in snow and only want warm, comforting winter food right now, but wouldn't it be nice to brighten up a cold winter day with a fresh salad like this? On Taco Tuesday (or Thursday) of course. 🙂
Mexican Slaw Salad with Black Beans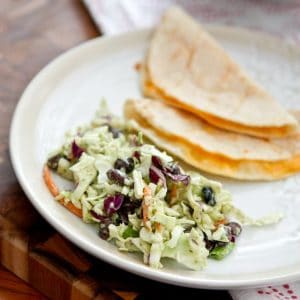 Ingredients:
1 14 oz bag tri-color slaw
1 15 oz can Bush's Reduced Sodium Black Beans, drained and rinsed
2 scallions, chopped
salt and pepper, to taste
Directions:
In a large bowl, gently toss slaw mix with black beans, chopped scallions and Creamy Avocado Lime Dressing until dressing is distributed completely throughout salad. Add salt and pepper to taste.
If Bush's Reduced Sodium Black Beans are not available in your grocery store, feel free to use regular Bush's Black Beans instead.
Serve this Mexican Slaw Salad with Black Beans as a taco filling or side dish to these great recipes:
Oven Baked Black Bean and Cheese Quesadillas
Cheese and Onion Enchiladas with Verde Sauce
Crockpot Mexican Casserole | Well Plated
Low Carb Mexican Cauliflower Rice Skillet | All Day I Dream Of Food
Mexican Stuffed Peppers | Valerie's Kitchen
For more salad recipes check out my board Follow Aggie's Kitchen's board Salads on Pinterest.
(Disclosure: This post is sponsored by Bush's Beans. I have been creating and sharing recipes using Bush's Beans for years, but as always my opinions are my own.)
Are you following me on Instagram, Twitter, Facebook and Pinterest? If you'd like to subscribe to Aggie's Kitchen and have each post delivered straight to your e-mail box, then please add your email here. Happy cooking!
There are affiliate links in this post. I make small earnings through any purchases made through these links. Thank you for supporting Aggie's Kitchen!