Chicken, Broccoli and Red Pepper Flatbread Pizza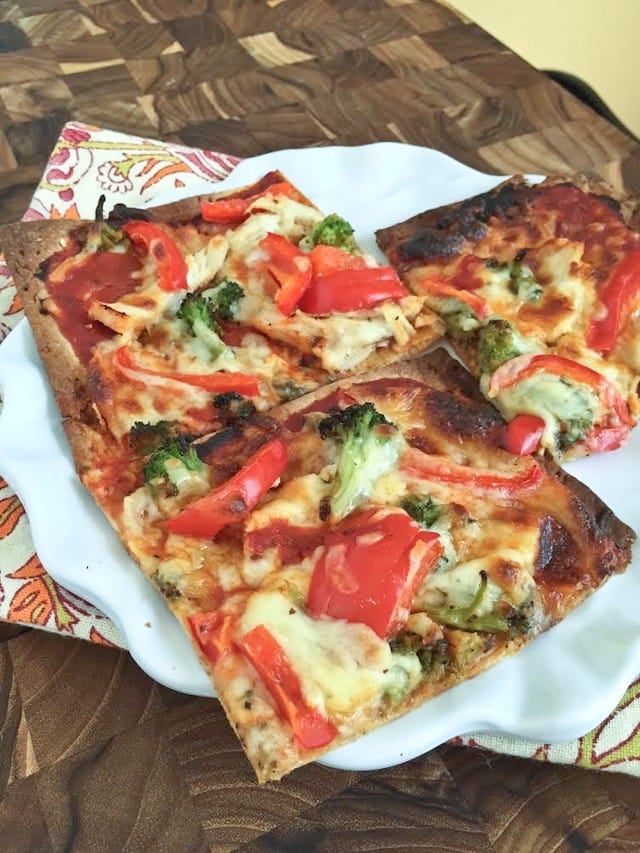 If you don't know by now, I'm pretty obsessed with pizza of any form. I think it's safe to say, it's in my blood. As much as I would love to eat pizza daily (I pretty much did growing up in my parent's restaurant), I know it wouldn't be one of my better ideas.
Since I crave pizza constantly, I try to get creative and get my pizza fix in lighter ways – enter pita and flatbread pizza.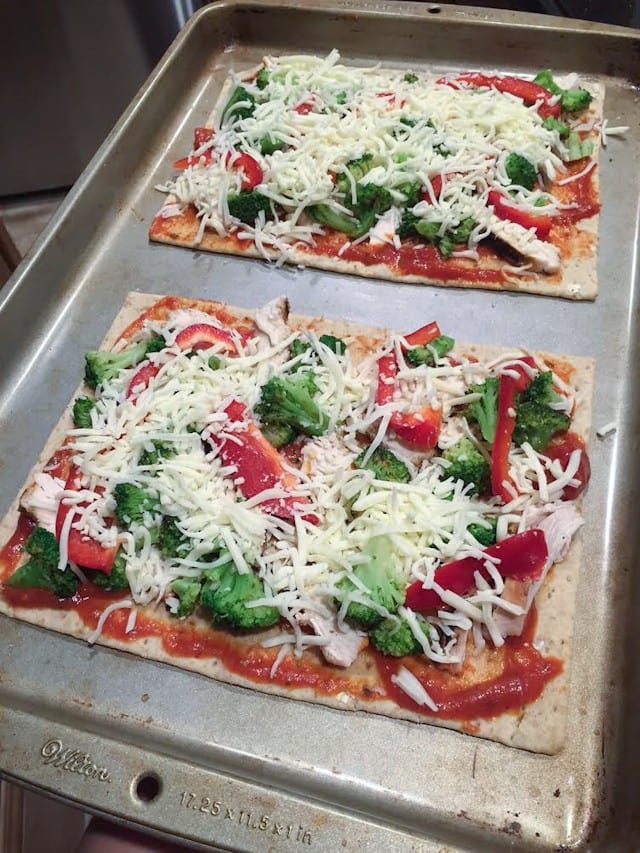 I put together flatbread (or pita) pizzas for dinner pretty often. They are so easy to make and great for weeknights or even as a healthier alternative to Friday night pizza. For some reason, my kids don't love pita pizzas as much as I do (boo!) but I've found that they do like these flatbread pizzas I've been making lately. What's so awesome about making individual pizzas like this is you can adjust the toppings to everyone's liking – for instance, my kids are totally okay with chicken and broccoli but hold the red pepper please. No problem.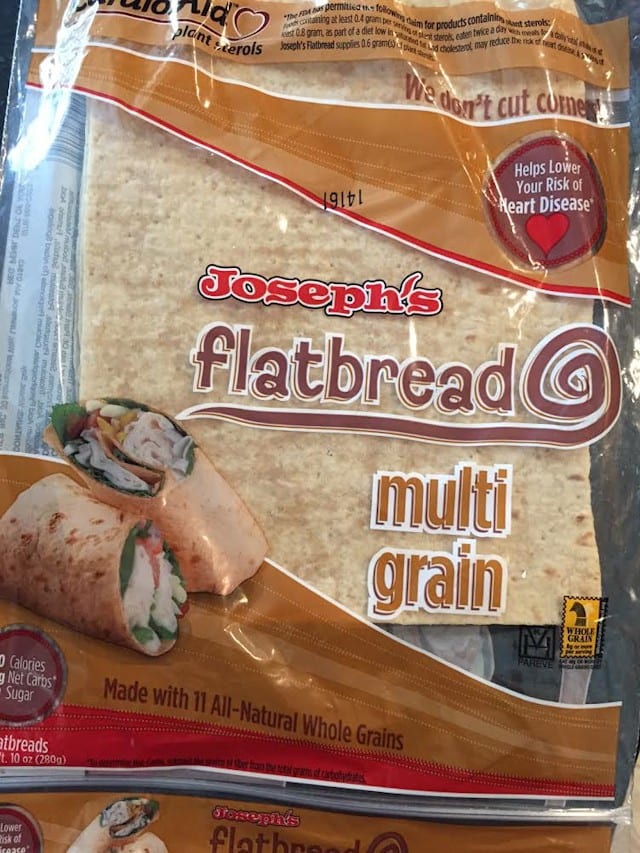 I've been loving this brand of flatbread (this post is not sponsored by Joseph's, I just love their products). Their pita breads have been my favorite for a long time so I was happy to try these out when I first saw them in my grocery store (I find them in the deli area).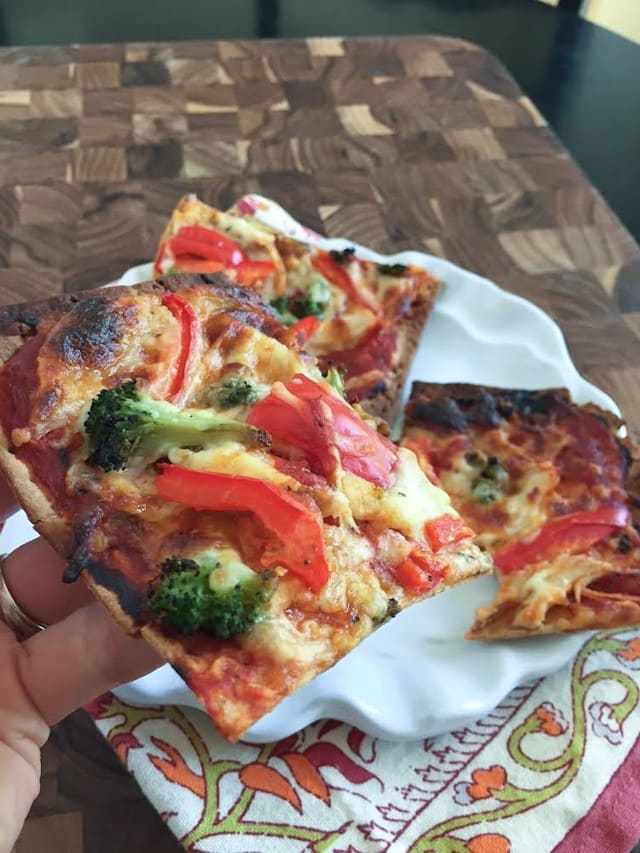 I put this flatbread pizza together with what I had on hand, which on that day happened to be leftover grilled chicken, red bell pepper and frozen broccoli florets. Once you start making these regularly the ideas are endless. Nothing like getting your pizza fix for a fraction of the calories plus – bonus – getting dinner for your family on the table with minimal effort.
Have a great week!
Chicken, Broccoli and Red Pepper Flatbread
Yield: 4 pizzas, 1 pizza per serving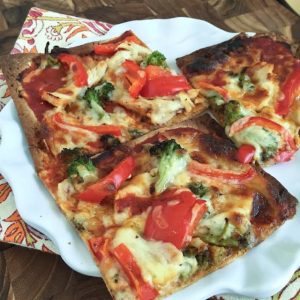 Ingredients:
4 multi grain flat breads
1/2 cup tomato sauce
1 teaspoon dried oregano
pinch salt and pepper
1 leftover grilled chicken breast, cut in strips
1 bell pepper, cut in strips
1 teaspoon olive oil
1 12 oz bag frozen broccoli florets
shredded mozzarella cheese (use as much or as little as you prefer)
Directions:
Preheat your oven to 400 degrees.
Place your flat breads on a large cookie sheet (I used 2). Pre-bake your flatbread crusts for 1-2 minutes in the oven, just enough to start to crisp them up.
Take your flatbreads out of oven. Spread tomato sauce evenly on each flatbread. Season with salt, pepper and dried oregano.
Heat 1 teaspoon of oil in a large nonstick skillet over medium heat. Add your broccoli florets to skillet and cook for about 4-5 minutes until slightly soft. Take off heat.
Build each flatbread by layering chicken, bell pepper strips, broccoli and mozzarella cheese. Bake for 8-10 minutes or until cheese is melted and crusts are crisp. Slice and serve.
So much love for pizza! Check out these recipes for more inspiration:
Grilled Veggie Naan Pizza with Pesto
Roasted Garlic and Cauliflower Flatbread Pizza
Skillet Zucchini and Feta Tortilla Pizza

Chicken Pesto Artichoke Naan Pizza | Cookin' Canuck
Sausage & Kale Pesto Pizza | Lemons For Lulu
Roasted Broccoli and Sundried Tomato Pizza | Oh My Veggies
Check out my Pinterest board for more flatbread recipes.
Follow Aggie's Kitchen's board Pizza & Flatbread on Pinterest.
Are you following me on Instagram, Twitter, Facebook and Pinterest? If you'd like to subscribe to Aggie's Kitchen and have each post delivered straight to your e-mail box, then please add your email here. Happy cooking!
There are affiliate links in this post. I make small earnings through any purchases made through these links. Thank you for supporting Aggie's Kitchen!