Blackened Salmon Salad
Blackened salmon salad is a delicious twist from ordinary tuna salad. This easy salmon recipe makes a great addition to a tossed salad, or add to pita or whole grain bread to make a healthy lunch box sandwich.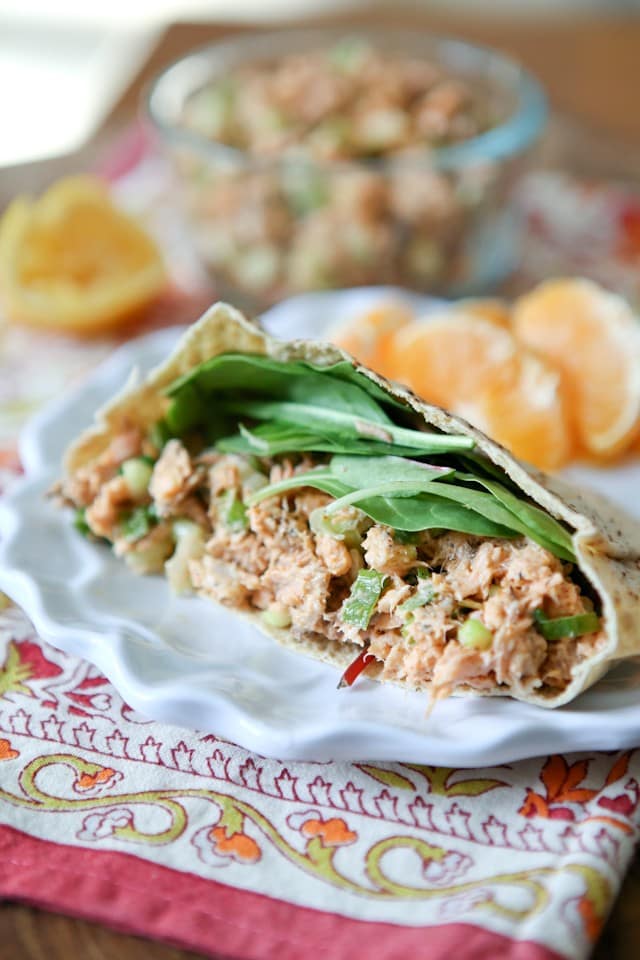 I've been spending a lot of time lately trying to make my life easier. Not an easy task (ha ha). But really, as much as I hate to say the overused phrase "we are so busy", the reality is – we are! Everyone is! What I am noticing most about all the busyness is that my weeks are so much less stressful when I am prepared with my planner filled out and our meal plans written out and shopped for. The weeks I'm not prepared, (most weeks unfortunately) I feel like I'm drowning. Not a fun feeling. I'm totally over that feeling.
For me, it really helps to have a deli-style salad like this blackened salmon salad made ahead and in the fridge.
My kids won't necessarily eat it (my daughter and 18 month old might) but it's something quick for my husband and I to throw into a pita, a roll or over a bed of greens and eat for an easy lunch or dinner. Some nights, I just want to throw together something quick like pasta and sauce for the kids, so it's nice to have another (lighter) option ready in case I'm not really in the mood for something heavy like pasta.
Tuna salad or chicken salad are other great protein packed options that can easily be thrown into sandwiches or salads too. Nothing fancy…and it helps to avoid last minute take out nights that's for sure.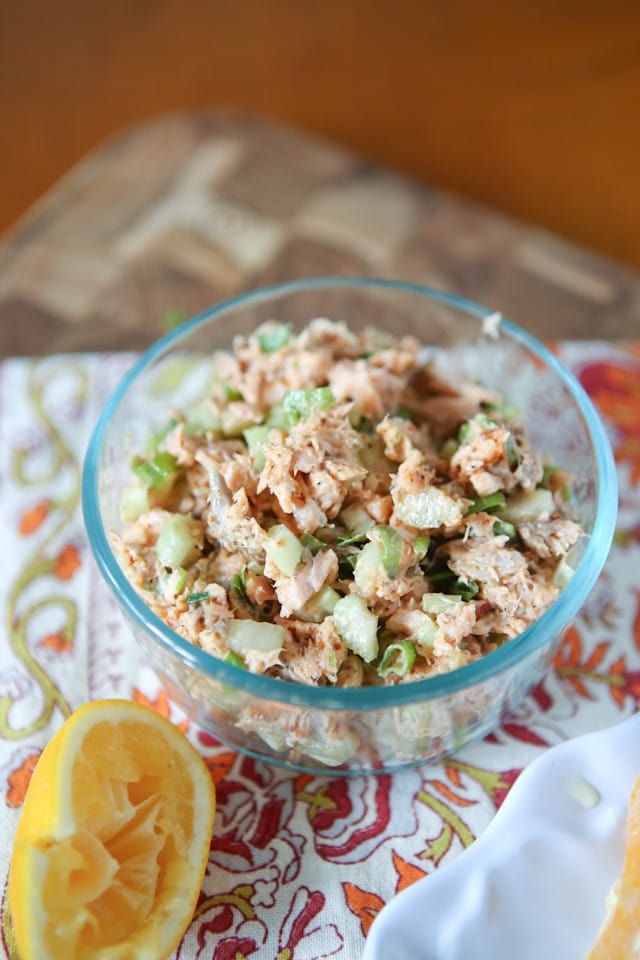 My family and I just got back from a spontaneous adventure to Savannah, Georgia this past weekend. My husband and I visited there together a few years ago and we couldn't wait to go back with the kids. My son is a history buff, my daughter looooves flowers and beautiful scenery like I do, and my little guy (18 months old tomorrow) just wants run, run, run, so it was the perfect place for us to visit as a family.
We walked the entire time we were there (over 18,000 steps by dinnertime one day), visiting the squares, Forsyth Park, River Street and everything in between. One of the highlights of my weekend was celebrating Easter Mass at St. John the Baptist Cathedral – probably the most beautiful and magnificent chapel I have ever stepped foot in. I can't even tell you how breathtaking it is! To be able to attend mass with my kids there on such a special day was such a gift, one I'll always remember. I took a ton of photos of our visit (of course) and can't wait to share them here them here later this week or next week. I have to say, Spring in Savannah is where it's at. Definitely one of my happy places.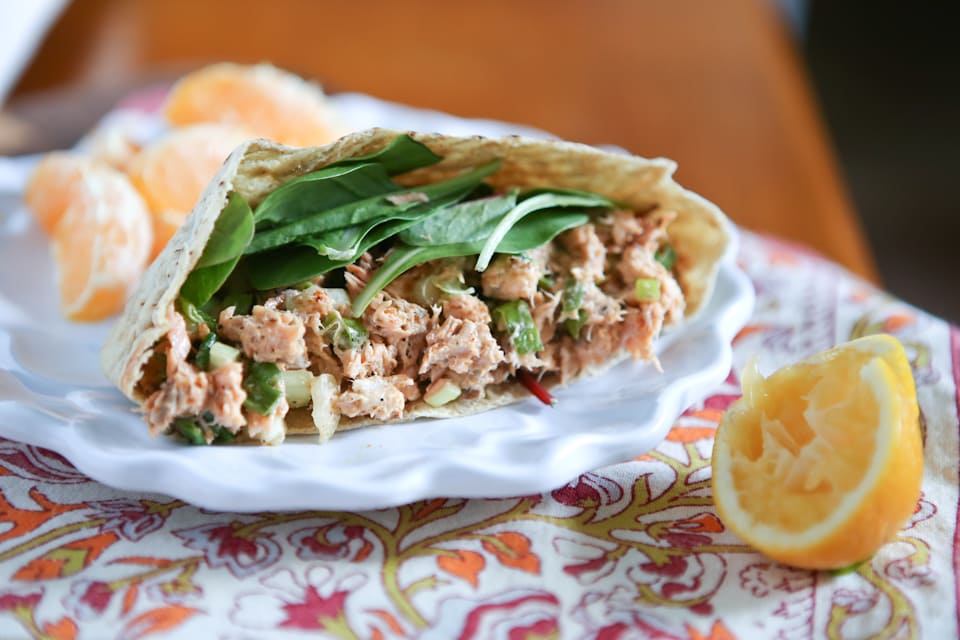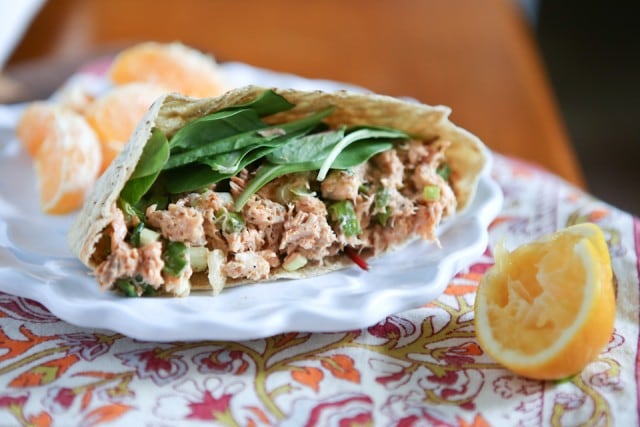 It's now back to reality! Hope you all had a great Easter weekend and that the sun is shining where you are.
Have a great week, and enjoy this blackened salmon salad recipe!
Print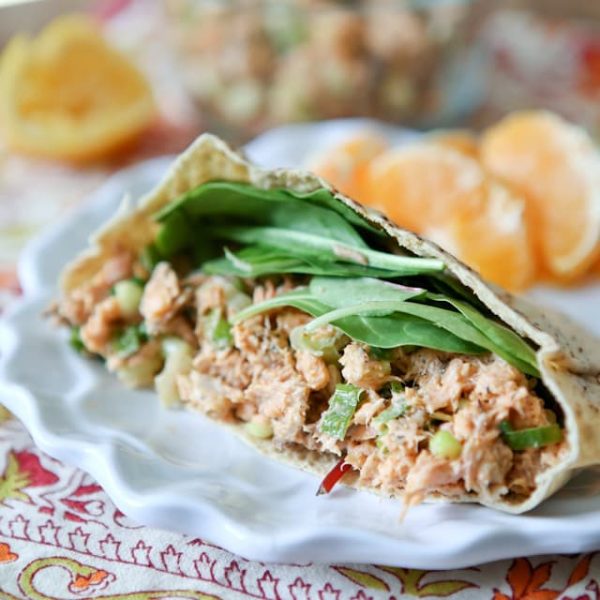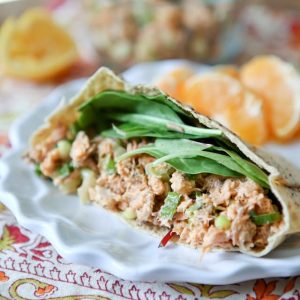 Blackened Salmon Salad
Author:
Yield: about 2-3 servings 1x
Category: Fish
Blackened salmon salad is a delicious twist from ordinary tuna salad. This easy salmon recipe makes a great addition to a tossed salad, or add to pita or whole grain bread to make a healthy lunch box sandwich.
---
Ingredients
2 filets of cooked salmon (about 3/4 lb)
2 celery stalks, chopped
2 green onion, chopped
1/2 – 3/4 teaspoon blackening seasoning (you can add more for extra kick)
1/2 teaspoon honey
2 tablespoons mayonnaise
juice from 1/2 lemon
salt and pepper to taste
---
Instructions
Place your cooked salmon in a bowl and gently flake using a fork. Add chopped celery and green onion.
In a separate small bowl, mix together blackening seasoning, honey, mayonnaise, lemon juice, salt and pepper. Add to salmon mixture and gently stir to combine.
Serve chilled in a pita, a roll or over a bed of greens.
---
Notes
Make Ahead Tip: If you are already making salmon for dinner one night, cook up some extra and use it to make a salmon salad like this.
Anyone out there using Yummly? Well, I'm happy to report that I'm on the Yummly train and my Publisher Page is filling up quickly with recipes from the blog, all in a pretty visual display just for you to browse through. Yummly is not just for you browsing my page though, it has a TON of recipe pages and profiles for you to browse through but the best part is what it does for you – it stores any recipe you "yum" into your personal recipe box. You can organize them by category, you can also search by what's popular, quick and easy or Seasonal. It's fun place to find inspiration so check it out!
Easy (and healthy) make-ahead salad ideas for quick lunches and dinners:
Italian Tuna and White Bean Farro Salad
Broccoli Slaw Salad with Chickpeas
Buffalo Rotisserie Chicken Salad
Curried Chicken Salad with Apples | The Lemon Bowl
Chicken Pasta Salad with Salsa Hummus Dressing | The Lean Green Bean
Light Curry Egg Salad | Cookin' Canuck
---
Follow Aggie's Kitchen's board Salads on Pinterest.
Are you following me on Instagram, Twitter, Facebook and Pinterest? If you'd like to subscribe to Aggie's Kitchen and have each post delivered straight to your e-mail box, then please add your email here. Happy cooking!
There are affiliate links in this post. I make small earnings through any purchases made through these links. Thank you for supporting Aggie's Kitchen!