Mediterranean Chopped Tuna Salad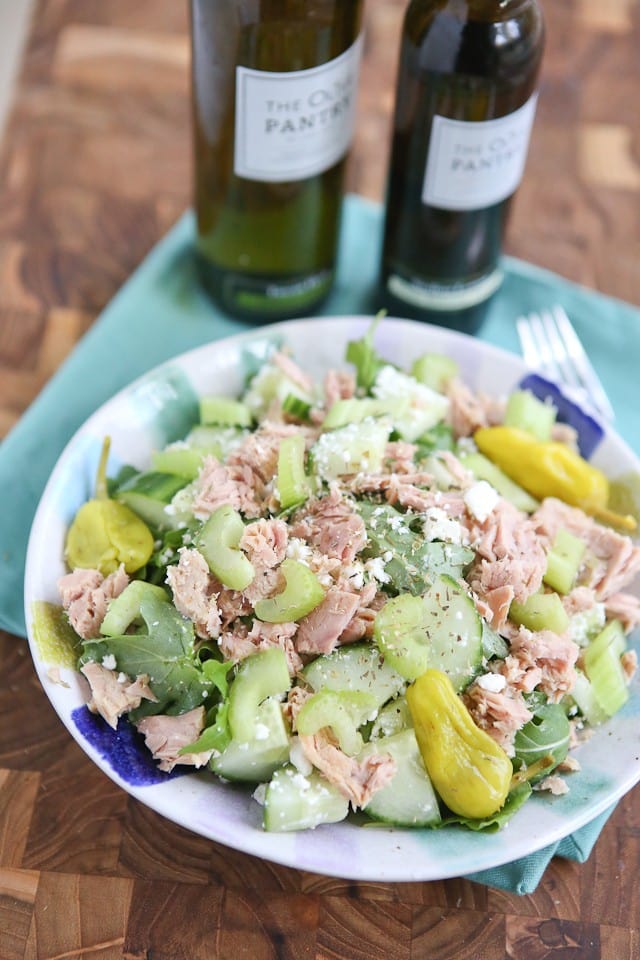 I originally posted this Mediterranean Chopped Tuna Salad a little over a year ago. I made it again recently and decided to snap some new pics (the ones in the original post were from my iPhone). It's one of my go-to salads (one that I will most likely be having for lunch today) and really fills you up with a good amount of veggies and protein. It's funny, and a little ironic, because as I'm rereading my thoughts in my original post as I just scheduled initial assessment for my gym's 60 Day Comeback Challenge for tomorrow this morning.
Earlier this year, I made a commitment to make health and fitness a priority in my life. I know I am generally very health and fitness focused but I had some personal changes and goals I wanted to work towards, especially after having my 3rd child. Joining a new gym and really stepping up my work outs have been a game changer for me. I feel stronger than I ever have in my life and am really proud of my accomplishments at the gym. I wake up before the crack of dawn 4 days a week and am excited to get to the gym – how many people can say that? I love my trainers, my workouts and the overall postive vibe and people at my gym.
Now, although I feel stronger and have the gym situation under control, I still struggle with food. Plain and simple – I like to eat! 🙂 My Fitness Pal is going to make a comeback in my life to help my achieve my goals in the 60 Day Challenge (and maybe help me win some cash too!). I'll keep you posted here and hope to share any food and recipe ideas that are helping me along the way.
Stay tuned…and enjoy this salad in the meantime.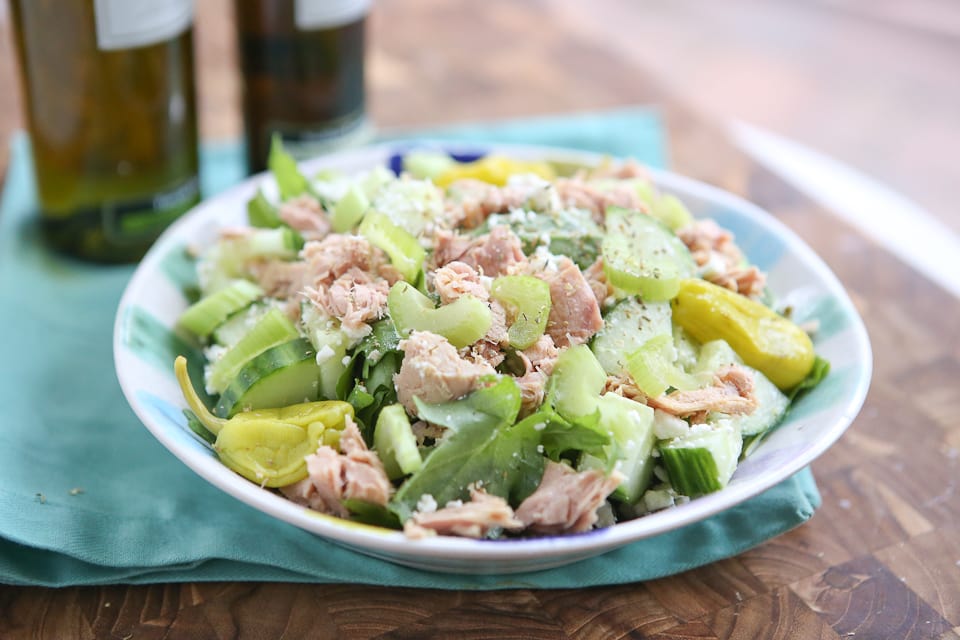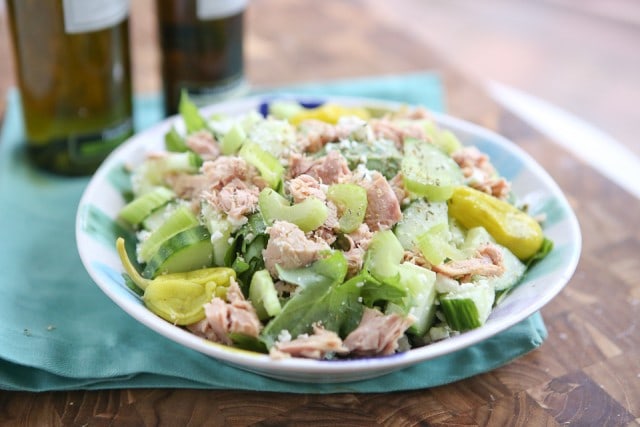 (Originally posted August 19, 2014)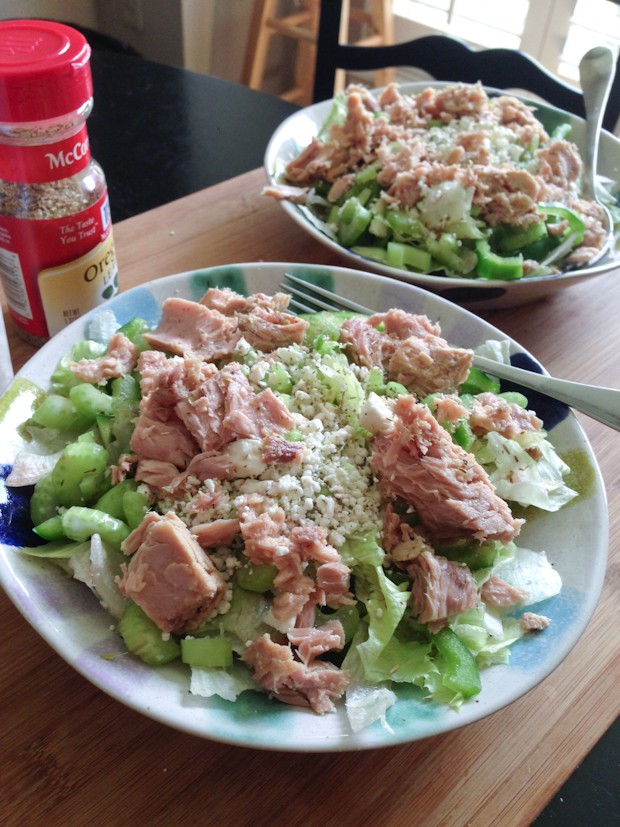 There a couple reasons why I'm loving this salad so much lately. One, it's incredibly filling and full of flavor. Two, it's low in calories, carbs and is helping me lose weight! For the last couple of weeks, my husband and I have been buckling down and tracking our food and activity in My Fitness Pal, as well as using our Fitbits to keep us motivated to move. I'm happy to report that in just a couple of weeks of really paying attention to what we are eating and how much exercise we are getting in, we are both losing weight at a healthy, steady pace.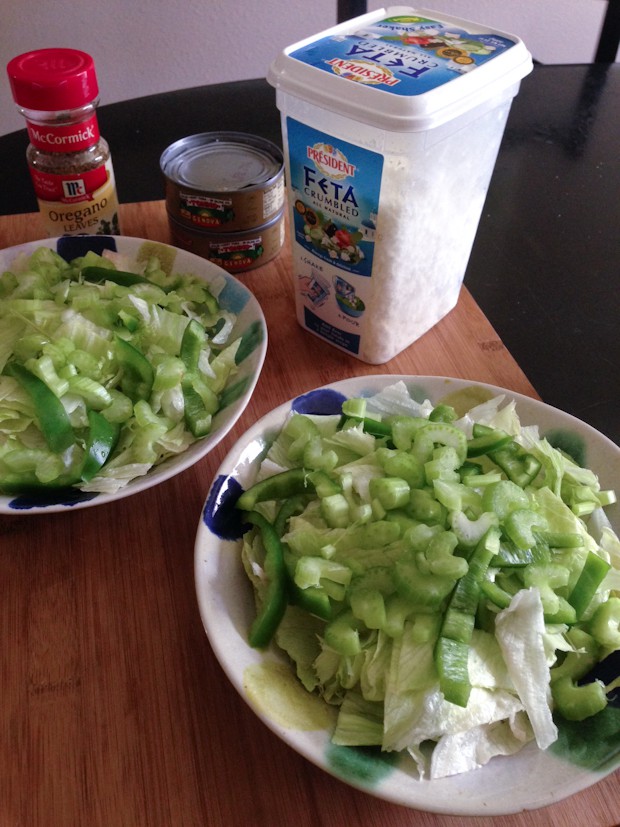 It's no secret that I've been trying to shed some baby weight for the last 10 months and I've been majorly frustrated lately because I've been stuck at a weight since February. Unfortunately for me (as I'm sure many others), my weight tends to affect my mood more than I'd like to admit. I get by by wearing yoga pants most of the time, but when it's time to put on real clothes I usually get hit with a reality check that doesn't make me feel all that good (ugh).
My goal has never been to be "skinny" but to be comfortable in my skin, be healthy and fit and feel good about myself in my clothes. For me to get back to that place, I know I need to muster up a little extra will power and motivation and make smart choices, keep my calories in check and move more. So that's what I'm doing! (Believe me it has not been easy. But with each successful day that passes it gets easier, more routine and more doable. I am looking forward to reaching my goal!)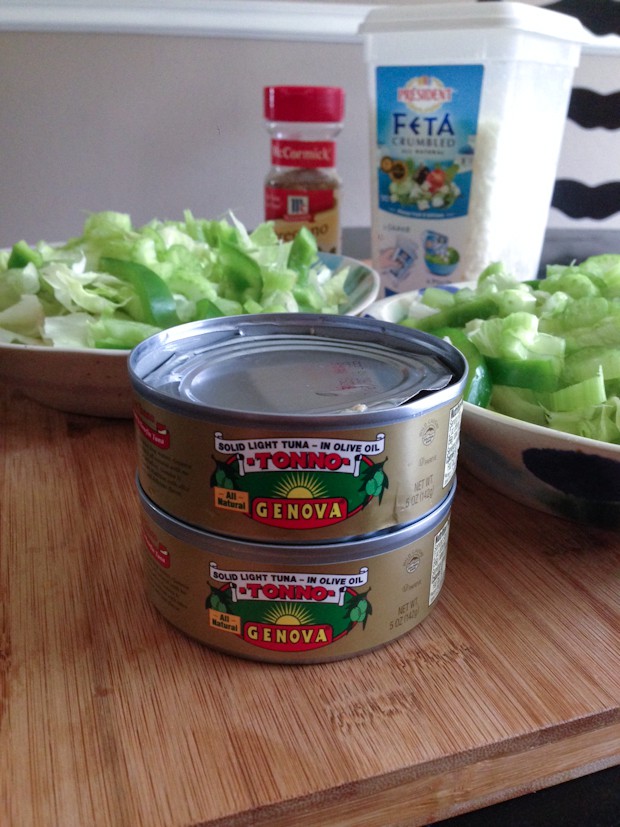 I have made myself this salad recipe a couple times in the last few weeks, most recently this weekend for both my husband and myself. It's obvious that I love it, but I was extra happy to see that my husband loved it too, especially because he has never been a huge tuna fish lover (like I am).
It's light, filling and simple. It is great for lunch, but would make a nice healthy dinner salad too. Feel free to add whatever veggies you have on hand (if I had cucumbers and tomatoes they would have made it into my bowl).
Also, I have been cutting back on salad calories lately by just dressing my salads with red wine vinegar, oregano, salt and pepper. If you want to add a drizzle of olive oil, feel free to, but if you love vinegar like I do then I think you will enjoy this just how it's prepared.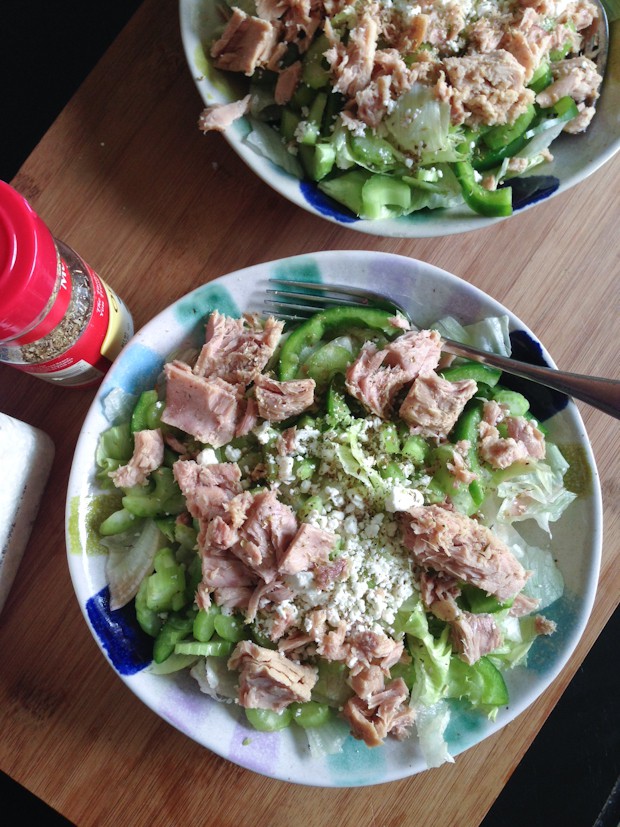 Print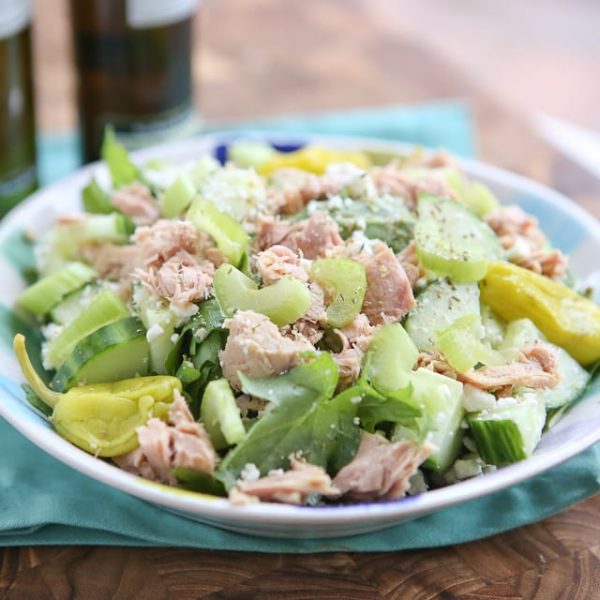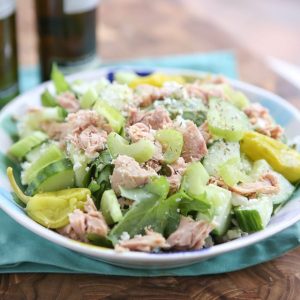 Mediterranean Chopped Tuna Salad
Author:
Yield: 1 salad 1x
Category: Fish
---
Ingredients
1 can Italian tuna in olive oil, drained well (or whatever light tuna you prefer)
iceberg or romaine lettuce, chopped
1 celery stalk, sliced or chopped
1/2 green bell pepper, sliced or chopped
1/2 cucumber, sliced or chopped
1/4 onion, sliced or chopped
1/4 cup crumbled feta
pepperoncini, optional
a couple of splashes of red wine vinegar and a drizzle of olive oil
dried oregano flakes
salt and pepper to taste
---
Instructions
Add lettuce, celery, pepper, cucumber and onion to your salad bowl. Top with feta and tuna. Splash with red wine vinegar and sprinkle with oregano, salt and pepper, to taste.
---
Notes
For a less filling salad, use only half a can of tuna.
(Disclosure: There are affiliate links in this post.)
Follow Aggie's Kitchen's board Salads on Pinterest.
Are you following me on Instagram, Twitter, Facebook and Pinterest? If you'd like to subscribe to Aggie's Kitchen and have each post delivered straight to your e-mail box, then please add your email here. Happy cooking!
There are affiliate links in this post. I make small earnings through any purchases made through these links. Thank you for supporting Aggie's Kitchen!