Full disclosure: Staples provided me with these items for review. The thoughts and opinions expressed are strictly my own. Feel free to shop their entire line of Keurig Coffee Makers and K-Cups online.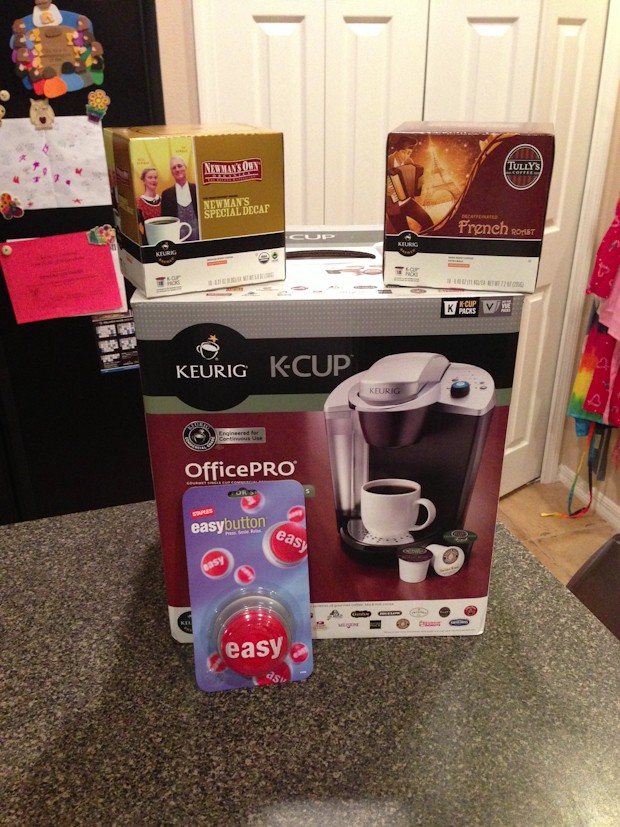 Cutting back on caffeine is one of the (many) things you have to get used to when pregnant. Thankfully for me, I've been cutting back for years  – trying to stick to a nice cup or two first thing in the morning and no caffeine after lunch time (the older I get the more it affects me I guess), so it hasn't been a huge shock to my system. What I do seem to be missing is that second cup I like to have when I return from dropping off the kids at school. Sometimes it's a hot cup that I enjoy while sitting on my laptop catching up, sometimes I prepare it iced and sip it while folding laundry. Hot or cold, it's a cup that I've been missing the last 5 months that's for sure.
When Staples contacted me a few weeks ago to ask me if I wanted to review and host a giveaway of one of their Keurig coffee makers I got SO excited. I've been on the fence about buying one for us for a while now,  I haven't been able to justify the splurge since our coffee pot seems to have been working just fine for us. I was very happy to be sent one to test out and believe me, so was my husband (the primary coffee maker of our household).
Setting up the Keurig OfficePRO was a breeze. I'm not one to handle reading directions very well but I got this baby brewing its first cup of coffee within minutes of opening the box. One of the things I was most excited about was sampling all these K Cup flavors I see constantly in the store. In addition to the ones that were sent to me to try out by Staples, my husband came home with a few of his own. So far, I've been enjoying brewing Emeril's Big Easy Bold (dark roast) and Newman's Special Decaf daily and I can't wait to pick up some tea as well. Even my kids are have been enjoying a treat of hot chocolate some nights.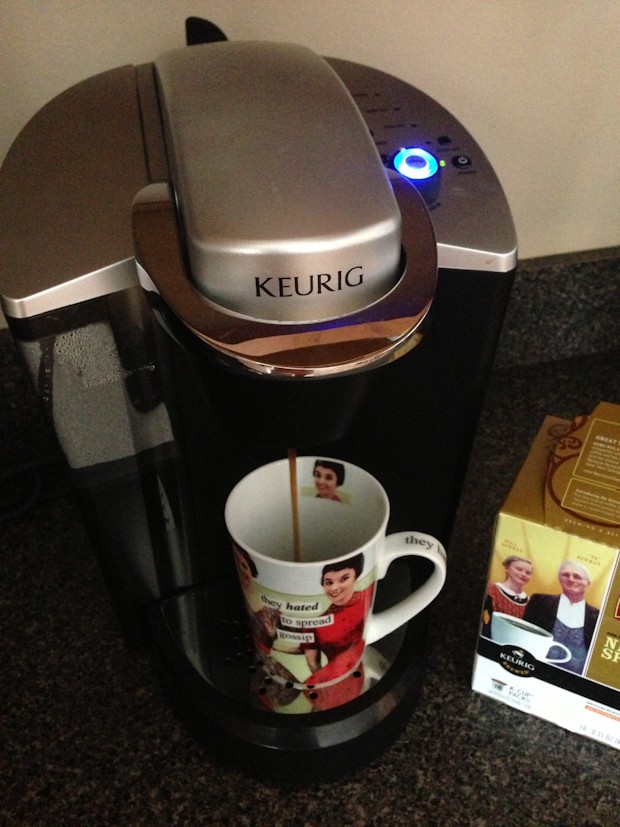 The best part about having a Keurig? There's no more "did you set up the coffee?" exchange happening in sleepy voices late at night. Waking up to an easy cup of coffee has been truly enjoyable, it's agreed by both my husband and I. We still have our work horse of a coffee pot set up for when we have several coffee drinkers over, and also to brew our special monthly coffee club coffee, but for the most part we've been using the Keurig daily (me, several times daily).  It's been a treat to brew up a quick cup of decaf in the late afternoons too…something I never used to do because I didn't want to brew a pot (even a small one) for just me.
And thanks to Staples, I'm excited to be able to share a coffee maker and some coffee with one of you!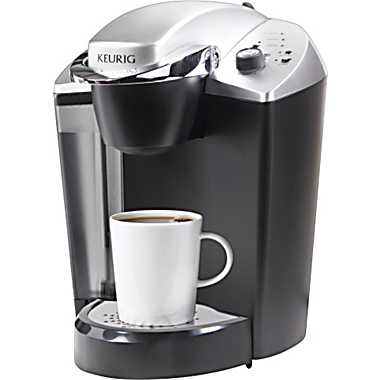 Giveaway Details:
Keurig OfficPRO Single-Cup Commercial Coffee Brewer in Black/Silver (see here for details on this coffee maker)
One package of K-Cups (your choice!)
To enter simply leave a comment telling me what your favorite brand of coffee is.
For additional entries, share a link to this giveaway on one or more of your social media outlets. Once doing so, come back and leave a separate comment on this post telling me you did!
Giveaway starts Tuesday May 14 and ends Tuesday May 21 at noon (EST). I will pick winner using randomly using Pick Giveaway Winner tool on my blog. Winner will be contacted by me via email and will have 48 hours to reply before another winner will be selected. Sorry, but giveaway open to US addresses only.
Good luck and thanks for entering!
(note: if you are commenting on Aggie's Kitchen for the first time, it may take some time to see your comment appear. Thanks for your patience!)
{ 220 comments }