Health Benefits of Salmon and Easy Salmon Recipes
These easy salmon recipes will help you create flavorful, healthy meals for your family! There are many health benefits of salmon, and delicious and easy ways to prepare it, too!
When it comes to finding healthy fresh fish to use in recipes, you have a lot of choices. The Monterey Bay Aquarium compiled a comprehensive list of the healthiest fish choices that is a great guide to take with you to the grocery store. Almost all white fish fillets are considered healthier, primarily due to their low calorie count. Of course, how you prepare the fish has a strong bearing on its overall healthiness. For example, there isn't any type of fish that will remain healthy after it has been battered, breaded, and deep fried. Deep fried fish and other deep fried foods are great for an occasional indulgence, but not something to be eaten every day.
You may already know that according to the American Heart Association, one of the keys to a nutritious diet includes eating fish twice a week. Fish are a lean, healthy source of protein. Oily fish and seafood, such as salmon, tuna, oysters, are also healthy sources of omega-3 fatty acids. Omega-3 fats are essential for our brain and heart.
Unfortunately, our bodies can't make Omega fats, so we rely on the health benefits of salmon and other oily seafood to provide them to us.
The greatest news is, these simple salmon recipes aren't just healthy, they're easy to make and delicious, too!
Our favorite fresh salmon recipes:
The citrus flavor shines in this grapefruit-pistachio crusted salmon. Fresh grapefruit juice and crunchy pistachios add even more health benefits to this easy salmon recipe.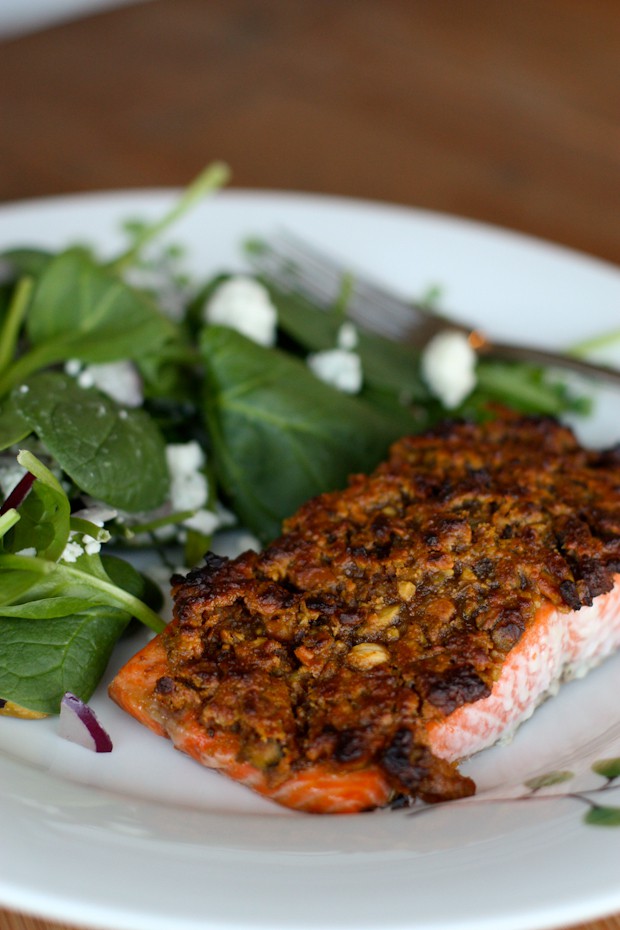 Salmon with sweet spicy rub is an easy, healthy broiled salmon that is packed with flavor! This simple salmon recipe is the perfect way to introduce salmon to your family!
This classic and easy recipe for Old Bay salmon cakes comes together in minutes. Serve these salmon cakes with lemon and a green salad for a light dinner.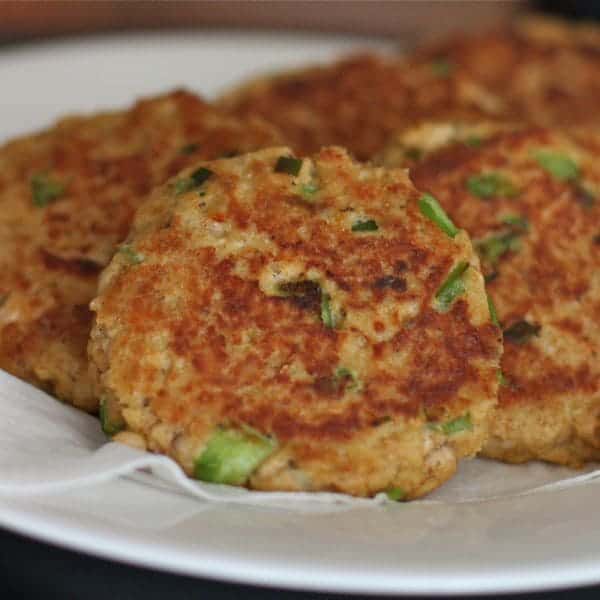 This delicious salmon and veggie stir fry was on the menu during my 17 day diet. The crispy vegetables and flavorful salmon rock my world! Enjoy an easy dinner in 12 minutes!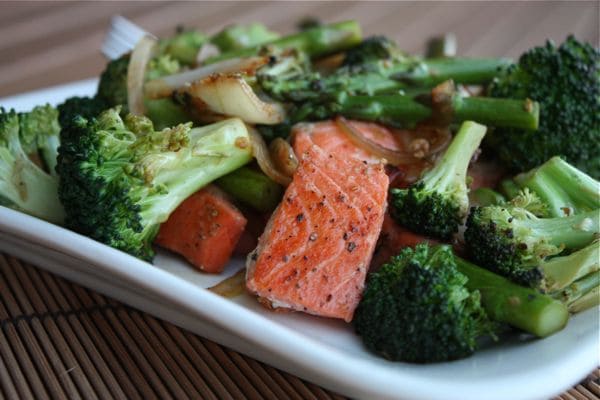 There are some great ways to add flavor to salmon, without adding calories or unhealthy fats.
Citrus fruits, blackening, spice rubs, and the use of natural sweeteners (like honey) are all features found in these easy salmon recipes!
I think this almond crusted honey mandarin salmon is one of the most delicious easy salmon recipes you can make. Sweet, flaky salmon with a crunchy almond crust. You won't have leftovers of this healthy meal!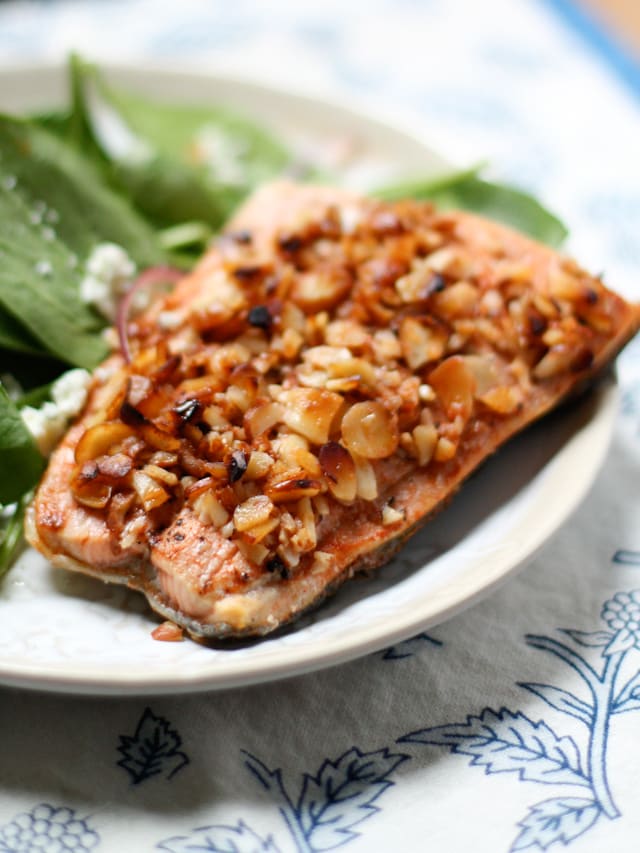 Get your breakfast or weekend brunch off on a healthy and delicious note by adding freshly smoked salmon to your scrambled eggs! Smoked salmon scrambled eggs is a decadent breakfast, made in just a few minutes.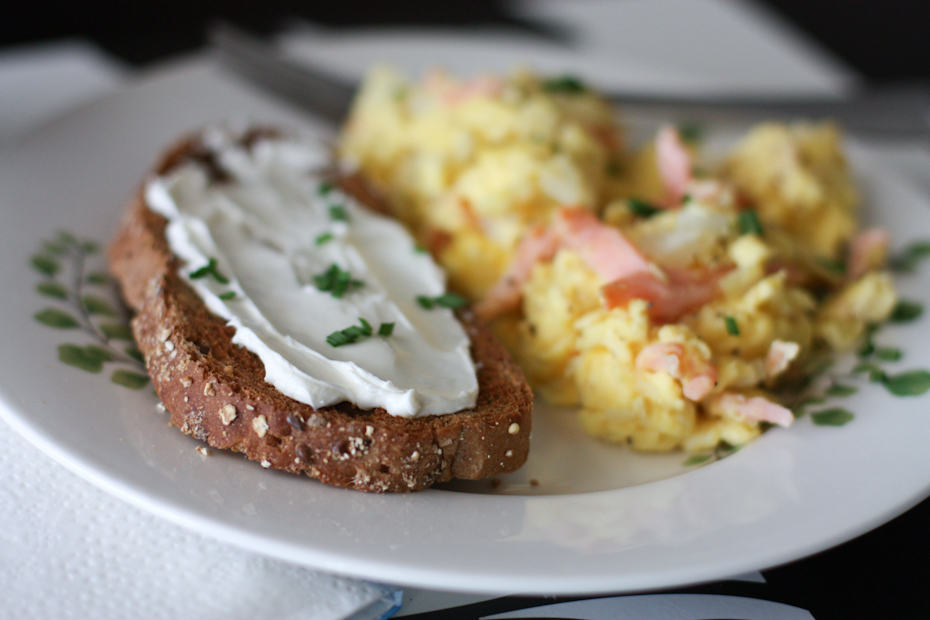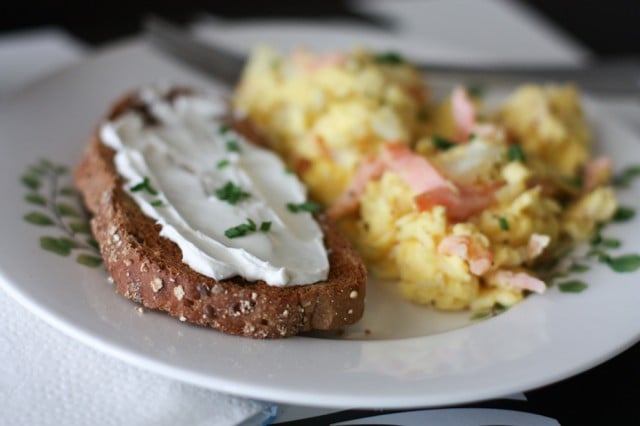 This simple salmon salad is a healthy and easy salmon recipe that's a great twist to ordinary tuna salad. Works well using canned salmon or leftover salmon.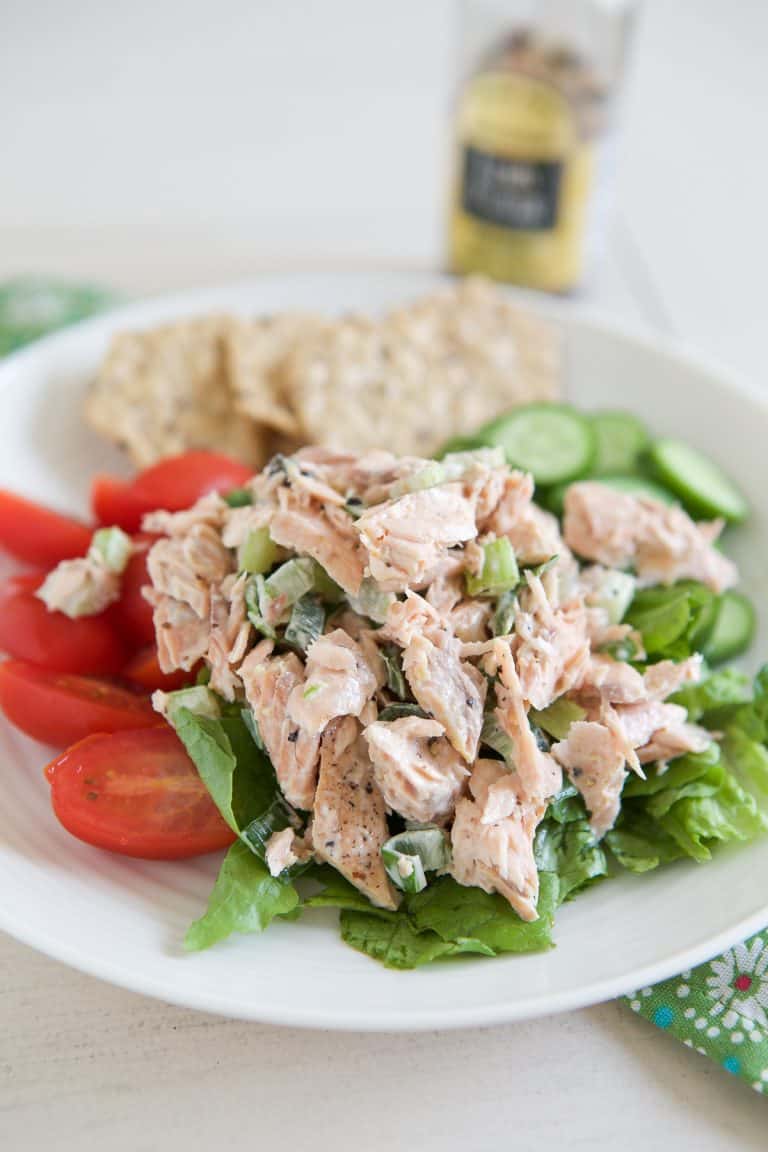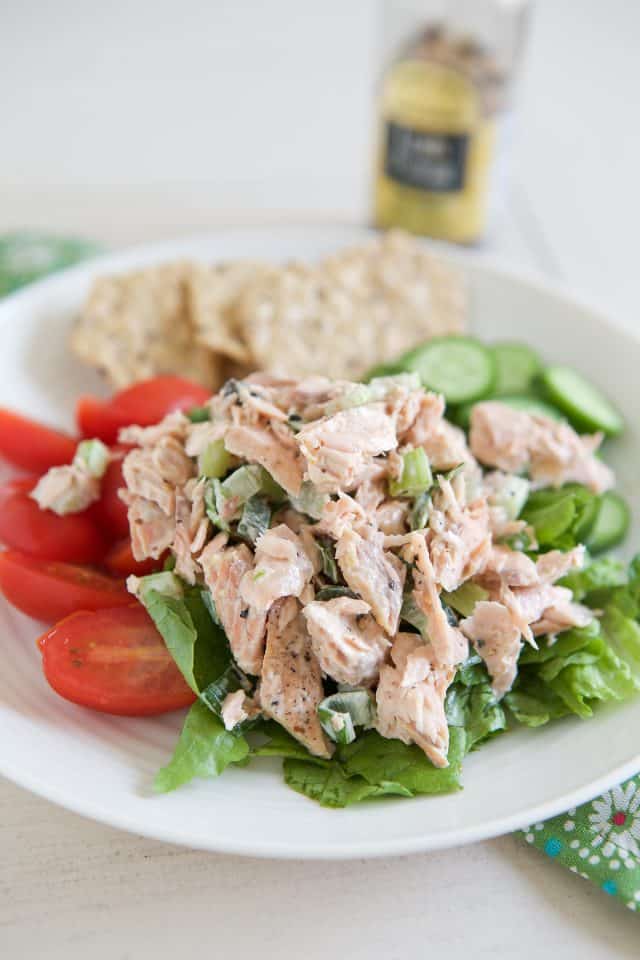 This smoked salmon frittata recipe is inspired by a smoked salmon quiche I enjoyed while on a cruise. It's healthier and lighter than quiche, but equally delicious!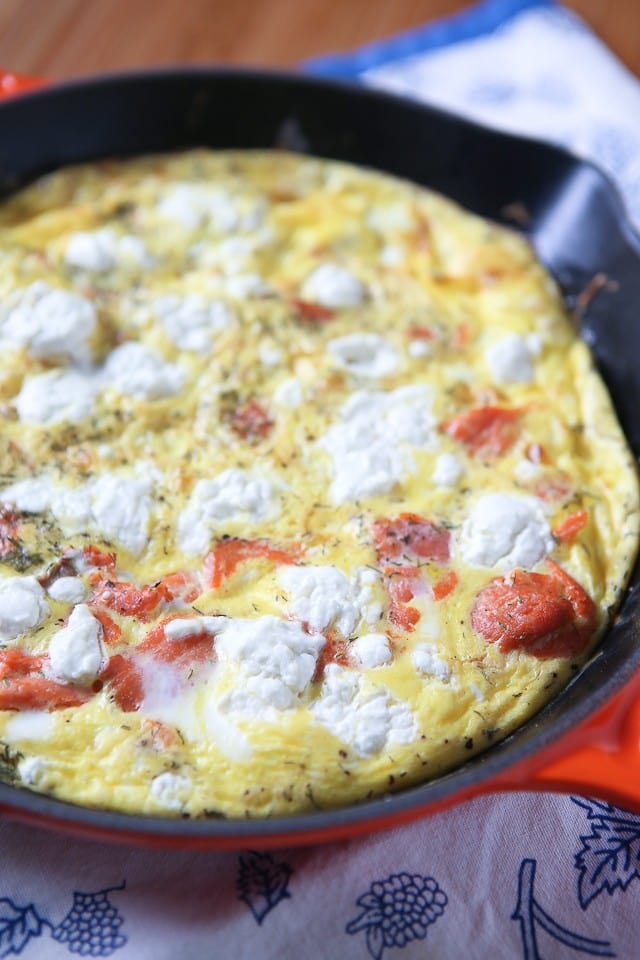 Chipotle salmon is a healthy salmon recipe with big, bold flavors. Chipotle chiles and warm spices of cinnamon, allspice, and cumin give this salmon recipe extra health benefits.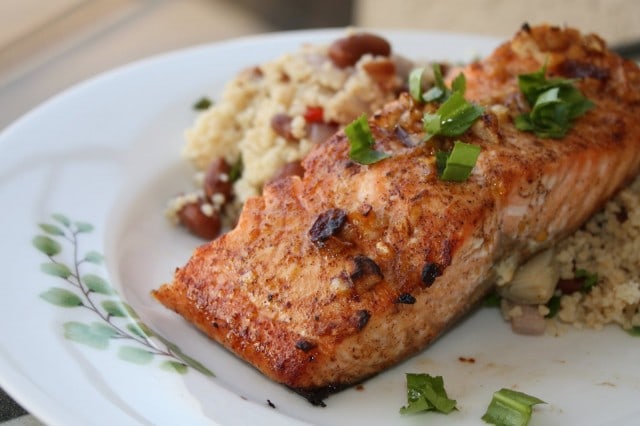 Salmon spinach bake is a healthy baked salmon dinner that is perfect for a quick weeknight meal. This basic salmon recipe has a creamy Parmesan sauce that is beyond delicious!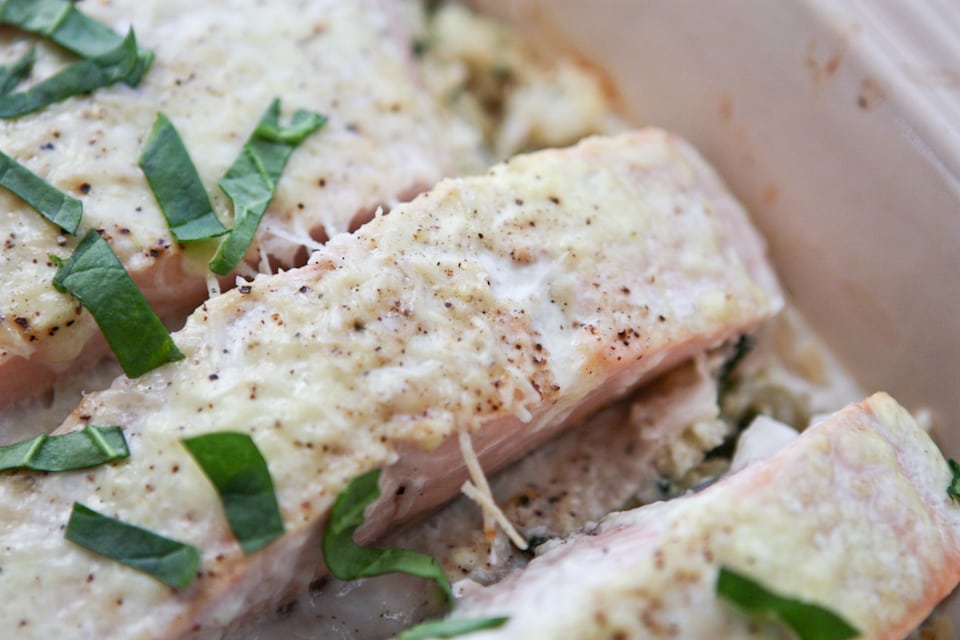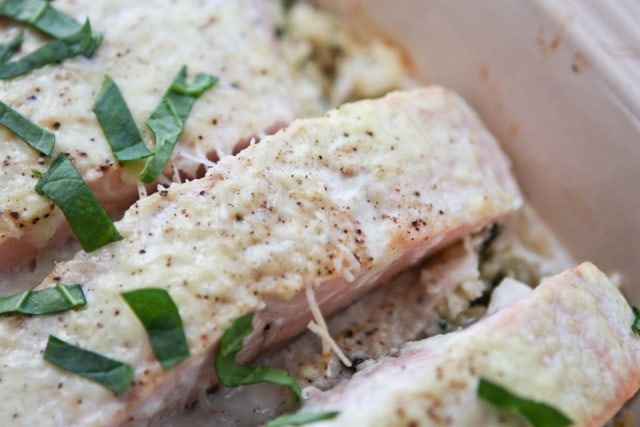 Baked salmon cakes are healthier than pan fried salmon cakes, and the Cajun flavors in this healthy salmon recipe won't have you missing the oil at all.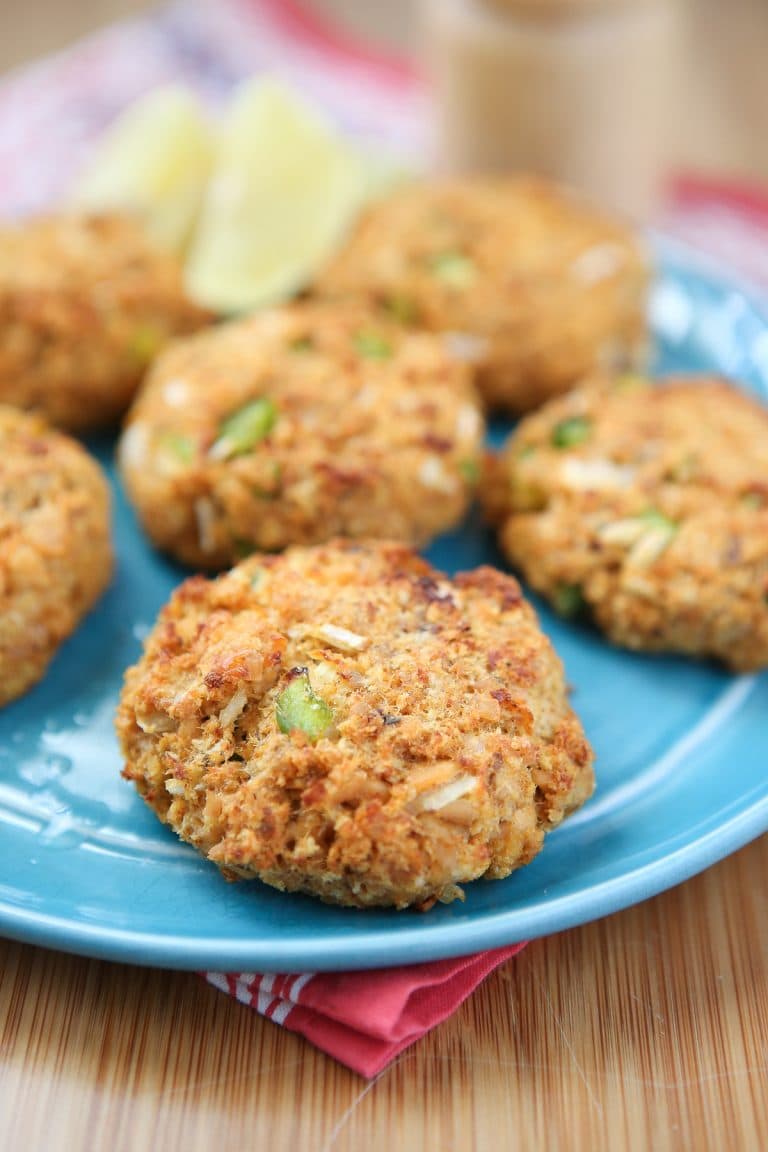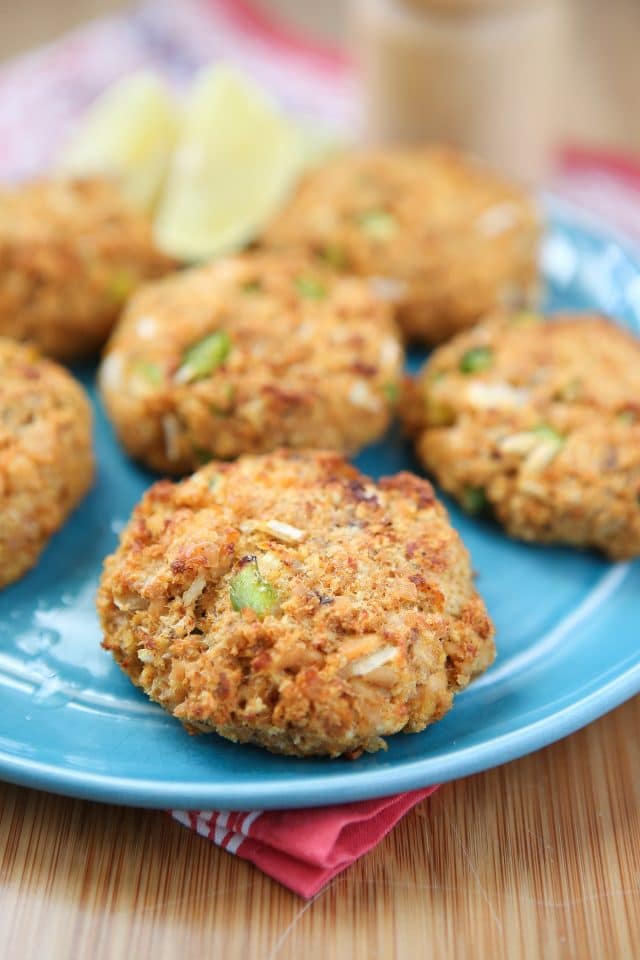 Grilled salmon is a quick, flavorful, healthy dinner. This Key West grilled salmon recipe uses citrus and spices to amp up the flavor! This is one of my favorite easy salmon recipes!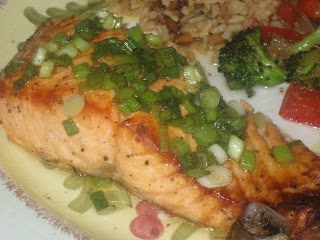 Salmon quinoa cakes are quick and easy to make and packed with health benefits of salmon and quinoa. They are great to make for dinner or a make ahead meal for lunches or snacks. Easy salmon recipes don't get better than the ones that allow you to create a delicious dinner in less than 20 minutes!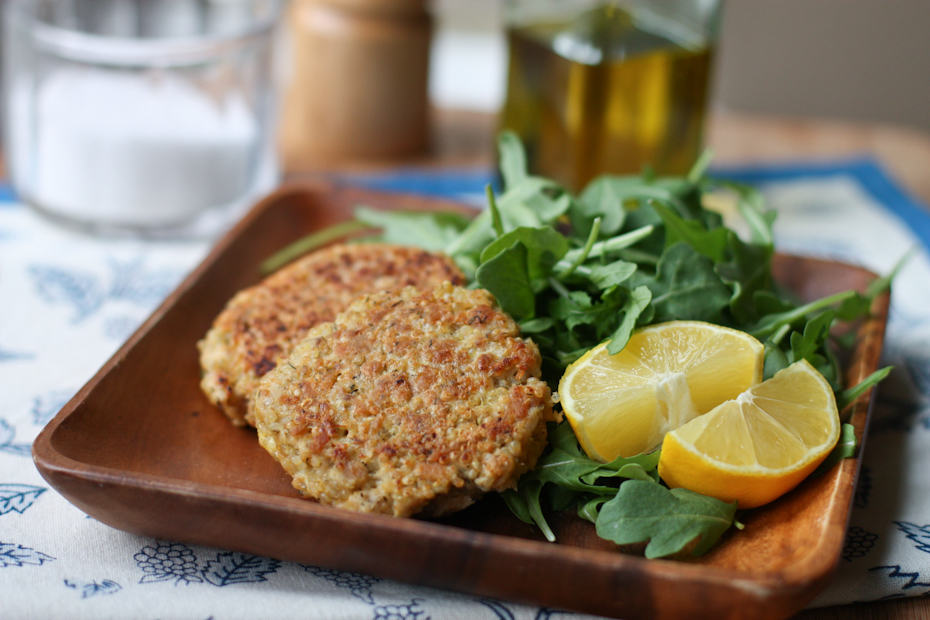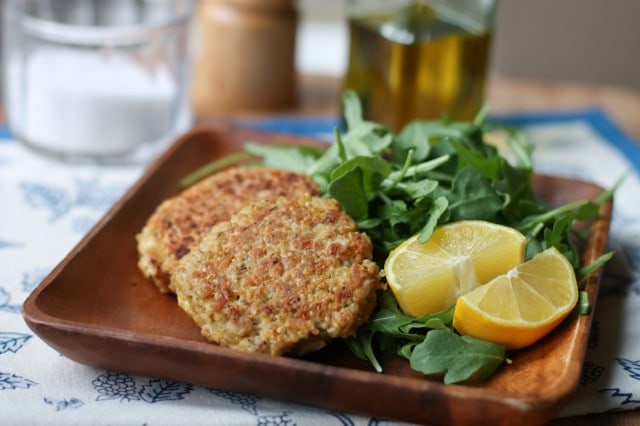 Creamy salmon pasta salad is a quick and easy salmon recipe, perfect for serving as a healthy main dish or side dish. Fresh salmon provides protein and healthy omega 3 fatty acids while reduced fat sour cream keeps this creamy salmon pasta salad lower in fat and calories.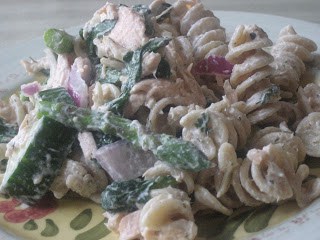 Chipotle salmon tacos will transform taco Tuesday! Broiled chipotle salmon, onion, cilantro, and cojita cheese wrapped into corn tortillas makes a healthy, easy, and delicious salmon dinner.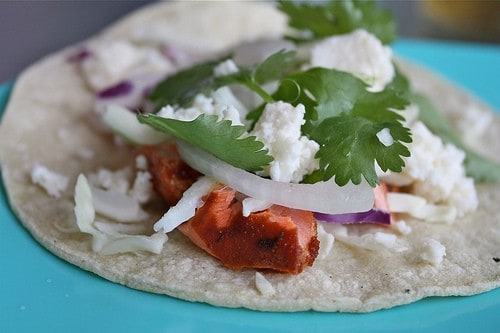 Using wood planks to grill salmon gives them an incredible flavor and keeps the recipes healthy, too. The tropical fruit salsa on this cedar plank grilled salmon is beyond delicious, too!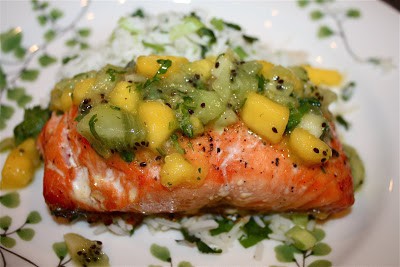 When it comes to easy salmon recipes, this orange glazed salmon ranks right up on the top. This flavorful stir fry comes together in about 15 minutes!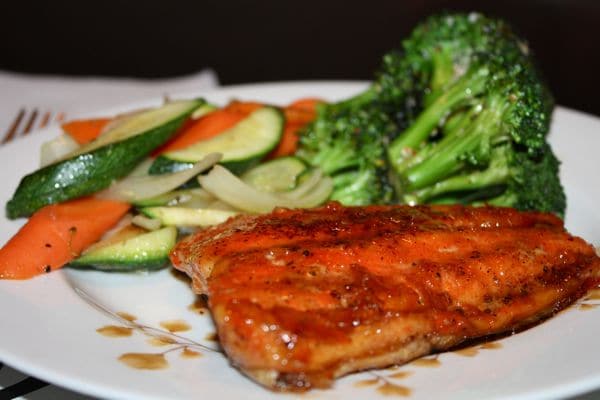 Blackened salmon fajita bowls cook on the grill quickly and easily. This flavorful healthy grilling recipe is perfect for making a quick dinner in the summer. It's one of my favorite easy salmon recipes!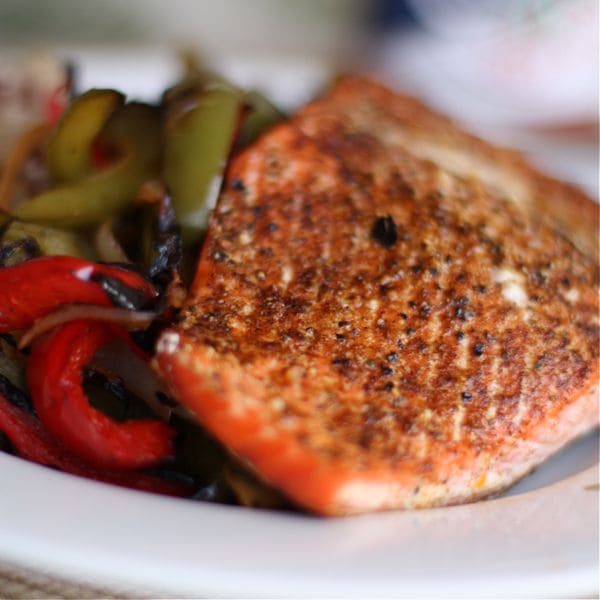 Broiled salmon gyros are a healthy twist on traditional lamb or chicken gyros, using broiled salmon, fresh veggies and Greek yogurt dip tzatziki sauce.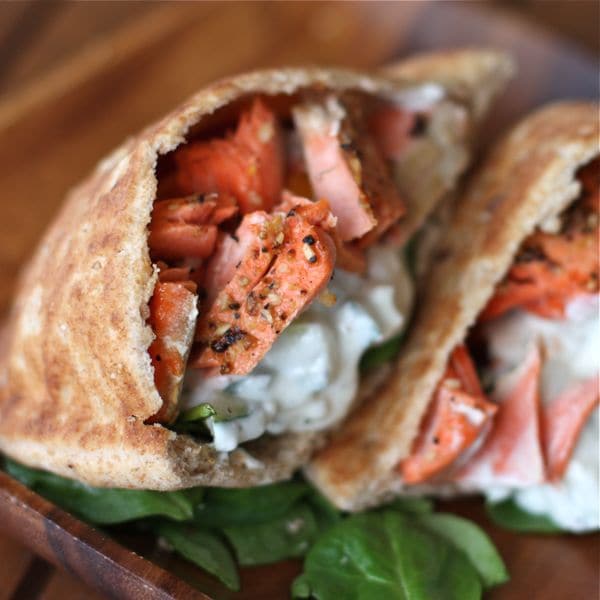 Blackened Salmon with Citrus Salsa is the perfect balance between spicy and sweet. Simple to prepare, this makes a fresh, light dinner, perfect for weeknights! Definitely one of my favorite easy salmon recipes!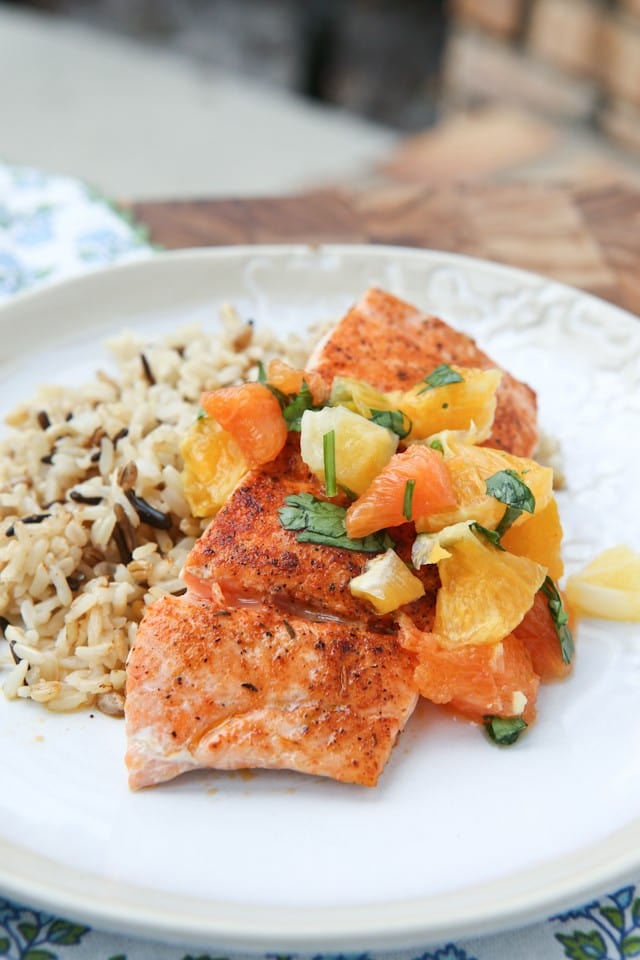 Blackened salmon salad is a delicious twist from ordinary tuna salad. This easy salmon recipe makes a great addition to a tossed salad, or add to pita or whole grain bread to make a healthy lunch box sandwich.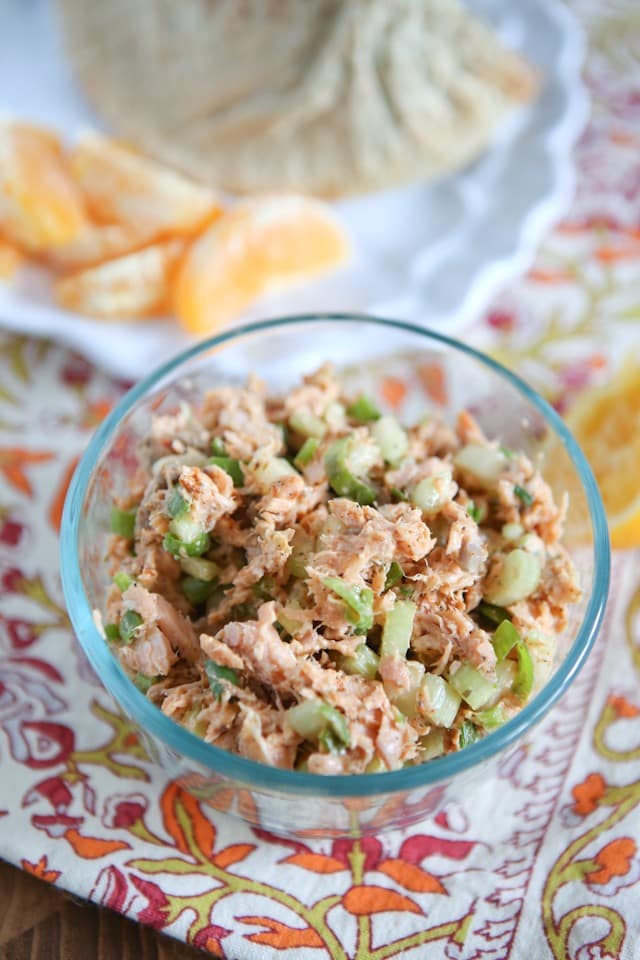 Now that you know the health benefits of salmon and you have plenty of easy salmon recipes to make, the only thing left to do is to decide which you'll make first!