Chipotle Salmon Tacos
Chipotle salmon tacos will transform taco Tuesday! Broiled chipotle salmon, onion, cilantro, and cojita cheese wrapped into corn tortillas makes a healthy and easy salmon recipe that the whole family will love.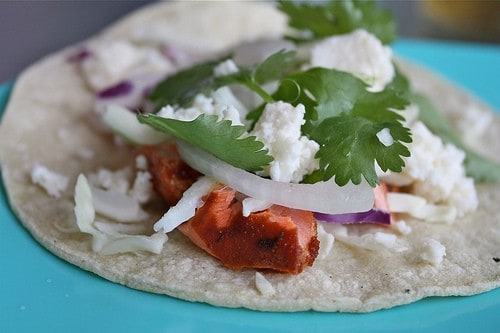 I've been feeling a bit M.I.A. lately…lots of little things going on, enough to keep me away from here I guess.  I've still been cooking, just not taking as many pretty pictures…hence the lack of posts and recipes.
Thankfully I got some nice pictures of these babies.  I made Chipotle Salmon Tacos a couple of weeks ago, shortly after receiving a nice package of frozen fish from the Alaska Seafood Marketing Institute.  How happy was I when they asked if I would try out some of their Cook It Frozen techniques with the fish they sent me.
I've tried two of their techniques so far…broiling and grilling, like I did in this recipe.  Both times, the fish came out wonderfully, which I will admit I was a little surprised about.  I didn't think you could cook fish straight from the freezer.  I was afraid it would turn out soggy, but the frozen salmon fillets cook up just as nicely as if they do when they're fully defrosted.  I even downloaded their cool little app to my iPhone…
Anyway…back to the chipotle salmon tacos recipe.  We love these tacos.
The chipotle rub has a nice kick to it…just how I like it.  The easy salmon tacos are a perfect dinner on a warm Saturday night, after a dip in the pool.  Not sure if your weather is there just yet, but we've definitely entered into "summer" here in Florida.
The kiddos enjoyed their plainer version of the salmon tacos. Instead of the chipotle rub, I seasoned their salmon with a fish seasoning that had a little garlic, dill, salt and pepper in the mix.  They ate theirs with a little shredded cabbage, cheese and lime juice.  They requested that their photos be taken too….it's funny how normal the act of taking pictures of food is to them.  Makes me laugh when they bust out their Fisher Price camera to take pictures of some of our baked goods.  🙂
I will admit I have been surprised with their more adventurous approach to dinner lately. I've been taking away the kiddie option at dinner, a.k.a. second dinner for me to cook, (unless it's just obvious that they won't eat it), and it has really been working out for us.  Thank goodness!!
Chipotle Salmon Tacos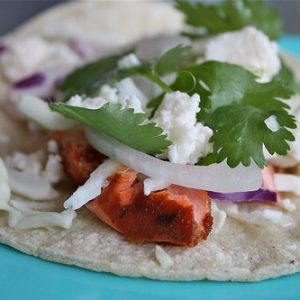 Ingredients:
1lb frozen salmon (watch video of this method of cooking or see directions below...or if using already defrosted salmon see Note below)
2 teaspoon chipotle powder
1 juicy lime
salt and pepper to taste
1/2 teaspoon brown sugar
1/2 teaspoon oregano (Mexican oregano if you have it)
1 teaspoon olive or vegetable oil
flour or corn tortillas, for serving
Taco Fixings:
prepared guacamole or sliced avocado
shredded cabbage or cole slaw mix
cilantro
crumbled queso fresco
thin sliced white onion
lime wedges
Directions:
In a small bowl, combine chipotle powder, lime juice, salt, pepper, brown sugar, oregano and oil to make a paste.  Set aside.
Heat grill to 400ºF
Rinse seafood under COLD water to remove any ice glaze; pat dry with paper towel .  Tear an 18-inch wide sheet of foil so it is 4-inches longer than the seafood .  Spray-coat the dull side of foil and place seafood on foil, skin side down .  Brush both sides of fish with olive or vegetable oil.  Bring sides of foil together and fold over several times to seal; roll up ends to form a packet.  Place packet on grill, seam side down, and cook for 8 to 10 minutes .  Remove packet from grill; open and brush or rub on chipotle paste (both sides).  Crimp foil loosely to close and return packet to grill, seam side up.
Cook an additional 8 to 10 minutes.  Remove from heat just as soon as seafood is opaque throughout.


Note:

If using already fresh defrosted salmon, skip rinsing and place salmon into foil packet.  Rub seasoning over both sides of fish and seal foil packet.  Place on grill and cook on one side for 5 minutes, turn over and cook other side for additional 3-4 minutes.  Check for doneness.

To serve:

Spread prepared guacamole or smear a little avocado on tortillas.  Crumble salmon over guacamole or avocado and pile on the fixings!  Squeeze lime over fish and veggies and take a big messy bite! 🙂
Are you following me on Instagram, Twitter, Facebook and Pinterest? If you'd like to subscribe to Aggie's Kitchen and have each post delivered straight to your e-mail box, then please add your email here. Happy cooking!
There are affiliate links in this post. I make small earnings through any purchases made through these links. Thank you for supporting Aggie's Kitchen!