Fresh (or frozen) Corn Salad
I've been hooked on this corn salad lately.  It goes so well as a side or topping to any of your favorite Mexican or even barbecue dishes and it's fairly simple to put together.  It's basically a copycat recipe of Chipotle's corn salsa but I like to bulk up on the extra veggies and add crumbled queso fresco (which I get at Costco but have seen at Publix too, queso blanco is also a good sub).  I'm a huge fan of cilantro and lime so I add a ton of it, and as you can see in the photo I'm a little lazy about chopping the cilantro… I usually just roughly tear it and add it and the cheese to the salad right before I serving.
Great for a potluck summer barbecue…or to add to your Cinco de Mayo menu!  Enjoy!
Fresh (or frozen) Corn Salad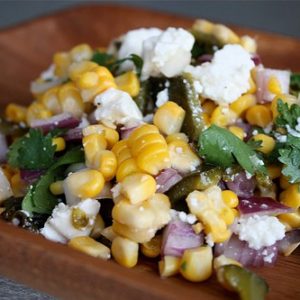 Ingredients:
6 ears of fresh corn (or about 3 cups of frozen corn kernels)
2-3 poblanos, roasted and chopped (see directions)
1 medium red onion, chopped
2 jalapeños, chopped
handful of cilantro, roughly chopped or torn
queso fresco, crumbled
juice from 1-2 limes
salt and black pepper, to taste
Directions:
Roast poblanos on grill or in 425 degree oven turning often until skin is charred. Place in a bowl with lid or covered in saran wrap for about 10 minutes (this helps with removing the skin). Once peppers have cooled, gently remove skin, seeds and stem and chop.
Cook corn in boiling water for about 5-8 minutes. Carefully cut kernels off stems and add to salad bowl. If you want a roasted corn, cook in water first, then throw onto hot grill for a few minutes to char skin.
Combine corn, chopped roasted poblanos, chopped onion and jalapeños into a bowl. Add lime juice, salt and pepper to taste. Right before serving add cilantro and queso fresco and toss gently to combine.
Follow Aggie's Kitchen's board Aggie's Kitchen Recipes on Pinterest.
Are you following me on Instagram, Twitter, Facebook and Pinterest? If you'd like to subscribe to Aggie's Kitchen and have each post delivered straight to your e-mail box, then please add your email here. Happy cooking!
There are affiliate links in this post. I make small earnings through any purchases made through these links. Thank you for supporting Aggie's Kitchen!