Easy Yogurt Fruit Dip
Here's one of those "things" I hate to call a recipe…but more like an idea.  I don't like to call it a recipe, because really, there is more than one way to make this fruit dip.  Initially, I followed Itzy's idea and used a small container of Stoneyfield Strawberry yogurt with a couple dollops of whipped topping stirred in.  That's what is shown in the picture…I made this for my daughter's third birthday and everyone who tried it loved it.  Since then though, I've tried it a couple of different ways, and each way has been great!  Instead of strawberry yogurt, get yourself a small container of vanilla, add about a teaspoon or two of your favorite preserves (I love strawberry and peach) and of course some of that whipped topping. It's really quite simple…just another delicious "thing" I couldn't keep to myself.
There you go…a fun way to serve your fruit at your next get together!
Easy Yogurt Fruit Dip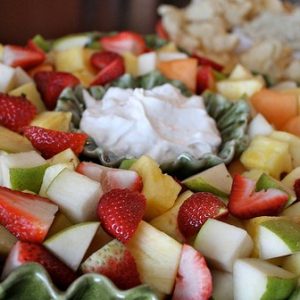 Ingredients:
1 small container french vanilla yogurt (my favorite to use is Stoneyfield brand)
1 teaspoon strawberry or peach preserves (Simply Fruit is great!)
1 generous dollop of light whipped topping
Directions:
Combine ingredients in a bowl and serve.
Are you following me on Instagram, Twitter, Facebook and Pinterest? If you'd like to subscribe to Aggie's Kitchen and have each post delivered straight to your e-mail box, then please add your email here. Happy cooking!
There are affiliate links in this post. I make small earnings through any purchases made through these links. Thank you for supporting Aggie's Kitchen!