Steak Fajita Enchiladas
We've been eating a lot of great veggie meals lately.  I gave up meat for the last two weeks of Lent and have kind of been on a roll since then.  I haven't completely given it up, I won't be able to resist my grandpa's homemade Italian sausage or chicken parmagiana, but for the most part am trying to cut down a bit and incorporate more veg meals during the week for the whole family.  My husband has surprisingly embraced our "new" way of eating (he's also been enjoying Jamie Oliver's new show with me and thought Food, Inc was a huge eye-opener…so happy about that!)…and though he's not complaining about our veggie meals, I know he's missing his steak.
So the other night, I pulled a nice piece of flank steak out of the freezer and grilled it up.  It was seasoned nicely and simply with salt and lots of fresh ground pepper…and after it cooked and rested, I sliced it up real thin and assembled these Steak Fajita Enchiladas.  I actually made the enchiladas three ways that night to suit all of our tastes.  My husband ate his as shown…I opened up a can of vegetarian refried beans and used it as the filling along with the sauteed peppers and onions and of course cheese for myself…and for the kids, it was simply refried beans and cheese.  It was easy enough to accommodate everyone's requests and we all really enjoyed our dinner.
Steak Fajita Enchiladas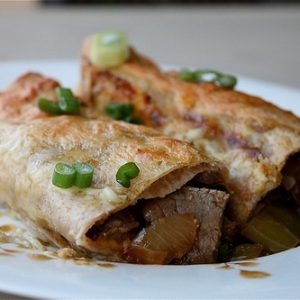 Ingredients:
flank steak, seasoned with salt and pepper, grilled or broiled, sliced thin against the grain
2-3 peppers sliced thin (red bell, poblano, hungarian - your choice - I used all three)
1 large onion
1 tablespoon olive oil
1 teaspoon chili powder
1 teaspoon Mexican oregano (or regular oregano)
salt and pepper, to taste
2 cups Pepper Jack cheese (or something milder), shredded
can Old El Paso Verde Enchilada sauce
2 green onions, chopped (optional)
whole wheat wraps or tortillas
Directions:
Preheat oven to 375 degrees.
In a large nonstick skillet, heat 1 tb oil and add sliced onion and peppers.  Add chili powder, oregano, salt and pepper and cook until softened, about 10 minutes.
Warm tortillas in microwave (on plate with moist paper towel) for about 20-30 seconds.  Start to assemble tortillas by first adding a small amount of cheese, sliced steak and vegetable mixture.  Roll up tortillas to form a "cigar" and place into a baking dish sprayed with non stick spray.  Once all enchiladas are assembled, pour sauce over all of the wrapped tortillas.  Add a layer of cheese and place in oven.  Bake for about 20 minutes or until cheese is melted and browned and sauce is bubbling.  Garnish with chopped green onion if desired.
Serve with Spicy Slaw Salad for a great meal!
Are you following me on Instagram, Twitter, Facebook and Pinterest? If you'd like to subscribe to Aggie's Kitchen and have each post delivered straight to your e-mail box, then please add your email here. Happy cooking!
There are affiliate links in this post. I make small earnings through any purchases made through these links. Thank you for supporting Aggie's Kitchen!