Smoked Salmon Frittata and Staying in Shape While On A Cruise
Smoked salmon frittata is a delicious baked egg dish, perfect for breakfast, brunch, or even dinner! Inspired by a smoked salmon quiche, this smoked salmon frittata with goat cheese and dill is lighter, and so easy to make! Easy salmon recipes like this one are always family favorites.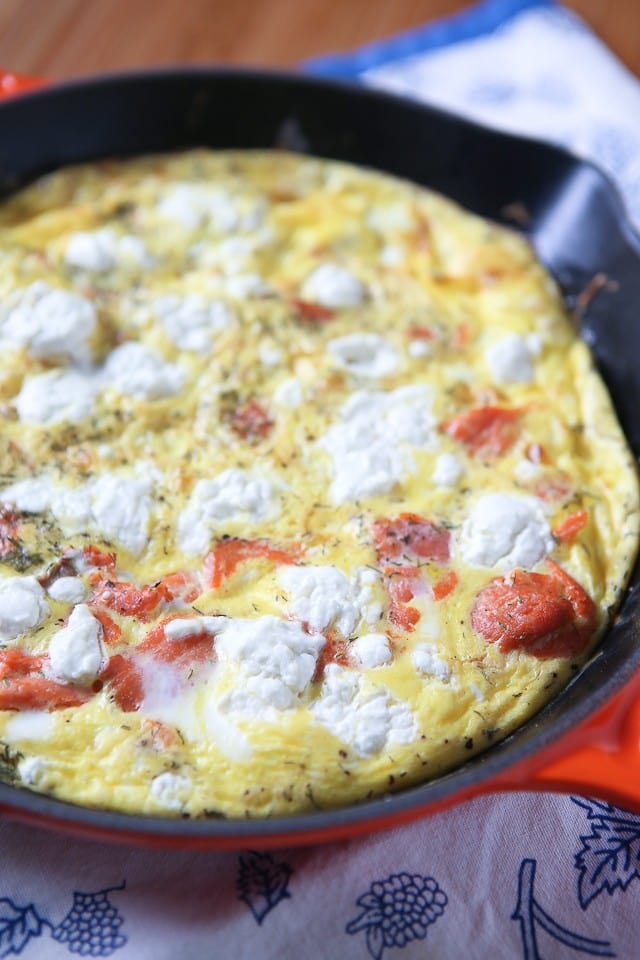 Disclosure: This Smoked Salmon Frittata recipe post was inspired by and created in partnership with Princess Cruises.
Working out with a friend makes exercising so much more enjoyable, at least for me it does. I don't normally have the opportunity to work out with friends (although, the trainers at my gym are my friends so I guess I do work out with friends every day). Recently when I was cruising with my dear friend Heidi, we made a promise to each other that we would get up every morning and get some exercise in. I was so happy to have someone on the same page as me, as well as someone who would make sure I got out of bed and got moving, even when I didn't really want to.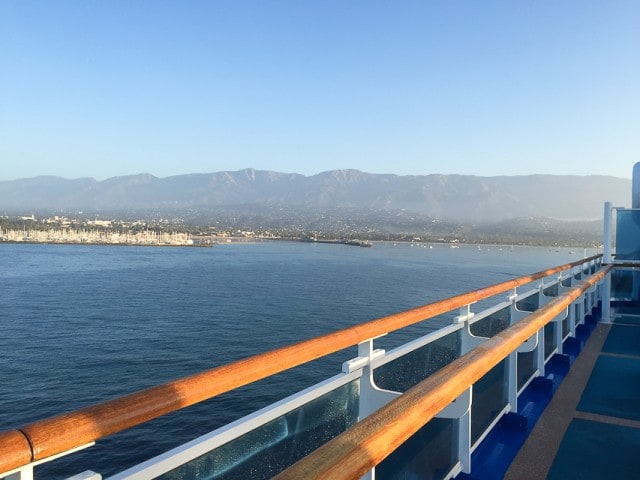 The running deck was the perfect place to start our mornings. It wasn't overly crowded, but there were a few walkers, runners and coffee drinkers enjoying the fresh morning air and peaceful ocean view.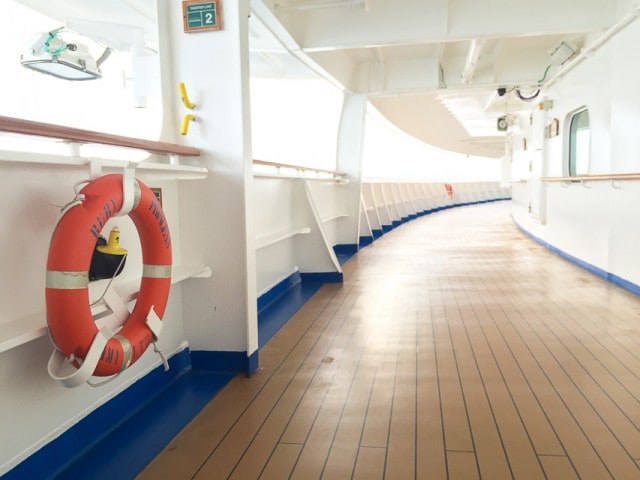 The running deck was my peronal favorite place to exercise, but there was also a fitness center on the ship packed with machines, classes and free weights. Something for everyone!
Before leaving for our cruise, Heidi found us a quick workout that we ended up doing each day, along with our 2-3 mile run. She happened to find it on Cat Cora's website. I've mentioned Cat Cora was also on our cruise and we got to meet her during several events on the trip. The workout is from Cat's trainer, Jenny Schatzle, and she calls it "10 minutes on the go". It is the perfect travel workout!
I don't know about you, but getting in a good sweat session while traveling can feel even better than it does at home! #makesroomforfoodandwine (because let's be real, it was all about the food and wine on our cruise!)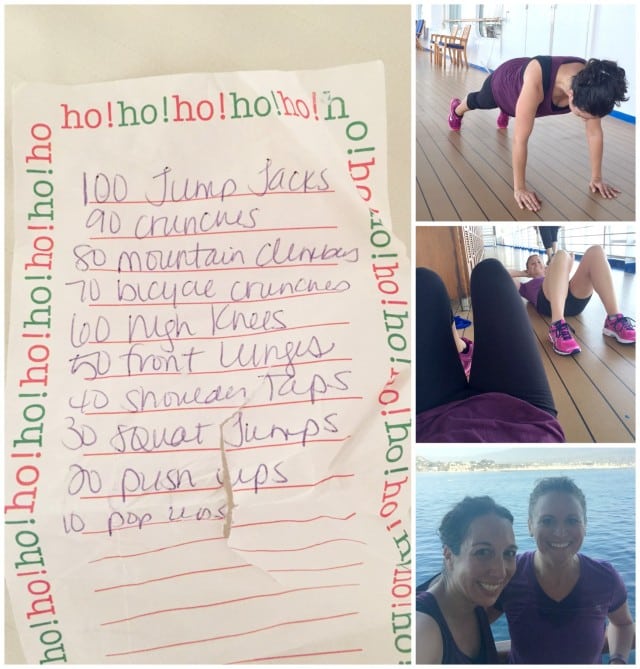 So this was funny…of course I had to tell Cat we were doing her workout every morning. She loved it and told me her trainer would be over the top happy when she told her. In fact, she ended up pulling out her phone and asking me to send her trainer Jenny a quick video saying hello and telling her about our cruise workouts myself.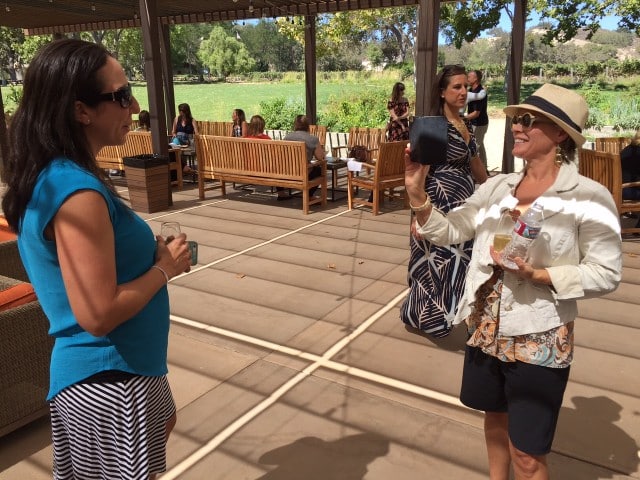 People, Iron Chef Cat Cora pulled out her phone and took a video of me to send to her trainer. (Insert red faced, big eyed emoticon right here.) So yea, that kind of made my day.
After every workout, we hit breakfast red faced and feeling good. I've already told you about my favorite breakfast that I helped myself to every morning while cruising with Princess.
Today's Smoked Salmon Frittata recipe is inspired by a Smoked Salmon Quiche I had one morning as well.
I love quiche and have a hard time not ordering it when out for breakfast. I don't really make quiche at home, but I do make plenty of frittatas so it was easy enough to pull together this version of something I enjoyed while on my trip. When I'm traveling, I am always inspired by the food I eat. I love coming home to make my own (usually lighter) versions.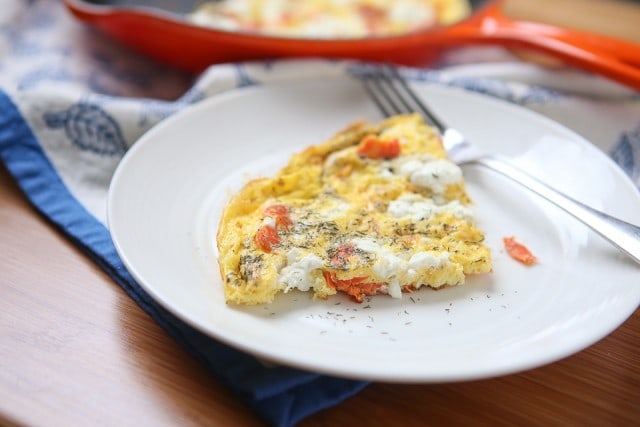 I made this Smoked Salmon Frittata with Goat Cheese and Dill over the weekend and my daughter LOVED it. My husband, son and I did too, enjoying it as our lunch. It really comes together simply, as all frittatas do – perfect for lazy weekend brunching or a quick weeknight dinner paired up with a light arugula salad.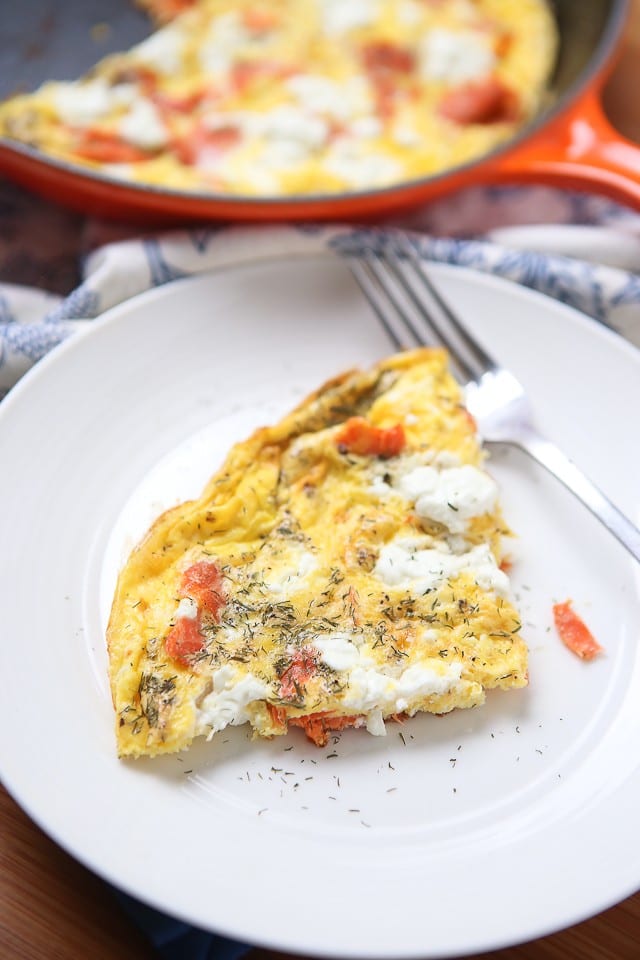 No excuses – make this smoked salmon frittata recipe, and get in a couple of 10 minute on-the-go workouts this week.
With the Thanksgiving feast approaching we will all be in need both!
Have a happy and healthy Thanksgiving everyone!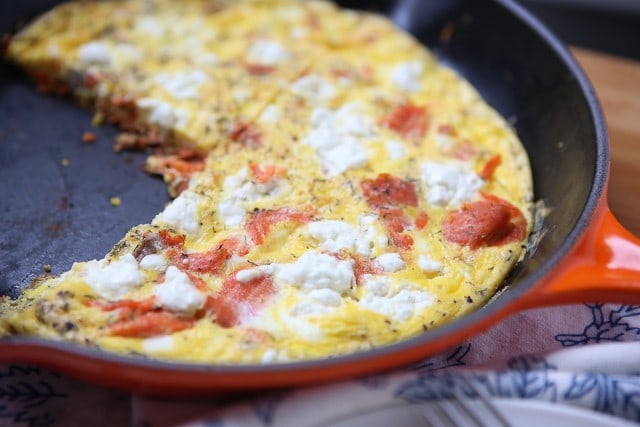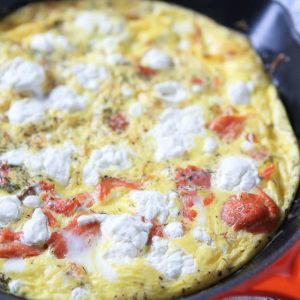 Ingredients:
1 tablespoon olive oil
4 oz smoked salmon
6 eggs
2 tablespoons whole milk
1/4 teaspoon dried dill
coarse salt and fresh ground pepper
2 oz goat cheese, crumbled
Directions:
Preheat broiler.
Heat olive oil over medium heat in a 10 inch nonstick skillet.
Add 4 oz sliced salmon (broken into pieces) into skillet. Whisk 6 eggs with milk well until light and frothy. Gently add the eggs into the skillet and let set, about 3-4 minutes.
Season egg mixture with dill, salt and pepper. Sprinkle crumbled goat cheese evenly over top of frittata, then carefully place under broiler. Let cook under broiler 4-6 minutes until eggs are set and fluffy and slightly browned.
Take out of oven, let cook slighlty then slice into 4 even trianges to serve.

(Disclosure: I was a guest of Princess Cruises for this cruise and am being compensated for my time to share it with you. All opinions expressed are my own.)
Follow me on Pinterest for more Healthy Recipes like this one.
Follow Aggie's Kitchen's board Healthy Recipes on Pinterest.
Are you following me on Instagram, Twitter, Facebook and Pinterest? If you'd like to subscribe to Aggie's Kitchen and have each post delivered straight to your e-mail box, then please add your email here. Happy cooking!
There are affiliate links in this post. I make small earnings through any purchases made through these links. Thank you for supporting Aggie's Kitchen!