Lightened Up Broccoli Cheese Soup
Filled with lots of veggies, this Broccoli Cheese Soup hits the spot (and is lighter than most creamy soups!)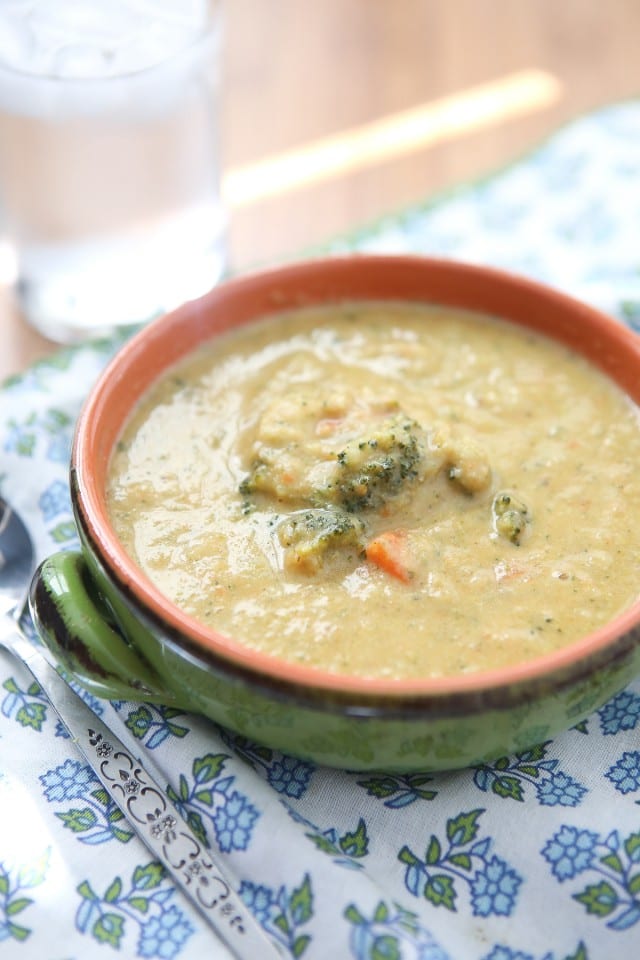 Apparently it's soup week here in my kitchen! That's not a bad thing, right? Today I'm sharing a Lightened Up Broccoli Cheese Soup that is heavy on the veggie and light on the cheese. A good balance.
I recently picked up way too much broccoli at the grocery store (those sales always make me think I need more than I actually do, I'm a sucker for sale pricing). We can only eat so much roasted broccoli no matter how much we love it. Since I've been craving soup I searched around and found one that worked for me on one of my favorite healthy blogs, Skinnytaste (Gina's Skinnytaste Cookbook is one of my favorites!). What I loved about Gina's Broccoli Cheese and Potato Soup recipe is that it wasn't super heavy on cream or cheese, but was bulked up instead with vegetables that were eventually pureed so it got the creamy texture I was looking for. I made adjustments to the ingredients based on what I had on hand and the soup eaters in the family gave this one a big thumbs up.
Having a hand blender like this one is definitely helpful when making soups like this lightened up Broccoli and Cheese Soup. I use it to blend up some of my favorite soups like this Tomato and White Bean Soup and this Slow Cooker Curried Butternut Squash Soup.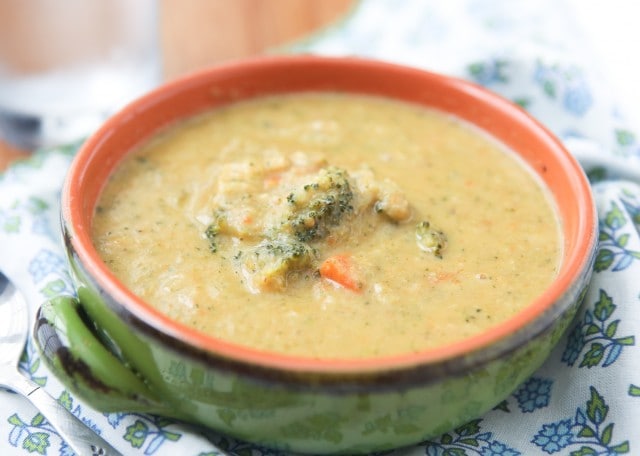 The first time I made this Broccoli Cheese Soup I used a shredded cheddar cheese but the second time I made it I used a Mexican cheese blend and it turned out even more delicious. Get your soup pot out because 'tis the season!
Lightened Up Broccoli and Cheese Soup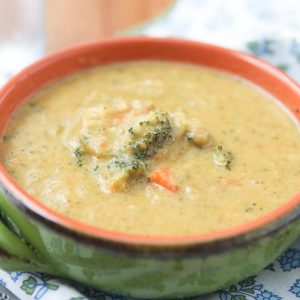 Ingredients:
1 tablespoon butter
1 tablespoon olive oil
1 onion, chopped
2 carrots, chopped
2 celery stalks, chopped
3 garlic cloves, minced
3 medium potatoes, peeled and cut into small cubes
3 heads of broccoli, florets cut into small pieces
4 cups low sodium chicken broth
3/4 cup whole milk
1/2 teaspoon dried thyme
big pinch coarse salt and fresh ground pepper, to taste
1/2 cup shredded cheddar cheese (or Mexican blend cheese)
Directions:
In a large soup pot over medium heat, add butter and olive oil. Add onions, carrots, celery and garlic to pot and cook for about 5 minutes until soft. Add potatoes, broccoli, broth, milk, thyme, salt and pepper to pot and bring to a slow boil. Turn down heat and let cook over low for about 20 minutes until potatoes are soft.
Using a hand blender, carefully process soup until smooth with just a few chunks. Taste for seasoning and add salt and pepper to adjust. Turn off heat and slowly stir shredded cheese into soup.
If you don't have a hand blender, you can use your blender to process your soup so that it's smooth and creamy. Let your soup cool down as much as possible before putting it into blender. This post on NoshOn.It is a great tutorial on how to puree hot soup in a blender without and explosion.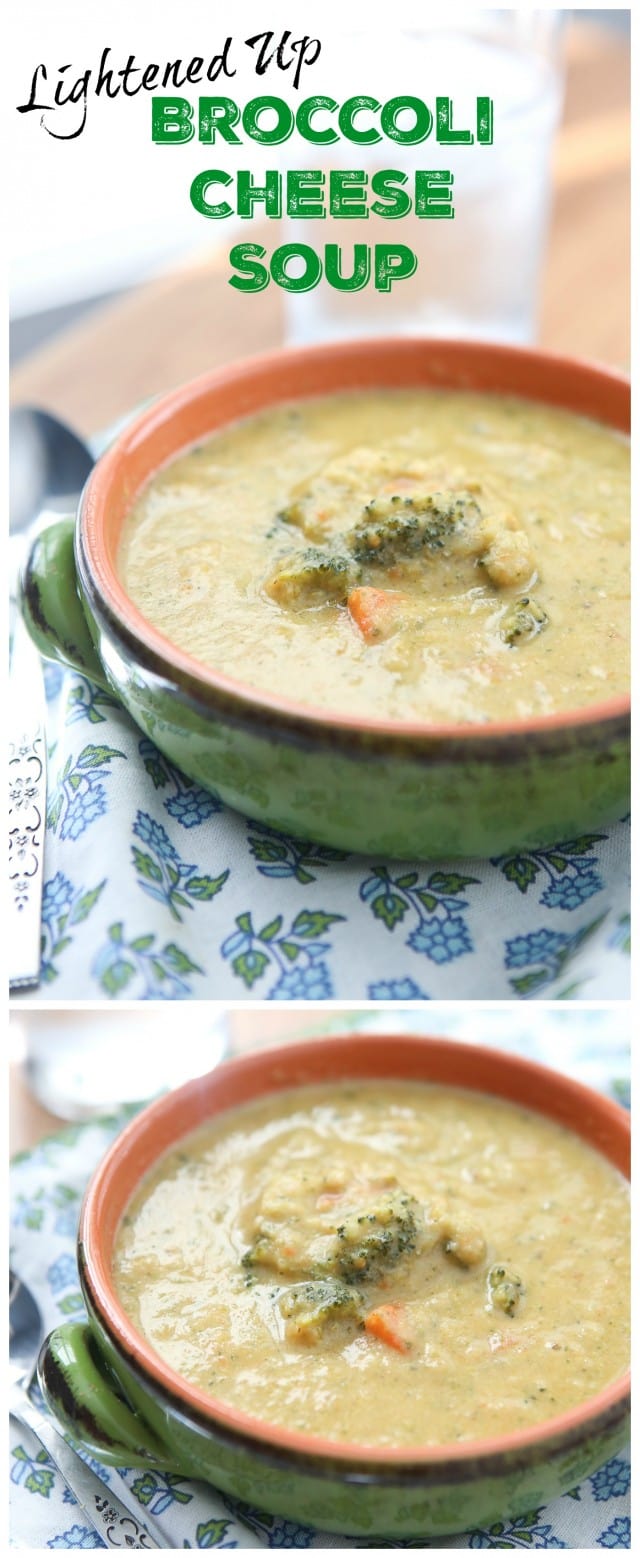 Follow Aggie's Kitchen's board Soup, Stew and Chili Recipes on Pinterest.
Are you following me on Instagram, Twitter, Facebook and Pinterest? If you'd like to subscribe to Aggie's Kitchen and have each post delivered straight to your e-mail box, then please add your email here. Happy cooking!
There are affiliate links in this post. I make small earnings through any purchases made through these links. Thank you for supporting Aggie's Kitchen!