Key West Grilled Salmon
Grilled salmon is a quick, flavorful, healthy dinner. This Key West grilled salmon recipe uses citrus and spices to amp up the flavor! This may become one of your favorite easy salmon recipes!

Do you like salmon? We like salmon at our house. It's not something I crave, or even really buy frequently, but when I do make it I always wonder why I don't make it more often. It's a healthy fish, full of those Omega 3 fatty acids that we all need in order to keep our heart, skin and brain healthy.
So, since you know it's so good for you, try out this light and easy grilled salmon dinner recipe…serve with brown rice and stir fry vegetables with a squeeze of lime.
Print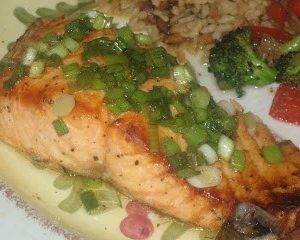 Key West Grilled Salmon
Author:
Category: Fish
Method: Grill
Grilled salmon is a quick, flavorful, healthy dinner. This Key West grilled salmon recipe uses citrus and spices to amp up the flavor! 
---
Ingredients
1/3 cup lime juice (2 limes)
2 TB olive oil
1/2 tsp salt
1/2 tsp celery seeds
1/8 tsp black pepper
Few drops hot pepper sauce
4 salmon steaks (1 1/2 lbs total)
1/4 cup chopped green onion
1 TB water
2 tsp honey (recipe calls for 1/4 tsp but I didn't think that was enough)
---
Instructions
Combine lime juice, oil, salt, celery seeds, black pepper and hot pepper sauce in a small bowl. Place salmon in a shallow dish. Pour 1/4 cup lime juice mixture over fish; turn to coat. Refrigerate 10 minutes, turning once. Reserve remaining mixture for sauce.
Prepare grill or broiler.
Stir green onion, water, and honey into reserved lime juice mixture. Grease grill rack or rack of a shallow roasting pan. Place salmon on rack. Drizzle with half of lime juice mixture from marinade dish. Grill on covered grill for 2 minutes per side or until cooked through, or broil 4 minutes per side. Serve grilled salmon with green onion sauce. (I broiled my salmon and never flipped, just let it cook through, skin side down.)
---
Notes
Recipe from Family Circle All Time Favorite Recipes
Now speaking of fish…there is a new little fish in the family. My 19 month old daughter is finishing up her swim lessons this week. She has been taking lessons in the Safe Start program at our YMCA for the last 6 weeks, 5 days a week for 10 minutes a day. It is a Survival Swimming program where they teach the babies how to float and swim to the wall. During their last week, they "test" the babies in their summer clothing and winter clothing to make sure that if, God forbid, they were to fall into the pool, they would still have the skill to float and swim to the wall.
Well, today was summer clothes for us and she did great! I can't believe she is actually smiling…the water was pretty chilly today!

Are you following me on Instagram, Twitter, Facebook and Pinterest? If you'd like to subscribe to Aggie's Kitchen and have each post delivered straight to your e-mail box, then please add your email here. Happy cooking!
There are affiliate links in this post. I make small earnings through any purchases made through these links. Thank you for supporting Aggie's Kitchen!