Orange Glazed Salmon and Stir Fried Veggies
Orange glazed salmon with stir fried veggies is a quick, easy, and healthy dinner recipe. This is one of my favorite easy salmon recipes, because it's so packed with flavor.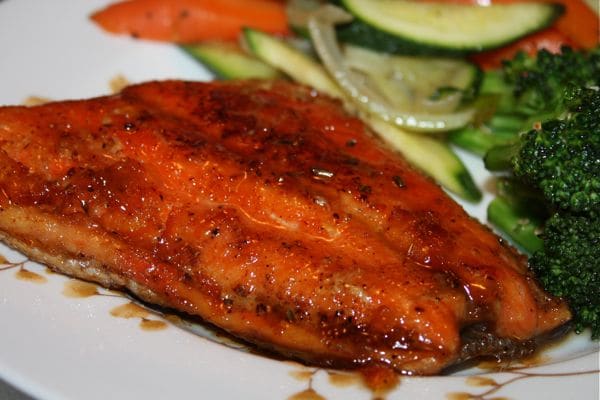 My sister in law Jamie has been raving about this orange glazed salmon recipe for a while. I finally tried it not long ago and she was so right, it is absolutely delicious. The whole family enjoyed it, including my kids. I served it along side some simple stir fried vegetables. It was one of those nights where I was trying to clear out the produce drawer, so everything went in the pan. Surprisingly, my kids enjoyed all of the vegetables too. Usually, they eat most of their veggies raw (tomatoes, cucumbers, zucchini slices, carrots) but they really dug into the stir fry that night, and I was so happy about that.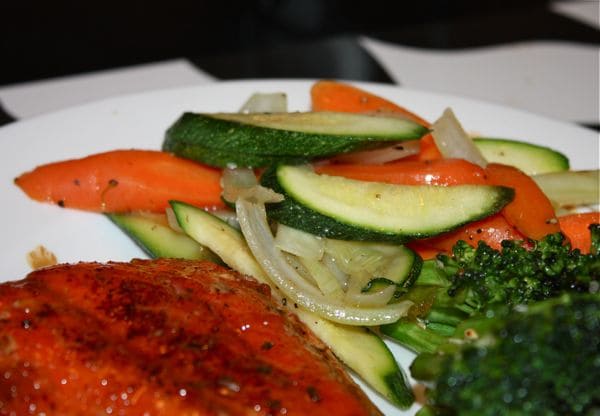 Making the orange glazed salmon is incredibly easy!
The salmon is first coated with some cajun seasoning and then dressed in a very simple glaze, made of orange marmalade and lime juice. You can easily make this for any weeknight meal in no time. For the veggies, I used a wok, heated on high heat with a little canola oil.  Slice zucchini, carrots and onions, and cook them for just a few minutes, so they still have a little crunch to them, then sprinkle them with some salt and pepper.
When making a stir fry like this, make sure you slice up the veggies to about the same size. This will ensure everything cooks up at the same speed and keeps everything crunchy – or not so crunchy – whatever you desire. The broccoli I cooked separately, the same way, but I added a tiny bit of sesame oil and a nice pinch of sesame seeds at the last minute. Good stuff.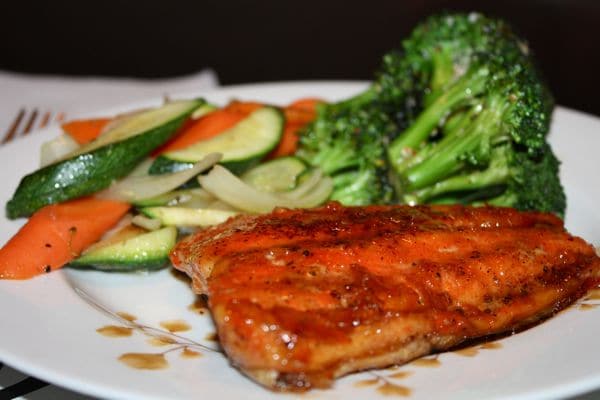 I hope you enjoy the orange glazed salmon stir fry as much as my family does.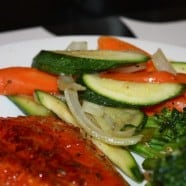 Ingredients:
3 tablespoons Cajun seasoning
1 teaspoon brown sugar
1/4 teaspoon kosher salt
4 boneless, skinless salmon fillets (6 oz. each)
2 tablespoons vegetable oil
1/4 cup Seville orange marmalade (like Crosse & Blackwell)
1 tablespoon lime juice
Directions:
Combine Cajun seasoning, brown sugar and salt in a small bowl.  Rub over both sides of fillets.
Saute fillets in oil in a large non-stick skillet over medium-high heat for 3-4 minutes.  Turn and saute an additional 2-3 minutes.
Blend marmalade and lime juice; swirl in skillet until melted.  Carefully turn fish to glaze on all sides.  The salmon is done when it begins to flake when tested with a fork.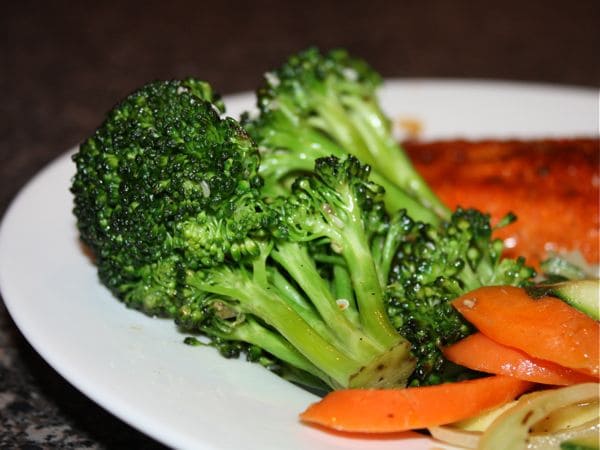 ***************************************************************************************
Congratulations to Laural at Being Healthier for winning the beautiful Scarlet Threads apron giveaway! Thank you to everyone who left a comment and entered and are now following this wonderful organization!
Are you following me on Instagram, Twitter, Facebook and Pinterest? If you'd like to subscribe to Aggie's Kitchen and have each post delivered straight to your e-mail box, then please add your email here. Happy cooking!
There are affiliate links in this post. I make small earnings through any purchases made through these links. Thank you for supporting Aggie's Kitchen!
24 Responses to "Orange Glazed Salmon and Stir Fried Veggies"
Trackbacks/Pingbacks

Leave a Comment