Old Bay Salmon Cakes
Salmon cakes are an easy salmon recipe that comes together in minutes. Serve these Old Bay salmon cakes with lemon and a green salad for a light, easy dinner.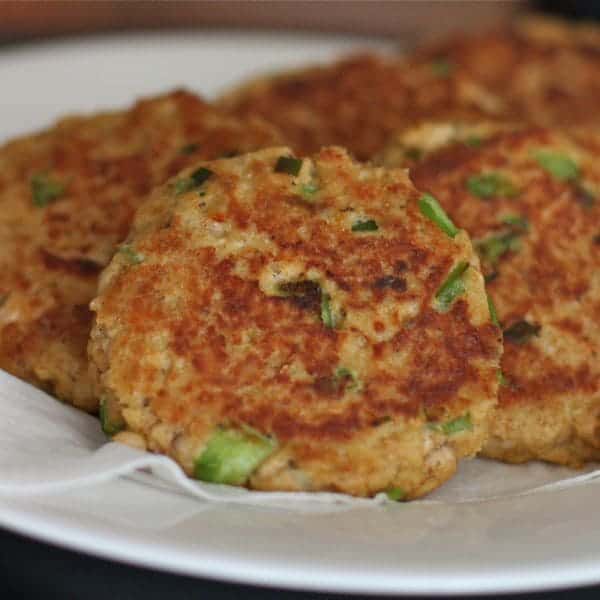 Every time I make salmon cakes I ask myself why I don't make them more often. Every single time.
I didn't grow up eating salmon cakes (or salmon patties if that's what you are used to calling them), as a matter of fact I remember exactly the first time I made them for my husband (at the time fiance) and me. It was early in our relationship, and I remember how much I was enjoying cooking for someone other than myself. At the time I found a recipe on the side of some canned salmon, or maybe it was the Old Bay seasoning can.
For salmon cakes, I like to use this Wild Alaskan canned salmon that I pick up at Costco. The quality is great and I've been buying it for years. It's skinless and boneless. I've tried other canned salmon that I wasn't crazy about – this one is definitely my go to canned salmon (I really only use it for salmon cake recipes).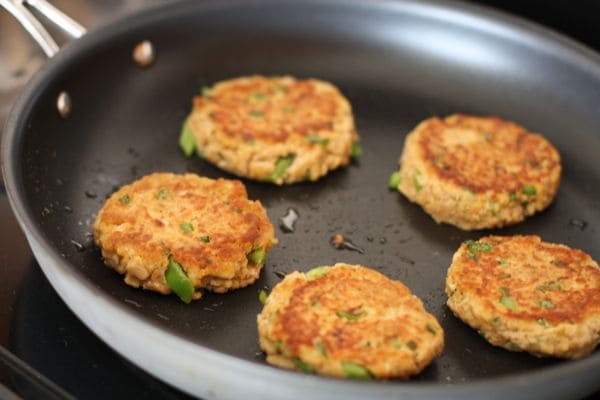 My husband always says that salmon cakes remind him of his mom, she made them often for dinner while he was growing up. I love when food sparks memories of loved ones like that. I made these over the weekend and shared them with my in laws. I kind of threw this recipe together (making sure to use Old Bay – a Goodman family favorite), so I'm not sure how close to the original recipe for salmon patties my mother-in-law always used but I'm happy to report that everyone approved. 🙂
I love to serve the Old Bay salmon cakes with a simple green salad. They make a light dinner, and they're great leftovers for lunch the next day.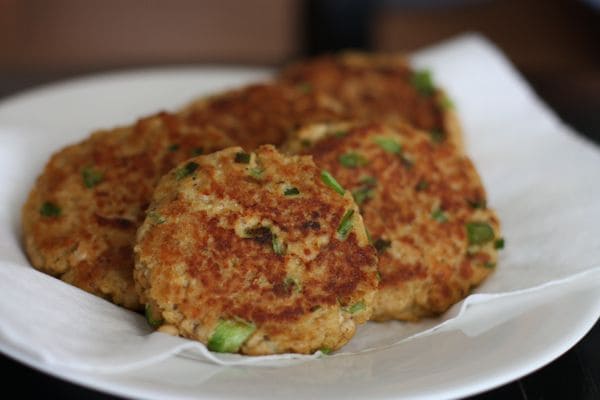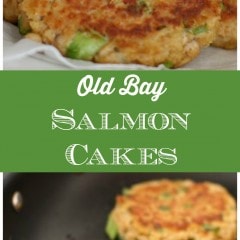 More easy salmon recipes:
Salmon with Sweet and Spicy Rub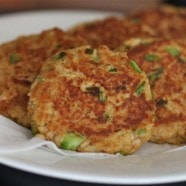 Ingredients:
Directions:
In a large bowl, gently combine all ingredients until mixed well. Form into 6-8 small patties.
Heat a non stick pan over medium heat. Drizzle 2 tablespoons of oil in pan and spread around. Gently place each patty into hot pan and cook on first side for about 2-3 minutes or until golden brown. Carefully flip, and cook for an additional 3-4 minutes until second side is browned.
Once cooked, set aside and sprinkle coarse salt over salmon cakes. Serve with a squeeze of lemon.
Kitchen Tools used in this recipe: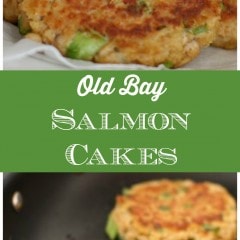 Are you following me on Instagram, Twitter, Facebook and Pinterest? If you'd like to subscribe to Aggie's Kitchen and have each post delivered straight to your e-mail box, then please add your email here. Happy cooking!
There are affiliate links in this post. I make small earnings through any purchases made through these links. Thank you for supporting Aggie's Kitchen!
62 Responses to "Old Bay Salmon Cakes"
Trackbacks/Pingbacks

Leave a Comment