Old Bay Salmon Cakes Recipe
Salmon patties are an easy salmon recipe that comes together in minutes. Serve these Old Bay salmon cakes with lemon & a green salad for a light dinner.
A family favorite!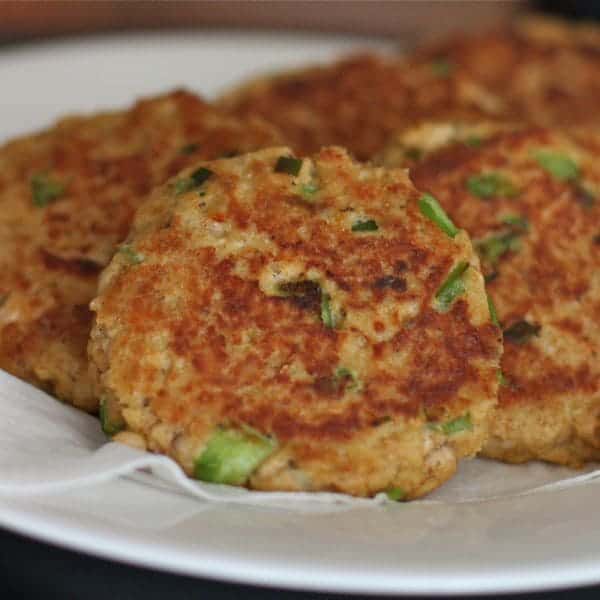 Every time I make salmon cakes I ask myself why I don't make them more often. Every single time.
I didn't grow up eating salmon patties, as a matter of fact I remember exactly the first time I made them for my husband (at the time fiance) and me. It was early in our relationship, and I remember how much I was enjoying cooking for someone other than myself. At the time I found a salmon patty recipe on the side of some canned salmon, or maybe it was the Old Bay seasoning can.
For salmon patties, I like to use this Wild Alaskan canned salmon that I pick up at Costco. The quality is great and I've been buying it for years. It's skinless and boneless. I've tried other canned salmon that I wasn't crazy about – this one is definitely my go to canned salmon (I really only use it for salmon patty recipes). If you can't find this brand, the Kirkland brand canned wild salmon is excellent too.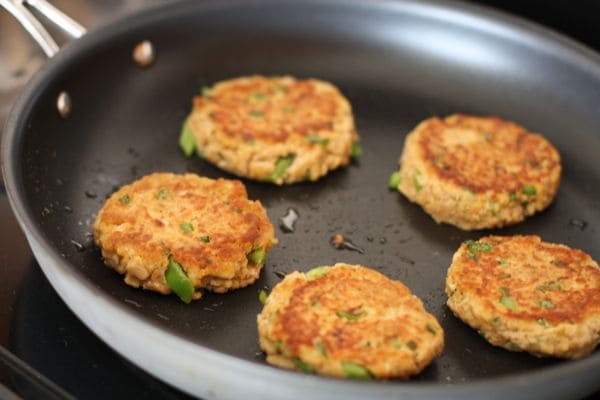 My husband always says that salmon patties remind him of his mom, she made them often for dinner while he was growing up. I love when food sparks memories of loved ones like that. I made these over the weekend and shared them with my in laws. I kind of threw this recipe together (making sure to use Old Bay – a Goodman family favorite), so I'm not sure how close to the original salmon patty recipe my mother-in-law always used but I'm happy to report that everyone approved. 🙂
What to serve with salmon cakes?
I love serving this salmon recipe with a simple green salad if I'm craving a light dinner. For a heartier plate, add rice to your meal. If you want to make your rice more interesting, try this Cilantro Lime Brown Rice but try parsley and lemon in place of the cilantro and lime. Sautéed Cilantro Lime Vegetables (zucchini, squash and pepper) are also great to serve with this recipe.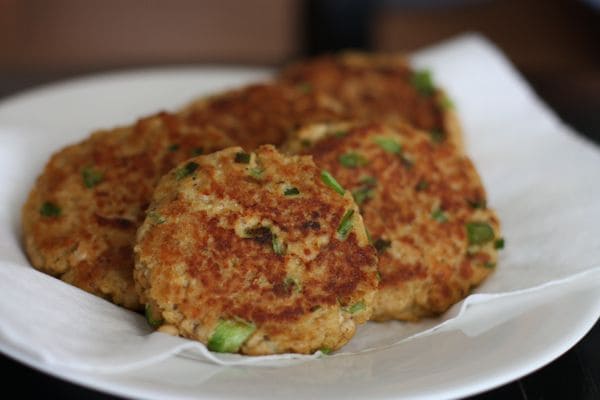 How do you make the best salmon cakes?
In my opinion, with simple quality ingredients. Old Bay seasoning is a must and high quality canned salmon like this Bear & Wolf brand I get from Costco (can also be ordered here on Amazon – affiliate link). I like adding finely chopped green onion to my salmon patties but finely chopped onion is also a popular add in. Don't forget to squeeze lemon over them when they are ready to eat!
Can you bake salmon patties?
Yes! Salmon patties turn out great when baked.
Preheat oven to 375 degrees.
Combine ingredients in a large bowl. Gently form into 8 patties and place on a lightly greased baking sheet.
Bake for 10 minutes in 375 degree oven. Broil for last 5-7 minutes or until golden brown.
Serve with squeeze of lemon.
See my Cajun Baked Salmon Cakes recipe for ingredients and recipe directions.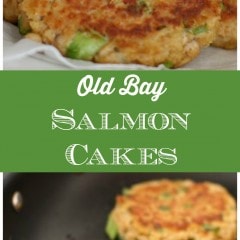 More easy healthy salmon recipes to try at home:
Salmon Quinoa Cakes – no breadcrumbs, but cooked quinoa acts as filler instead
Salmon and Veggie Stir Fry – lots of vegetables stir fried with salmon pieces
Salmon with Sweet and Spicy Rub – my family's first favorite salmon recipe, a great starter recipe for salmon
Pesto Salmon – keep it easy and use prepared pesto (if you like pesto look here for more recipes using pesto)
Print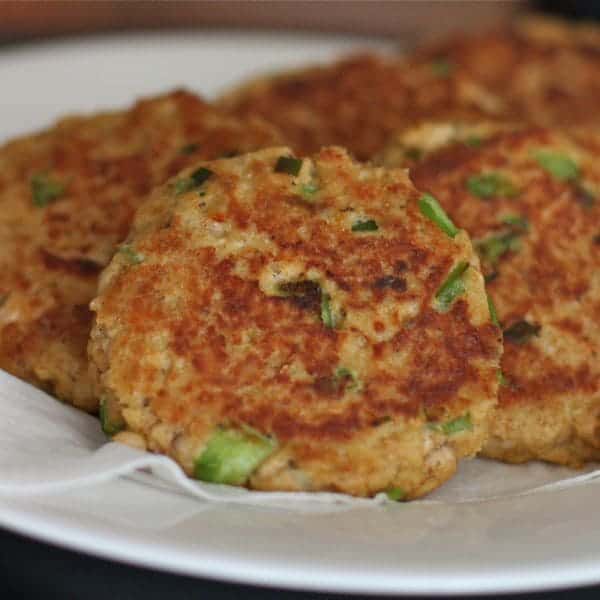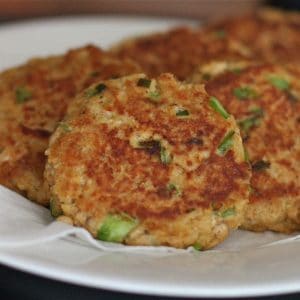 Old Bay Salmon Cakes
Author:
Prep Time: 5 minutes
Cook Time: 10 minutes
Total Time: 15 minutes
Yield: 4 servings 1x
Category: Fish and Seafood
Method: Skillet
Cuisine: American
---
---
Instructions
In a large bowl, gently combine all ingredients until mixed well. Form into 6-8 small patties.
Heat a non stick pan over medium heat. Drizzle 2 tablespoons of oil in pan and spread around. Gently place each patty into hot pan and cook on first side for about 2-3 minutes or until golden brown. Carefully flip, and cook for an additional 3-4 minutes until second side is browned.
Once cooked, set aside and sprinkle coarse salt over salmon cakes. Serve with a squeeze of lemon.
---
Nutrition
Serving Size: 2 patties
Calories: 260
Fat: 16 g
Carbohydrates: 6 g
Fiber: 1 g
Protein: 24 g
Keywords: salmon, old bay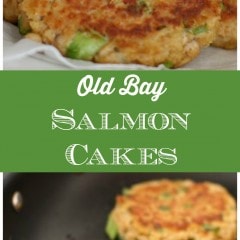 Are you following me on Instagram, Twitter, Facebook and Pinterest? If you'd like to subscribe to Aggie's Kitchen and have each post delivered straight to your e-mail box, then please add your email here. Happy cooking!
There are affiliate links in this post. I make small earnings through any purchases made through these links. Thank you for supporting Aggie's Kitchen!