Meet My Guest: The Realistic Nutritionist and White Bean Pesto Salad
Do you ever visit a food blog and want to eat every. single. thing. on it? Yea, that's pretty much how I feel about Claire's blog, The Realistic Nutritionist. If you don't know Claire (yet), then you are in for a treat. This girl is a ball of energy, makes me smile and utterly amazes me with her talent and creativity. I'm so happy she's here today sharing a salad with you all…though, I have to say, I wish she was REALLY here sharing this salad with me. I feel like I need to go to the store right this second and pick up all the ingredients…
(Oh and PS…another reason why I love this girl – this week Claire is hosting her first Skinny Tailgate Week over on her blog – enough said.)
Thanks for stopping by Claire!

*************************************************************************
Hi friends and fans of Aggie's Kitchen! Claire, The Realistic Nutritionist, here and I couldn't be more thrilled to be! I've been a HUGE fan of Aggie's since the very beginning and I'm just happy as a clam to be here sharing one of my favorite recipes with you, a white bean pesto salad!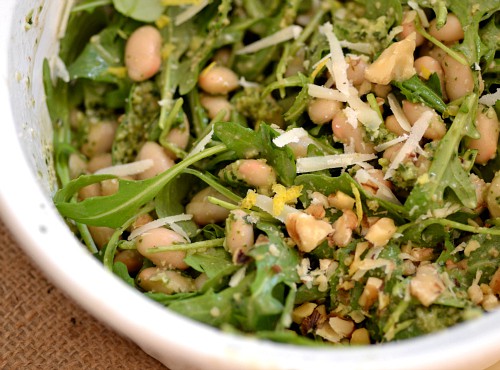 I know, it's a salad, like how original right? But I promise it's one of the best salads you'll ever eat. To me, the simplest dishes are sometimes (more times than not) the best. I love those 20 ingredient pot roasts and what not, but I also love whipping up something amazing in 5 minutes with things from my pantry.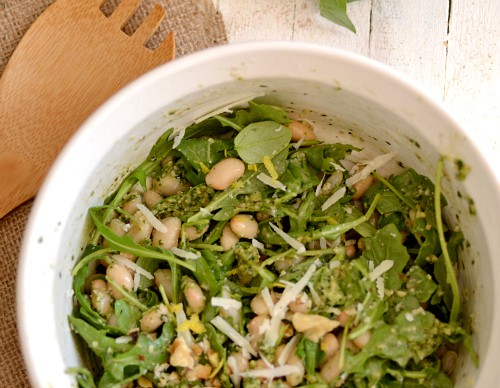 Seriously. All this has is arugula, white beans, pesto and…that's it. Some cheese if you want it, some lemon if you want it, some tomatoes. Whatever the heck you want to throw in this you can. And it'll still taste so fresh and so incredible. This is the kind of dish I'll serve at my trendy little restaurant (when I have one, which I will, of course).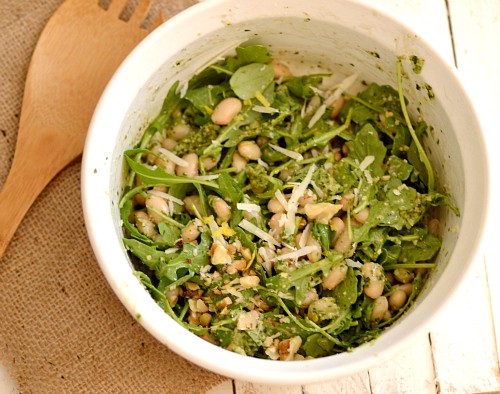 Oh and let's talk for a minute about pesto. Every time I make a batch it becomes increasing difficult not to drink it directly with a straw. It's nutty with the PERFECT bold flavor of basil. Plus, you can serve it on EVERYTHING. Chicken, pasta, fish…or you could pull out a spoon and just eat it directly from the jar.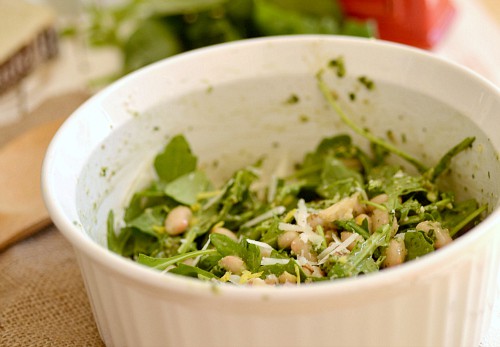 This salad is a great game-day tailgating side dish because it's REALLY easy (we've covered that) and pretty healthy to boot!  Click HERE for the easy and tasty recipe! Thanks again for having me Aggie!
Are you following me on Instagram, Twitter, Facebook and Pinterest? If you'd like to subscribe to Aggie's Kitchen and have each post delivered straight to your e-mail box, then please add your email here. Happy cooking!
There are affiliate links in this post. I make small earnings through any purchases made through these links. Thank you for supporting Aggie's Kitchen!