Garlicky Crab Cakes
I've been finding it really hard to find time to blog lately…between a long vacation, birthdays, school and now a new member of our family, my time has been well accounted for and unfortunately blogging has not made the list. It's all good though…it's been a fun and full couple of weeks.

And speaking of a new member of our family…I would like to introduce you to
Dexter.
He is the sweetest little guy. I adopted him from my sister Lina, who has been his foster mom for about a month now. He needed a home and once we met him it just felt right. He's a Black Lab/Hound mix and is 14 weeks old…and he fits right into to this already crazy household!
Ok…on to the eats. I made this last weekend for lunch and it was such a treat! We don't eat crab cakes too often, for the obvious reason that crab meat isn't cheap, but when we do we relish every bite. My husband goes nuts over crab cakes.
When I make crab cakes I normally follow the Old Bay recipe found on the side of the can…but this time I got a little creative. I added lots of pressed garlic and used Dijon instead of regular mustard. They turned out great and I am happy to say I would make them this way again! I served them over a delicious salad full of good stuff…fresh spinach, romaine, red pepper, red onion all tossed in a homemade dijon vinaigrette.
Garlicky Crab Cakes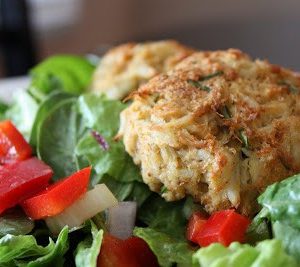 Ingredients:
1/2 cup panko
2 TB mayo
2 tsp Old Bay
2 tsp fresh chives, snipped (or 1 tsp dried)
1/2 tsp Dijon
1 egg
4 cloves pressed garlic (or finely minced)
1 lb lump crab meat
Directions:
In a large bowl, combine panko, mayo, Old Bay, chives, dijon, egg, garlic and crab meat. Mix gently and form into patties. Broil or fry until golden brown on each side.
Serve with a squeeze of lemon or additional mustard.

Are you following me on Instagram, Twitter, Facebook and Pinterest? If you'd like to subscribe to Aggie's Kitchen and have each post delivered straight to your e-mail box, then please add your email here. Happy cooking!
There are affiliate links in this post. I make small earnings through any purchases made through these links. Thank you for supporting Aggie's Kitchen!