Game Day Chili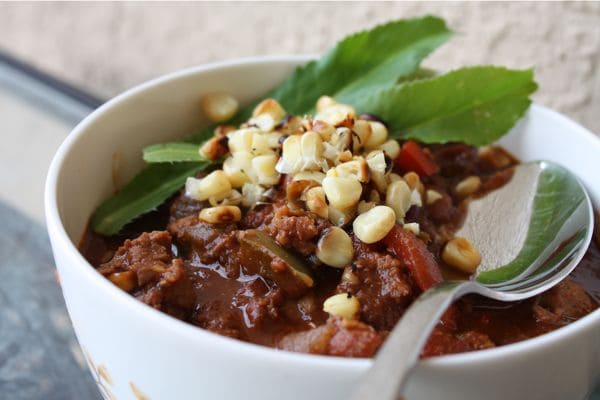 It's the most wonderful time … of the year…
It was the start of football season in our house yesterday. It was the first Gator game and my husband woke up almost giddy. We love this time of year…it just screams fall, even though it's still in the 90s with 80% humidity, just gross, I know. I tried to forget what was going on outside, opened up a Sam Adams Octoberfest and lit a few fall candles around the house. And started a pot of chili.
I get excited about planning our Game Day meals…for me, food is a big part of watching the game. I don't always pay attention to every minute and detail of every play…and sometimes I fall asleep in the middle of 3rd quarter…but it's all good, as long as the food was good and everyone was fed then I am happy. And of course if the Gators win too.
I love making chili…it's one of those things that can be tweaked and changed every time it's made. It's really hard to follow a chili recipe in my opinion. I wanted to try something new this time so after perusing a bunch of recipes online I came up with a good idea of what I wanted to include in my pot of chili. I had picked up some nice looking dried New Mexico chilies at the grocery store the other day…that was a first for me. I have such a love for fresh chilies but admit I'm a bit intimidated by the dried ones…they just look hot to me! I love hot spicy food, but didn't want to ruin a big pot of chili by making it too hot if you know what I mean. I added in one of the NM chilies whole and let it simmer in the chili…it softened naturally and kinda just fell apart. I picked out any big pieces of it that I found before serving. The chili had just the right amount of heat for us…it is on the spicy side, but could always be toned down with some sour cream or Greek yogurt if it's too hot to handle.
This was honestly the best chili I have ever made. It had so many layers of flavor. I used a combination of chili powders that I had on hand to make it a little more interesting. And the two key ingredients in my opinion…beer and chocolate. Yes, beer and chocolate. You've got to try it! The chocolate gave it such a warm, almost creamy, balanced heat. It was absolutely wonderful.
PS…Don't be intimidated by the long list of ingredients!
Game Day Chili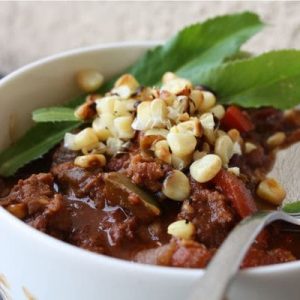 Ingredients:
1 TB olive oil
3-4 cloves garlic, minced
1 Spanish onion, chopped
1 lb mild turkey sausage, casings removed
1 red pepper, chopped
1 green pepper, chopped
2 jalapenos, chopped
1 cup of grilled corn kernels, about 2-3 ears of corn
1 can chili beans, drained but not rinsed
1 can kidney beans, drained but not rinsed
3 TB chili powder (I did a combination of regular chili powder, chipotle chili powder and New Mexico chili powder)
1 TB smoked paprika
1 TB cumin
1 TB garlic powder
1 tsp cinnamon
3 good pinches of salt
1 dried New Mexico chili, whole
1/2 bottle Sam Adams Octoberfest (if you prefer not to use beer, sub 1 cup red wine, chicken broth or water)
1 28 can of diced tomatoes
4 squares dark chocolate (about 1 oz), rough chopped
Directions:
Heat Dutch oven with 1 TB olive oil. Add onions and garlic and cook for 3-4 minutes until softened, season with salt and pepper. Add turkey sausage and crumble. Cook through, then add chopped peppers. Cook for about 10 minutes until peppers begin to soften. Add chili powder, spices, salt and dried chili and stir. Once all the spices have combined with veggies and meat, pour in half a bottle of Sam Adams Octoberfest (or any other beer you are drinking) and deglaze bottom of pot. Cook for 1-2 minutes then add in tomatoes and stir. Bring chili up to a boil then simmer for about 20-30 minutes. Add chocolate to chili and stir. Continue to cook for another 10-15 minutes on low heat. Taste for salt.
Serve with your favorite toppings: shredded cheese, sour cream or Greek yogurt, grilled corn kernels, chopped cilantro, green onions
For more Game Day food ideas…check out last year's
Food and Football Roundup
that was featured here on my blog…do you guys want to do another one? Let me know!

Are you following me on Instagram, Twitter, Facebook and Pinterest? If you'd like to subscribe to Aggie's Kitchen and have each post delivered straight to your e-mail box, then please add your email here. Happy cooking!
There are affiliate links in this post. I make small earnings through any purchases made through these links. Thank you for supporting Aggie's Kitchen!