Blackened Salmon Fajita Bowls
Blackened salmon fajita bowls cook on the grill quickly and easily. This flavorful healthy grilling recipe is perfect for making a quick dinner in the summer. It's one of my favorite easy salmon recipes!
errr, I mean plate. But I just really like how bowl sounds. Would you agree?
This blackened salmon fajitas dinner is what I made the other night. I prepared the entire thing on the grill. With the exception of the rice of course – I threw that in the rice cooker, which I finally have learned to use after a year of using up a lot of space in my cabinet.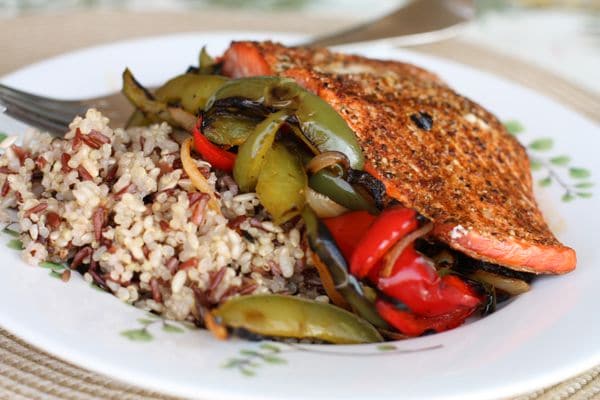 I can't really call this a "recipe" – the blackened salmon fajita bowls are what they are.
It's a piece of wild salmon (from Costco, that I defrosted from the freezer) sprinkled in blackening seasoning, then cooked on the grill over foil. Take a few bell peppers and onions, slice them thin and toss in a little bit of olive oil, salt and pepper. Then cook them in a grill basket, next to the salmon.
It's this rice.
And it all comes together with a little hot sauce.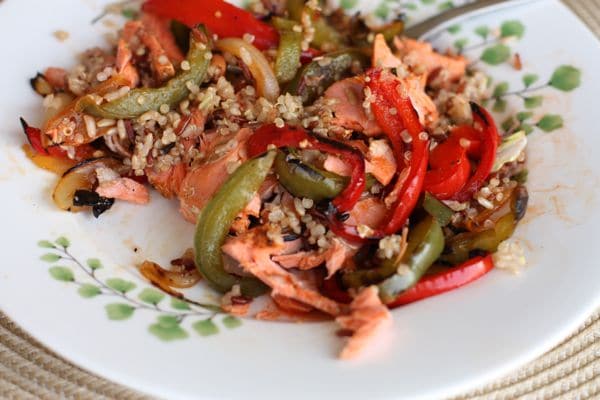 It was a totally perfect dinner on a night where I didn't feel like messing with the oven. But if you don't have a grill, no worries, you can make this easily by cooking up peppers in a skillet and salmon under the broiler (like this).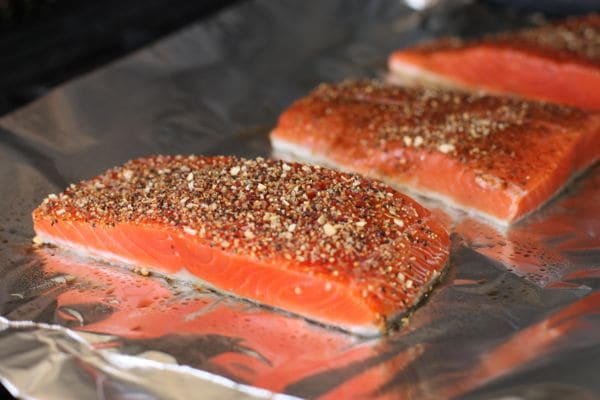 Blackened Salmon Fajita Bowl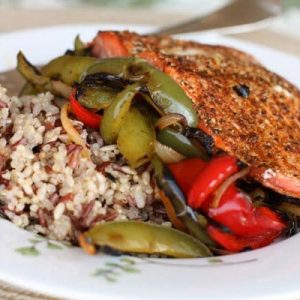 Ingredients:
wild salmon fillets
blackening season (I use Old Bay Blackened)
bell peppers (red, green, orange, yellow), sliced thin
red or yellow onion, sliced thin
a drizzle of olive oil
sprinkle of salt and pepper
hot sauce, for serving
Directions:
Toss sliced peppers and onions in a bowl with olive oil, salt and pepper. Place in grill basket over medium-high heat. Let cook for about 10-15 minutes, tossing and checking while it is cooking. You'll want to keep an eye on your peppers and onions and make sure they are not burning (though a little charred always works for me!).
Lay a sheet of heavy-duty (make sure it's heavy-duty!) aluminum foil over medium high grill. Pat dry your salmon fillets and brush with olive oil or cooking spray on both sides. Sprinkle top side liberally with blackening seasoning and place skin side down on aluminum foil on grill. Close lid and cook for about 10 minutes or until salmon has changed color and flakes. Do not overcook, test with a fork if you are not sure. Inside should be just turning pink.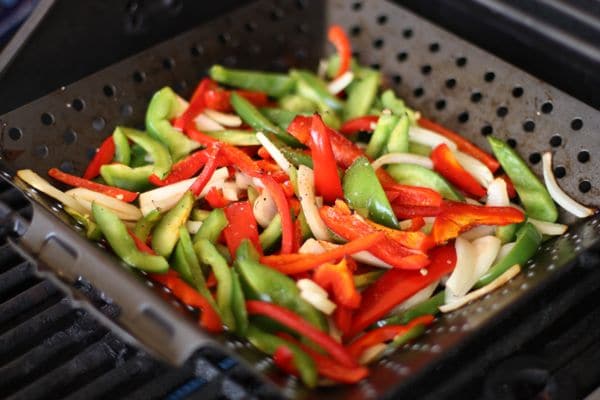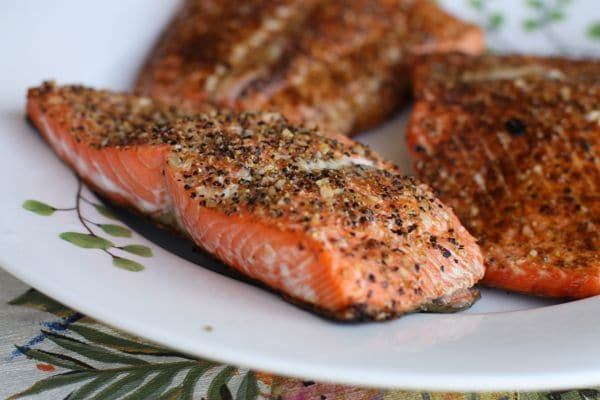 Enjoy your blackened salmon fajita bowls, and have a great weekend!
Don't forget to grab a little motivation and enter my Let's Get Moving – Get Healthy giveaway!
Are you following me on Instagram, Twitter, Facebook and Pinterest? If you'd like to subscribe to Aggie's Kitchen and have each post delivered straight to your e-mail box, then please add your email here. Happy cooking!
There are affiliate links in this post. I make small earnings through any purchases made through these links. Thank you for supporting Aggie's Kitchen!