Garden Black Bean Frittata and a little more motivation for you
A healthy Garden Black Bean Frittata that help jump start your day or have it for lunch. Filled with protein from eggs, beans and veggies. Delicious meal!
This post is sponsored by Bush's Beans.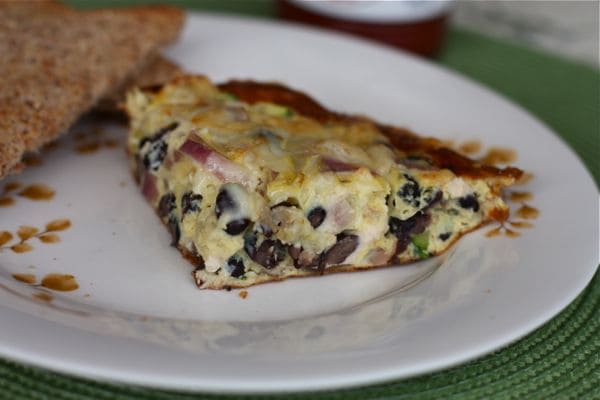 A while back my friend Amy posted this open-faced black bean omelet recipe and I'll tell ya, it got me intrigued. I had never thought of cooking up beans in my eggs, though I have had them on the side when I've ordered something like Huevos Rancheros out at restaurants, but not actually in the egg dish itself. At least not that I can recall.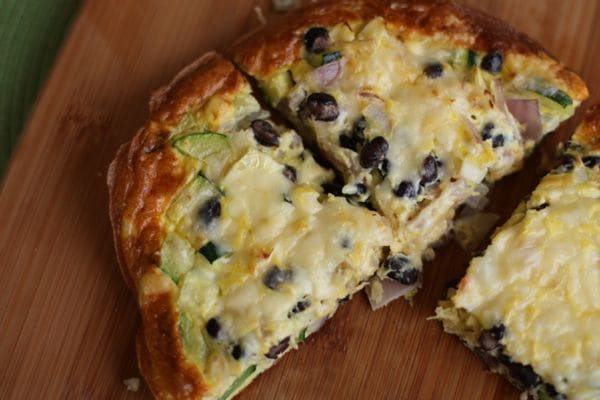 Last weekend, I found myself with a few too many zucchini – and to be honest, I think that might become a weekly occurrence since our spring CSA started back up. Will you look at this beauty? I have had a couple that size (and bigger!) in my pick-ups the last two weeks in a row.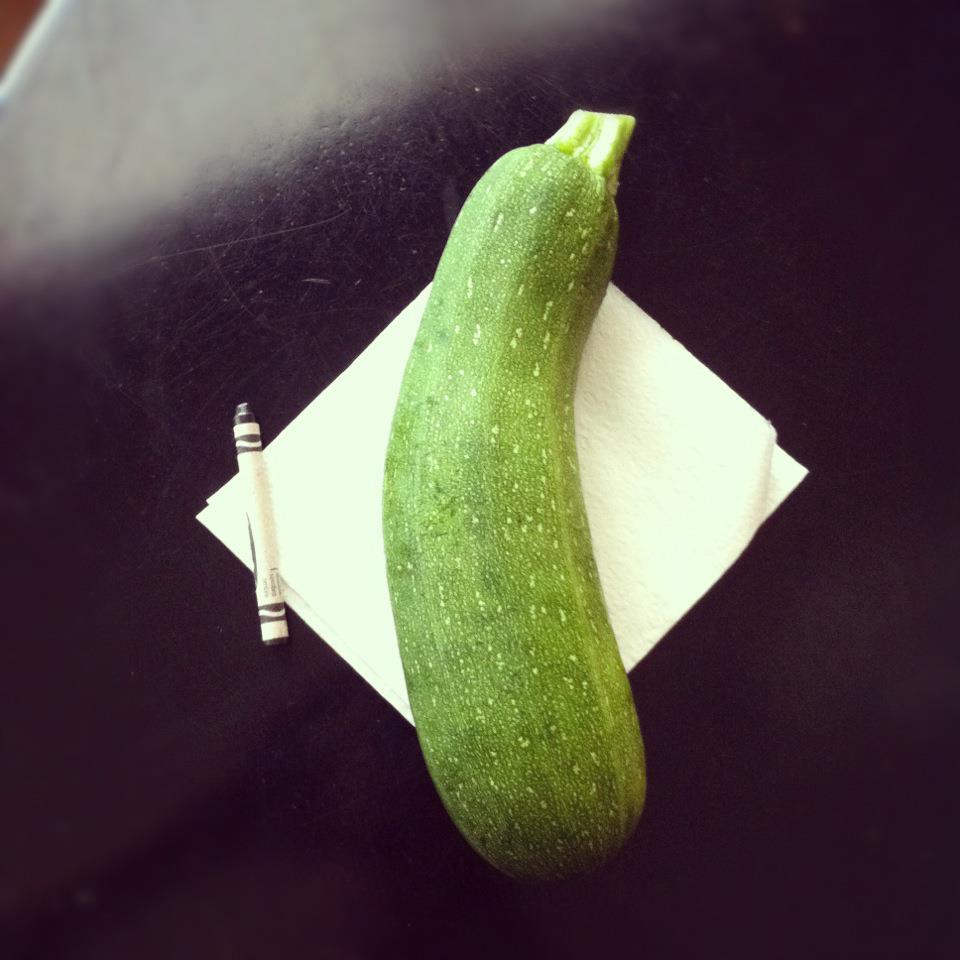 Monster zucchinis I tell ya.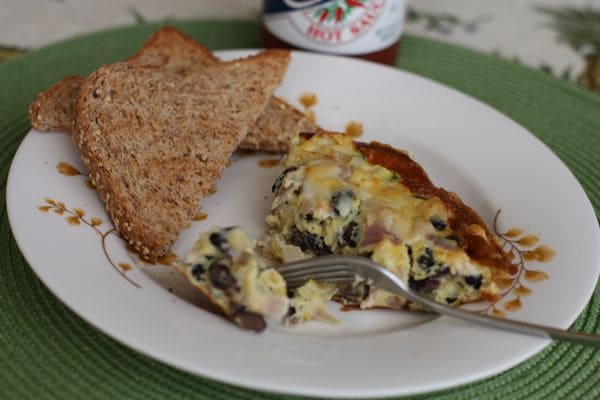 Back to the frittata. So with that black bean omelet always in the back of my mind and with those hugantic zucchinis hanging out in my fridge, this Garden Black Bean Frittata was born. It was the perfect Saturday morning breakfast (and even better reheated in the toaster oven the next day sandwiched between two slices of toast).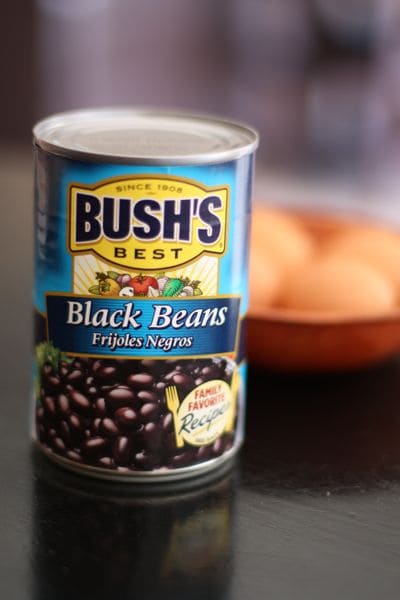 Garden Black Bean Frittata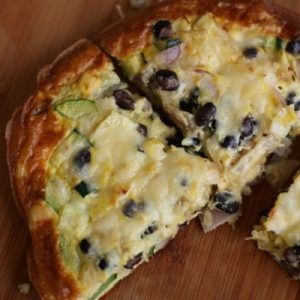 Ingredients:
4 eggs
1/2 zucchini, chopped
1/2 red onion, chopped
1/2 cup Bush's Best Black Beans, rinsed
1/3 cup shredded cheddar or monterey jack cheese, divided
salt and pepper
Directions:
Heat a lightly greased small (8′) nonstick skillet over medium heat. Add chopped zucchini and onion to pan and cook for 2-3 minutes until slightly softened.
Whisk eggs and half of cheese together well then add to pan along with black beans to vegetable mixture. Let eggs sit in pan for a few minutes until bottom starts to set. At this time, take a spatula and work around edges while tilting pan to let extra egg mixture fill in space around pan. Cook for another few minutes and add remaining shredded cheese on top.
Place under broiler for up to 5 minutes until cooked through and golden brown. Carefully remove pan from broiler using an oven mitt and serve warm.
Note: Store your leftover Bush's Best Black Beans in an air tight container for up to 3 days. Sprinkle in salads, throw together some quick quesadillas or salsa or even make this tastyChipotle Black Bean Pizza.
If you like frittatas try this Kale, Red Pepper and Goat Cheese Frittata and Parmesan Potato Frittata.
This post is sponsored by Bush's Beans. My thoughts and opinions are 100% my own.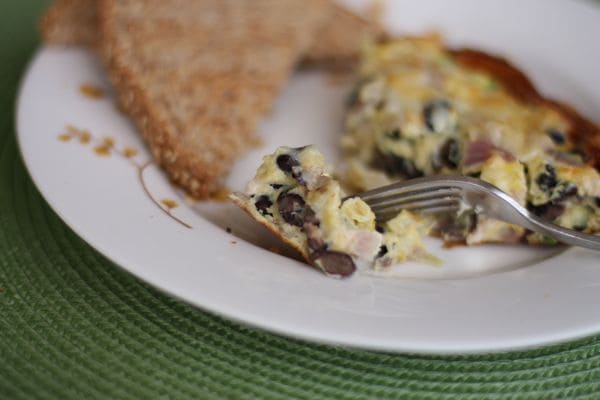 I am loving all the responses to the my "Motivation" giveaway. I absolutely love hearing from readers that I haven't heard from before, and also it's nice to know you're not the only one who needs a little kick start every now and then. So I wanted to share a couple of more things that help me get and stay motivated.
1: MapMyRun app – I have had this app on my phone since I trained for my first half marathon two Decembers ago. Before I started training for my race, I was mostly a treadmill girl and it was easy for me to know what distance I was running. However, once I started running outside this app on my phone came in VERY handy! I use it all the time now…and not just for running obviously. You have the option to save your routes and share with people, but I just use it for distance purposes. It also gives you time and speed tracking. Have fun with it!
2: "Filler" workouts – my main way to exercise has been running for a while now, but I find that I almost always burn out or get bored with running some time or another. It sounds like a lot of you do too. I am trying to find new "filler" workouts to keep me from getting bored. I found this elliptical workout from Julie/PBFingers and am absolutely going to use it at the gym this week. It's perfect for my in-between-run days and it's short enough to squeeze in on a day I am thinking I want to take off instead. She's also got some great treadmill and circuit workouts if you need a little motivation or change-up in that department.
3. Have you checked out my Fitness page? There you will be find a some training and getting started to run programs I have used or loosely used over the years.
The Get Moving and Get Healthy giveaway ends tomorrow at noon – enter here if you haven't already!
Follow Aggie's Kitchen's board Breakfast on Pinterest.
Are you following me on Instagram, Twitter, Facebook and Pinterest? If you'd like to subscribe to Aggie's Kitchen and have each post delivered straight to your e-mail box, then please add your email here. Happy cooking!
There are affiliate links in this post. I make small earnings through any purchases made through these links. Thank you for supporting Aggie's Kitchen!