Kale, Red Pepper and Goat Cheese Frittata & 2015 Focus Word
This Kale, Red Pepper and Goat Cheese Frittata is a light vegetarian option perfect for breakfast, lunch or dinner. Filled with protein and veggies!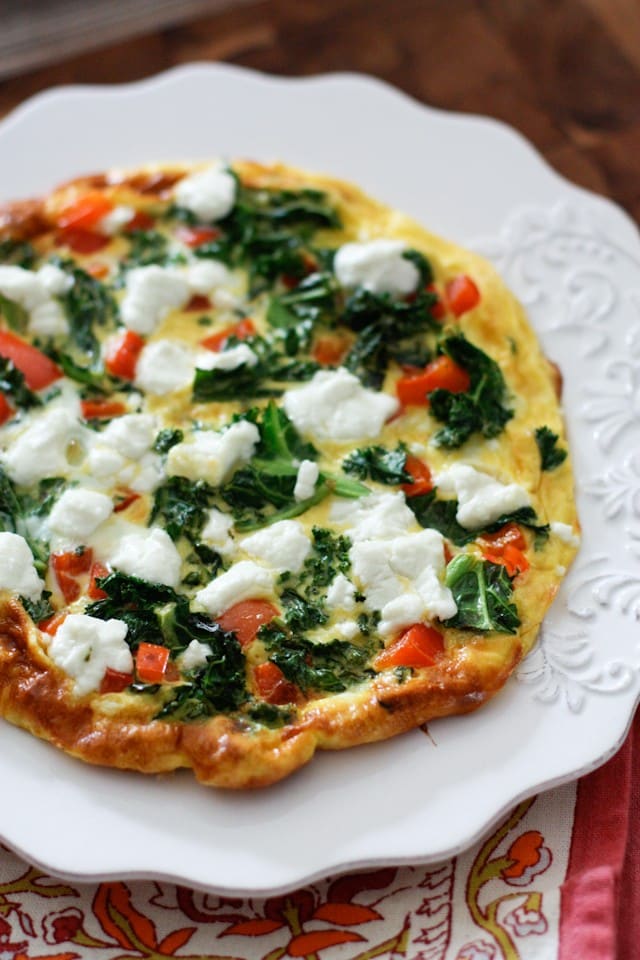 Happy New Year Friends! Did you have a nice holiday season?? It's hard to believe we are starting a new calendar year already. I love love love the fresh start a new year brings, so much to look forward to.
My friend Kristen introduced me to idea of choosing a Focus Word for a new year a while back and honestly I have thought about it over the years, choosing a word but not really "focusing" on it throughout the year like I'm assuming the intention is with choosing a focus word. Last month I scribbled down a word while I was working on something and realized it was exactly the word that should be declared as my focus word this year.
My Focus Word for 2015:
LEARN
I want to learn learn learn. I have always loved being a student of all things (not necessarily in the traditional sense but I didn't always mind being in some classrooms ready to take notes). Lately I have been obsessed with learning new things, from crafty/DIY home stuff to improving my photography to learning how to run my blog as a business to crocheting to cooking something out of my comfort zone. I am craving information these days and my brain feels like it may explode from that craving sometimes.
In the last couple of years I've been preoccupied with life events (pregnancy, family illnesses, moving to a new house, new baby). These life events have kept me busy and have used up a lot of my energy and brain space honestly. And that's all good. That's life! Life Is Good! Things have settled down a bit the last few months and I think that is when my craving for learning really kicked into high gear. My mommy brain has felt a bit mushy this past year so it's time to fill it back up again. I'm retraining myself to be open to learning how to do something when I get stumped versus my sometimes initial reaction of "ugh" and trying to find someone to do it for me, or just not doing it at all. Granted, some things are going to still be passed on to someone more qualified and able but I would like to at least change my attitude about it all.
What do I want to learn? Well, it's a mix between personal and blog/business related things. Here are my learning goals for 2015:
1. Learn (actually relearn) how to crochet: I crocheted a ton when I was a little girl, always making blankets for my baby dolls. My daughter recently took up interest in crocheting (along with other things like sewing) and I am really focusing on setting aside time and learning how to do these things with her. It's quality time that we need together and it also makes me happy to create something with my hands like that. I started a crochet Pinterest board and plan on filling it with all things crochet. On the same note, I want to learn to be more crafty/DIY in general. I have worked on a few projects recently with my daughter and I have learned that it makes me happy to be creative, especially when it includes time with my little girl. She is also a creative spirit so I plan to make more time for it for both of us.
2. Learn how to run my blog as a business: This is a biggie for me this year. For those of you who know me in real life, you know that I started this blog as a hobby over 6 years ago. I've also treated it like a hobby for almost the entire time (a very time consuming hobby at times), though I have been making some income from it through ads and projects with brands. It's exciting to see the opportunities bloggers have now to turn their blogs into businesses and be able to work from home full time. Being able to work from home doing something you love is a dream for so many and I feel so blessed and lucky that I have the opportunity sitting right in front of me. I am ready to take that opportunity and make it work to it's fullest potential for me and my family. That all being said, I don't really know what I'm doing when it comes to running a business. I don't understand accounting, I've never been comfortable with negotiating, I know nothing about ads (funny to say that since I worked in advertising sales at a major newspaper for 3 years). I'm not very good at keeping up with charts, stats, social media schedules etc etc. I know how to cook, and I know how to blog. I guess it's time to learn more about the other stuff. And learn what I can do on my own, what I need to outsource and learn what is working and not working. I am reading Click here to view more details" target="_blank" rel="noopener">How To Monetize Your Food Blog (affiliate link!) to help me with this learning process. I have also signed up for Freshbooks to keep up with invoicing and accounting – super easy to use from what I can already tell.
3. Learn how to manage my time better: This is not something new, but I am determined to learn how to manage my time in a way that I can enjoy life more! Things need to get done, and I need to stop wasting my precious time figuring out what I need to get done. Meaning…I need to start diligently using my planner, calendar and lists to keep myself organized and productive. Not rocket science here, but something I need to learn to get better at. It's all about working smart not hard, right? And not constantly losing the notebook with your to do list and ideas. 🙂
4. Learn to take better photos: My nephew is a photographer and we have talked about partnering up this year and spending time in the kitchen cooking together as well as with our cameras. I have so much to learn when it comes to photography. It's not something that's ever come easy for me, I normally just click and hope for the best. But I'm committed to learning more about the light I have to work with as well as learning to use my camera and lenses better. Right now I'm using a 50mm lens (I have for years) but my nephew has been letting me use his 24-70mm. I want to upgrade my camera this year and purchase a new lens. I'm working my way up that goal. In addition to my nephew, I am reading the e-book Click here to view more details" target="_blank" rel="noopener">Tasty Food Photography (affiliate link!).
5. Learn to cook with new ingredients: There are so many foods that I love to order when I see them on a menu, and I want to start cooking them more at home. I'm really making an effort to try something new in the kitchen frequently, whether it be a new spice or grain or maybe cooking something that isn't normally in my comfort zone (hello pork tenderloin). I know my husband loves short ribs…and I've always wanted to make more recipes with the jar of tahini in my fridge.
Well, there you have it. I'd love to hear what you have planned for yourselves for 2015…do you have a focus word, goals or resolutions that you are working towards?
Shall we talk about this gorgeous Kale, Red Pepper and Goat cheese frittata now?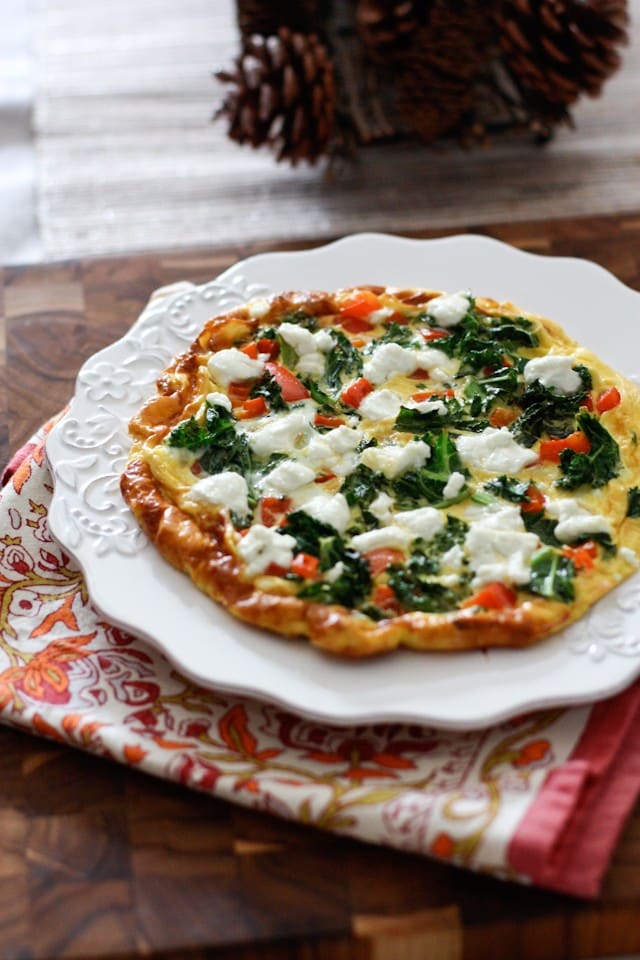 I haven't made frittatas in forever. A couple of weeks ago I wanted to make one for lunch for my little guy and I. He loves eggs and I'm learning he'll pretty much eat anything that mixed in with his eggs so why not start making us frittatas more often to keep things a little interesting.
And let's face it, you can't go wrong adding goat cheese to any frittata.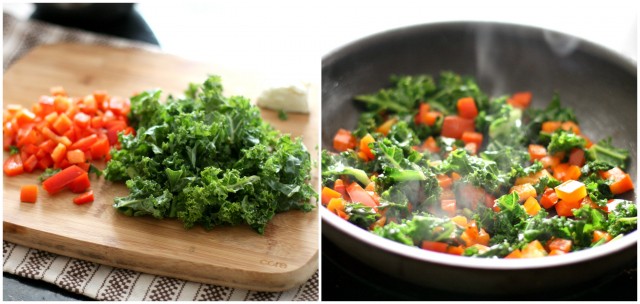 This Kale, Red Pepper and Goat Cheese Frittata looked so festive, especially since I made it right before Christmas. You gotta love the color! Frittatas really are so easy to cook up and are such a healthy option for breakfast, lunch or dinner. I'll be making more of these to lighting things up this month, that's for sure.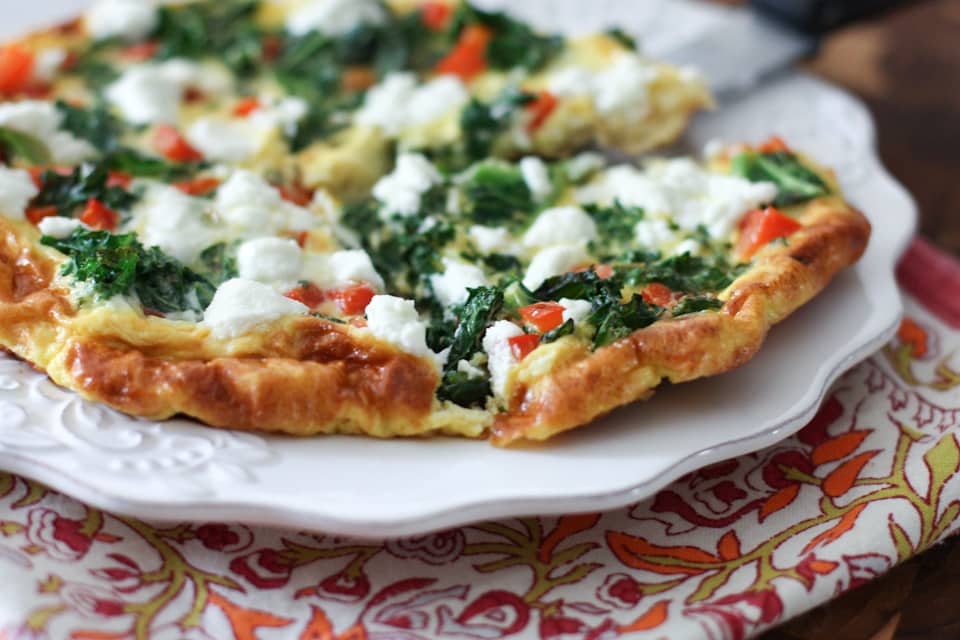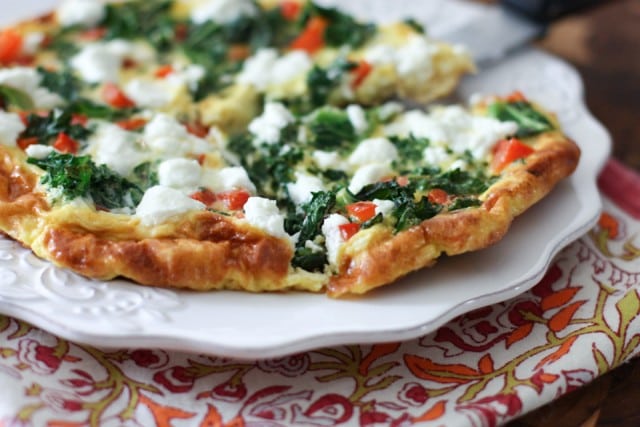 Kale, Red Pepper and Goat Cheese Frittata
Yield: serves 2
Prep Time:15 minutes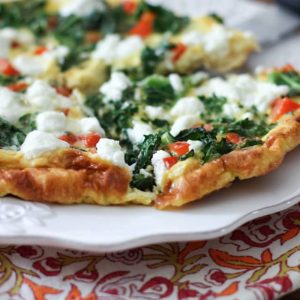 Ingredients:
4 eggs
1/4 cup milk (I use 2% because that's what my kids drink)
1/2 red bell pepper, chopped
1 large handful bagged chopped kale, chopped a bit more finely
2 ounces goat cheese
1 teaspoon of oil
Directions:
Preaheat your broiler (use low if you have the option).
Add 1 teaspoon of oil to  an oven-proof 10 1/2 inch nonstick skillet, over medium heat. Add chopped red pepper and kale and saute for 5 minutes until vegetables are soft. Season with salt and pepper.
In a bowl, whisk together eggs and milk. Add egg and milk mixture to skillet. Let set for a minute. Using a spatula carefully begin to separate egg mixture from side of the pan, tilting pan while doing this so that egg mixture fills the space. Do this all around pan so that frittata cooks up evenly. Continue to do this until most of egg mixture is spread and only a small layer is left on top.
Spread crumbled goat cheese evenly to top of frittata. Place in oven under broiler and let cook for about 3-4 minutes, watching carefully. Let top of frittata cook completely and brown slightly.
Carefully (using a mitt!) take skillet out from oven. Let cool down for a couple of minutes. Slide frittata out onto a plate or cutting board and slice into quarters. Serve warm.
More frittatas for you to try:
Bacon, Broccoli and Potato Frittata | Foodiecrush
Broccoli Asparagus Frittata | A Mind Full Mom
Southwestern Frittata | Belly Full
For more breakfast ideas follow along on Pinterest. Follow Aggie's Kitchen's board Breakfast on Pinterest.
Are you following me on Instagram, Twitter, Facebook and Pinterest? If you'd like to subscribe to Aggie's Kitchen and have each post delivered straight to your e-mail box, then please add your email here. Happy cooking!
There are affiliate links in this post. I make small earnings through any purchases made through these links. Thank you for supporting Aggie's Kitchen!