Best of 2014 – My Favorites (and yours!)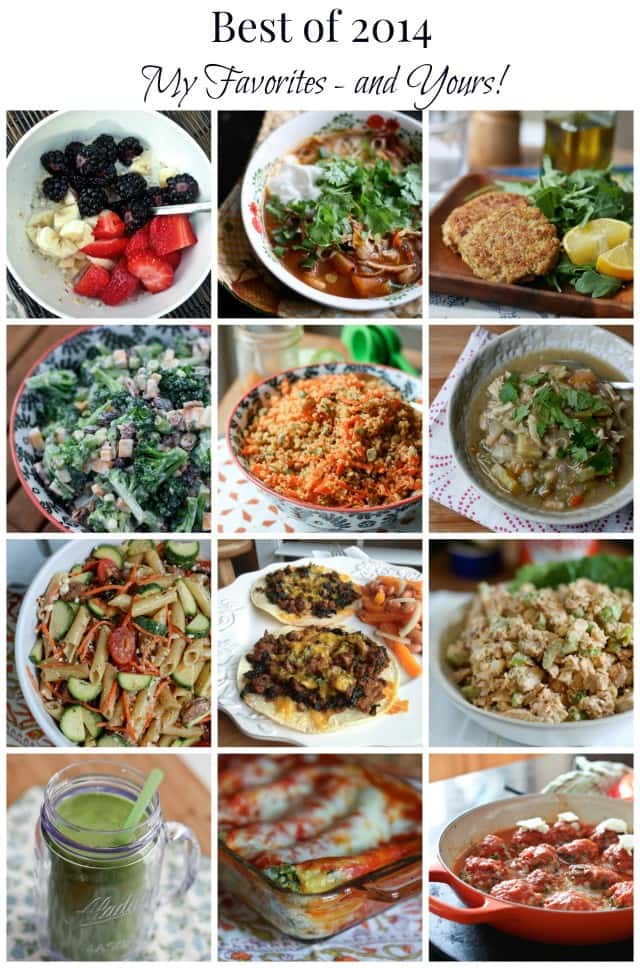 I love year end posts like this. It sometimes feels daunting to put together, especially in the throw of the holidays when I'm not so much in blogging mode. But once I start looking back at everything I cooked up here and in my kitchen for an entire year I can't tell you how inspiring, fulfilling, and just plain old happy it makes me. This year was a challenging year for me personally as far as finding myself as a "new" mom again, and juggling the schedules and demands of my growing family. Adding a baby to our family that hasn't been in baby mode for quite some years was a bit of a shock to my system. We truly wouldn't have it any other way, the chaos, the exhaustion, the love – it's all worth it. I have always put a lot of pressure on myself to do it all, do it right and be there for everyone. Sometimes it feels a bit overwhelming and I just have to shut down and reevaluate priorities. That was what I did this year. I spent a lot of time thinking about my role as a mom, wife, friend, family member…person. I'm not perfect, and I really am doing the best I can in all that I do.
I thought I was going to stop blogging this summer. It made me sad but I was having a hard time fitting this blog space into my real life space. There was no time. No time for a lot really, so I had to let blogging go for a few months to see if it would fit itself back in. And you know what… it did. My baby started sleeping through the night and my kids went back to school in the fall. I felt refreshed, energetic and ready to cook and share regularly again (I was not cooking as much as I was pre-baby). One major thing I learned this year is to be patient with the season you are in…and to just roll with whatever is coming your way. I don't always handle the changes and challenges well or with grace, but with the help of my supportive and encouraging husband who is always there to remind me and say what I need to hear, I'm figuring it out.
Thanks for listening to me ramble today. I love writing here, for whoever is reading (true blogger confession: sometimes you're just not sure who's really reading 🙂 ). I am so excited about a new year (it's my favorite season!) and I thank you for being a part of 2014 with me.
Hope you enjoy reading through what I consider the Best of 2014 – my favorites and yours! It's been a pretty delicious year I must say. 🙂
January:  Refrigerator Oats with Berries and Banana – I ate this for breakfast for months. I am ready to get on the oats wagon again.
February:  Healthy Chicken Tortilla Soup – another recipe I couldn't get enough of. Almost my entire family eats this soup which is always good. I think it's time to make a big pot, great for post holiday eating clean up.
March:  Salmon Quinoa Cakes – one of my favorite recipes this year that I felt like was a no-brainer. I love the idea of using quinoa as a filler instead of breadcrumbs, this one will inspire future recipes for sure.
April:  Lightened Up Broccoli Salad – perfect broccoli salad for spring grilling weather!
May:  Carrot Raisin Quinoa Salad – another light veggie/grain salad that I loved having as a side dish when it started to get warmer.
June:  Summer Chicken Chili Verde – I love soup all year round, especially when you can get so creative by adding in seasonal veggies to change up classics.
July:  Garden Pasta Salad with Chicken Sausage – my daughter asks for this pasta salad all the time. The chicken sausage makes it hearty enough to be a light summer meal.
August:  Turkey and Spinach Tostadas – another family favorite! I can't tell you how many times I have made these tostadas. Everyone in my family loves them and I pile mine with shredded lettuce, tomatoes and green salsa for extra veggies!
September:  Buffalo Rotisserie Chicken Salad – I made this for my husband because he was craving buffalo wings and we were trying to eat light and lose weight. You can't beat buffalo anything, it makes everything taste good!
October:  Cinnamon Pear Green Smoothie – a smoothie that carried me through fall when I couldn't figure out what fruits to buy. I love pears and the added cinnamon in this smoothie got me so hooked.
November:  Butternut Squash and Spinach Manicotti – this is a special recipe and post for me. My daughter and I had such a good time cooking this manicotti together. I taught her something new. And she taught me something too.
December: Baked Spinach and Ricotta Meatballs – Total comfort food. My family was so happy when these hit the table!
Your Favorites: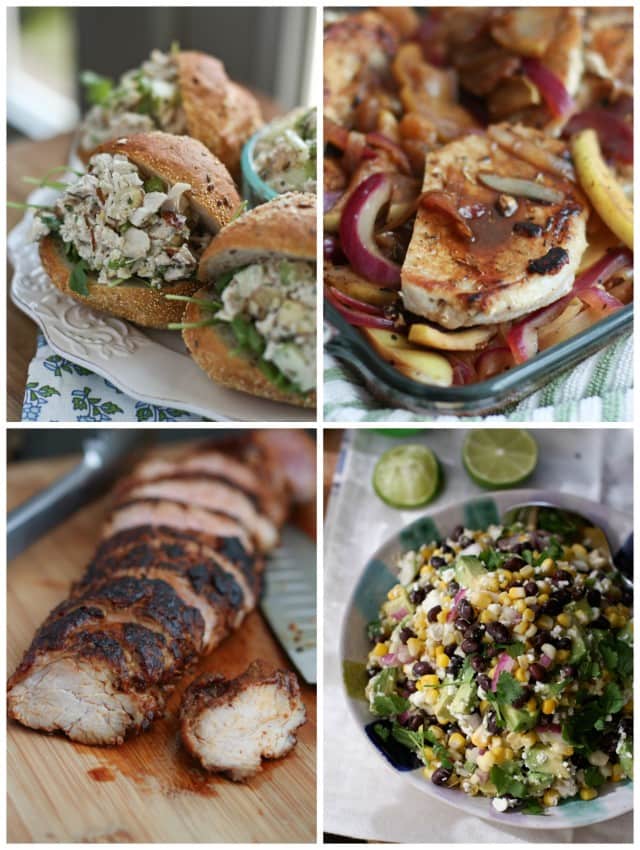 Autumn Rotisserie Chicken Salad with Almonds and Apples – this recipe was created for a client and became so popular! It really is delicious and the added crunch from the almonds and apples are my favorite part (plus it's made with Greek yogurt).
Hard Cider Pork Chops with Apples and Onions – I had fun making this recipe. I was inspired to make pork chops for my in-laws and I added a seasonal autumn twist to them. Such an easy flavorful recipe!
Roasted Chili Maple Pork Tenderloin – This pork tenderloin brought me out of my comfort zone – it was fun to learn something new. Everyone loved this and I'm ready to try more rubs and marinades for new recipes.
Summer Black Bean and Corn Salad – a classic summer (or anytime really) salad. So good on the side of grilled fish or chicken or as a dip for tortilla chips. Great as a taco filler too!
You also loved this Lightened Up Broccoli Salad and Baked Ricotta and Spinach Meatballs like I did.
Honorable Mentions: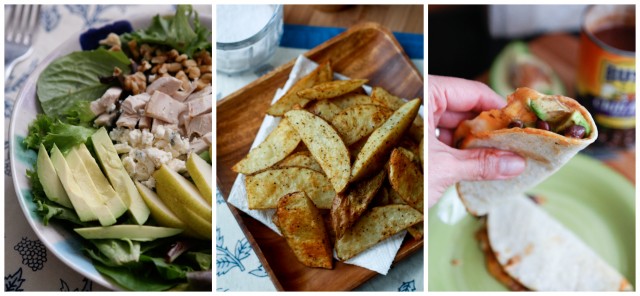 Chicken, Pear and Avocado Salad – could not get enough of this salad. Ate it for daaaaays.
Kicked Up Oven Baked Steak Fries – spicy baked fries? Yes, please.
Black Chili Bean and Avocado Quesadillas – my little guy and I were hooked on these mini quesadillas for lunch. Corn tortillas are my new favorite!
Hope everyone is enjoying the holiday season!! Best wishes to all of you in 2015!
It's going to be awesome.
Looking Back:
Best of 2013 – My Favorites and Yours
Top 5 Favorites of 2009 – Harissa Steak Sandwich, Game Day Chili, Roasted Vegetable Pesto Pizza, BBQ Pulled Pork and Chipotle Onion Sandwiches, Chorizo and Eggs
Are you following me on Instagram, Twitter, Facebook and Pinterest? If you'd like to subscribe to Aggie's Kitchen and have each post delivered straight to your e-mail box, then please add your email here. Happy cooking!
There are affiliate links in this post. I make small earnings through any purchases made through these links. Thank you for supporting Aggie's Kitchen!