Slow Cooker Pesto Chicken Melts
Slow Cooker Pesto Chicken Melts are an easy family friendly meal that can be prepared in your crockpot for busy weeknight dinners!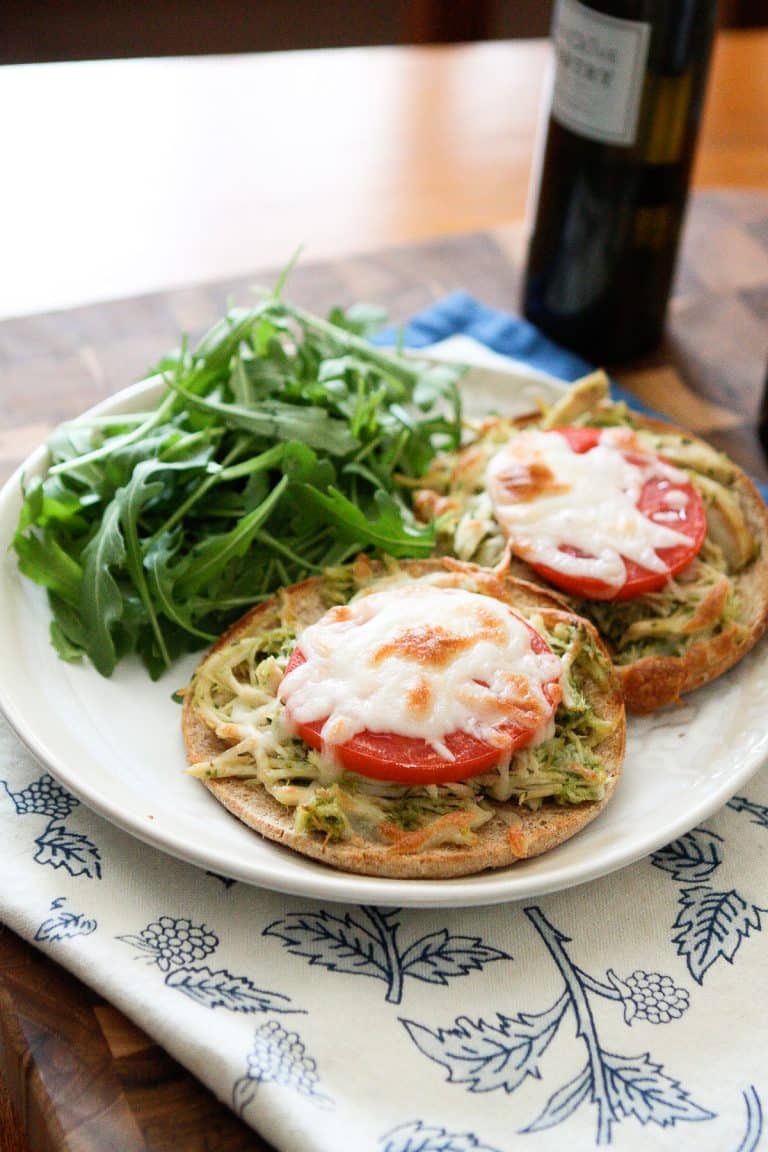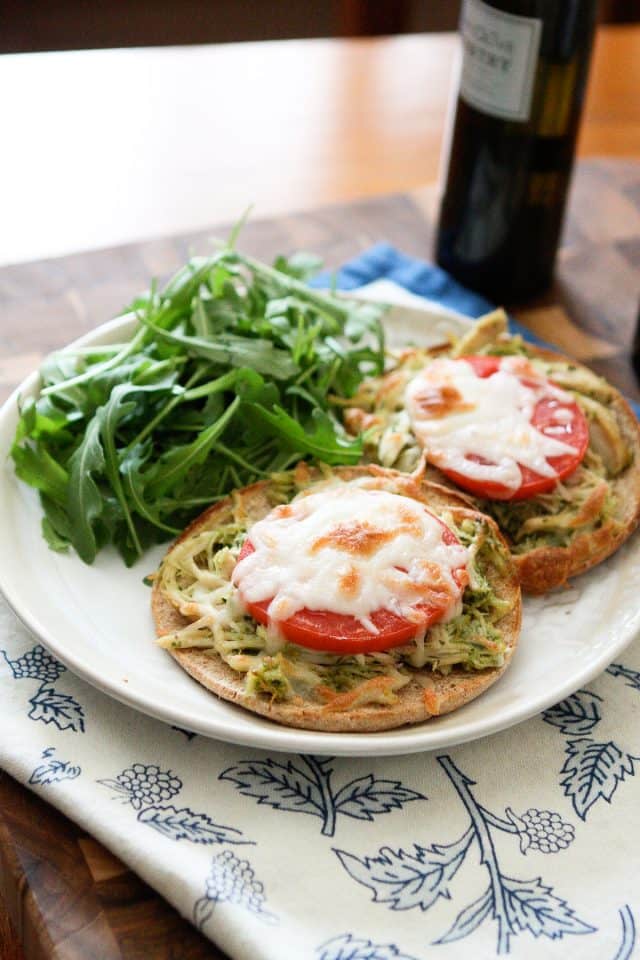 I have been using my crock pot like a mad woman lately. The last few weeks I've used it for several chilis and soups, pulled pork and to cook chicken to use in recipes like these Slow Cooker Pesto Chicken Melts. My crock pot has been a good companion in the kitchen lately that's for sure.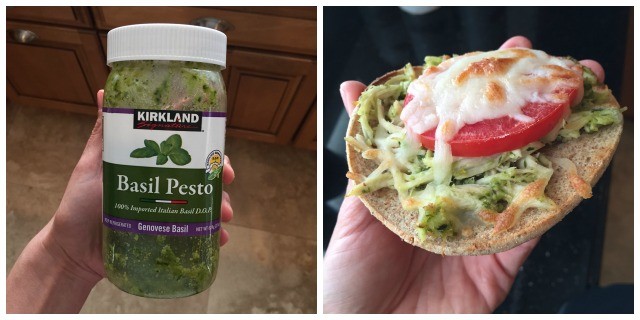 For anyone who shops at Costco, have you tried their pesto?? I love this stuff. Honestly, I haven't found a jarred pesto that I have loved until I tried this one. Obviously you can't beat freshly made pesto, but I have to say, this jar of pesto has become a staple in my fridge this past year. I've added it to chicken like this plenty of times as well as tossing it into veggies like these Pesto Roasted Brussels Sprouts or a quick pasta dish like this Pesto Pasta with Turkey and Kale . Delicious!
You can also add it to a dip like this Pesto Yogurt Dip or add to a wrap like this Roasted Vegetable Wrap with Pesto and Feta! So much variety!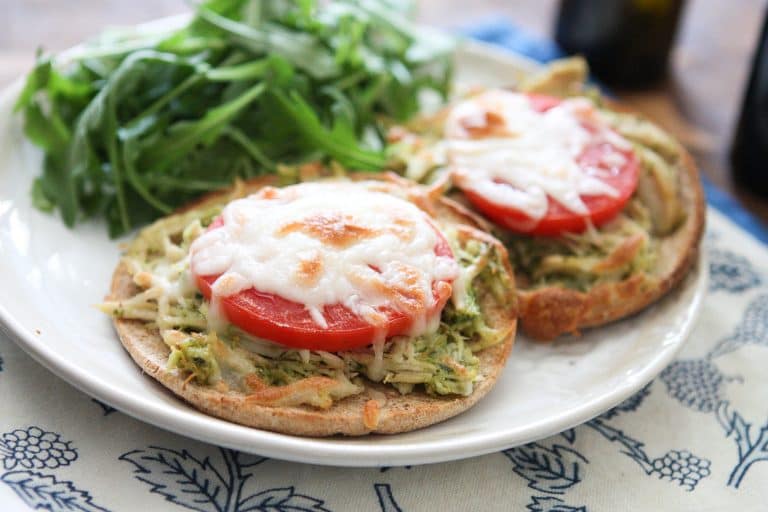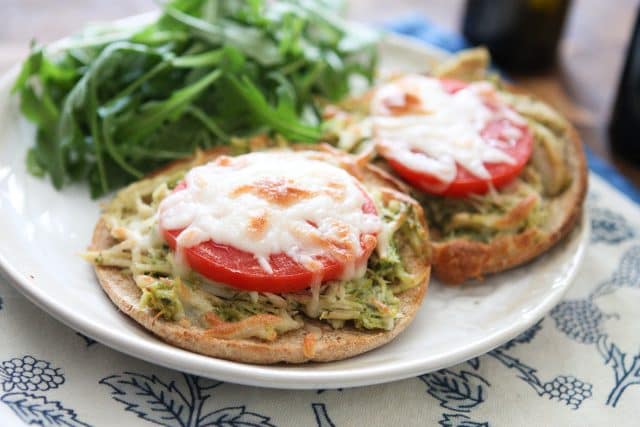 This is one of those meals that is perfect for keeping things light on busy weeknights. I like making them into melts like this but you could always just add the pesto chicken to a whole wheat bun and eat it as a regular sandwich. Or if you are trying to stay away from carbs, the chicken is great on it's own with some roasted veggies or even as added protein for a big salad.
Enjoy and have a great week!
Print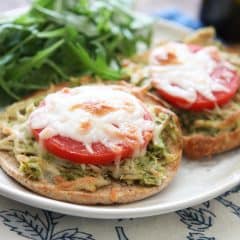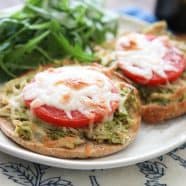 Slow Cooker Pesto Chicken Melts
Author:
Yield: Serves 4-6 1x
Category: Chicken
Method: Slow cooker/Oven
Slow Cooker Pesto Chicken Melts are an easy family friendly meal that can be prepared in your crockpot for busy weeknight dinners!
---
Ingredients
1 1/2 lbs chicken breast (about 3 chicken breasts)
1 teaspoon oregano
1/2 teaspoon garlic powder
1/2 teaspoon onion powder
salt and pepper
For Serving:
1/4 – 1/3 cup prepared pesto
6 English Muffins or Sandwich Thins, split and lightly toasted
sliced tomatoes
shredded mozzarella cheese
---
Instructions
Place chicken breast in crockpot. Season with oregano, garlic, onion powder, salt and pepper on both sides. Cook on high for 4 hours or low on 6 hours.
Once chicken is cooked, shut off crock pot and take chicken out and place into a large bowl. Shred chicken using two forks. Add pesto to warm shredded chicken and gently toss to combine.
Preheat broiler. Place English muffin or Sandwich Thin halves on a large cookie sheet. Spoon equal amounts of chicken onto each piece of bread. Top with sliced tomato and desired amount of mozzarella.
Place cookie sheet under broiler and broil for 2-3 minutes until cheese melts. Watch carefully because this happens fast!
Serve alongside a green salad for a light, flavorful dinner.
Need some new light and easy dinner ideas? Check out these 20 Healthy Recipes Using Shredded Chicken! If you love pesto like my family does, find more healthy recipes with pesto here.
Looking for a new slow cooker? I love my Crock-Pot with Stove-Top Browning – the stove top browning feature was a total game changer for me!
Check out my Slow Cooker board on Pinterest. Follow Aggie's Kitchen's board Slow Cooker Goodness on Pinterest.
Are you following me on Instagram, Twitter, Facebook and Pinterest? If you'd like to subscribe to Aggie's Kitchen and have each post delivered straight to your e-mail box, then please add your email here. Happy cooking!
There are affiliate links in this post. I make small earnings through any purchases made through these links. Thank you for supporting Aggie's Kitchen!