Green Bean, Cherry Tomato and Goat Cheese Salad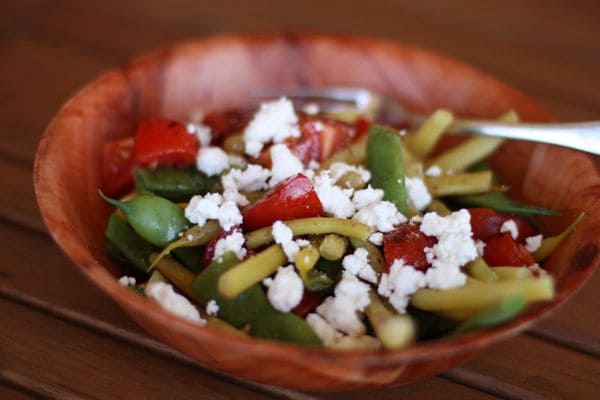 Sometimes I'm just not in the mood to eat what the rest of my family is eating. Turkey burgers were on the dinner menu the other night, but I was craving something different…I was craving veggies and a goat cheese salad.
My veggie drawer has been busting at the seams lately. Our pick ups from our CSA have been full of zucchinis, kholrabi, cauliflower as well as these pretty green and yellow beans.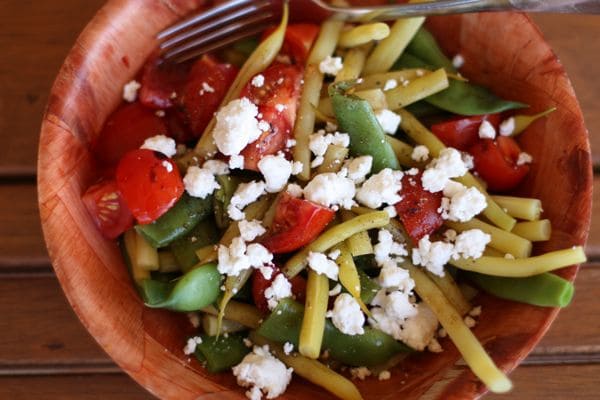 While everyone's burgers were on the grill, I quickly steamed up the beans and immediately threw them in an ice bath to keep them crisp. I quartered a few cherry tomatoes and added them along with some sliced almonds to the bowl of beans. Top with some crumbled goat cheese and a drizzle of balsamic vinegar and olive oil and you've got yourself a nice light spring dinner for one.
Green Bean, Cherry Tomato and Goat Cheese Salad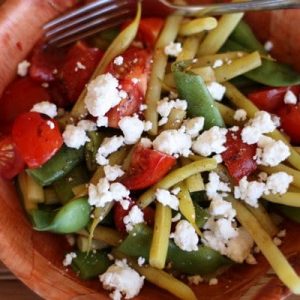 Ingredients:
bunch of green beans and/or yellow wax beans, lightly steamed
3-4 cherry or campari tomatoes, quartered
1-2 tablespoons sliced almonds
1 oz crumbled goat cheese
2 tablespoons balsamic vinegar
1 tablespoon olive oil
good pinch of kosher salt and fresh ground pepper
Directions:
Combine cooled and dried steamed green and yellow beans along with tomatoes and almonds in a salad bowl. Top with goat cheese. Drizzle balsamic vinegar and olive oil over your salad and season with salt and pepper to taste.
Note: this could easily turned into a larger salad to serve at a picnic or barbecue by increasing the ingredients – perfect for spring and summer!
Enjoy!
More ways to serve up fresh green beans:
Three-Bean and Vidalia Onion Salad
Zesty Pesto Green Beans from Reluctant Entertainer
Pickled Vegetable Salad from The Meltaways
Green Beans, Lemon and Feta Cheese from Two Peas and Their Pod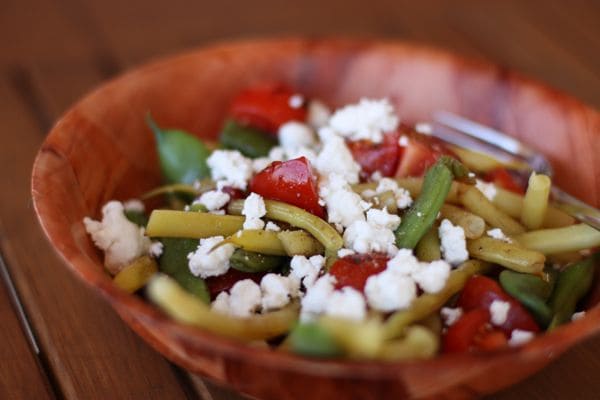 Are you following me on Instagram, Twitter, Facebook and Pinterest? If you'd like to subscribe to Aggie's Kitchen and have each post delivered straight to your e-mail box, then please add your email here. Happy cooking!
There are affiliate links in this post. I make small earnings through any purchases made through these links. Thank you for supporting Aggie's Kitchen!