Creole Cast Iron Grouper
This recipe for Creole Cast Iron Grouper is so easy to make and is one of the most delicious grouper recipes I've ever tasted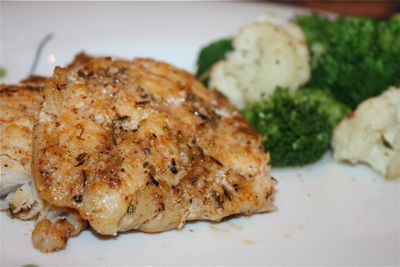 Oh my …this fish was good. Seriously good. I found this recipe on google yesterday as I was searching for "grouper recipes". It popped up under Emeril on Food Network and the original recipe is called Paul's Grilled Grouper Recipe. I made a few minor changes to the recipe, one of which instead of grilling the fish I used my cast iron skillet in the oven instead.
How To Use Cast Iron To Cook Fish
I don't use my cast iron skillet often, but over the summer when I was visiting my sister in law, she made us blackened red fish in a cast iron skillet that turned out so good. I have been wanting to make fish the same way ever since.
I placed the skillet in the oven while it was preheating so it would be nice and hot once the grouper was ready to cook. Once I had the fish seasoned with the spice mixture, it hit that pan and started to sizzle…and back in the oven it went.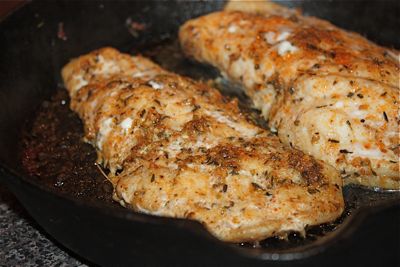 Emeril's Essence Creole Seasoning Ingredients
This grouper recipe calls for Emeril's Essence Creole Seasoning, which you can easily make at home using spices you most likely have on hand. I had some leftover so I just sealed it up in a small container for another use.
To mix up Emeril's Essence Creole Seasoning at home all you need is the following ingredients:
paprika
salt
garlic powder
black pepper
onion powder
cayenne
dried oregnao
dried thyme
What To Serve With Fish
I love having all types of fish for dinner and almost always serve it with some type of rice and steamed or sautéed vegetables. My favorite vegetables to prepare this way is always broccoli, cauliflower and carrots. It's the classic trio of healthy steamed vegetables! I usually season with just a little coarse salt and fresh ground pepper and a squeeze of lemon.
Oven roasted potatoes like these Roasted Red Potatoes with Smoked Paprika or Dill Potato Wedges are also great side dishes for this grouper recipe.
Salmon or another thick fish would be a great substitute for grouper in this recipe.
If you are trying to include more fish into your weekly dinners, look at this fish recipe roundup for more ideas!
Enjoy!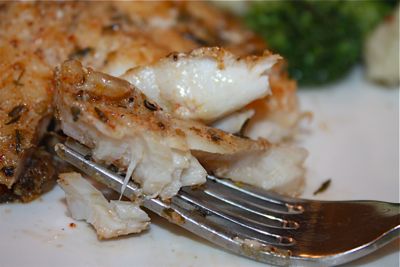 If you are new to or interested in cooking with cast iron, the following posts are helpful to get you started:
Print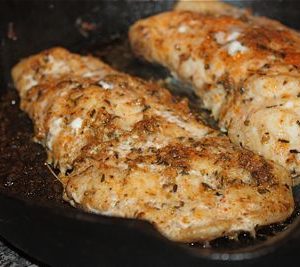 Creole Cast Iron Grouper
---
Ingredients
For the fish:
1 lb grouper
3 TB olive oil
4 cloves pressed garlic (or minced)
1 tablespoon Emeril's Creole Seasoning (see recipe below) or your favorite creole seasoning
1–2 TB finely grated Parmesan cheese
---
Instructions
For the fish:
Preheat oven to 425 degrees. Place cast iron skillet in oven while preheating. (If you don't have a cast iron skillet, just use a roasting pan, but don't preheat the pan)
In a small bowl mix together oil, garlic, 2 -3 tablespoons of the seasoning, and Parmesan cheese. Brush the fish generously with mixture and place in hot skillet (be careful and don't forget to use an oven mitt!!). Place skillet and fish back into oven. Cook for about 12-15 minutes, depending on thickness of fish, until fish is translucent and flaky.
---
Print
Emeril's Essence
---
Ingredients
For the Essence (Emeril's Creole Seasoning)
2 1/2 TB paprika
2 TB salt
2 TB garlic powder
1 TB black pepper
1 TB onion powder
1 TB cayenne
1 TB dried oregnao
1 TB dried thyme
---
Instructions
For the Essence:
Mix all ingredients in a bowl. Store in airtight container.
Important Note: You will only use 1 tablespoon of this mixture for the above grouper recipe. There will be seasoning leftover for future use. Do not use entire amount for recipe, just 1 tablespoon.
More easy fish recipes like this Cast Iron Grouper for you to try:
Broiled Teriyaki Salmon | Reluctant Entertainer
Flounder Piccata | Skinnytaste
Are you following me on Instagram, Twitter, Facebook and Pinterest? If you'd like to subscribe to Aggie's Kitchen and have each post delivered straight to your e-mail box, then please add your email here. Happy cooking!
There are affiliate links in this post. I make small earnings through any purchases made through these links. Thank you for supporting Aggie's Kitchen!