Shrimp, Broccoli and Edamame Stir Fry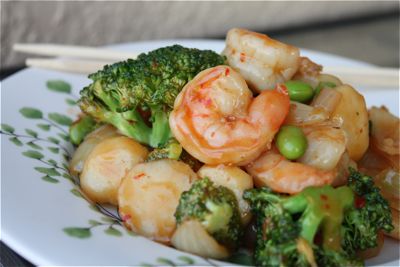 Why don't I make stir fry more often?  It's such an easy meal to throw together, and you can change it up every time.  I was scrambling to figure out dinner for Larry and I the other night at um…let's say 5ish, the kids were having pasta and I just wasn't in the mood for pasta.  I had an oversupply of broccoli in the fridge (thanks to Publix's $1  bags of florets this week!) so I knew broccoli had to be a main ingredient.  Looking in the freezer for ideas I saw shrimp.  Frozen shrimp are so great to have on hand because they are so quick to defrost and cook.  So stir fry it was.
I like to cook up the shrimp in the wok first with some garlic, ginger and a couple teaspoons of oil.  Once its cooked I set it aside and then add the veggies to the hot pan.  For this stir fry I used sliced onion, broccoli florets, water chestnuts and edamame.  The combination was perfect.  I put together a basic Asian sauce out of some staples and dinner was served.
Oh and don't forget the chopsticks…I love eating with chopsticks at home, makes me feel like I'm having "takeout", and I tend to eat slower with them.  Just one of those mental tricks I guess.  Larry was a big fan of this stir fry, he said it was the best one I've made so far.  I'm happy with that compliment! 🙂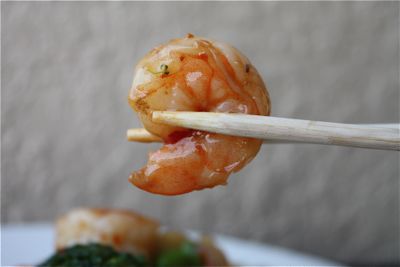 Shrimp, Broccoli and Edamame Stir Fry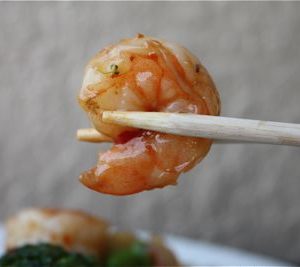 Ingredients:
1 lb shrimp, peeled and deveined
3 garlic cloves, minced
2 tsp canola oil
1 tsp fresh ginger, minced (or from the jar)
2 cups broccoli florets
1 onion, thinly sliced
1 can sliced water chestnuts
1 cup frozen edamame, defrosted
2-3 TB rice vinegar
2 TB soy sauce
2 tsp corn starch
1/2 tsp sesame oil
2 tsp chile garlic sauce
couple of splashes of fish sauce
Directions:
In a small bowl, combine rice vinegar, soy sauce, cornstarch, sesame oil, chile garlic sauce and fish sauce.
Heat wok over medium high heat. Add oil, garlic, ginger and shrimp and cook until shrimp are just pink, about 2-3 minutes. Set shrimp aside.
Add onion and broccoli to hot wok. Cook for about 2 minutes, then add edamame and water chestnuts. Continue to cook for about 2 more minutes. Add back in shrimp and sauce and toss to combine, cook for about 2-3 minutes longer. (I like my veggies crisp, but if you prefer, cook a little longer for softer veggies.)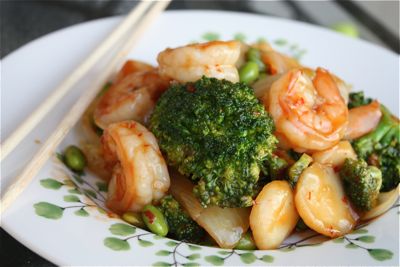 Happy Friday to everyone!  What are your plans this weekend?  The Gators are playing a big game Saturday night so that's what we'll be doing…the rest of the weekend is up to the kids!  🙂
Have a great weekend!
Are you following me on Instagram, Twitter, Facebook and Pinterest? If you'd like to subscribe to Aggie's Kitchen and have each post delivered straight to your e-mail box, then please add your email here. Happy cooking!
There are affiliate links in this post. I make small earnings through any purchases made through these links. Thank you for supporting Aggie's Kitchen!